I found this hilarious string of tweets in Twitter (of course) that describes what someones pets or children have done during the day, but you are supposed to call them co-workers. Unfortunately for most, it's written in Finnish, but no need to panic, I'll translate you few of the best tweets.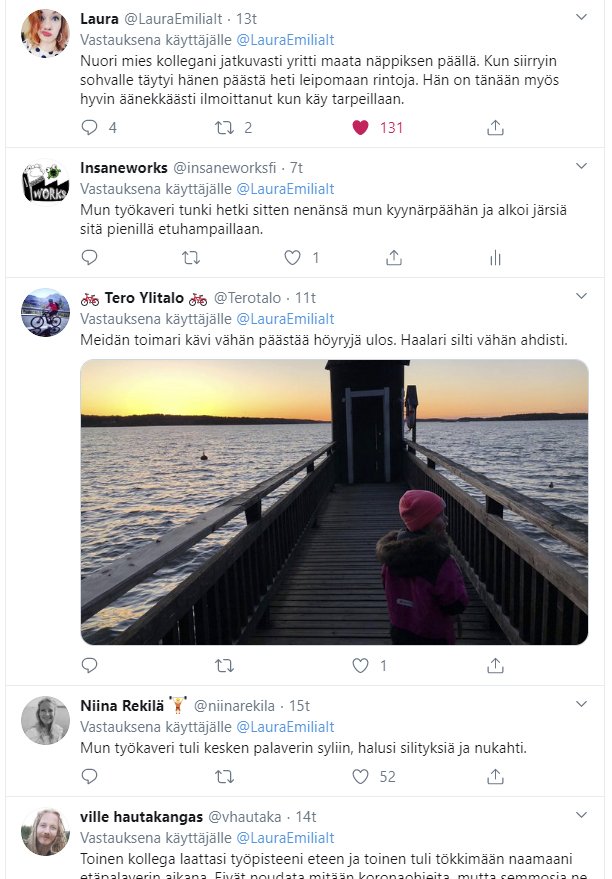 >
A young male colleague constantly tried to lie on the keyboard. When I went to the couch, he immediately had to come and touch my breasts. He has also informed very loudly today when he goes to the toilet.
Just few moments ago, my co-worker poked his nose into my elbow and began to gnaw it with his small front teeth.
Our CEO went out to let out some steam. The overalls were still little distressing.
One colleague vomited in front of my work station and another came poking my face during a meeting. They don't follow any corona instructions, but that's how boomers are.
My co-worker saw a threatening figure at the front door, and thanks to that, he hopped into the dark restroom trembling for the rest of the day.
Another co-worker dug into the blanket and only his nose was seen throughout the rest of the day.
My coworker screamed like a little pterodactyl in the middle of a team meeting. When the meeting was over, this same coworker decided to take a nap.
In the middle of the video meeting, one of my coworkers almost jumped out of the window and the other went to shit in the hallway.
My coworker is too efficient. The work was done in an hour and he had to ask the supervisor for additional tasks. During his statutory break, he climbed to a tree. Two of my other colleagues hunted a mice on the ditch bench and when coming back, shouted at the door, demanding a new release from quarantine.
Our coder climbed into a tree. She then wandered to the lake and refused to leave, even though her boots were full of water.
In the morning our principal retrieved her favorite toy and made a nest to the secretary's cardboard box and did not come out all day.
My colleague had found my (clean!) boxers and rolled them in his mouth in front of my face, desperately trying to provoke me to break out of the coding routines, even for a moment, to neckband and leash games.
My team's newest colleague today fetched another team member's work shoes from the hallway and banged the walls and television with them. This was also recorded in the background of one of my work videos. The senior of the team, on the other hand, has suffered from flatulence today and has been lying on his side in the living room with an old sock in his mouth.
A colleague of mine played Angry Birds 2 during a Teams call and occasionally shouted "Pig! Pig drops!"
My colleague dragged the ukulele, drums and xylophone into my office, playing them all at once, and repeated one song from his music box over and over again. He called me stupid several times when I didn't help fix his car and ate his snot.
Obviously, the second one is mine but I'll add this one too:
One of my coworkers pushes himself between the sofa cushions all the time while the other sits in front of the balcony door and scratches the Venetian blinds to indicate that the door should be opened in order for her to continue sitting in front of the balcony door.
How are your colleagues doing today? :D
---
Originally published in Whaleshares:
https://whaleshares.io/@insaneworks/what-did-your-co-workers-do-today
I'm also in HIVE. Come there because from now on I won't be publishing in Steem that often.
https://peakd.com/@insaneworks