Hello Steemians,
Last week, we had a contest for all of you to guess which community is going to be Steem Mentor Team #7!
---
We have 9 entries in the contest!
Thank you so much for your participation.
The correct answer?
---
Steem Mentor Team #7 | TypeEarn Mentors
---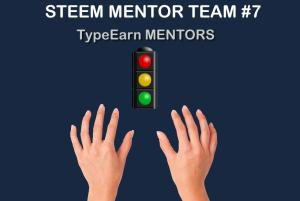 ---
Rewards to our Winners
Out of the 9 participants, we have 8 winners.
The following 5 Steemians are qualified to receive 3 TPC + 2 STEEM:
Not only did they guess the platform correctly, they also gave great explanations as to why TypeEarn Platform is chosen for Steem Mentor Team #7
The colour of Picture and the position of hands on it clearly indicates that the upcoming mentor program will be organised to onboard users on the TypeEarn platform. A tribe based on typing skills. Where anyone can improve typing skills by using this platform and also earn some tokens as rewards for their work. Such an amazing platform where we can learn and earn both. If someone wants to learn typing then there is nothing better than TypeEarn. Steem blockchain really giving allot to the people around the world. From now I highly recommend all my friends to learn typing using TypeEarn.
My answer is- TypeEarn
Both hands in typing posture clearly shows that its about newly launched platform TypeEarn https://typeearn.com/ which was shared by @tykee
This is a great platform which allows us to learn and earn TPC tokens at the same time. We all need a good typing because we are content creators but here we can earn while learning. I am calling my few friends to try it out and I am sure it will be helpful for them as well.
I had seen few promotion Post about this tribe in steem and even seen TPC tokens in SE.
Although I am yet to start with it but I like the concept behind it. I am not too good in typing so hope with this one I can improve. Mentor program will surely bring more users on board and help this platform to grow.
This is easy: it's typeearn created by @tykee... it's an amazing new Dapp where you can earn learning. Love it!
It is a platform that brings a different way to get rewards apart from being in a fun way can increase the writing speed ...
typeearn
The following 3 Steemians are qualified to receive 3 TPC for guessing the contest correctly:
Congratulations!
Congratulations to all of you!
The contest is sponsored by the founder @tykee and will be giving out the rewards to you. Please check your Steem wallet and Steem-Engine wallet later.
We will be moving to the next step to start recruiting TypeEarn Mentors.
You can nominate people here in the comment below.
Let me know who you think are suitable to be TypeEarn Mentors. You can also nominate yourself.
Let's get the fun going,
Rosa
@rosatravels
---

Thank you to Our awesome delegators
@paulag | @amico | @rosatravels | @dylanhobalart | @robmojo | @d00k13 | @newageinv | @yonghwanny
Thank you to Our awesome supporters for your donation
@rosatravels | @katerinaramm | @pharesim | @etcmike | @paulag | @geekgirl | @carlpei | @whatsup | @amico | @moghul | @iamjadeline |@earnlogy
Please support us and Donate 1 STEEM to support @BeAMentor
We will give you UPVOTES for your support!
---
Thank you for reading this post! If you like the post, please upvote, resteem and comment.
谢谢你的阅读!希望你喜欢。如果你喜欢我的分享, 请点赞并跟随我。