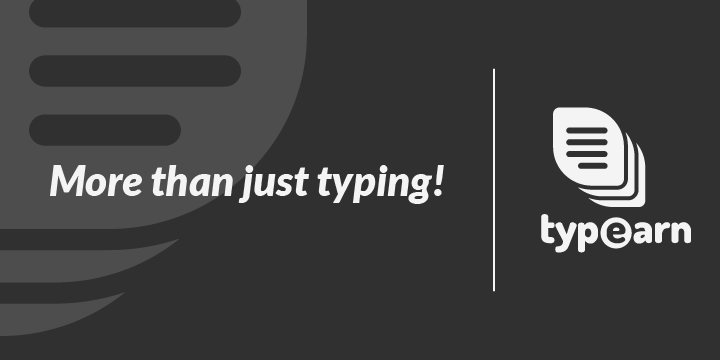 Hello TypeEarners!
We bring to you this short guides to use Typeearn.
Short Rules/Guidelines For Using The DApp
We like to make these short guidelines and rules to be known to our community members and new adopters. Below are some guidelines that all users must condone with as we use Typeearn in mastering our typing skills and earning rewards in TPC token.
DO NOT USE MORE THAN ONE STEEM ACCOUNT
---
Without a doubt, Typeearn is created to incentivize you as you master your typing skills. Nonetheless, we cannot stand it when we see some users trying to game the system. Typeearn is meant to benefit the mass. Using the Steem ecosystem means we strive to bring more users to the blockchain.
We have plans to reward tonnes of people, not just a few hundreds. In order to do that, we need to utilize the available resources at best. One of the ways you can help us is to be just. The usage of multiple accounts will harm the system.
Failure to be guided as regards this will result in you losing your earned rewards and your account being terminated without notice.
DO NOT MOVE TOKENS BETWEEN ACCOUNTS TO MINE
---
Most people on the Steem Blockchain are anonymous, and we do not have any KYC to know anyone. It has come to our attention that in the quest to mine more TPC, some users move their tokens to their alternate accounts. Again, this is not ideal. It is in our interest to expand our community to the farthest to bring about a sustainable economy for our utility token. This will benefit everyone contributing to this project. Also, the amount of account holding TPC token will affect the mining, because every hundred accounts add 100 to the initial metrics and giving TPC holdler more power to mine more. Therefore the movement of token to fake or multiple accounts will end up hurting people that only mine and sell, but give more power to TPC holdlers.
---
Remember to always be modest with your Sell Biddings. Do not be too impatient and bid at lower prices, for this has negative effect on TPC and reduces its market value.
---
Thank you for following our updates and being part of this wonderful family. Continue to type and earn!
---
Our Wonderful Team</center

@tykee @ckole @sahmmie @katerinaramm @anharismail @teekingtv

Our Influencers

@darewealth @alvinckc

---
Follow Us On Social Media