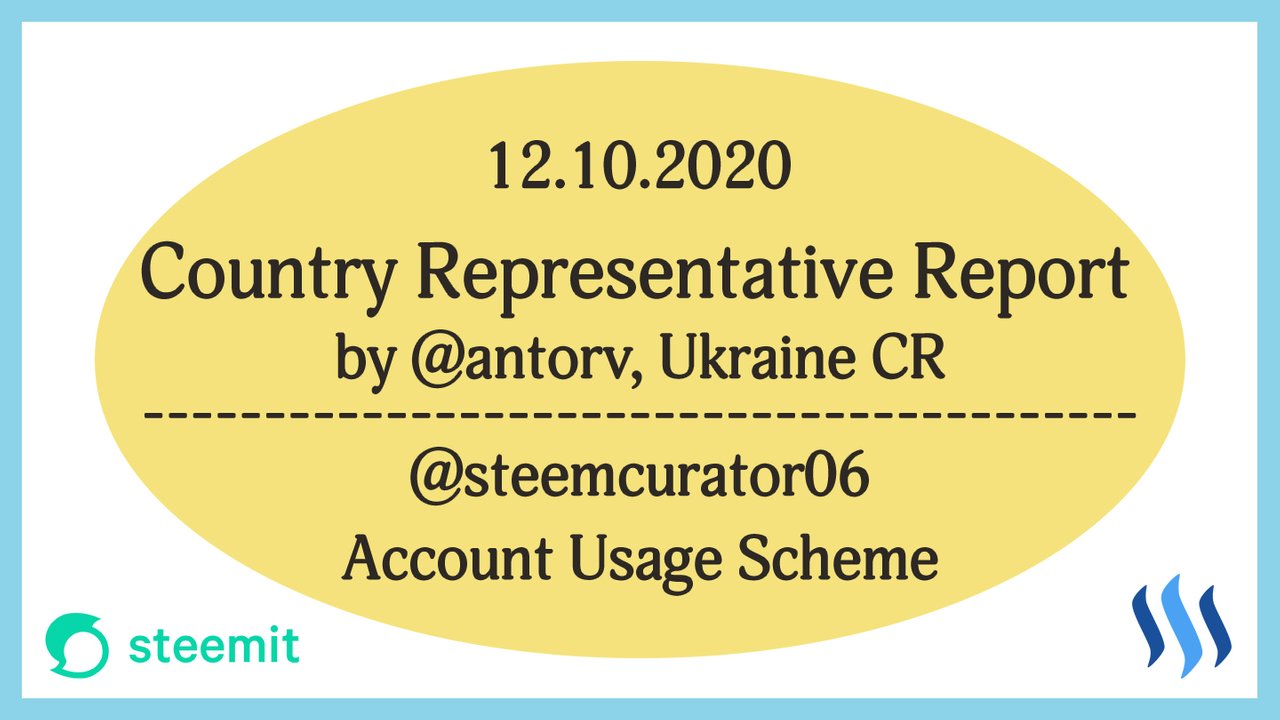 ---
13.10.2020 — @girolamomarotta
14.10.2020 — @olesia
15.10.2020 — @alikoc07
16.10.2020 — @knopka145
17.10.2020 — @antorv
18.10.2020 — @filinpaul
19.10.2020 — The Day for Extra Votes (Italy)
20.10.2020 — @girolamomarotta
21.10.2020 — @olesia
22.10.2020 — @alikoc07
23.10.2020 — @knopka145
24.10.2020 — @antorv
25.10.2020 — @filinpaul
26.10.2020 — The Day for Extra Votes (Turkey)
27.10.2020 — @girolamomarotta
28.10.2020 — @olesia
29.10.2020 — @alikoc07
30.10.2020 — @knopka145
31.10.2020 — @antorv
01.11.2020 — @filinpaul
02.11.2020 — The Day for Extra Votes (Russia)
03.11.2020 — @girolamomarotta
04.11.2020 — @olesia
05.11.2020 — @alikoc07
06.11.2020 — @knopka145
07.11.2020 — @antorv
08.11.2020 — @filinpaul
09.11.2020 — The Day for Extra Votes (Ukraine)
---
Hello, dear friends!
As @steemitblog announced today, @steemcurator06 account expands the coverage to the whole of Europe.
It means, the existing operators of @steemcurator06 account (@filinpaul, @knopka145, @antorv, and @olesia) will share it with the other European Country Representatives: @alikoc07 from Turkey & @girolamomarotta from Italy.
I've suggested to try the following rotation scheme for this week:
13.10.2020 — @girolamomarotta
14.10.2020 — @olesia
15.10.2020 — @alikoc07
16.10.2020 — @filinpaul
17.10.2020 — @antorv
18.10.2020 — @knopka145
Then the line should be repeated from the first one again.
I suggest trying the curation queue as I've mentioned first week, and then, 18th October, to analyze if everyone is satisfied.
@alikoc07 told us he's gonna use @steemcurator06 for the SteemFoods Community curation (because there's only 1 active Turkish Steemian on the platform), and asks to use the account twice a week. I think that would not be fair. Or, at least, we should analyse the situation before making a decision. Because, as @steemitblog mentioned, @steemcurator06 account expands the coverage to Europe, and most of the SteemFoods Community participants are Asian and Latin American (which means they have their own regional curators).
Anyway, we can decide the most fair way when we analyse the following week's curation results.
Also, I want to emphasize that users from Ukraine (also from Russia and Belarus) can be dormant temporarily — because they wait for the Country Culture Challenge and other numerous activities on Steemit.
---
I want to declare the list of Ukrainians whom I curate:
@antorv (self curation)
@batishta
@dany2323
@ir3k
@jurgan
@lil4a
@lilapereguda
@mikebo31
@nesmeliy
@olesia
@olga.maslievich
@rosy440
@slon21veka
@tushkanchik93
@vict0r
@vlad2004
@vlas-ir-a
@yakubenko
Also I put upvotes to @filinpaul & @knopka145, as they can self curate themselves once per 4 days.
And temporarily dormant accounts (no activity during the last 8 days), which are active in our Steemit Bloggers Tg chat at the same time and should be checked for new posts:
@alexmove
@chinaprofitpro
@dianananas
@extendhalley
@golden-rain
@juliavolkova
@jumbledwalking
@korda.sha
@lepuz
@nevachaze
@oksy
@paniokcana
@suhano
@ulialitva1991
@vikavi
@victoooria
Also I check accounts of Belarusian Steemians who can start posting someting worth any time:
@ak1o
@cryplatinum
@ekatirina
@greencmetaha
@yura77
---
As a conclusion, I want to say, —
Happy curation, everyone, and enjoy! :)
---
To the attention of @steemcurator01 & @steemitblog.