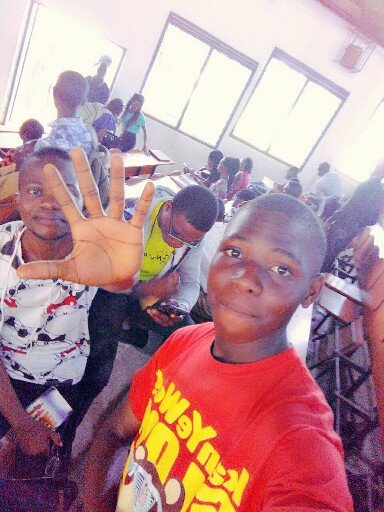 Myself with my friends in class after today's Lecture
I woke up this morning around 4am feeling tired and exhausted, probably due to the stress I went through from the sporting activities in my school. At first, I felt like sleeping back, but remembering the lecture that was scheduled for this morning, I had to summon courage, forced myself up and started preparing my breakfast for the day. After which I started preparing for the lecture. By 7am, I was fully ready. I took my breakfast, after which I started trekking to our faculty which took me about 25min of trekking. It wasn't an easy stuff doing this everyday but I thank the Almighty God for always strengthening and protecting me everyday. I arrived class at around 8:30am, met some of my colleagues who had been there before me. Together we started waiting for the lecturer who was to start lecture for us by 9am. He finally arrived few minutes after 9, started the lecture with us and ended it by 11am... I must confess, I truly enjoyed the Lecture as the lecturer was so jovial in his manner of approach. Here I am back in my room typing this. With heart full of gratitude, I sincerely appreciate the Living God (Jehovah El Shaddai) for giving me the gift of another day and making me be in a state of good health and body to witness it. God is always faithful to me, He cares for me, He always provide for me even though I have no father again, therefore, He is the only heavenly Father remaining for me. He is the Alpha and Omega, the beginning and the end. He makes way where there seems to be no way. Once more, I sincerely bless His Holy name for the gift of today, Thursday, June 7, another wonderful day.
Presently now, I am in my room trying to get some nap so I could gather some momentum for tonight's reading. May the God Almighty who started this wonderful day perfect the rest of it for us all. AMEN...
Special thanks to @surpassinggoogle and the rest of the ulog community as whole
Thanks a lot for reading
I remain my humble self @andymandy01