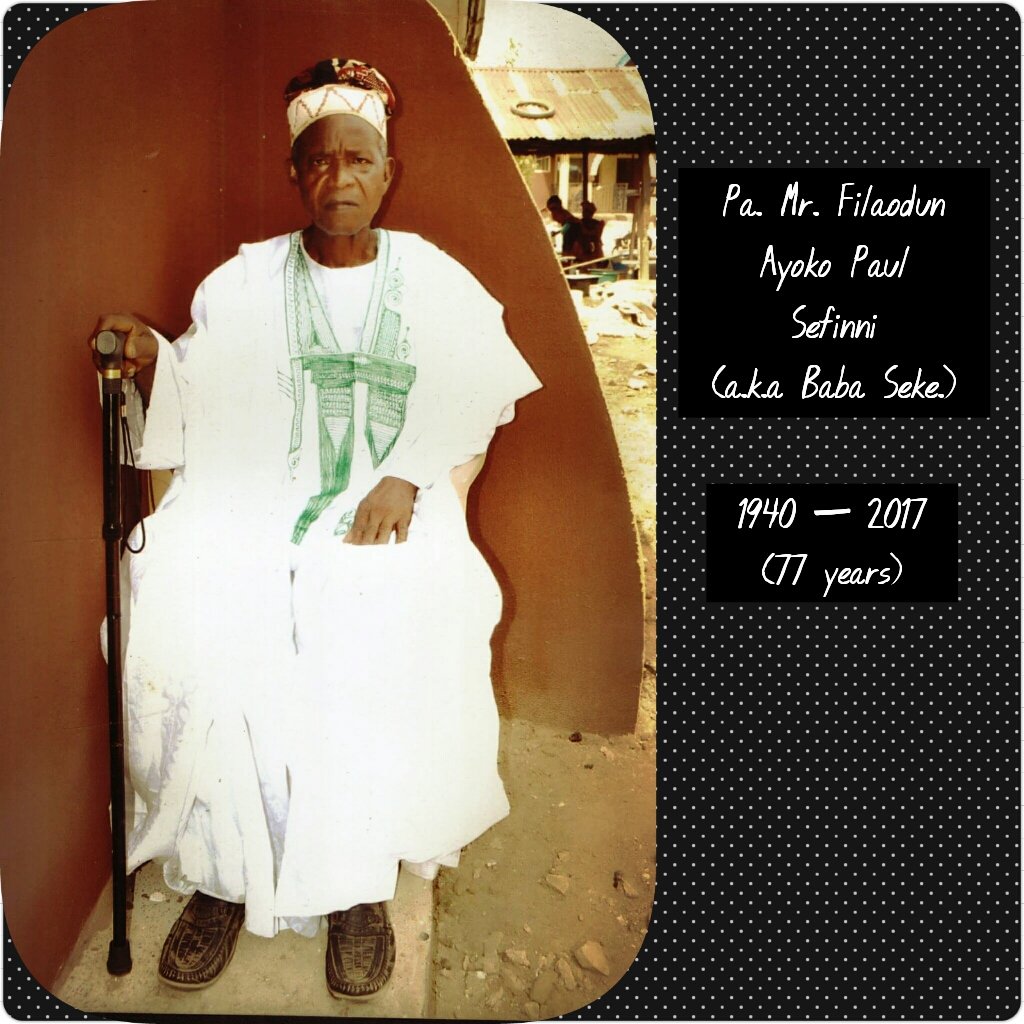 It still looks like a dream to me, even till now. Imagine someone that still came to pay his usual visit to me and my siblings on the 15th of that same November, looking very agile as usual and having no symptoms of any ailments at all. In fact, he still gave me his usual advice, "not to involve myself in bad gangs" while I was leaving for school the second day for my 200lvl 1st semester resumption, unknowingly to me that would be the last day I would set my eyes on him. And all of a sudden, on Thursday morning, the following week, while chatting with my friends in class, I received an emergency call from our eldest brother telling me that my father was critically sick and that he had been admitted in to the hospital on an emergency note. I could vividly feel the sadness and bitterness in his voice as he was talking to me on my phone. With no further explanation, It instantly dawned on me how serious it was, leading to a mood change that my friends instantly noticed. They asked me what happened and I told them everything. Everything including the lectures throughout that day was nothing to go with as all my mind was all focused on my dying father.
On the second day which was Friday, still in my sardonic state of mind, I called my brother to enquiry for the full details of his sickness, to which he told me he didn't know. He only told me that there was traces of blood in his urine, and urged me to be very serious in prayer for him. And that was the situations of things from that Friday through Saturday to Sunday afternoon.
By Sunday evening, I received another call from my brother telling me that my father had been placed on oxygen. This really aggravated my mood, I could no longer focus on anything again: I couldn't eat, I couldn't read, I no longer notice anybody around me. Now my thought was not just about my father alone, as it now included my mother, the one who had been staying with him even before anyone of us was given birth to. In fact, they had always been staying together, doing the same farming work, helping each other, dinning together, sleeping in the same room and lots more. Since I was given birth to, I never for once saw the two of them quarrelling. They were always in agreement. How on earth would she be able to cope if all of a sudden this sickness took my Dad's life, leaving her to herself alone.
On the next day which was on Monday, the day that preceded the day he died. I couldn't bear it anymore in school. My plan was to travel to go see him myself on that day, but my brother called me and cajoled me to believe he was getting better. This I believed and subsequently changed my plan.
Early morning on Tuesday, November 28, the unfaithful day I lost him, I called my brother to confirm situation of things, but he still sweet-talked me to believe all was well. This he was doing so I wouldn't lack focus in my studies.............................
Hmmmmmm... Then by 1pm on that unfaithful day, I received that painful phone call from one of my sisters, informing that my Dad had finally died. At first, I was so confused and didn't know what to do again. I could feel that sorrowful tears dropping down my cheeks. I was just there alone in my room feeling so sad and remorsed. I later summoned courage and went straight to pay my school fees that had been with me even before He fell sick, as I knew vividly that its supplier is gone and if anything happened to the money, it would probably be impossible to get another one for the next three months. I later called my brother to know the next thing and he asked me to still remain in school, that my Dad's body had been taken to the morgue.
Three days after, my brother called me and informed me that my Dad would be laid to rest the following week, December 8, 2017 to be precised. He asked me to come a day before that day, which I actually complied with. Lo and behold, we finally laid my Dad to rest on the proposed day, December 8, 2017.
He was succeeded with my mother, myself and four of my siblings. Before his demise, My father was a strong activist of education, even though He didn't go to school himself. With the little earning He was making as a peasant farmer, He ensured that He sponsored all five of us in to school. To this, and I said that His legacy will forever remain in my heart and will do my best to ensure that the educational foundation He layed for me will not collapse. May His soul continue to rest in the eternal Kingdom till we meet and part no more.
Below is a memorial Design I made for him: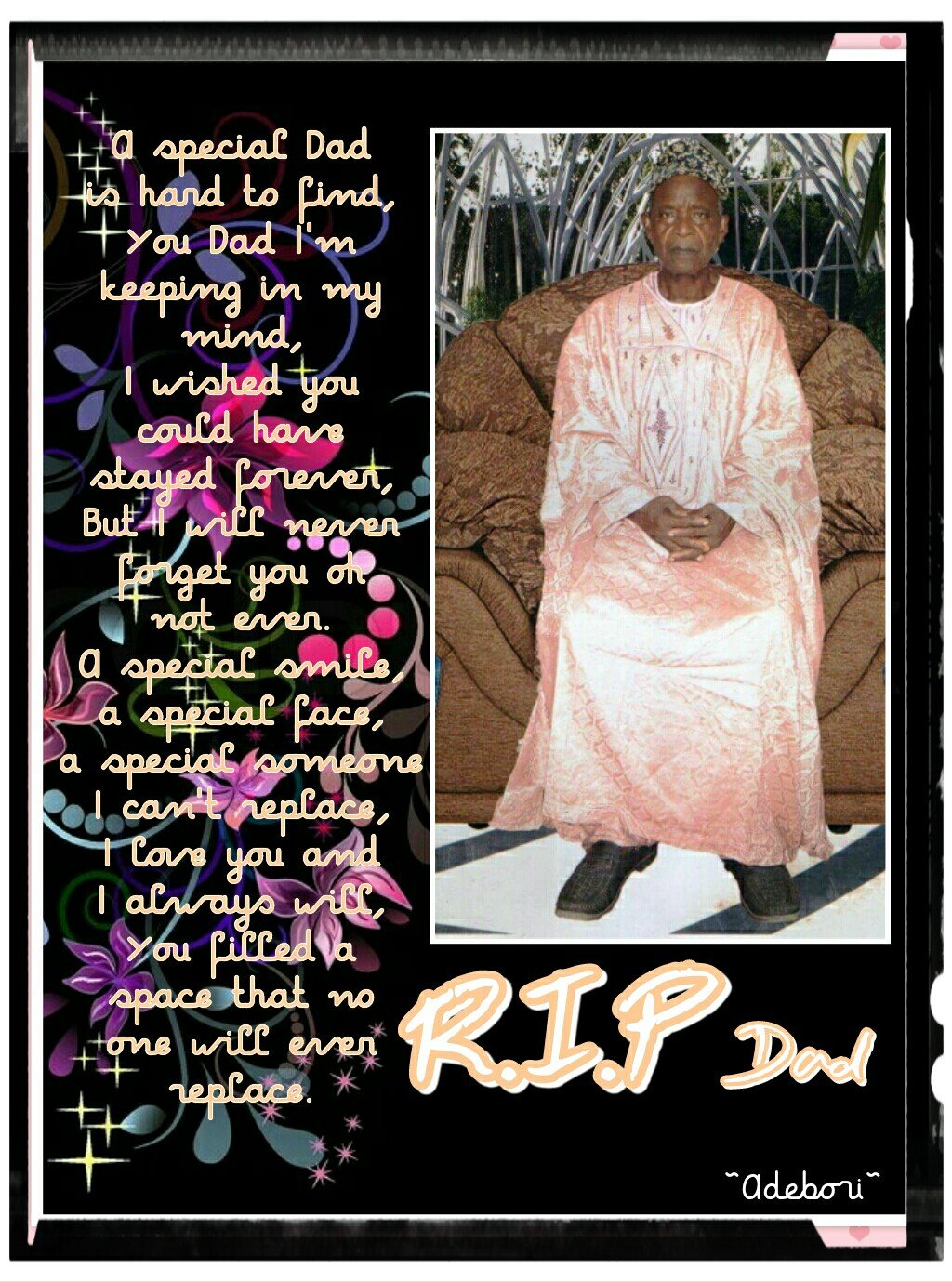 More Update to come
Thanks a lot for reading
Please encourage me with your Upvote, Resteem and Comment