In Colombia, unlike Venezuela, the day of love and friendship is celebrated in September, in my native country it is celebrated on February 14 specifically.
In the company where I work, an exchange of gifts was organized for that date, and it is also customary to do something called endulzada, which is a kind of secret friend but where every day they make gifts of some candy and closes with the delivery of a special gift.
Of course, so far it is likely to be asked:
What does that plate of food have to do with all this?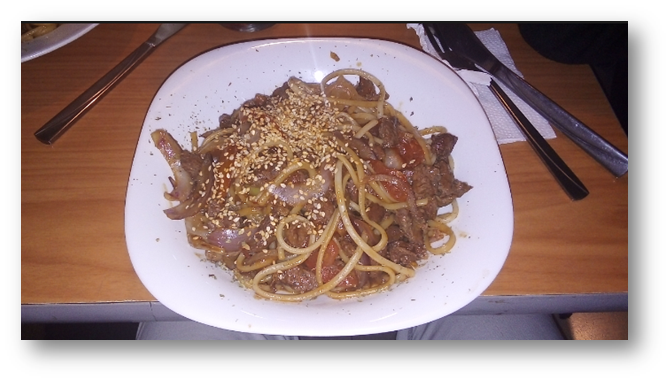 At the initiative of my bosses, they invited the workers to have lunch at a place determined by them, that dish was what I ordered to eat.
It was really as good as it looks.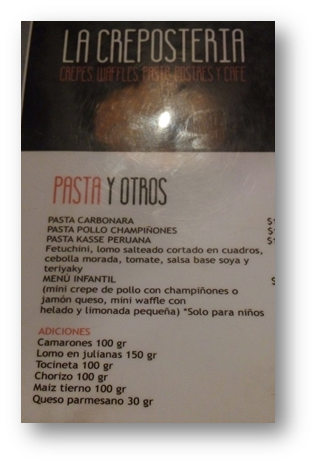 The invitation was to a restaurant that specializes in waffles, pastas and crepes.
La Creposteria
We came and sat down, from time to time a singer would come and give away songs with guitar in hand, -each one who has his way of earning a living, honestly-.
They brought the menu, and I went through it in search of something totally different, I'm not used to eating things that I can easily prepare at home.
And I was struck by that dish, from which I bring an image of the menu in which you can see the respective main ingredients.
The dish is called:
Peruvian Kasse Pasta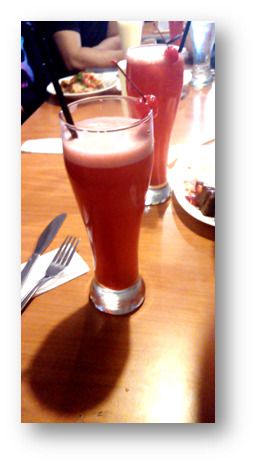 Of drink, then, I asked what they had and I was named several things but something I did not know was a call cerezada, which of course was what I asked.
You can see it in the image on the left, a fairly citrus flavor, with a touch of lemon.
I also tasted coconut lemonade, a true delight, I must say. I didn't know that combination.
Very good.
I wanted to share this moment with whoever comes by.
Each country has its particularities, but in the end, we are a conglomerate that responds to a certain cultural pattern, something complex to fight against that, I think that in the end it is easier to join the herd sometimes and enjoy the moment, but always with the awareness of everything.
Note: Images captured with my phone HUAWEI Y5.

I invite you to be part of