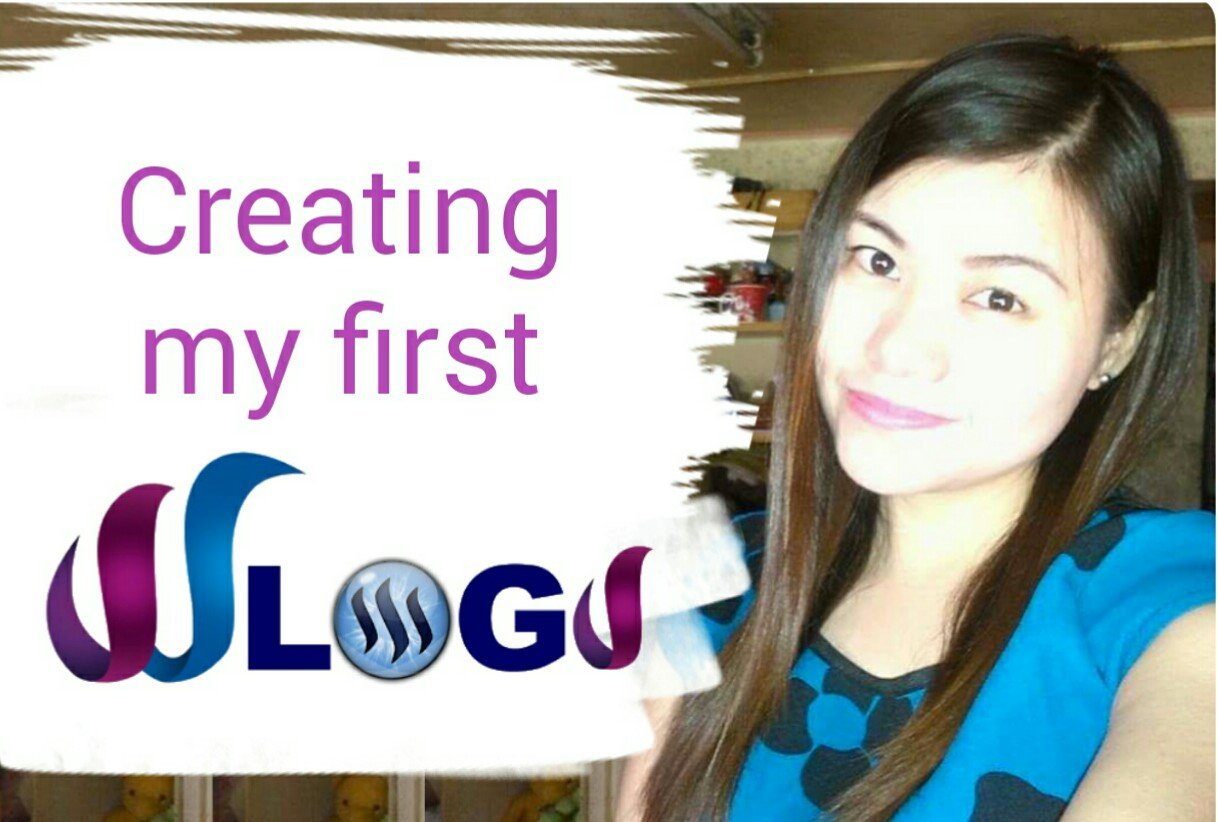 Introduction
Last time, I share a post about my exploration on STEEMGIGS steemit platform where it says that "Everyone Has Something to Offer". Suddenly I saw some post like they are promoting this theme but the platform was not STEEMGIGS, it is
#ULOG
. Ulog is now one of the most popular steemit platform as of today. I really heard many good things about this platform so I decide to make a blog about this steemit platform that I am going to explore.
I was curious when I saw some steemians posting about surpassinggoogle's "Everyone Has Something to Offer" / ULOG Steemit Platform. I found out that the creator of this platform is also the creator of STEEMGIGS Steemit Platform which is sir Terry aka surpassinggoogle. The platform is almost the same with steemgigs but let us discuss the features of this steemit platform. The people using this platform may called uloggers which sir Terry declares it.
First of all, ULOG came from the word YOU or in shortcut for "u", refers to an individual which is also you and the LOG means record. This means that ULOG is a daily log of you or your daily diary. It sounds like blog but instead of posting something, it is a record of your daily life. Wow, a new steemit platform for the purpose of making a daily diary for yourself. This is good for everyone because ULOG offers a new way to share your daily life and the good news is, you are also earning because these platform is also a steemit platform. If you made a post on ULOG, it is also posted to your steemit.com account.
The Main Website (ULOGS.ORG)
Now, let us explore this wonderful website created by sir Terry / surpassinggoogle. If you can see in the first image below, the interface is very simple and understandable. If you compare it to steemgigs, the functions were also like that steemit platform. There is a login and a sign up on the top of the menu.
If you click signup, you would be directed to https://signup.steemit.com/. But if you have already account, you can click the login menu and connect your steemit account to this platform. I already discuss how to connect your steemit account to other steemit platform like ulogs.org. You can find it here on my last blog titled Exploring SurpassingGoogle's STEEMGIGS Steemit Platform .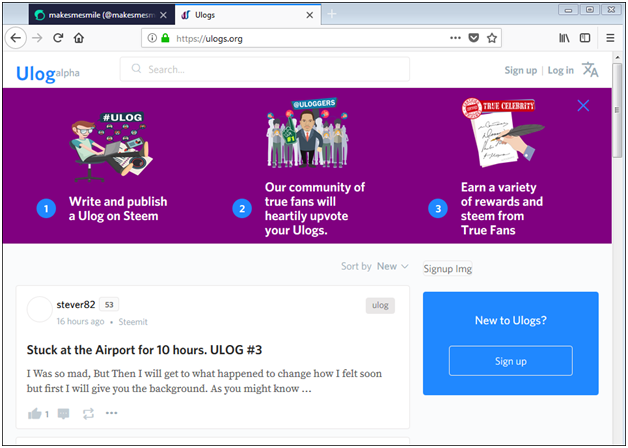 We can see on the platform that there were three (3) features of this platform. The first one is the write and publish a Ulog on steem which I already explained above. If you published a post on ulogs.org, it automatically published also to steemit.com which gives you a more exposure to your post.
The next feature was related to all your fans or we can call it followers. The platform offers to the community that will upvote your blog. This is the most exciting part of ulog.org. Can you imagine a community that will upvote your post or blog. And the last one is earning a rewards from your true fans. It says that it was variety of rewards, meaning you can earn steem or steem dollar or steem power.
Below, you can see a lot of post from steemit platform. It includes all the post from different platform as you can see, if you have a previous post from other platform, you can also view it from ulogs.org. Unlikely on steemgigs where your post on steemgigs is the only thing you can see on steemgigs steemit platform. Other post was not included on it. In ulog
You ULOG Dashboard
Like what I've said in my previous post, dashboard is very important. It is your monitoring for your account so that you can see all what is the latest task or post you do. In ulogs.org, this is the interface design of your home account dashboard (see image below).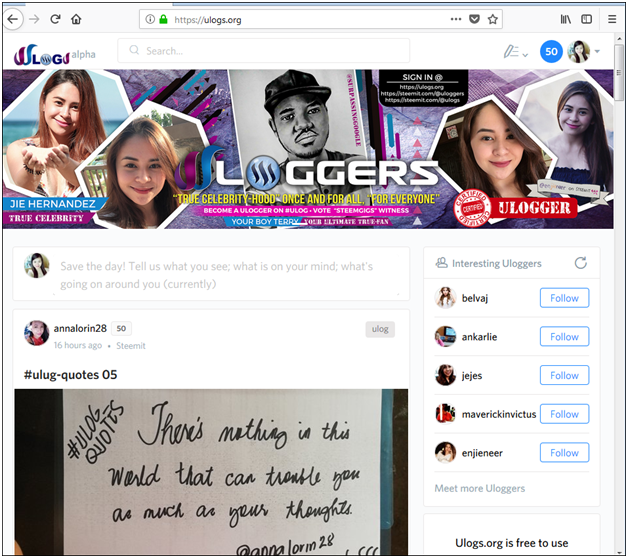 On the upper right side of the platform, you can see that there is a number 50 which refers to my notifications. The good news is there is a search box on the top of the interface where you can search many articles or blogs or ulogs made by steemians and uloggers.
You can see the feature photo of some famous uloggers and of course there is the Interesting uloggers you may follow. But do not forgot to follow me @makesmesmile hehehe. You can also publish a post right there, it is almost complete dashboard. It allows you to have it all in just one interface or webpage. Sir terry made it really simple and powerful.
You can see a pencil icon on the upper right side of the platform. If you click that, there is a menu where you can write your ULOG POST. Other menus are MORE ULOGGING, Write a post, write #teardrop and Write #untalented. All has its function but let us proceed to Write a ULOG.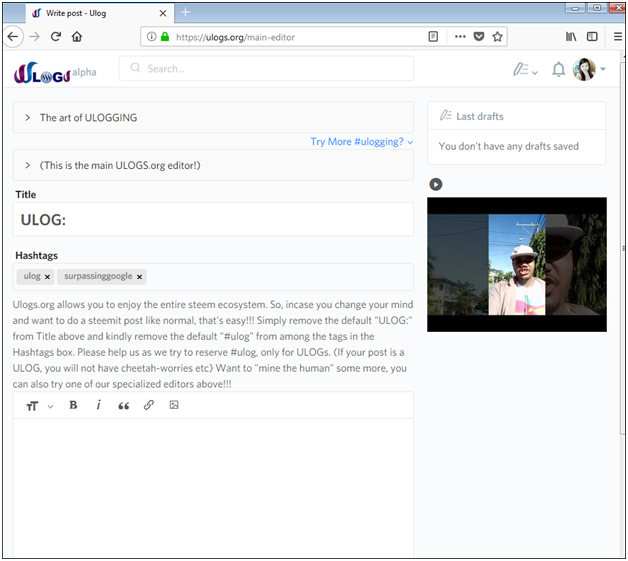 The posting method of ulogs.org is same as in steemit.com. There is a title but the title has a readymade attached "ULOG" word. I almost forgot to say that when you are ready to make your ulog, it should be numbered. Always start your post with 001 or 01 or Day1 because ulog is your daily diary. For me, this is my first so I will write ULOG 1. Kindly include in your title is the main title for your ulog post. For example, in this post of mind, I will put my title as ULOG: 001 - Creating My First Ulogs in ULOGS.ORG.

Oh, I see some limitations for ulogs.org. You must not exceed to 16MB in making a post. Take note of that. I cannot post this one yet on ulogs but still I will post it as my first ulog. The content part is also very simple, you can create and customize text like a normal steemit posting. Can you see that the hastag part was on the top of the content part? It was customized and defaulted to u#ulog and #surpassinggoogle.
I really advise that do not remove those two tags so that ulog fans has a higher rate that your post was visible to them. Just add another 3 more tags to maximized your post.
The reward method is also here where you can select the type of reward you want to receive for your post. Always check the LIKE THIS POST and if all is ready, just click the post button below. Is that very simple.
So I will try to post on ulogs.org today and hope to gather more followers and upvotes. I want to thank sir Terry for this amazing steemit platform. That's it for today, I hope that this post may help you to start on ULOG. I officially saying that I am a proud ulogger starting today.
Please do not forget to follow me @makesmesmile and upvote or resteem this post