Hello Steemians,
Today i feel very delighted about this very interesting initiative of @surpassinggoogle who has seemed it fit to create and introduce to us an avenue to express our very own self which is the #ulogs tag.
To me, this is a prayer point being answered because all my strength journey since January has been dedicated to praising people and expressing deep immense gratitude indication of others but today a new dawn has come and i must continually be grateful to Sir Terry @surpassinggoogle, you have been a life wire of many steemians and your kindness will never go unrewarded, you are a role model steemian anyday, anytime.
Going straight into business proper, i choose to tittle this my very first post on #ulogs "Me, Myself And i" this is to make my readers understand better what this new tag stands for. It's all about you and you alone, now you can express something and anything about you here, market yourself for people to see what kinda good stuff you are made of.
Odom Augustine are my names in full but am popularly known with the A.K.A @austinebizzy.
For today, i want to talk about my memorable school days in the University with my colleagues as you can see in the pictures below.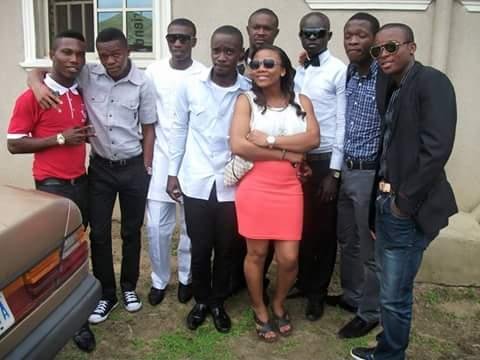 I read Accountancy in a ronouned Ania State University, on this beautiful day we had gone to grace the wedding ceremony of one of our course mate from school to a distant town in another state (Rivers State), we had a lot of fun, shared memorable picture moments and had some of us promising their boyfriends and girlfriends marriage should they make money quick even before leaving school. Laughing out loud!
You can imagine how funny that sounds not because it's not possible but because we were already doing our final year as at then, almost leaving school of which it's clearly obvious that every feeling we must have had for each other will definitely die down once we graduate.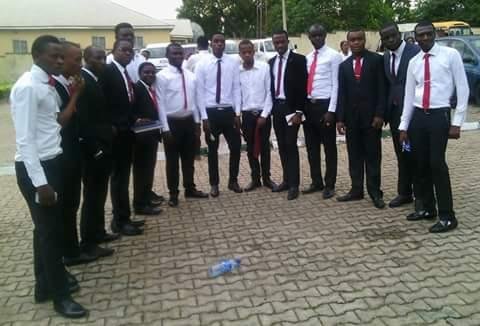 The nature of our professional field of study was usually too demanding, a lot of stressful sacrifices were paid, too many self denials and a lot more, were all laid down in other to finish and graduate successfully. We had a usual corporate dress code for lectures everyday which was white shirt on a black trousers with red boltie, any shoe colour can go and you can see that in the picture above. This attire made us to be identified and referred to as professional students of a professional course, you won't dare to beat the honor and respect we bagged for ourselves. We love and shared things in common building ourselves to be one family, unity in diversity was our slogan and we upheld it with high esteem.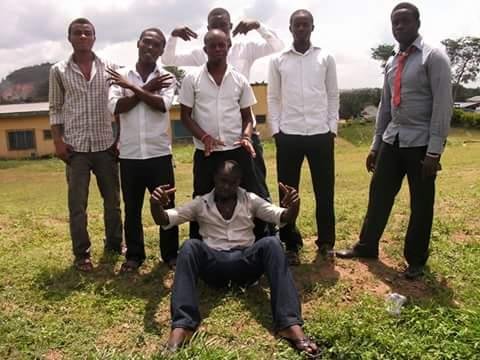 All work and no play they say, make Jack a dull fellow. This orientation had always gotten us fingered towards organising and engaging in little parties, singles hangouts and some other outdoor gaming activities. Our school was surrounded by high mountains and we would always make our dates to climb the top mountains, host short day parties, visit the waterfalls there, play games and take photos before we collapse activities for that day.
Our gentlity was unique, our oneness was enviable and we paraded ourself with something much pride to befit our profession.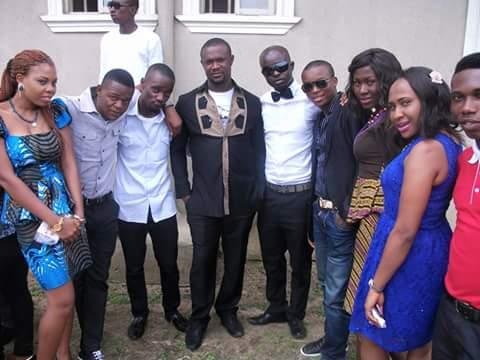 Our female colleagues were beautifully beautiful and quite so enticing, you wouldn't dare try shit at them and we let you go free, there fight is usually our fight because of the love we share and believe you me that life was pretty sweet and still is because we move on to grow on.
I sincerely thank Sir Terry @surpassinggoogle for @ulogs #ulogs, which has made it possible for me to create sweet memory out of these old school days pictures of me, myself and i with my colleagues then.
We the Nigerian community steemians will do everything possible to build a unique propelling force around this tag by making it a consistent used tag and one of the very best steemit had ever seen, the capacity is in us and i believe.

Thanks For Reading,
See You Soon,
Yours Truly @austinebizzy.