When our humanity, peace & freedoms takes a back seat to technology, currency, power, wealth and punitive discourse, we have lost our way. When our faith that technology will "save" us or solve all our problems, we have abandoned Spirit and we are doomed to repeat this cycle until we learn and realize who we are. When process matters more than healthy relationships, our relationship is doomed to fail.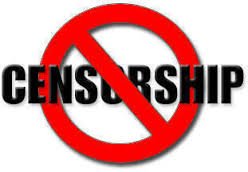 TNIOp CC BY-SA 3.0
When ideas and posts are shut down and people are attacked through covert and openly overt methods like mocking, physiological manipulation using shame, guilt, minimization, name calling, dehumanization, bullying, flagging and a whole range of other manipulators, the violence must be confronted and addressed.
The fact that people resort to this type of behaviour proves that the system has major flaws, is unhealthy and it will fail to foster freedom, prosperity and artisanship within the blockchain.
The abuser does not get to make the determination on whether their actions are abusive or not.
While it seems that the vast majority of users on this blockchain support the current methods of tyrannical governance, I do not. To be VERY clear:
Everyone has the right to be treated with respect.
Everyone has the right to express their feelings and opinions.
Everyone has the right to set boundaries and choose who they will interact with.
Everyone has the right to say NO!
Everyone has the right to disagree or have differing opinions.
Everyone has the right to self care and protect oneself from being threatened, intimidated or attacked.
Everyone has the right to peace; physically, emotionally, mentally and spiritually
Everyone has the right to be free of violence, coercion, manipulation or intimidation of any kind.
Everyone has the right to a livelihood
People are shocked at my suggestion that vigilante's are policing this blockchain. People think that I am being satirical, over exaggerating or even being overly dramatic when I point out the tyranny and untouchables on this blockchain. I am using the privilege that I've garnered over the past two years to give a voice to those that have none. I am speaking out against those that engage in self-righteous, self-justified, mob supported violence which instills fear, anxiety and injury against those that don't agree as they face the wrath of vengeance as a result.
Again: This is mob rule
When a single spiritual being gets hurt as a result, we all have gone too far. While the vigilante's justify their actions so that they can deal with spam and plagiarism, they hide behind righteousness while they engage in violence to squash free speech, differing opinions and dish out their form of "justice". It is all justified as a necessary evil and that there is no other choice.
We always have a choice!
Whether you want to admit it or not, when people get flagged and then face the avalanche of abusive comments, they are injured, hurt, angry, confused, disappointed, sad, rejected and / or diminished by the action. This is abhorrent human behaviour and you nor anybody else gets to decide if the flagging actions were violent or not. The people who received the flags decides and many people have been talking about the violence for years but nobody wants to listen, acknowledge or believe them.
Where is the empathy for our fellow spiritual brothers and sisters? Who is willing to help guide, teach and mentor instead of using punishment and bulling?
People are so focused on the system that the people are forgotten, dismissed or left behind. It is impossible to create a perfect system as the problem is and always will be human. This blockchain is going down a dangerous, dark path if we don't fix how we interact with one another first. The system itself encourages and validates this abusive behaviour by design and I say again: The design is flawed!!!
We must always establish a foundational structure of respect, honour, peace, freedom, prosperity and love. ALL decisions must be filtered through this foundation first!
I rebuke the vigilante thugs that police the blockchain, but I also rebuke all those who remain silent or provide the environment for them to flourish. I suspect many remain silent as they fear the wrath of vengeance that will get dished out if they speak up. Fear is what keeps these people in power because they use it as a weapon to control the blockchain. That is why they follow their flags with verbal violence and abuse! People don't have any way to defend themselves. It is a horrible feeling that often gets ignored.
This blockchain has a major violence issue that is tearing at the core of our community!
Censorship is violence. Keeping people in line with fear is violence. Intimidation is violence. These are behaviours we come to expect from politicians, narcissists or even psychopaths, but now we expect it from those that govern here as well.
"Censors seek to limit freedom of thought and expression by restricting spoken words, printed matter, symbolic messages, freedom of association, books, art, music, movies, television programs, and Internet sites" - MTSU
"Censorship is the suppression of speech, public communication, or other information, on the basis that such material is considered objectionable, harmful, sensitive, or "inconvenient". - Wikipedia
"The First Amendment allows us to speak our mind and stand up for what we believe in. However, the limits on free speech are rooted in the principle that we're not allowed to harm others to get what we want. That's why we're not allowed to use speech for force, fraud, or defamation." - policyed.org
"Freedom of expression is a fundamental human right. It reinforces all other human rights, allowing society to develop and progress. The ability to express our opinion and speak freely is essential to bring about change in society." - indexoncensorship.org
"The idea of 'right livelihood' is an ancient one. It embodies the principle that each person should follow an honest occupation, which fully respects other people and the natural world. It means being responsible for the consequences of our actions and taking only a fair share of the earth's resources." - rightlivelihoodaward.org
"He saith unto him, Which? Jesus said, Thou shalt do no murder, Thou shalt not commit adultery, Thou shalt not steal, Thou shalt not bear false witness," - Matthew 19:18
"And the second is like unto it, Thou shalt love thy neighbour as thyself." - Matthew 22:39
I refuse to support people who condone theft. Taking peoples livelihood away is theft, dishonors those that gave the reward and dishonours the art form being expressed by the artist. I know this drives people crazy and many will try to convince me otherwise. I'm still not convinced and I'm putting my vote towards those who will advocate for a foundational shift in governance on this blockchain. There are ways to deal with those that engage in violent behaviour, not limited to spamming and plagiarism, but also should include abuses of all kinds. We need methods to ban and block people, so that each user has the power and authority to maintain their own individual boundaries. That does not exist on this blockchain and it is an absolute requirement in order to receive support from me.
If these issues are not resolved, I will remove all support and withdraw from this blockchain. Just as I've done with the violent political systems, I refuse to participate in an environment that causes harm to people. This is not love, compassion, empathy, peace, prosperity or freedom. If we as a community cannot figure that out, then this community deserves to wither away and collapse under it's own weight of greed, apathy and violence.
Any witnesses out there that want and deserve my vote?
My heart is breaking as some witnesses are my friends. ALL are my brothers and sisters. I forgive you all and I love you dearly. May Creator bless you all with peace, freedom, prosperity, joy and love.
The blockchain and resource pool are not sacred! We are and our relationships with one another. If we worship the blockchain and sacrifice the user, we are lost.