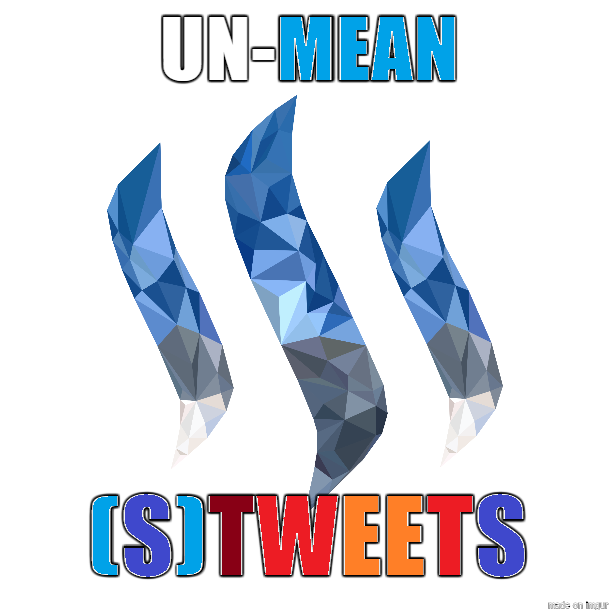 "Steemit logo: @rubenalexander"  
How about trying to add some spice to the way we post. unMEAN sTWEETs is a very bright concept that seeks to curate the best comments on steemit and highlight these comments, along with the special authors who produced them. 
We have always known "the comments section" not only as means to stir engagement but also as a more revealing measurement of the true humans (steemians) as the comments are not as pre-empted as full-blown posts and are usually in true emotions resulting from back-and-forth, impromptu and engaging conversation. 
The comments also spell more originality, because due to their impromptu nature, comments are likelier than full blown steemit posts to stem from head-knowledge. 
The comments have also been seen to create pathways to other parts of steemit. Yes, sometimes your only intention was to read your favorite authors posts but as you ransack the comment section, you see more beauty unfolding and you are inclined to do more research or check out another user. Steemit needs this web to thrive!
For the past months, our posts have involved featuring mostly unmean comments and using these comments as part of a theme. 
Major aim was to prove that steemian comments; many, which are buried deep underneath steemit blogposts, hold enough value to be seen and recognized as full blown posts. 
We want to try a new variant of these posts. Yes, only promote comments as you have seen, however, we want to spread our wings a bit and display our actual comment curation efforts, within fully blown posts. 
Yes, we actually curate comments; like read them, upvote and engage with them but in addition, we will display this beauty in our coming series!
In the coming series, we want to expand our learning experience solely with steemian comments. We also want to traverse more places around steemit and fetch out these comments. 
We want to tackle the hashtags and give you one hub for the best 10 unmean comments, derived from around steemit daily, one or two from each of the popular hashtags. 
We are hoping that by looking at our posts henceforth, you can instantly have a glimpse on what is happening on all the other hashtags or communities, that you may have missed out on, while doing your normal steemit reading and curation. 
We know it is very possible to miss out on so much information daily, here on steemit because the truth remains that we are humans and we simply can't keep up with the ton of posts steemit creates daily. 
We want to playfully recap these events/news/fresh-knowledge etc for you daily, in a singular post each day; solely by means of the very best unmean comments. 
We want to pick as many variety of steemit comments throughout steemit and encourage these steemians who take time to read posts and unbuild steemit, by means of their awesome comment.
We want to praise unmeanness and a blissful steemit environment.
Let's see how our steemit community responds to this and we will go from there!
Stay tuned for a new variety of comments!
  Disclaimer: This post is very resteemable!  
Join Us Here!
unMEAN sTWEETs is evolving, so expect many amazing   features as time progresses; from games; to contests; to teasers; to   initiatives to ensure your steemit growth; so always re-steem our posts and follow us here.
 For greater things ahead, the bigger picture and a strong solid team of true fans of FANS,   join us below and be assured that we will always readily celebrate you   and admire your growth and it will be beautiful testimonies all the   way!   
or