There are so many threats to the Abongphen Highland Forest in Cameroonian village called Kedjom-Keku. We would like to introduce to you the worse ones. In the next post, you will find consequences of those threats.
Urbanization and increase in population
Cameroonian mountains used to display long-term climate stability and therefore has become one of the most populated areas in Africa. Even without large agglomerations, the population density is reaching 150 people/km2. In Cameroon, the population has more than tripled in 35 years, rising from 7.1million in 1980 (FAO, 1981) to 25 million today. Nowadays, the population growth is slowly decreasing but remains higher than 2 % every year. The average amount of children for one woman is more than 4. Tubah subdivision where the mountain forest is situated has 70.000 people on 500 km2. Traditionally, the forest was providing everything the local communities needed in open-source mode. E.g., foodstuffs, water, medicine, fuelwood, animal fodder, and building materials. Forest, back then ten-fold larger in the area covered, was supplying for the population with the size of third of the current one. The still fast growing population is asking for further land, roads to untouched areas were a high quantity of natural resources emerge. This development is not sustainable, for sure not with old paradigms of land use and without environmental thinking.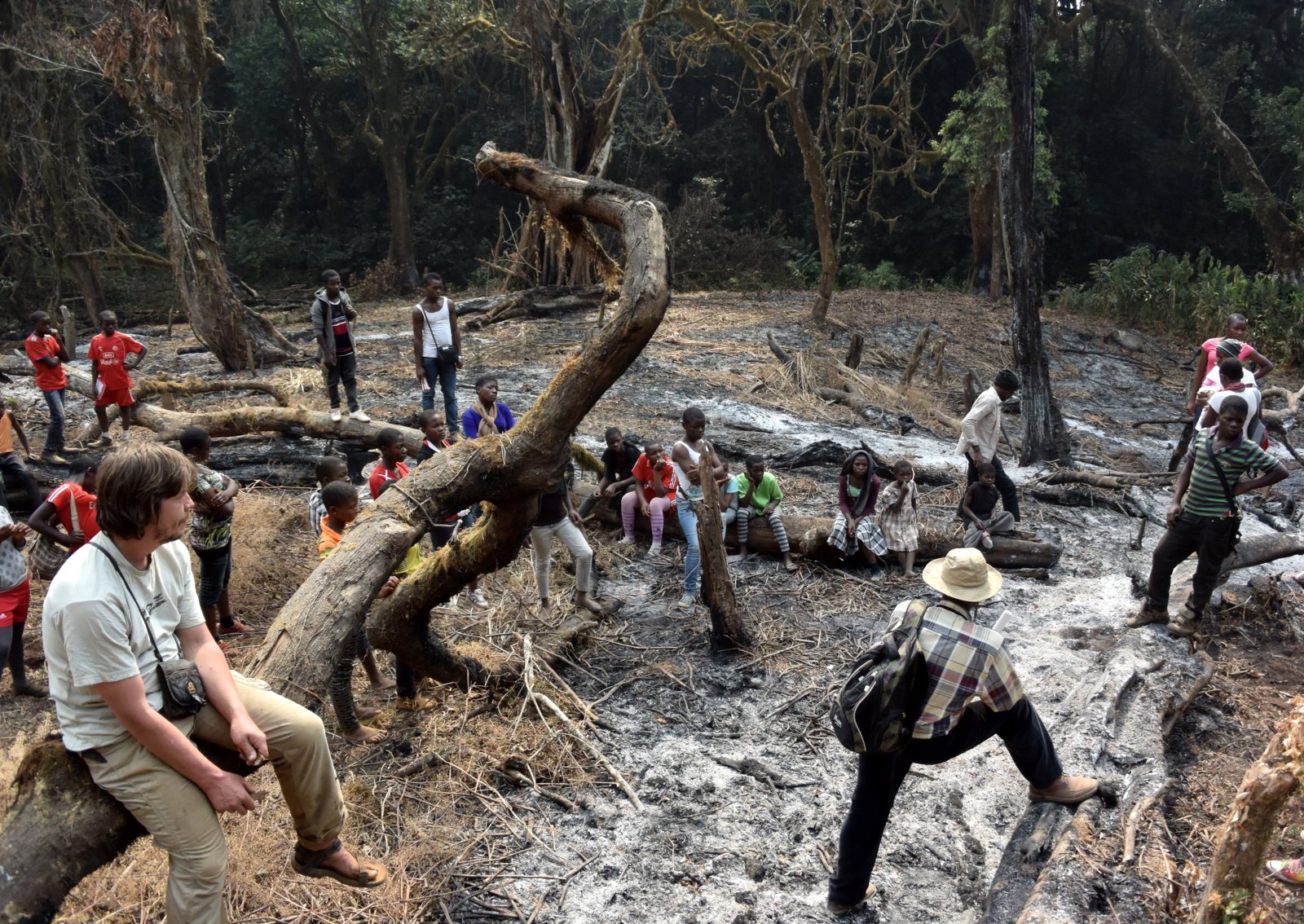 The impact of human's activities is huge. That is why we bring students from surrounded villages to see on their own eyes what is going on in their only resource of drinking water
Education and resources
Education in Cameroon suffers from overcrowded classes with least 60 children per class. Teaching methods applied do not support the individual and self-conscious development of character. Reflective thinking, i.e. concerning the sustainability of lifestyles are not fostered. There is a lack of educational facilities and well as of qualified teachers. There is no didactic material and equipment for specialized classrooms. Students do not attend any field experiences or practical work. The result is fast growing not well-educated population without proper access to relevant information.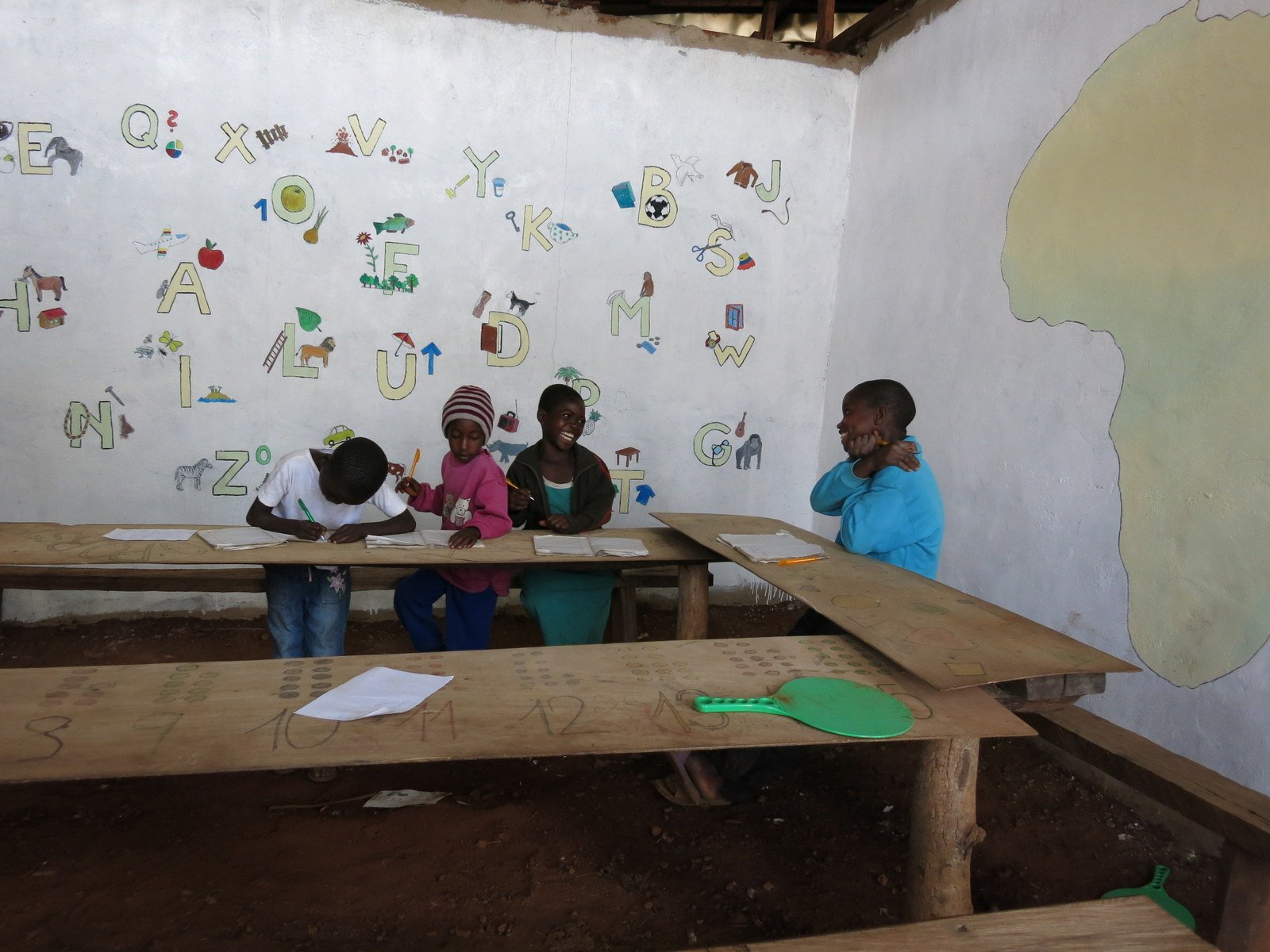 Class rooms of our Misty Mountain School are not overcrowded. Read more about the school HERE.
Natural resources management
In Tubah subdivision, mostly slash and burn farming methods is practiced by more than 70% of the population. Typically, only annual crops as corn, potatoes, beans are planted. These are imported species which prosper only with difficulties and with a battery of chemicals as support. Moreover, the soil after clearing of the forest only harbors 50 cm layer of hummus and gets exhausted and/or eroded in only a few years. This land then has to be abandoned or heavily treated with fertilizers. Rational, long-term cultivation on one farm with use of principles of organic agriculture, forestry and agroforestry would decrease erosion rates, spare the water sources of the poisoning chemicals, leave more room for forest and bring regular and sustainable income for the farmers, higher to their current incomes. Furthermore, virtually no marketing strategies are used by the farmers. Farmers are therefore cut from their revenues and their potential customers from their goods. On top of this, processing capacities and/or storage facilities are non-existent, therefore a huge amount of crop yields end spoiled (astonishing 150 kg per year of food per capita).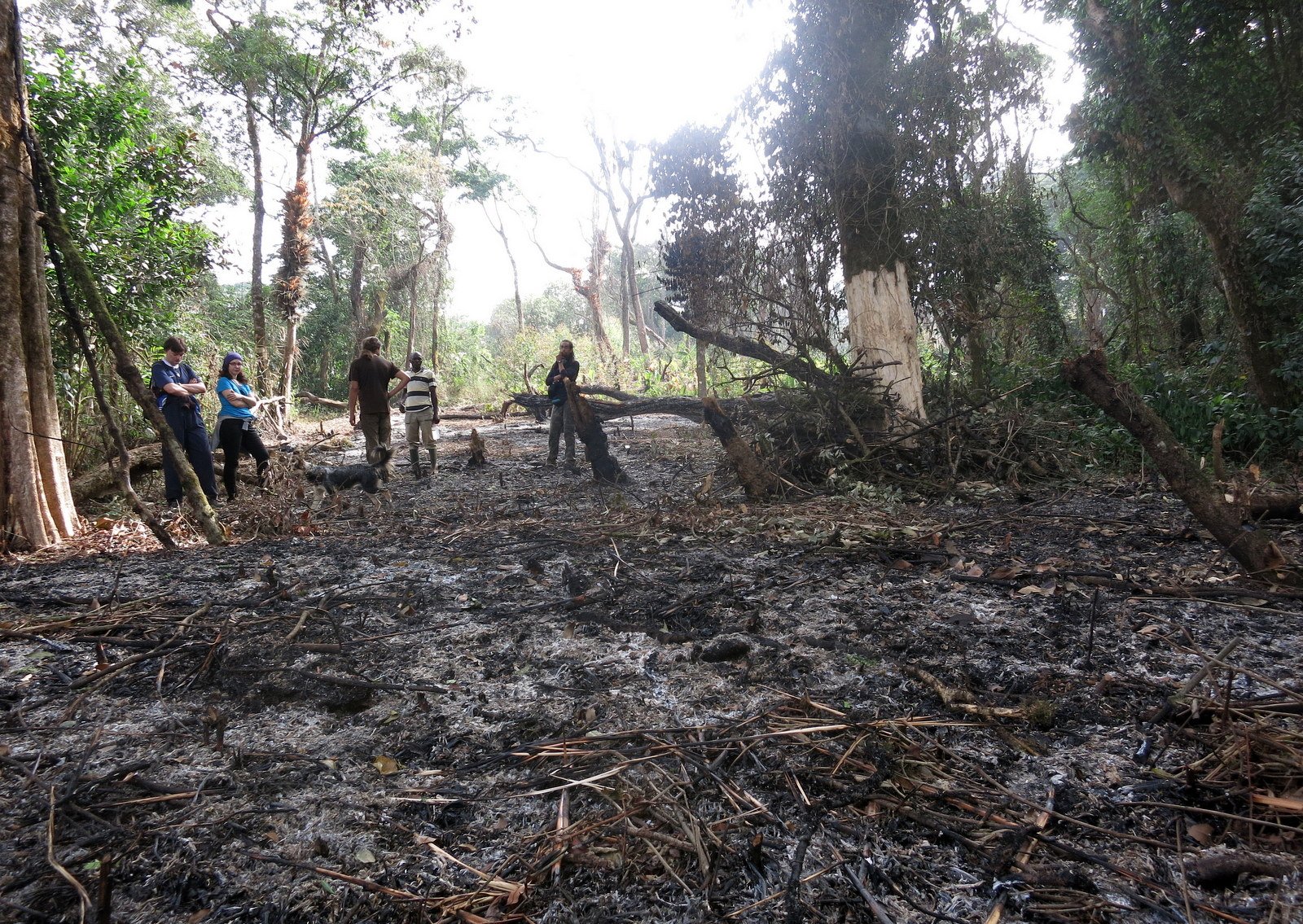 Newly slushed-and-burnt forest to open new farm
Involvement of local authorities
For decades, the local authorities did not display too much interest in forest conservation. This lack of involvement contributed to the low success rate of conservation projects launched in Abongphen in the past. Under pressure of climatic and economic effect of the deforestation as well as other factors, the current representatives recognize the negative impact of the decline of Abongphen Highland in Kedjom-Keku and express their full concern. Their role can be especially in sensitization of their people.
Non-sustainable approach to development
However investments of local organizations are necessary for the development of the area, the current directions of those investments go directly against the rational understanding of the situation. Instead of steps ensuring the sustainability of human lives and actions in the area, investments are made to mechanize and chemicalize agricultural practices in the forest area. Since the market-farm road was constructed in 2016, more farmers use the new opportunity to open their own farm in the mountain and serious land grabbing is taking place too. Approximately 200 farmers and grazers are practicing their agriculture all over the mountain, water catchments areas included. In the past 25 years, the forest area decreased by 50%. Currently, the area is covered by approx.: 250 hectares of primary forest, 500 hectares of secondary forest, 750 hectares of farming land and 1000 hectares of grazing land.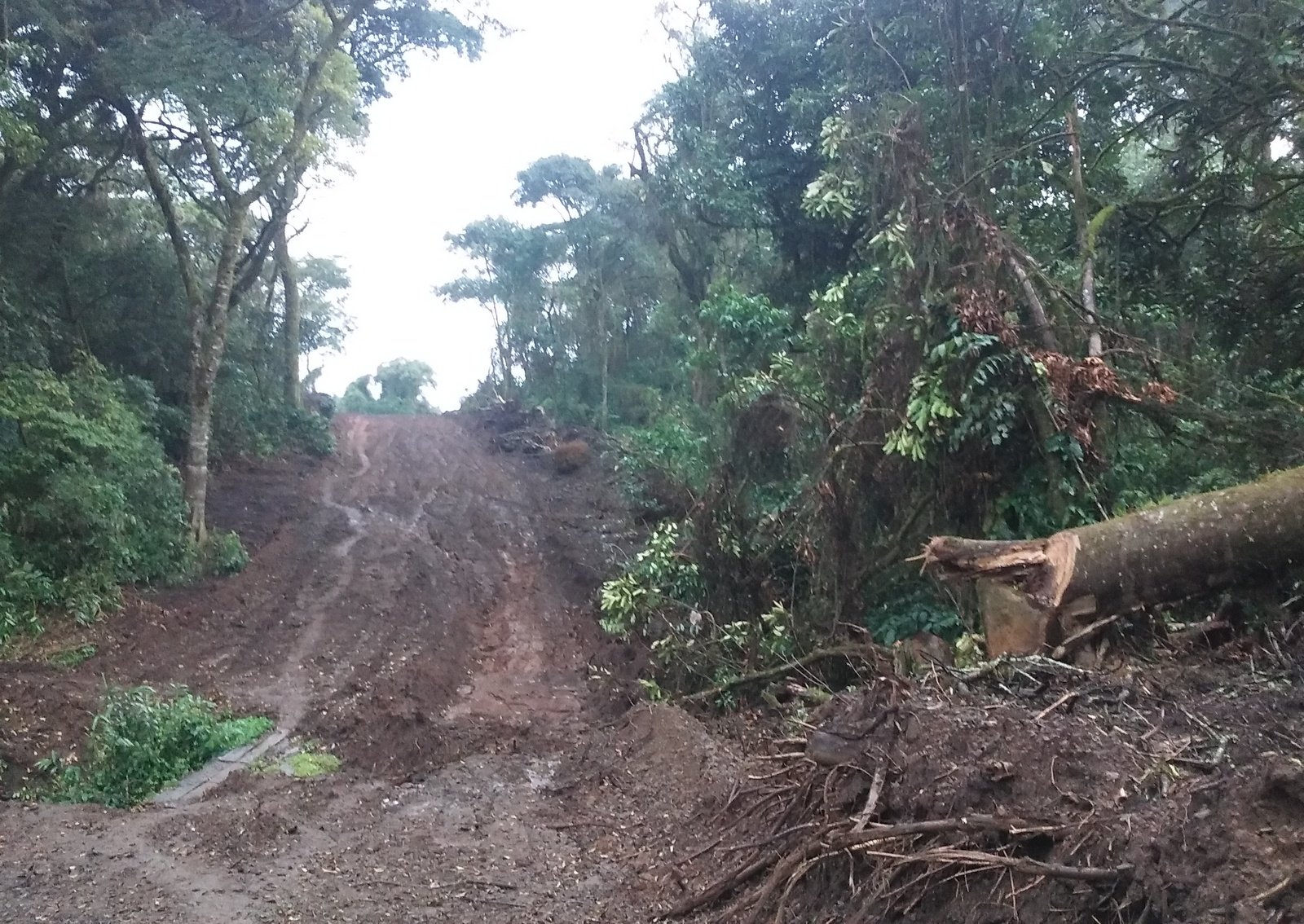 New road to Abongphen brought real disaster. Sponsored by African Development Bank.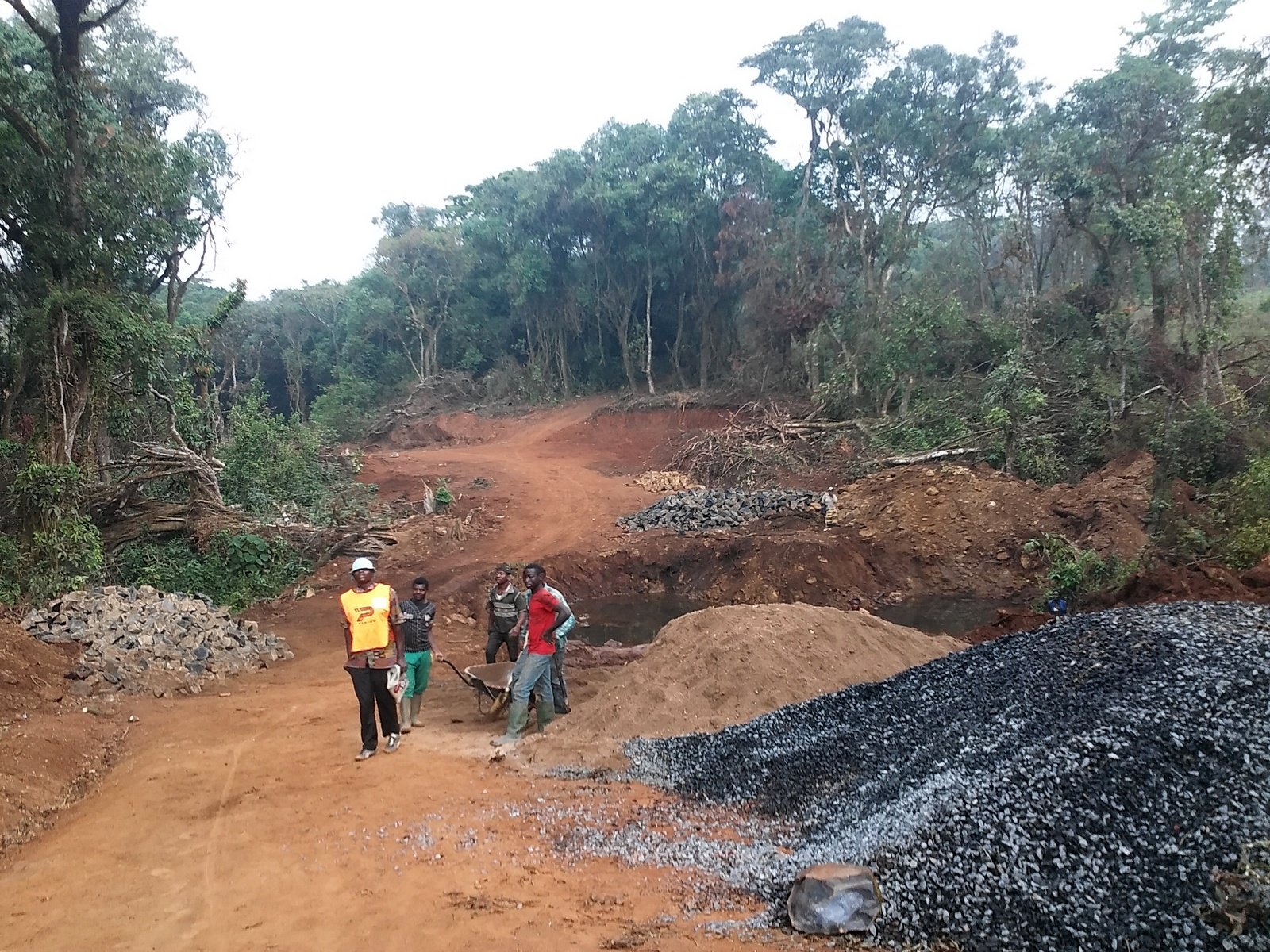 A lot of forest was destroyed just during the construction by the hired company.
Lack of implementation of environmental laws and policies
While a law (No. 94/01 of 20th January 1994) 'To lay down forestry, wildlife and fisheries regulations' was approved no actions are taken to implement it. Overall, it seems that while the Ministry of forestry and wildlife is in charge of forest protection it displays no signs of interest in the environment conservation. The only objective seems to be to sell Cameroonian wood, generating immediate incomes in highly fraudulent and corruption-friendly transactions.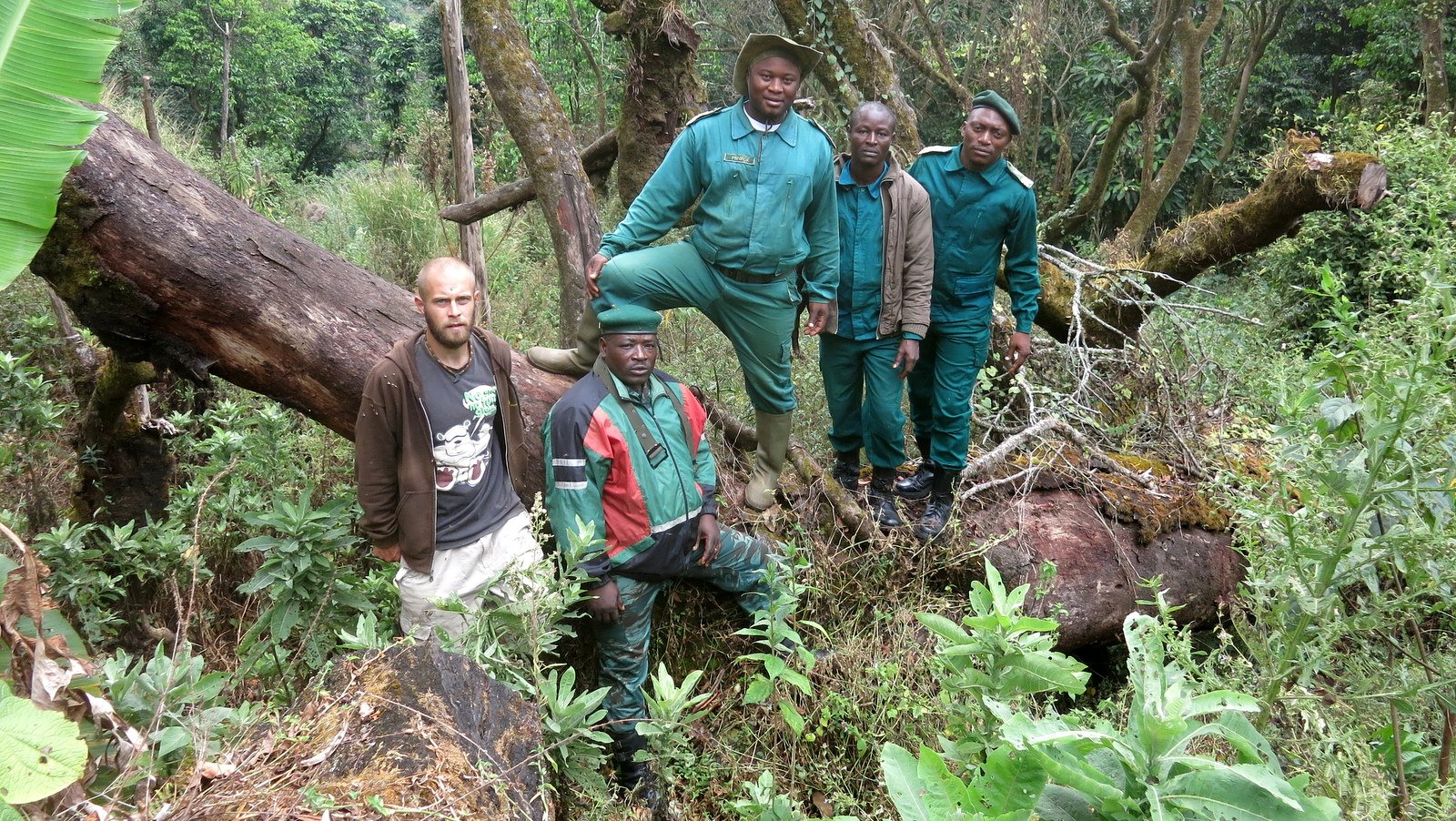 Forestry officers only want to take a picture with a white man then always do not forget to ask for a bribe to actually do their job.
This article (not in the same form) was already published by @kedjom-keku one year ago, but we believe we have a better opportunity to rais the awareness on steemit now. It is always good to remind important information.
Find more information about the conservation program on our website www.kedjom-keku.com
@kedjom-keku is a proud member of Forest Friendly Family
Forest Friendly Family is a group of Steemians who believe in the oneness of humanity and interconnectedness of beings to the environment. Our vision is to raise awareness on the impacts of our actions on the environment and inspire people to come together for the protection of our common heritage, Planet Earth. You can join @forestfriendly on our Forest Friendly Family Discord Channel or on WhatsApp by sending a message to +237 676243136.