We have begun our conservation program to save Abongphen Highland Forest (part of Bamenda Highlands) in Cameroon in 2012 by building a primary school called Misty Mountain School (we will let you know more about it in others updates). We believe education is one of the strongest tools to fight poverty and how to save our environment.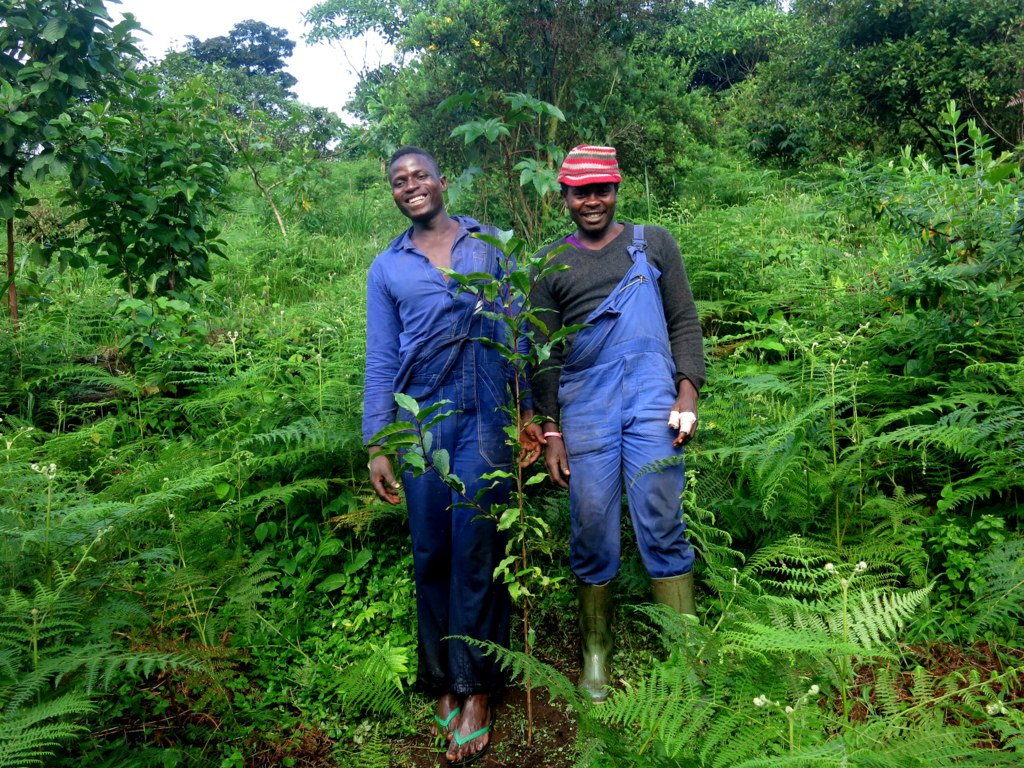 Two years old Prunus africana with Isi and Katzik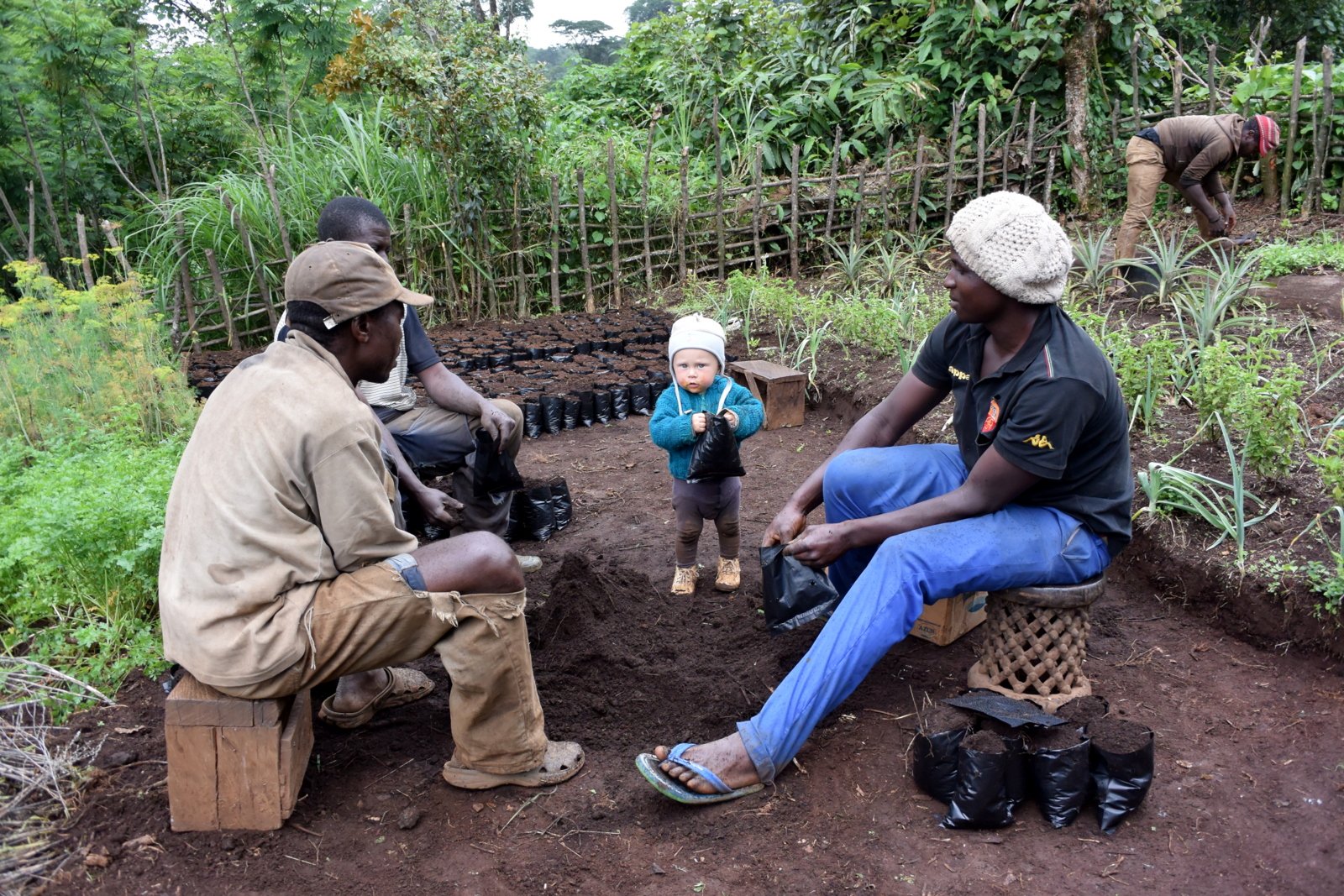 When we collect seeds from the forest the other step is to fill the bags with the soil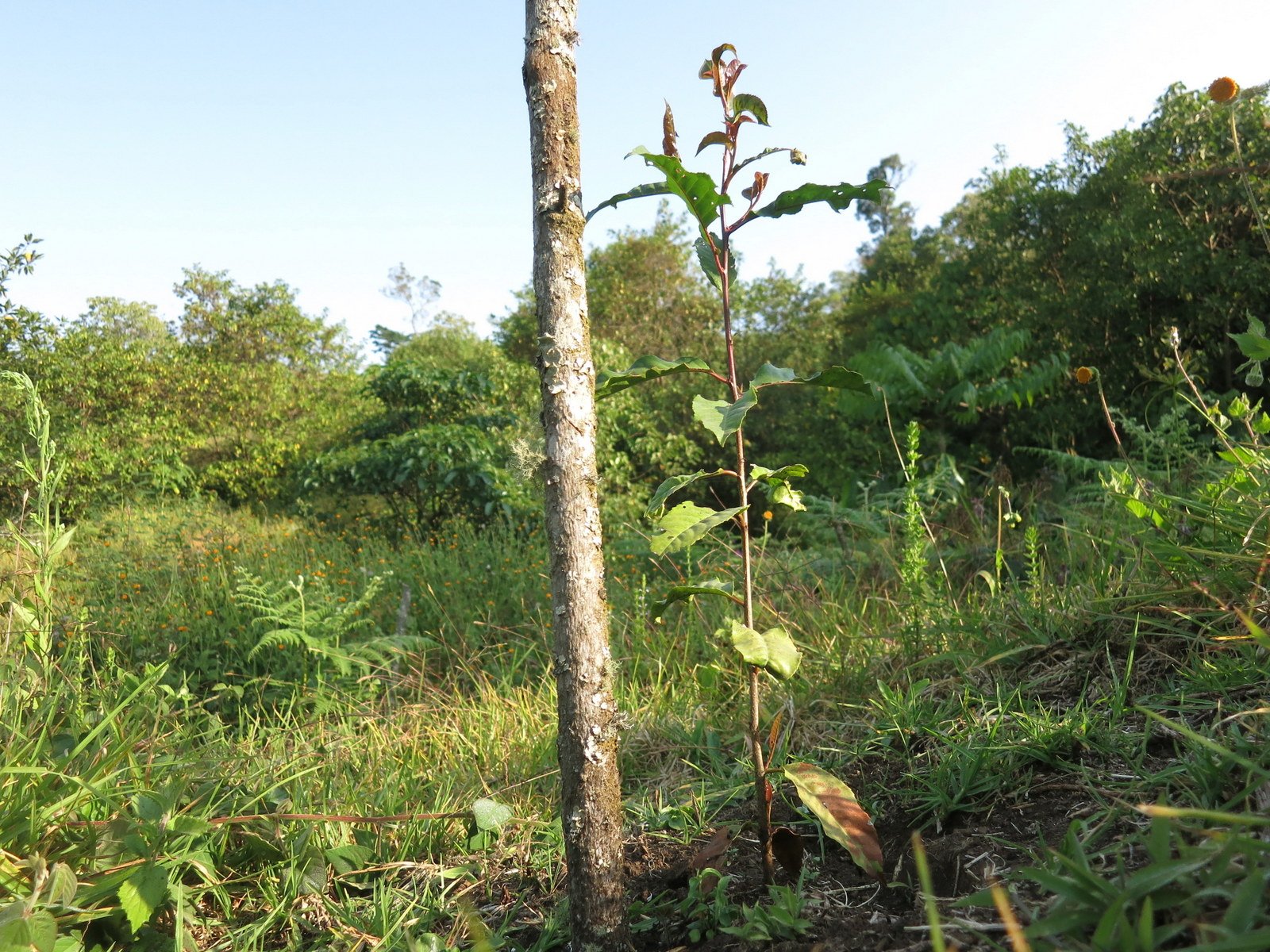 Newly transplanted Prunus africana
Unfortunately, the remaining area of the misty mountain forest (also called Afromontane forest) in the entire Bamenda Highlands is not cover more than with 2 % of its original area. If we want to have a better chance to sustain the lives of millions of people we have to start restoring the forest as fast as possible.
That is exactly what we did in 2013. We have fenced first 5 hectares of old cattle pasture where the spring is found. It was getting dry every dry season until we planted 5000 trees to restore the forest around the spring. Already the next year the spring did not get dry. It has never get dry since then. However, two driest dry seasons ever experienced by local people in this area killed 80 % of those trees. The rest is growing very fast. The highest trees have over 3 meters. Out of 7 different forest indigenous species (find the other species here) going to give you more clue about them in the following posts) planted by us, the majority of survivors was Prunus Africana (80 % of survived trees).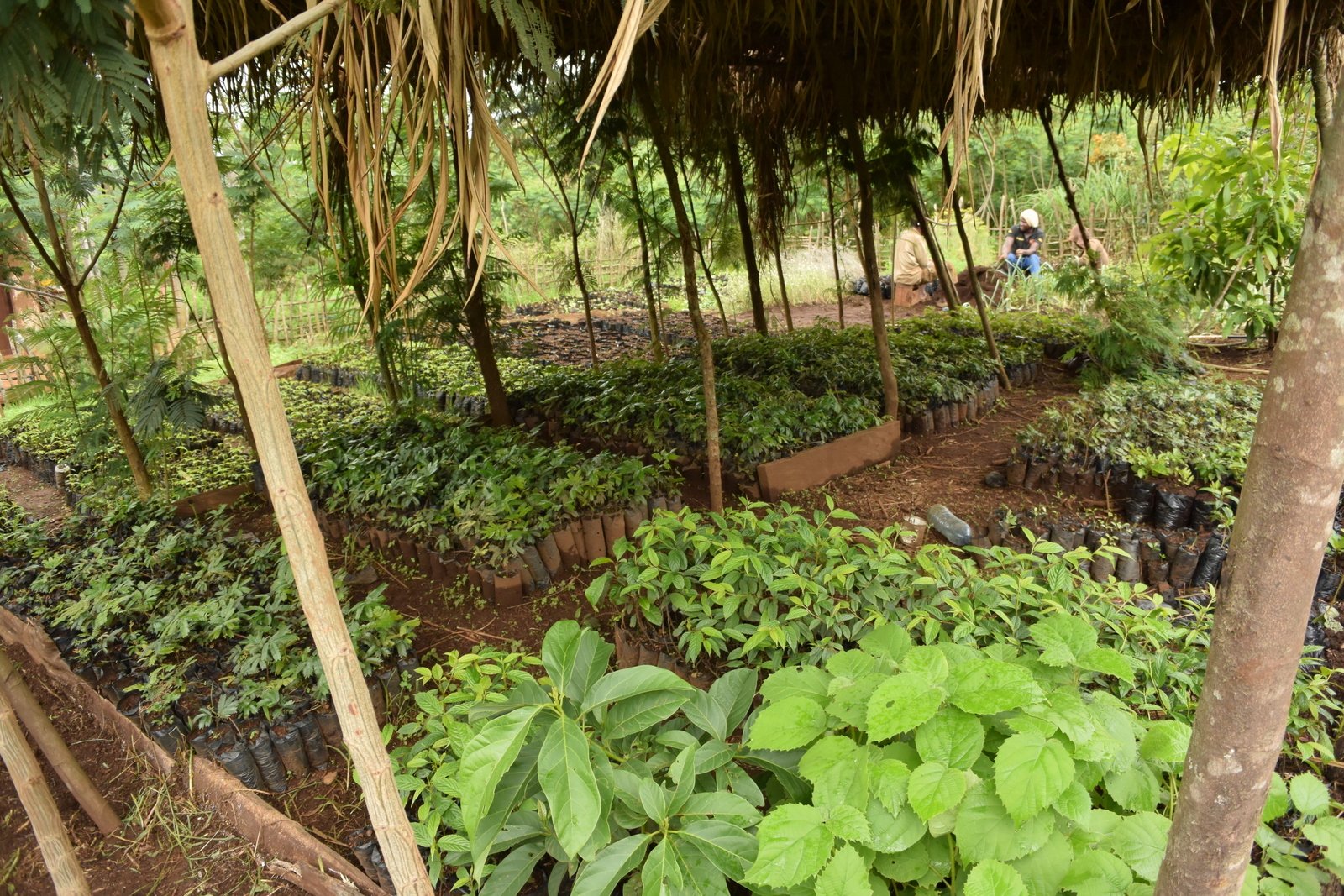 Part of our tree nursery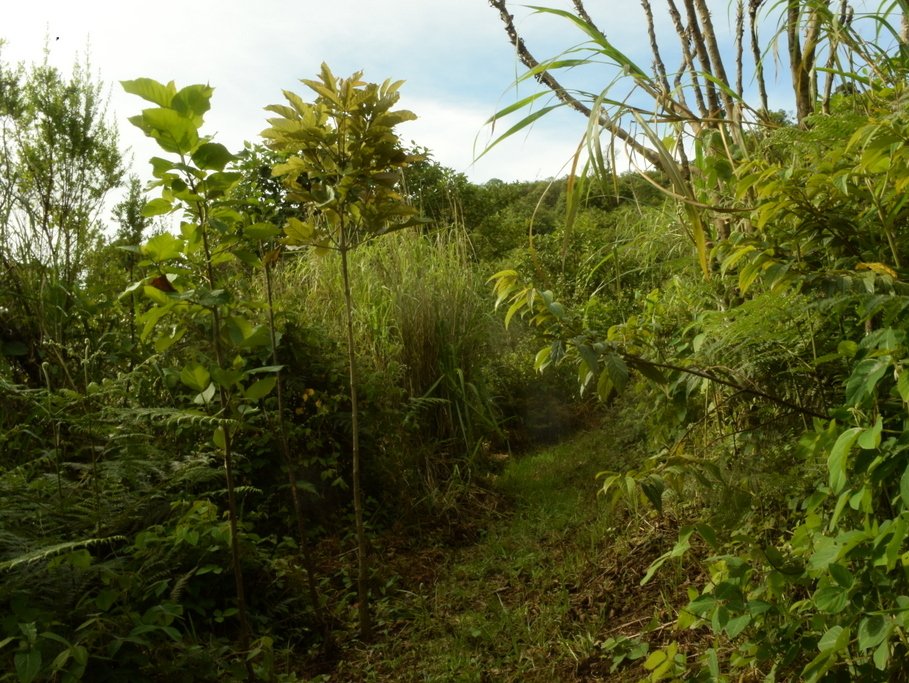 Complitely deforested area after three years of total protection with planted trees
We have actually found other real benefit of this species. We have known It is a great economical tree which can make the forest restoration more sustainable as well as the medicinal potentials. Find more information about Prunus africana in our previous article: Safeguarding the Future of Africa's Green Gold (Prunus africana) in the Abongphen Highland Forest.
This experienced showed us which species are more resistant to drought. That is why we focus on Prunus Africana the most. Obviously, we do not want to plant monocultures, but to restore totally degraded land can be a long process. The land is so destroyed we have to help it to be back fit as soon as possible otherwise it can cause a lot of more damages in near future. To keep the forest diverse when Prunus seedlings have close to 1.5 m hight it makes enough shade for other not so drought-resistant species of trees to grow under them.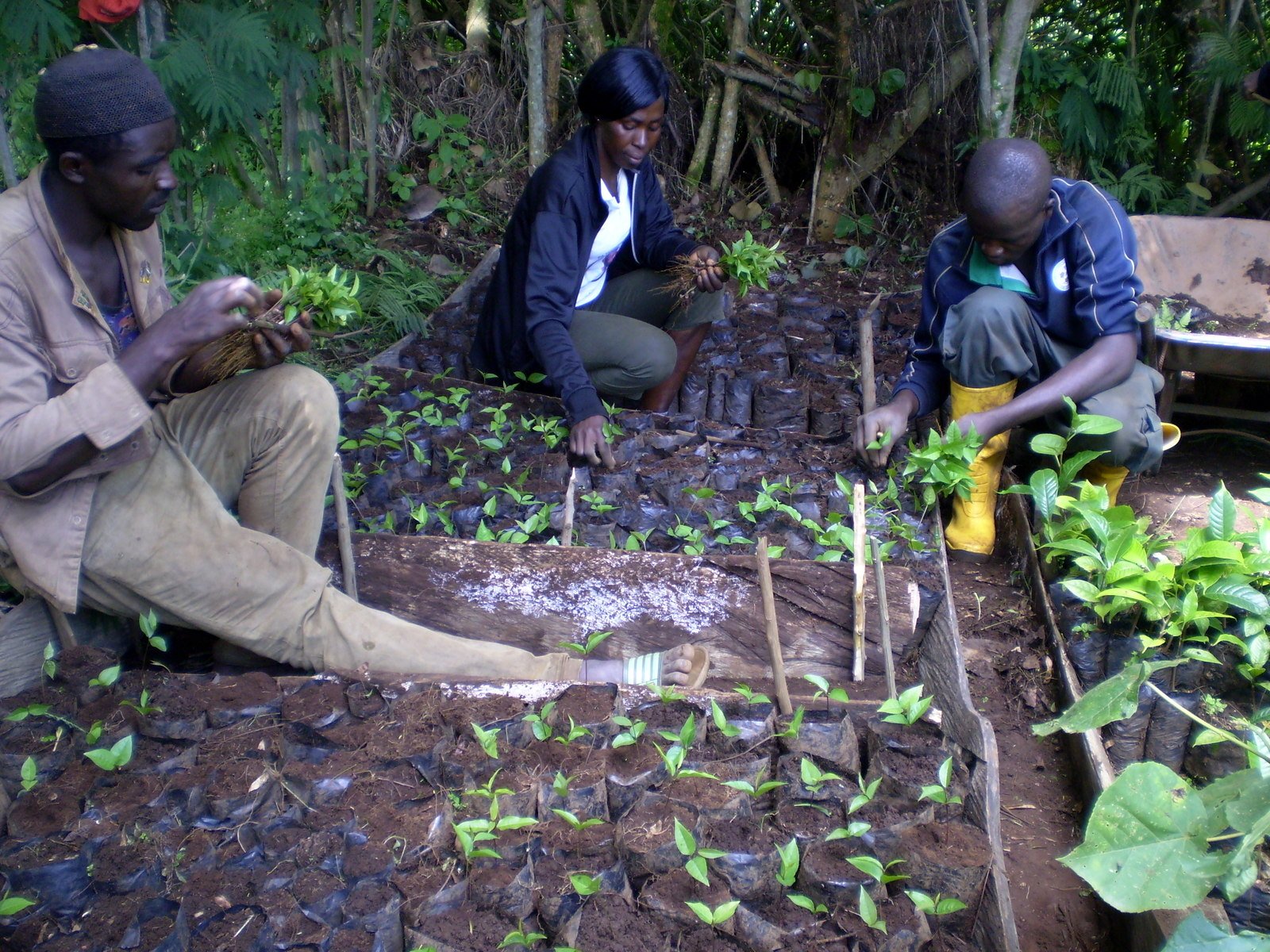 *This is the job of our past days. Humphry, Immaculate, and Princewill transplanting thousands of seedlings of Prunus africana from nursing bed to bags. It helps us t take care of them before they are strong enough to be transplanted to the bush. *
From February to April 2018 we have collected over 100 liters of small seeds (tens or hundreds of thousands) from few remaining trees in Abongpehn Highland Forest (originally it was one of the most abundant tree's species). We have nursed them all in June and since then we are taking care of them in our tree nursery. They are thousands of them. We are going to give you more exact numbers soon.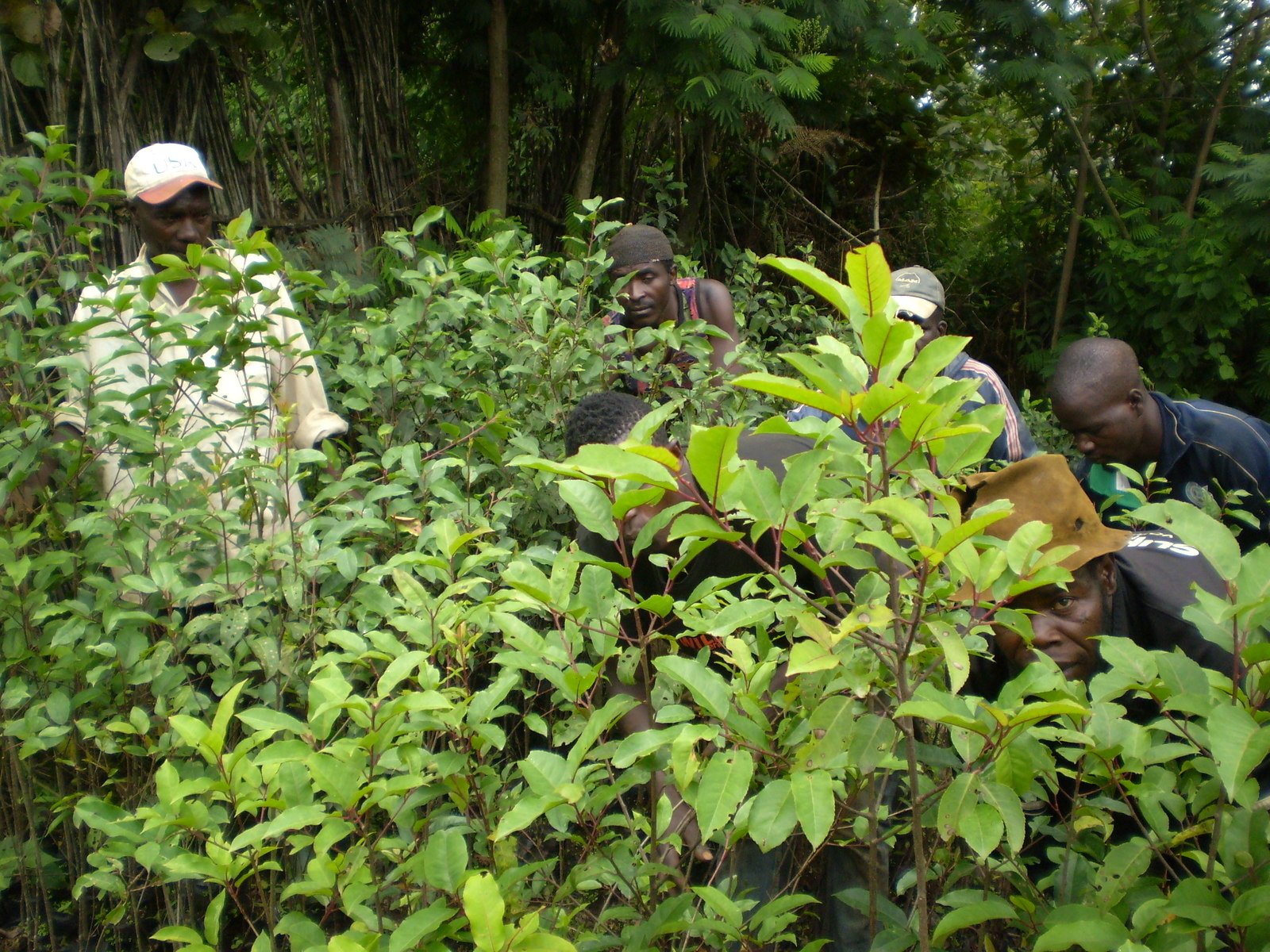 During heart of rainy season as now we have to weed our tree nursery every few weeks.
Taking care of newly nursed or transplanted trees is one of our main occupations.
Our goal is to plant 1,000,000 by 2021.
Find more information about the conservation program on our website www.kedjom-keku.com
We want to share with you a video how we collect seeds, nurse them as well as transplant them to the bush, but the video disappeared from our d.tube channel. No idea why.
@kedjom-keku is a proud member of Forest Friendly Family
Forest Friendly Family is a group of Steemians who believe in the oneness of humanity and interconnectedness of beings to the environment. Our vision is to raise awareness on the impacts of our actions on the environment and inspire people to come together for the protection of our common heritage, Planet Earth. You can join @forestfriendly on our Forest Friendly Family Discord Channel or on WhatsApp by sending a message to +237 676243136.