Team Possible issued tokens when steem-engine.com tokens first came out and they were named the GUILD token. Our guild tokens are essentially the total stake in the assets of @teampossible. (see explanation (A) below for an example)
The assets of @teampossible come through the members of our guild teampossible. We are one of the longest running guilds because we set up well before the actual Splinterland's guilds were created. We have been earning packs, cards, and DEC since beta packs were given out for quests. (see list below (B) of our assets).
Each season we have delegated decks that are played by members of @teampossible and the earnings from these decks are split with the players and the guild itself. Its a great way to help the new players grow their own personal deck and at the same time to give something back to the guild itself. A true win-win!
If you would like to know more about the GUILD tokens or are interested in joining Team Possible and playing team decks, then contact us on Discord at: https://discord.gg/JKAWbFW

(A) How Do I Determine The % I Own Of Team Possible's Assets?
Step 1. Figure out the number of tokens issued by going to https://steem-engine.com/?p=balances&a=teampossible (NOTE: the answer for total number of tokens is: Current Supply: 2,381,829.34)
Step 2. Divide your tokens by the Current Supply
Example: If you owned 23,819 tokens then you would own 23,819/2,381.829.34 or 1% of the total assets.

(B) What Are The Assets Of Team Possible?
Almost all of the assets in Team Possible are found very easily. We have cards that you can look at on peakmonsters.com, steem that viewable on steemit.com, and tokens that are found on steem-engine.com. Also we have packs that have been purchased, donated, or won that are not as easy to see, but they are listed below.
We are a hodling account and rarely sell anything. The only asset we've sold of note to date is some of our Steem to buy into the Kickstarter to buy Untamed Packs. The decision to sell anything at any time is made by a committee elected by the Team Possible members.
Current Assets:
(i) Value of cards from Peakmonster is:

(ii) Value of Steem from Steemit is:

(iii) Value of Steem-engine tokens is (too many to list but you can view anytime on steem-engine):

(iv) Value of Packs is (these are in the SM account and can be queried anytime upon request):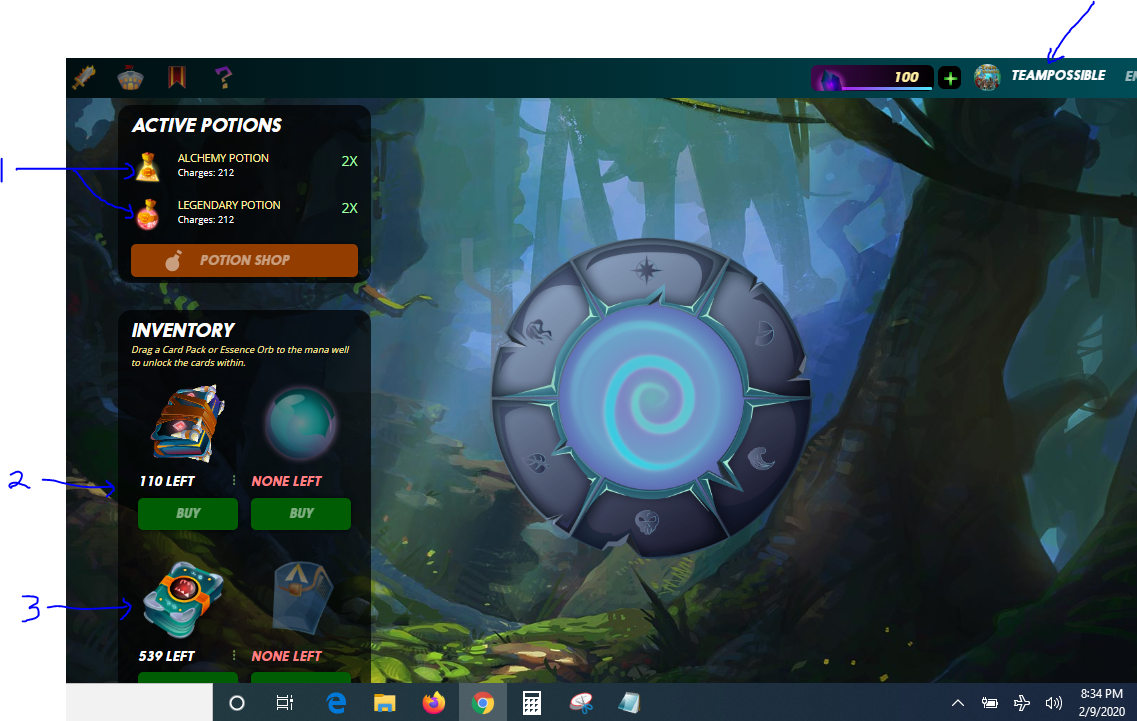 NOTE: remember that the value of these assets changes according to the market prices on any given day. But you can easily do the calculation on any given day by checking the 3 areas (peakmonsters, steemit, steem-engine) and requesting a current pack tally from our discord channel at ANY time.