I have to credit @goblinknackers for discovering T&D Industries. During my Bradford visit in October 2019, he sprang this on me having simply driven past it following this up with some nosiness.
A little research tells me that the company was over 100 years old when it folded.
Just when that was I don't know, but like many of these industrial and manufacturing companies, it had at least one rescue in 2000.
As our usual practices dictate, we parked not so close to our target and started snooping around. There was little need as it was Sunday and almost deserted.
The outside curved building had some lovely red foliage growing all over it, as we looked around for an access point passing the now jungle-like old entrance.
There was little need as @goblinknackers' preliminary scouting work had already revealed one.
He's really starting to attain his grades and will be going for 'A' levels soon in Urban Exploration.
Inside was dark but no match for the huge light I had brought along, while @goblinknackers now has a mining hat complete with strong light affixed.
We left the stairs until later, better to start with the ground floor.
Should we both jump down this big hole, what is there to be seen down a murky fissure? On contemplation, we both decided to not bother.
Some parts of the building had suffered from a collapsed roof. From here daylight poured in and added a little greenery to our view.
…'when crossing rooms full of junk, you need to be careful where you step. There could be nothing more than fresh air under all this stuff which in turn results in your body quickly moving downwards'…
Is this a quick escape route, for those who don't mind nails in their feet?
Sealed Ethernet cables, they were not the pen and paper office types, or were they?
VHS tapes and Bridget Jones; I guess working here may have been a little dull at times and you do need some entertainment to get you through the doldrums.
Like many places, the homeless have been here, though being outside may be preferable to the creepiness you would need to ensure to stay a night here.
It was old and dirty, they do tend to abandon their sleeping bags and get more from somewhere else.
The safe would not open, once again our attempts at becoming rich thwarted. These steps we did descend but found nothing of interest besides water, sludge and mud.
We started up the shadowy staircase looking for anything that may have been left behind.
A box of blank stationery lurked in a corner and someone had been flinging it around the place.
Plenty of written correspondence from the mid-'90s was strewn around. 'S.Turner' seemed to like writing by hand.
Surely they had computers and printers by 1994? The workplaces I was in during those times no longer wrote essays like this.
This notice is from 2001, so they survived at least a year when bailed out in 2000.
…'Emergency exits are not what they used to be. This is no longer a way in or out unless you want to skewer yourself'…
This is what it looks like with no lighting. The holes in the roof don't make much of an impression.
Regular torches don't penetrate this kind of darkness, phone torches the same. If you don't bring the correct equipment, you can forget your photography.
We spent around 30 minutes in T&D Industries. It wasn't the most exciting explore, but relatively safe with creepiness levels being not too high.
I couldn't help but notice the old parking charge notice, £90 and cameras' are present. It's hardly in the city centre.
I do wonder what became of T&D Industries. Like many of these 100 yeas companies, they become time trapped in their business ethics, don't evolve and then start accumulating debt.
It was once a lovely old building and could be again. Just need's a little roofing work, with complete replacements in some areas.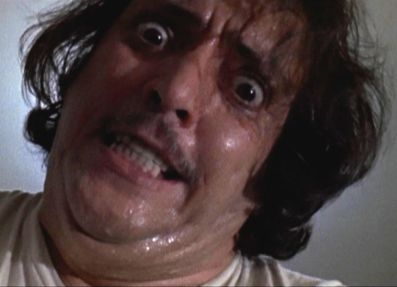 If you found this article so invigorating that you are now a positively googly-eyed, drooling lunatic with dripping saliva or even if you liked it just a bit, then please upvote, comment, resteem, engage me or all of these things.