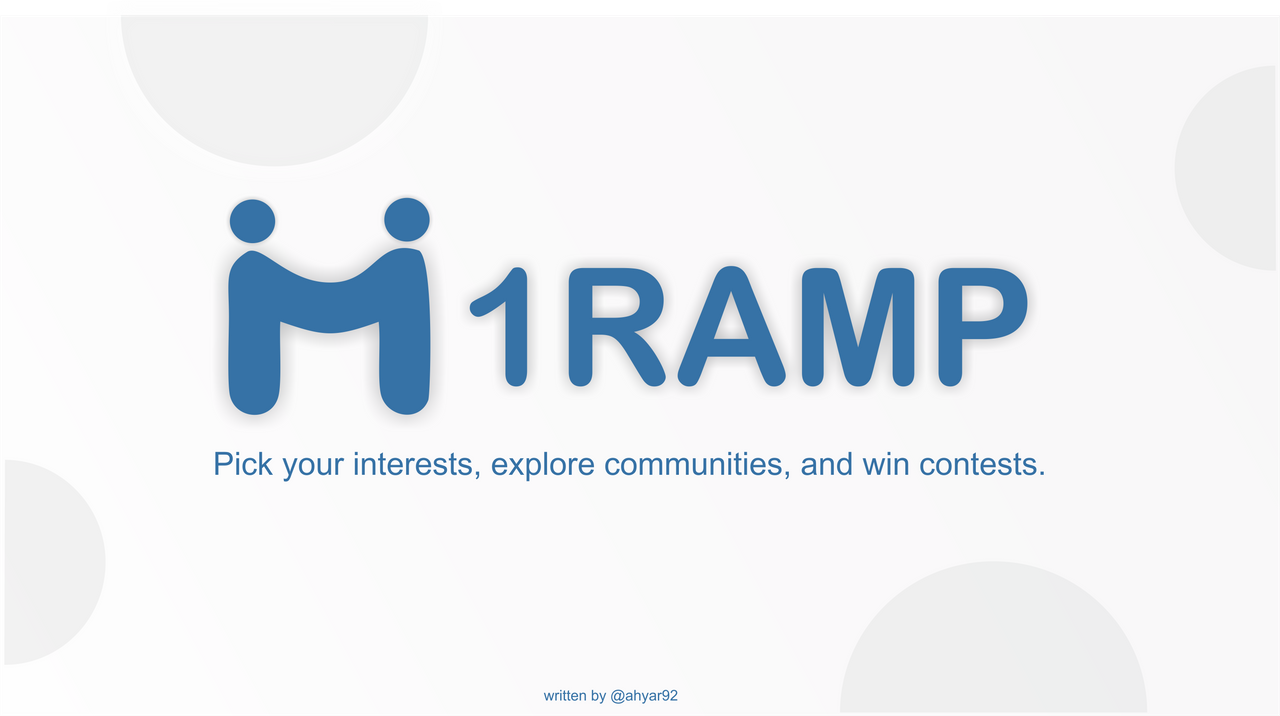 Introduction
The world of Steem Blockchain is currently developing very widely. There have been so many platforms or applications built on the Steem Blockchain system. So many investors and developers are establishing projects for the future on the Steem Blockchain system.
They believe that the Steem Blockchain system can be a system that has a good future. Various kinds of applications and platforms are made in such a way as to compete with each other to get Steem users. Even developers are competing to set up projects and present various features to attract steemit users.
They continue to present features that cannot be found by users in Steemit, and it is undeniable that more than 50% of Steemit users prefer other platforms or applications to access their Steemit account compared to accessing through the Steemit.com parent site. However, it is not a problem for developers Steem Blockchain. Because they understand, even though there are so many applications or platforms available on the Steem Blockchain System, they will always be in touch because they only stand on one system.
I have known Steemit or Steem Blockchain in 2017, and I remember once at that time there were quite popular platforms used by Steem users to access their Steemit account, the platform that I meant was Busy.org. When I came to know Busy.org, it was undeniable that so many users were impressed with what Busy presented. It starts with knowing the percentage of votes, Vote power settings, to a pretty interesting appearance. And then accompanied by the emergence of the eSteem application that stirred Steem users at that time. The eSteem @good-karma developer did not hesitate to popularize eSteem by giving rewards to those who use eSteem. Not until that, eSteem also released eSteem surfer for PC / Computer users.
Back to the developments in the Steem Blockchain, we can assess the developers who set up projects on the Steem Blockchain system, now they are competing to show their excess to attract users. Maybe you have tried a number of similar applications or platforms, and maybe you are currently interested and like one of those applications or platforms.
If you are an Android user, then in this post I would like to introduce you to one of the similar applications which can be said to be new in the world Steem Blockchain, as for the application I mean is 1ramp. Maybe from you have heard 1ramp and maybe also among you still don't know 1Ramp. No doubt, even my friends from the Steemit community still don't know about 1ramp.
I have been connected with their Discord since 1ramp is still not launched, so before 1Ramp was published I had a little understanding of the project they wanted to launch. If you consider 1Ramp as a beginner who has no experience in the world Steem Blockchain, you are WRONG. Because you will be surprised by the features displayed in the 1Ramp application. 1Ramp has a very good and experienced team, @the-dragon as "Full Stack Engineer", @bxute as "Lead android developer", @singhpratyush as "Blockchain Engineer", @vikonomics as "Lead Strategist", @ansarimofid as "UI Designer", and @rajatdangi as "Brand Strategist".
On this occasion, I will try to focus on introducing the 1ramp application and also the features available at 1Ramp.

What is a 1ramp?

1ramp is a social media for the global content creation community. in 1ramp, you can join the community (Art, Photography, Travel and others). You can also share photos, write blogs, make contests, and ratings. And you can also get rewards and get feedback when other people rate your post.
This is the same as the application that is supported by other Steem Blockchain systems, you can also get rewards like in Steemit but only different if in Steemit you will be rewarded through Vote, in 1Ramp you will be rewarded through Rate. And you will find something different here, you can connect with various communities according to your creativity.
Join communities of your interest
1ramp is built for those of you who have creativity, you can choose the community that you want because later you will find all the content shared according to the creativity you choose.
Many people give perceptions if the Community is more than the competition. People talk more and think about how to create a community far better than competing with each other. 1ramp really understands this, so 1Ramp presents community features for users. 1Ramp understands if the Community can establish a relationship between users, rather than providing a competition to compete. They understand that if the community can be interwoven well, then 1Ramp will get a positive effect later.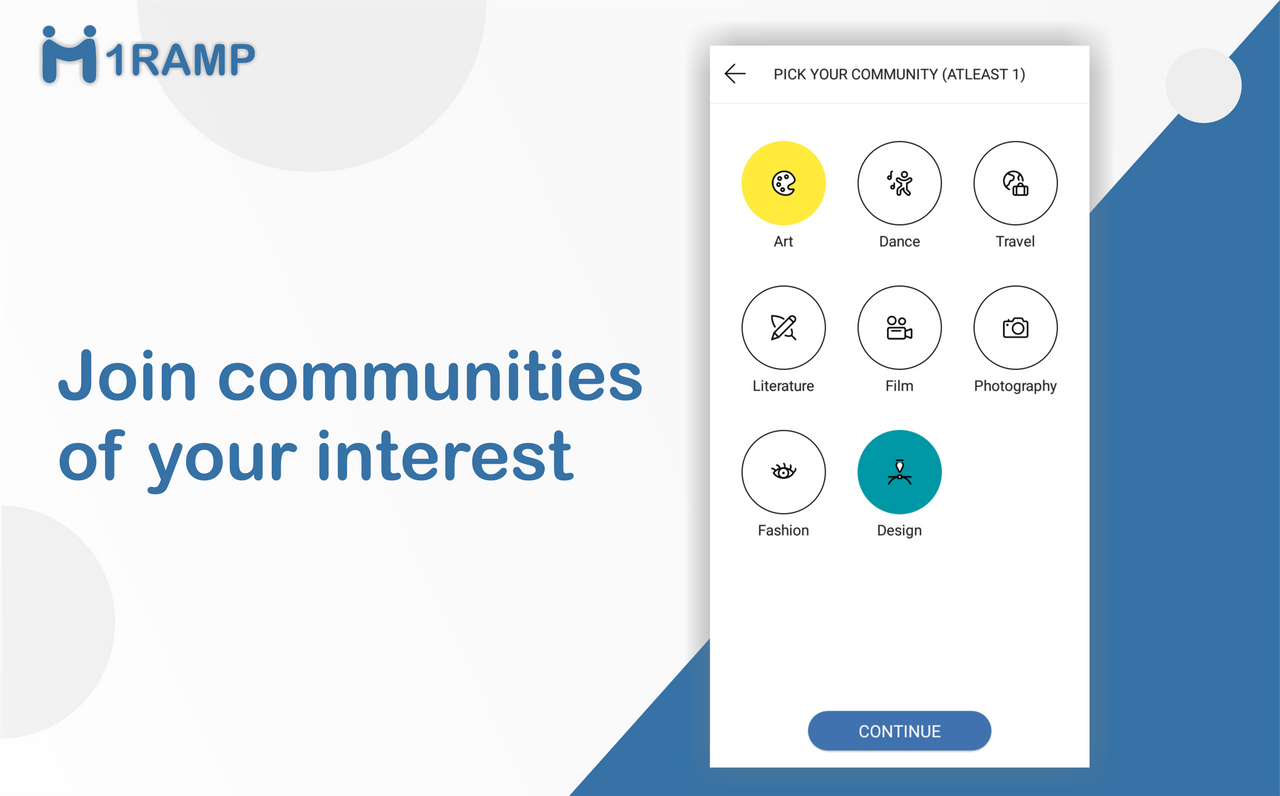 1ramp gives you 8 choices of community types for you to join, you are required to choose a community according to your creativity or interests, you are not required to choose one, you may choose some of the communities you want.
The community will help you find more relevant content in 1ramp. The community can also help you reach people who share your interests. And you can find Inspiration by tracing various works in different communities.
Features in the profile menu
When you access the profile menu, you can find a very beautiful appearance and a pretty good feature layout in my opinion. I think, the 1Ramp application is able to wrap all features and present a simple yet cool look.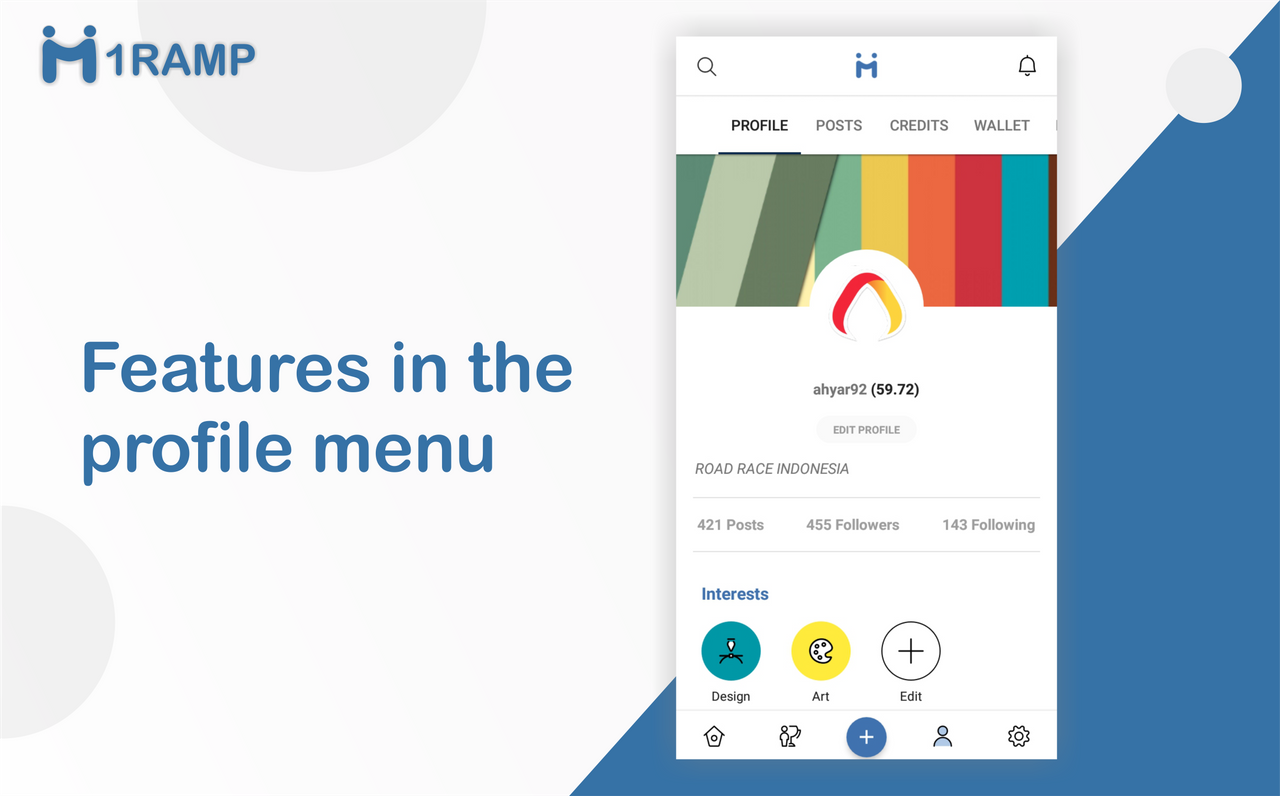 - Credits
This is a very important feature, in 1ramp you can see Voting Power, RS (Resource Credits), and Vote Value. If all this time you have used other platforms like Steemnow.com to see Voting power and so on, now you can find it in 1ramp with a fast and easy.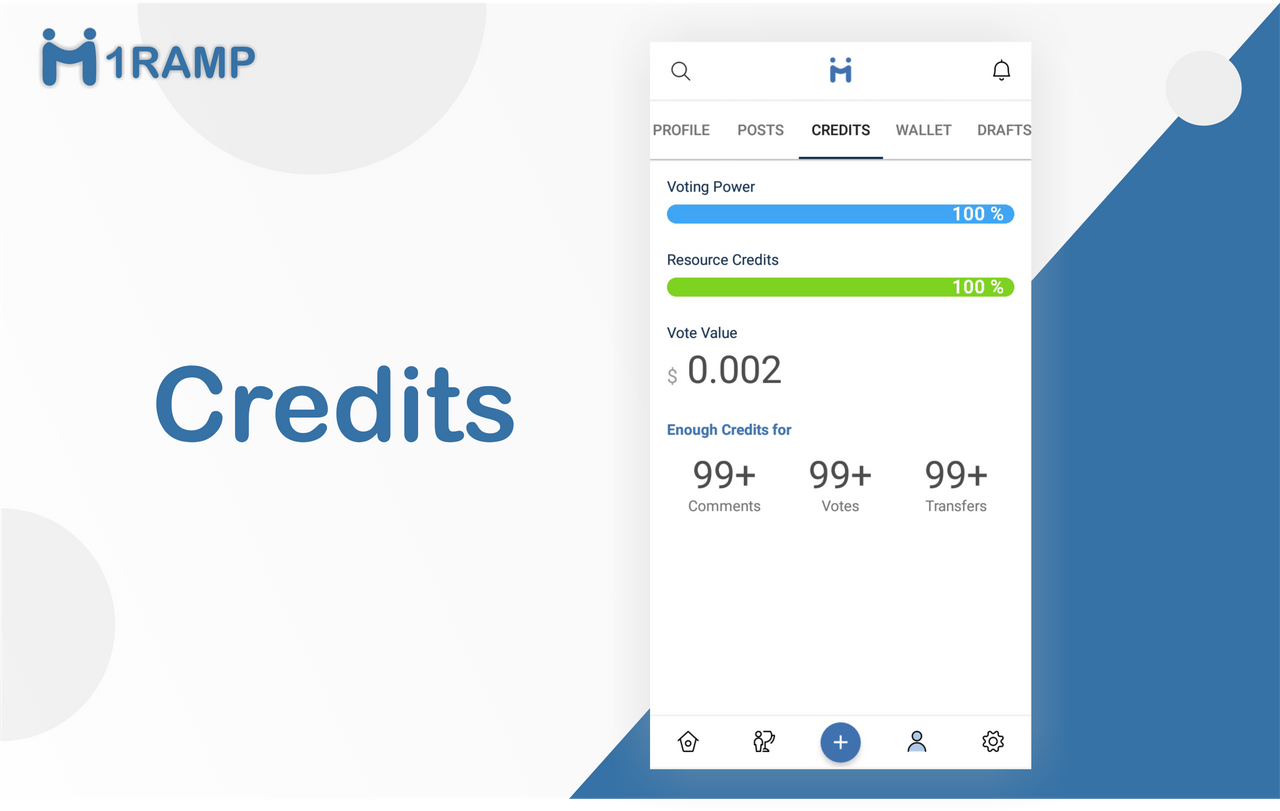 - Features Delegate and Monitors Coin Prices
For those of you who were previously, a little complicated when you want to delegate Steem Power to others and have to use another platform to do delegation, now you can easily delegate in the 1ramp application via smartphone without having to visit other platforms.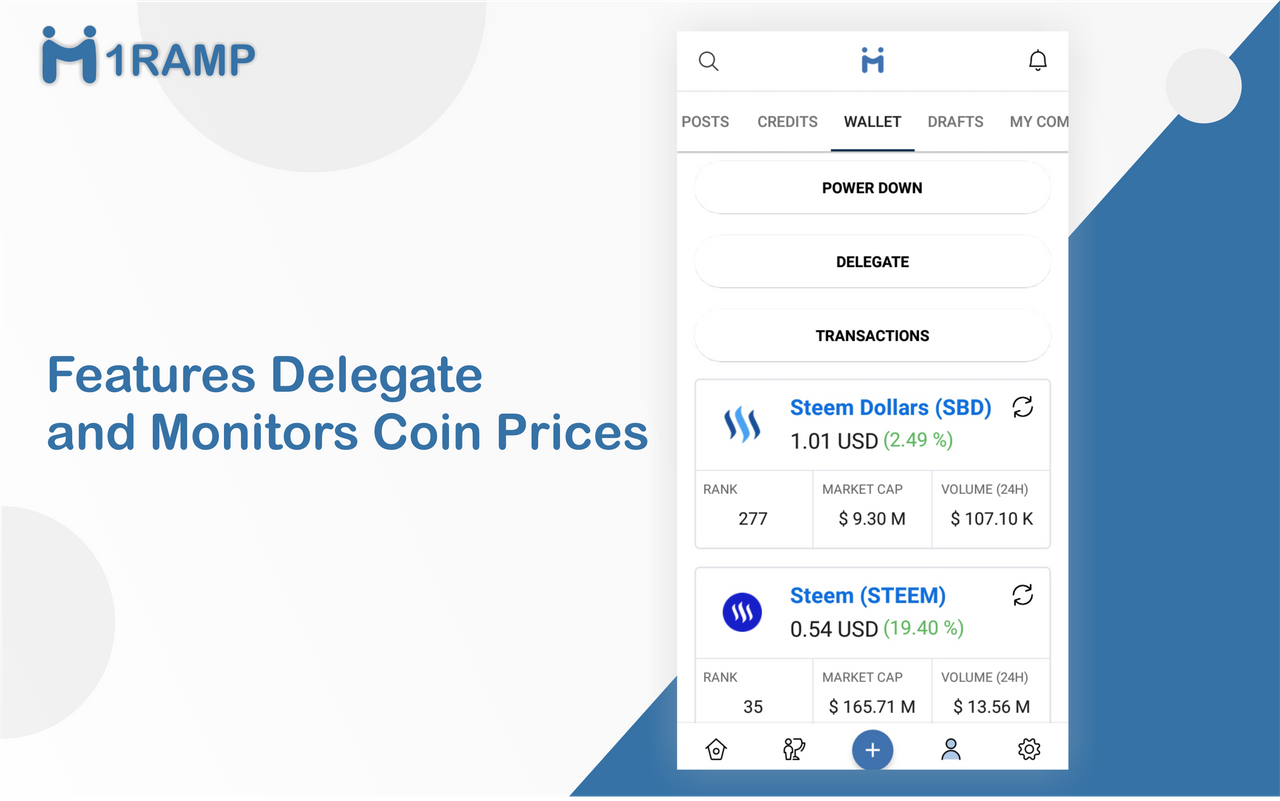 You can find the "Delegate" feature on the Wallet page, and not only that you can also find the Coin Price Monitor feature on the Wallet page. If you use 1Ramp, you don't need to bother visiting the crypto monitor site, because you can easily monitor the price of SBD / Steem coins through 1Ramp.
The two features above are very useful for users, I think 1Ramp has understood all the wishes of Steem users before actually launching the 1ramp application. And I am very impressed with that!
Write Articles or Short Post
Let's move on to the content section, 1ramp shares 2 types of posts for you, you can share articles or only short posts. If you are a writer who likes to share articles such as tutorials, news, or reviews that reach more than 300 words, you can use the choice of posts in the BLOG category. However, if you only like sharing photos like Instagram, you can choose SHORT POST.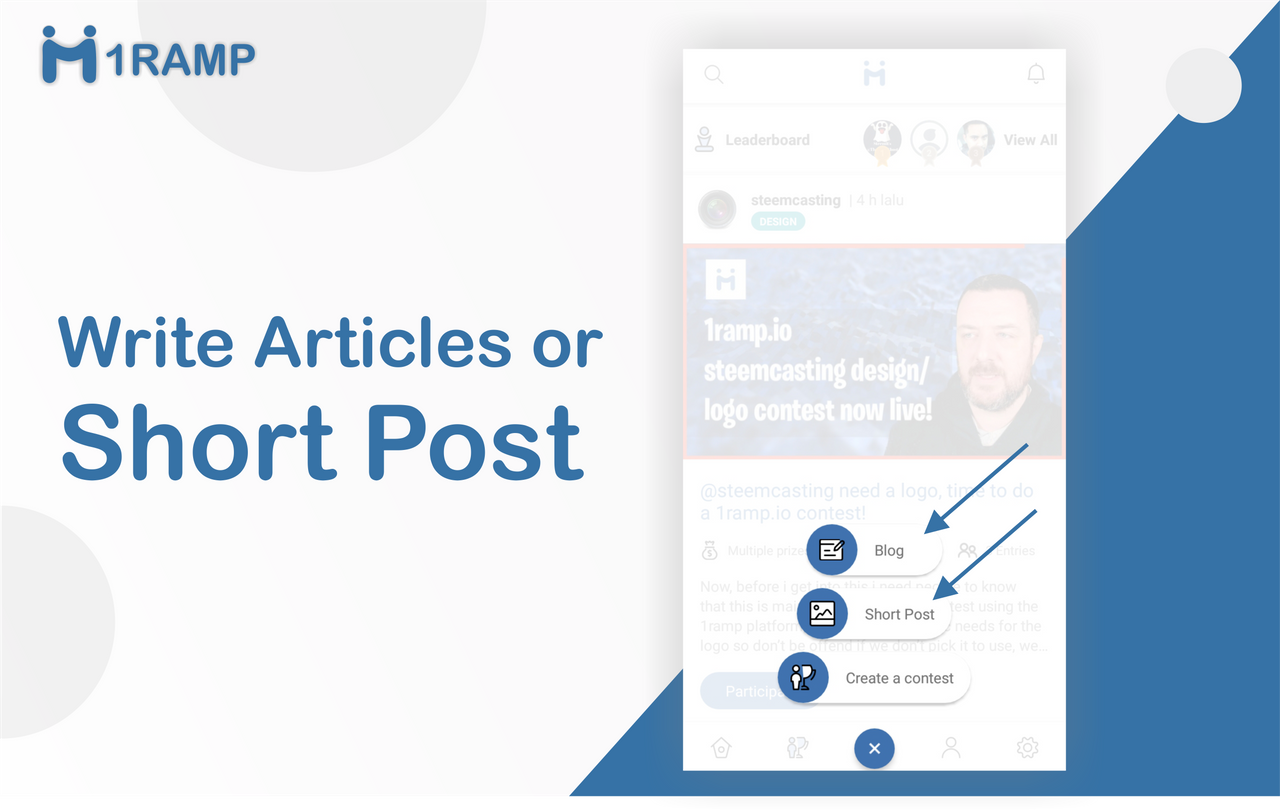 1ramp makes it very organized, users can choose what type of post they want to share. This is very convenient, what's more in the SHORT POST feature it looks very simple, you just need to upload the image> give caption> add Tag> then share it.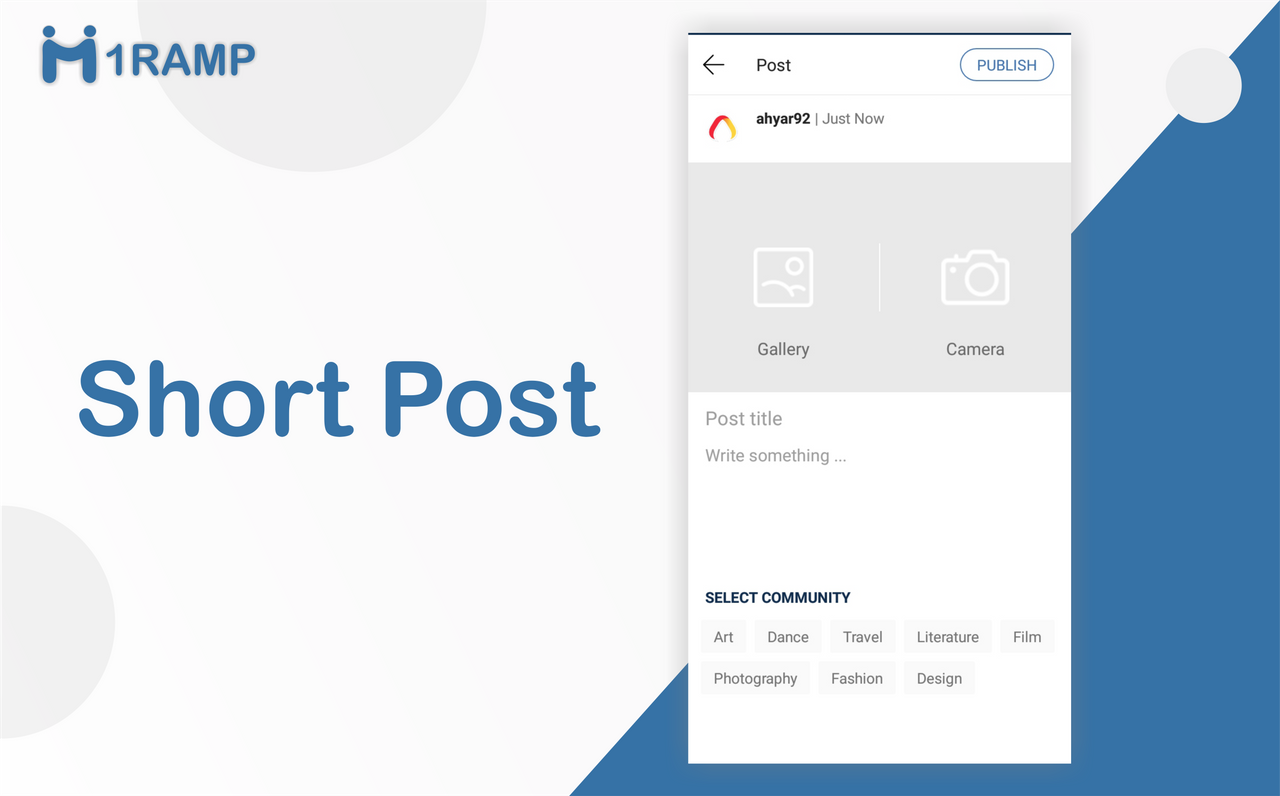 If you have opened a page to write content, then you will smile, because 1ramp presents all the needs to perfect your content. If you previously only used Steemit.com, to give different effects to the text such as Bold, Italic, Large, of course you have to use additional code. But at 1ramp, you can easily add those effects to your writing with the features that are available.
Create a Contest and Participation in the Contest
This is a unique feature and I am very impressed with this feature in 1ramp. Do you need services like Logo design, clothes design, article, or photos for your business needs? 1ramp is your solution if so. At 1ramp you can create contests for your business needs for steem users. Contest makers can arrange the details of the contest including such as the description of the contest, the total prize of the first, second, and third winner. And the contest maker can also arrange a list of judges in the contest.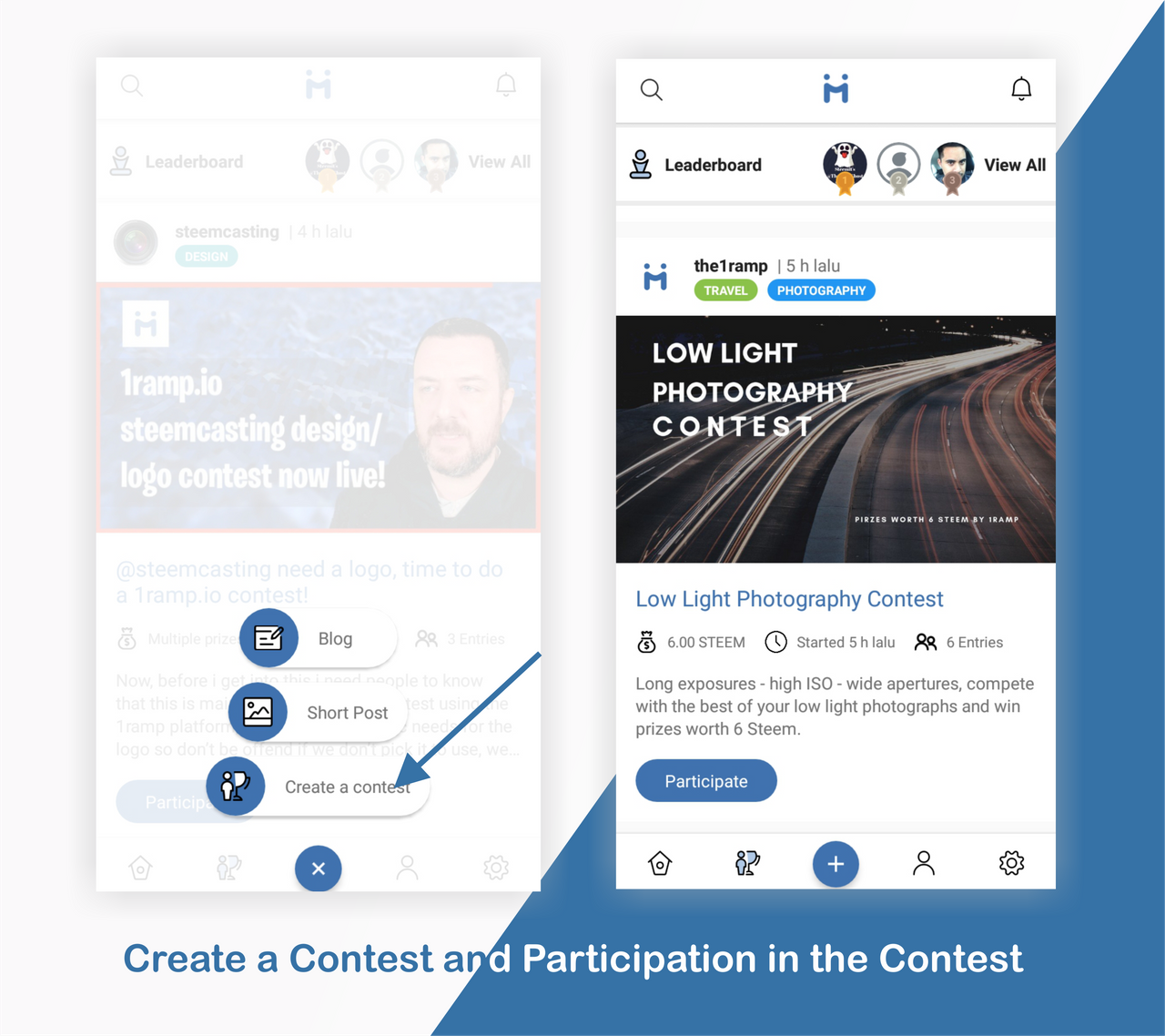 To avoid spam or fraud, a few months ago 1ramp gave a policy that only whitelist users have the ability to load contest in 1ramp. But you don't need to worry, you can contact 1ramp to make a contest.
And not only that, the good news is that 1Ramp users can participate in all the contests without exception. If you have skills or talents according to the needs of the contest, then you can participate to get prizes from the organizers later. Not only for users of 1ramp application, but this competition or contest can be followed by all users of steem as long as they follow the rules of the contest.

Find other interesting things !!
Not only the above features that you will find in 1Ramp, you will also find several other supporting features that will make you impressed and comfortable later.
Rate Posts
In 1Ramp you can also set the vote strength percentage for a post. But in 1Ramp it's a bit unique because it uses a Rating system. So you are only given the option like giving a rating on the application in Google Playstore.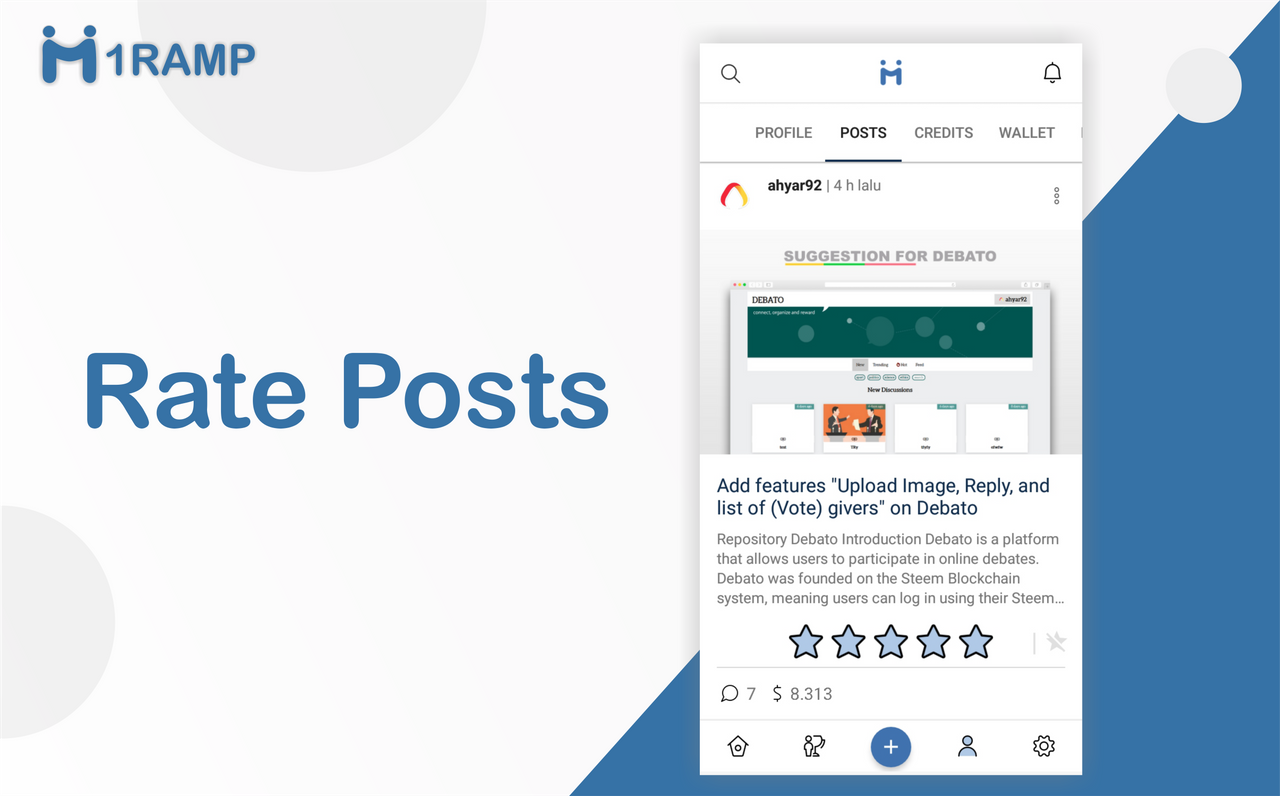 You can give the highest rating on a post , as many as 5 Stars. The calculation of the rating system in 1Ramp is as follows:
Rating
Percentage of Rate/Vote
5 Star
100%
4 Star
80%
3 Star
60%
2 Star
40%
1 Star
20%
Rating information
And unforgettable by 1Ramp, 1Ramp also provides the "Rating Information" feature. That way, you can see people who give a rating on your posts as well as the number of percent of power and also the value you get.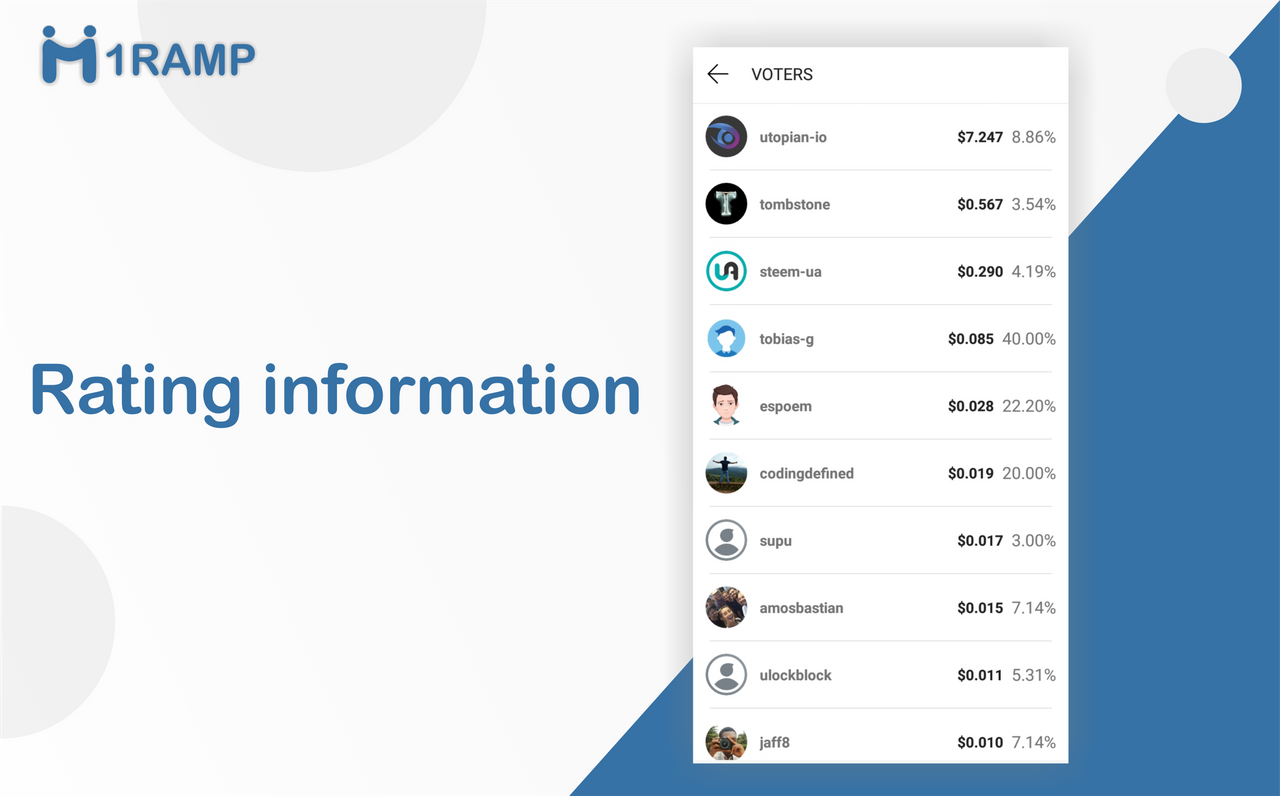 Notification feature
This is also a feature that is needed by users. With the Notifitaksi feature, users will always get notifications when there are new followers, upvotes, mentions, transactions and reblogs.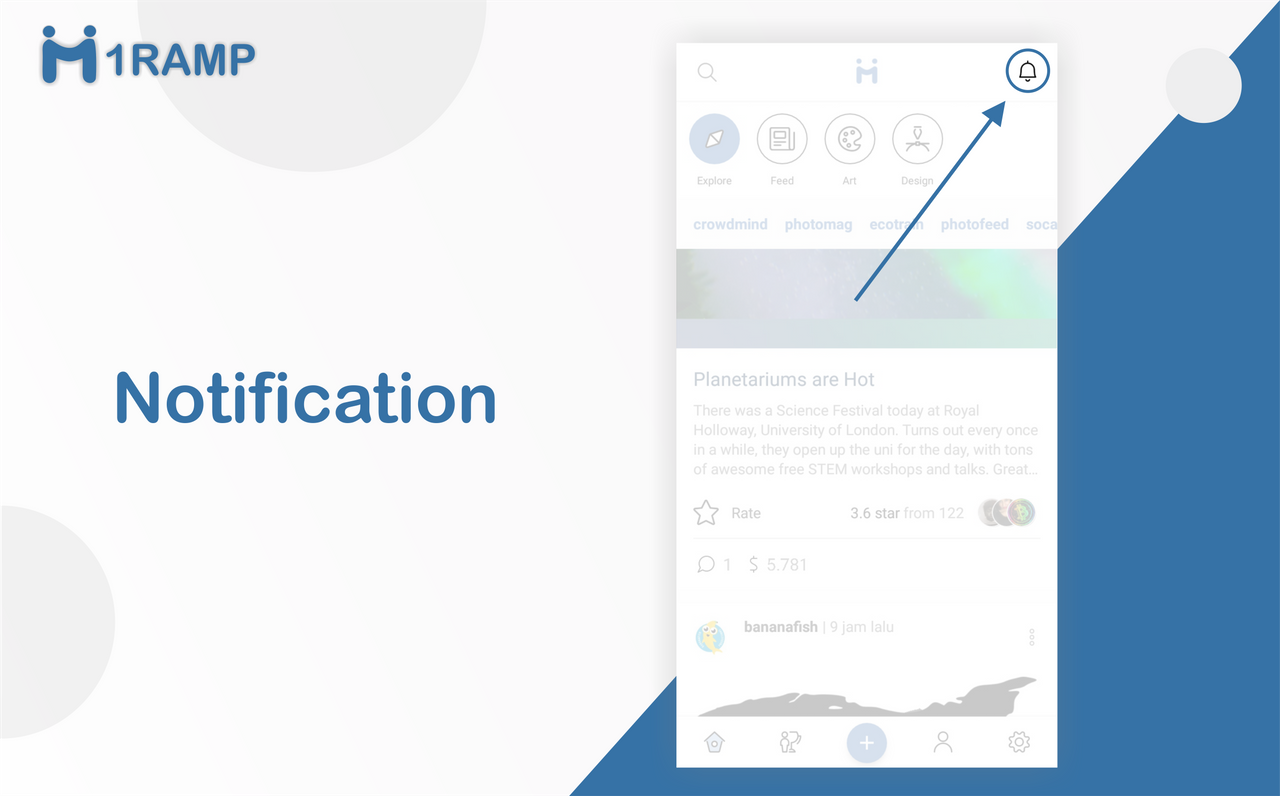 Summary
1ramp is one of the steem applications that you can try. And I was very impressed with the features provided in 1ramp. Starting from a simple but cool look, connected with community, competition / contest, it amazed me with the concept presented by 1ramp. I can't guarantee, but I'm sure after you try the 1ramp application, then you will feel comfortable using it on your smartphone.
The 1Ramp developer is also very open with users and contributors. You can suggest some features for them, and you can also report errors that occur in 1Ramp. I felt for myself how the 1Ramp team and developers were very friendly, I once reported a few BUGs to them, and I was responded to very kindly.
The developers and the team from 1Ramp really deserve to be appreciate for their hard work. Honestly, all their features are very helpful :)

Download 1ramp
The 1ramp application is currently only available for Android only. If you want to download it, please click the link below:

Resources
All contents of this post are written by myself based on knowledge, experience, and personal use on 1ramp application.
And most of the images are edited and captured from my own device.

Repository

Github Profile