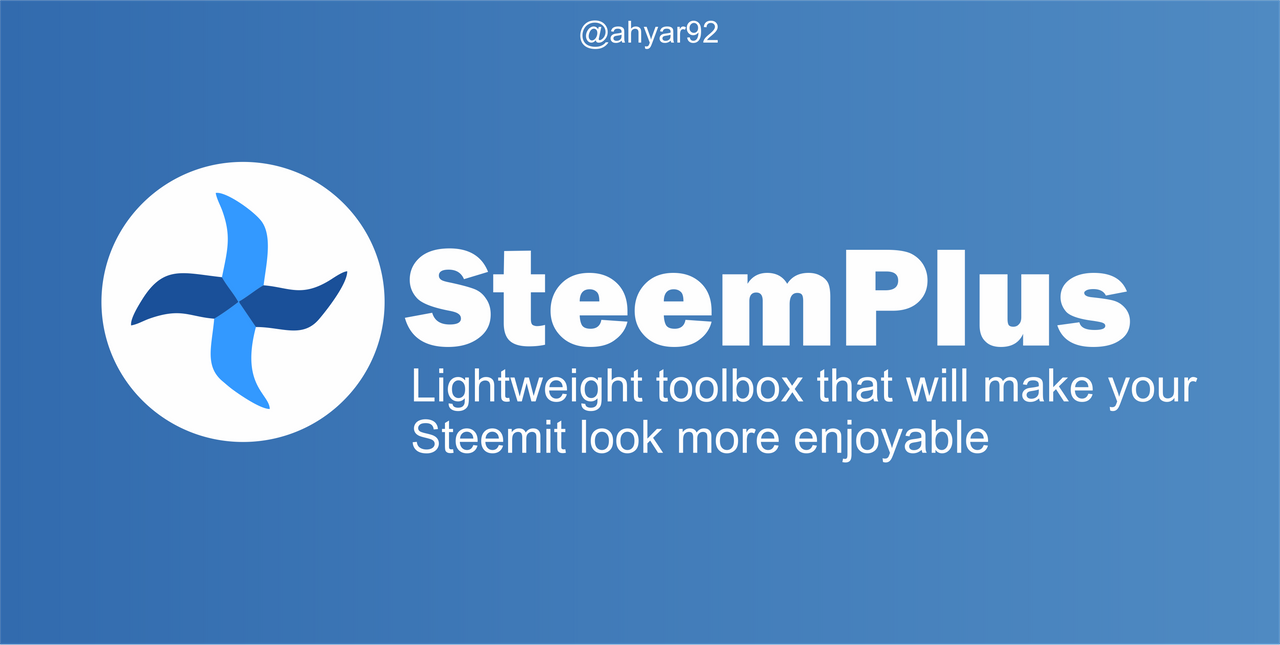 Repository

Introduction
I am very happy to keep up with the development of the Steem Blockchain . Although some of the recent developments in the price of steem have made me a little bored. But no doubt, I have a very close bond with Steem Blockchain or Steemit. I have very beautiful memories with Steemit, because a few months ago exactly one year ago I was able to enjoy how the price of Steem was very high at that time.
A few months ago, I was an active contributor in Utopian.io. Because I have a busy work at the office and the price of steem has dropped considerably, I tried to stop being active in Steemit. And now I have started to glance at Steemit again and also Utopian.io.
I also saw a few lately so many have left Steemit. They are so easy to forget about Steemit simply because of the declining price of coins. If we look at it in terms of the Steemit base, Steemit is not a place for income. Steemit is just social media to share experiences and also find friends, and if that too can earn income, it's just BONUS.
I have researched why many Steemit users have left Steemit all this time. One of the strong reasons besides the price of coins is decreasing, users very rarely get Vote from other users, moreover the one who shares that post is Small Fish. And also I see now that Steemit has not provided more progress.
But this time I want to introduce one of the ToolBox for Steemit that might be useful for you to increase the spirit of playing Steemit. With this ToolBox I'm sure to make your Steemit experience more enjoyable. You will find various supporting features for Steemit that will impress you. The toolbox I want to introduce to you is SteemPlus.

What is a SteemPlus?
SteemPlus is a lightweight browser extension to add new features to Steemit that will make your Steemit experience more enjoyable.
You might just think this is only a simple extension and does not have more impression? But if you have used SteemPlus before, maybe now you don't want to leave Steemplus. I only used StemPlus for 2 days, and I was very impressed with the supporting features provided by SteemPlus. You will find the features you want before in Steemit when you use SteemPlus.
SteemPlus provides so many features that are very useful for Steemit users, as if SteemPlus knows what users want. StemPlus not only presents feature concepts, but SteemPlus also provides interesting changes to your Steemit display.
If you just heard SteemPlus from my post, you don't need to worry because I will tell you about the features available in SteemPlus and also I will tell you how to connect Steemplus with your Steemit / Busy account.

What you will find on SteemPlus?
At first, Stemplus was a Chrome extension. But so many requests from users to be provided in several other browsers. And now, SteemPlus has also supported Opera and Firefox browsers. However, if you use Chrome, it's very straightforward, you only need to install the SteemPlus extension on the Chrome Store and can immediately enjoy it !!. But if you use it in the Opera browser or Firefox, it will be a little complicated.
How to Install SteemPlus
Before I explain how great the features are available in SteemPlus, I will share with you first how to install SteemPlus and connect it to Steemit.
First Install the SteemPlus Extension on your Chrome.


Download/Install SteemPlus

If the download is complete, the extension will be installed automatically in the upper right of your Chrome browser display.
Then open the Steemit / Busy platform and do the Login. Then do Login to SteemPlus through SteemConnect as shown below.

GIF
Then you can enjoy all the features of SteemPlus.
If you want to install on Opera or Firefox, please see the tutorial here.
Features details
As I explained above, SteemPlus provides very many supporting features for Steemit. But there are some very unique features in my opinion that I need to discuss in this post.
User Information
In the first view of your Steemit Profile, you will see the "User Information" feature which serves to display the details of Voting Mana, Voting Value, and RC Mana. Usually to see details like that, I have to access the Steemnow.com site. But with SteemPlus, you can see these details at any time easily.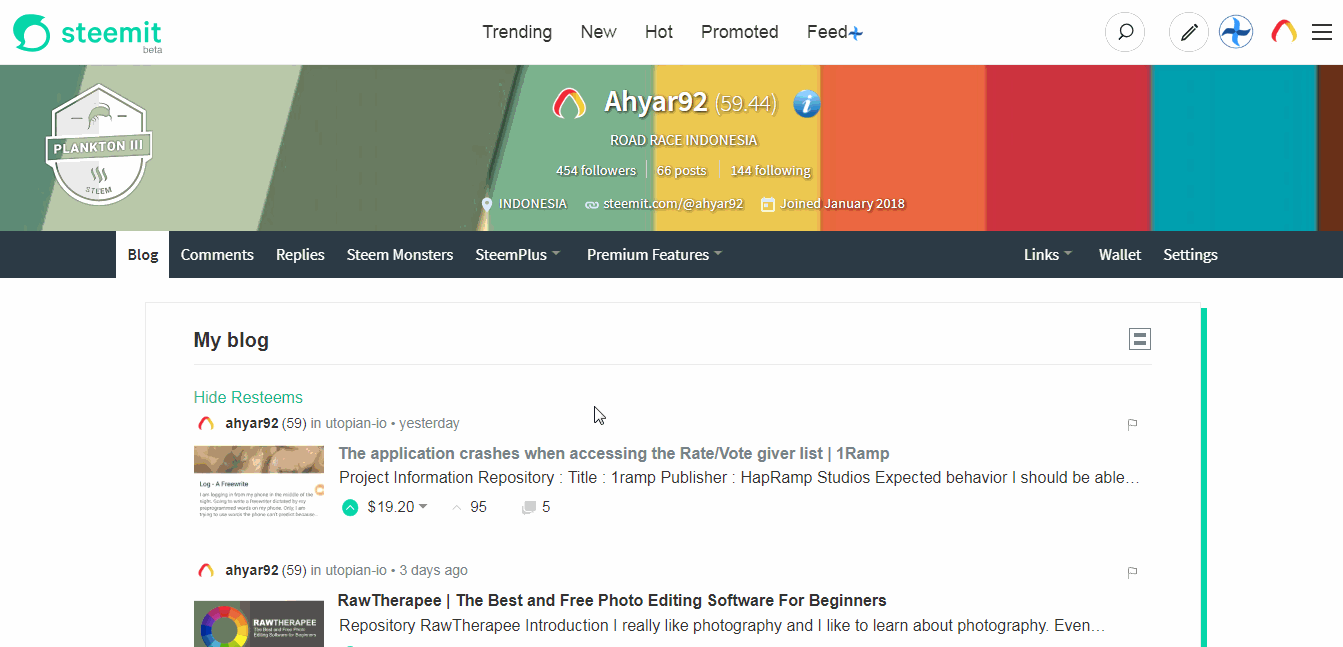 GIF
Rank
This is a very unique feature, because with the "Rank" feature you can quickly check the rank of users using badges made specifically by SteemPlus. There are 5 types of Ranks that you can achieve according to your Steemit account level, namely PLANKTON, MINNOW, DOLPHIN, ORCA and WHALE.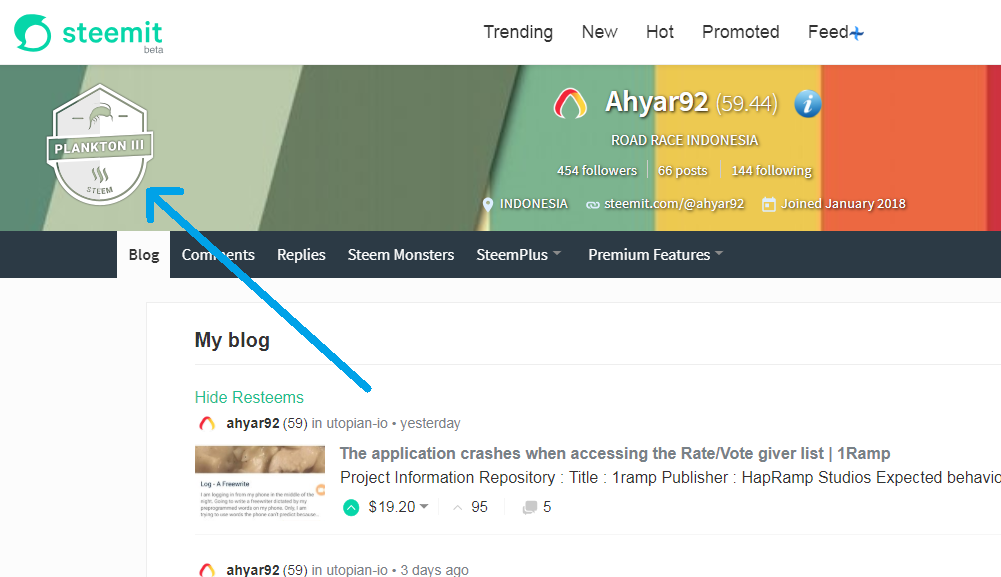 Votes History
With the "Votes History" feature, you can see a list of users who voted on your posts. And not only that, you can also see a list of posts that you have vote on. And in the "Votes History" feature you can also see the "% Vote" that users give to your posts.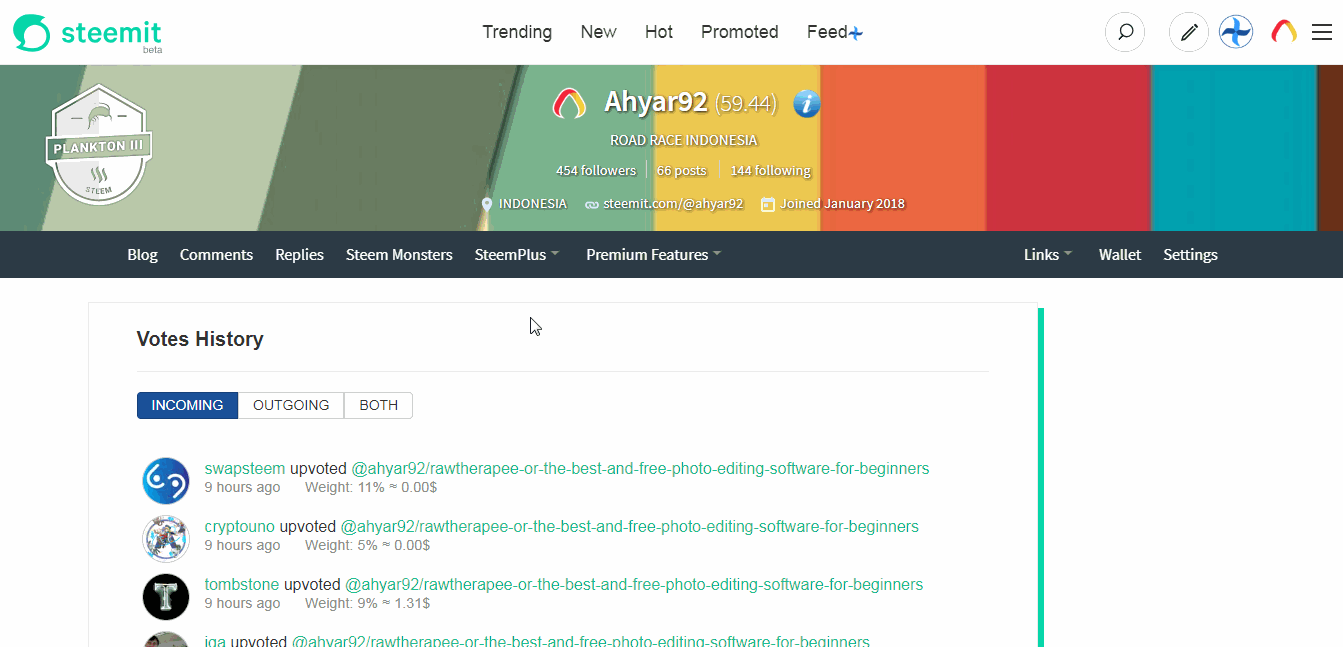 Reward Tab
With this feature you can see all the author's reward lists that are pending yours and those of other users. And also you can see a list of all author prizes paid in the last 7 days. If previously to see the rewards list of pending authors having to access the Steemnow.com site, now you can see it anytime and easier with SteemPlus.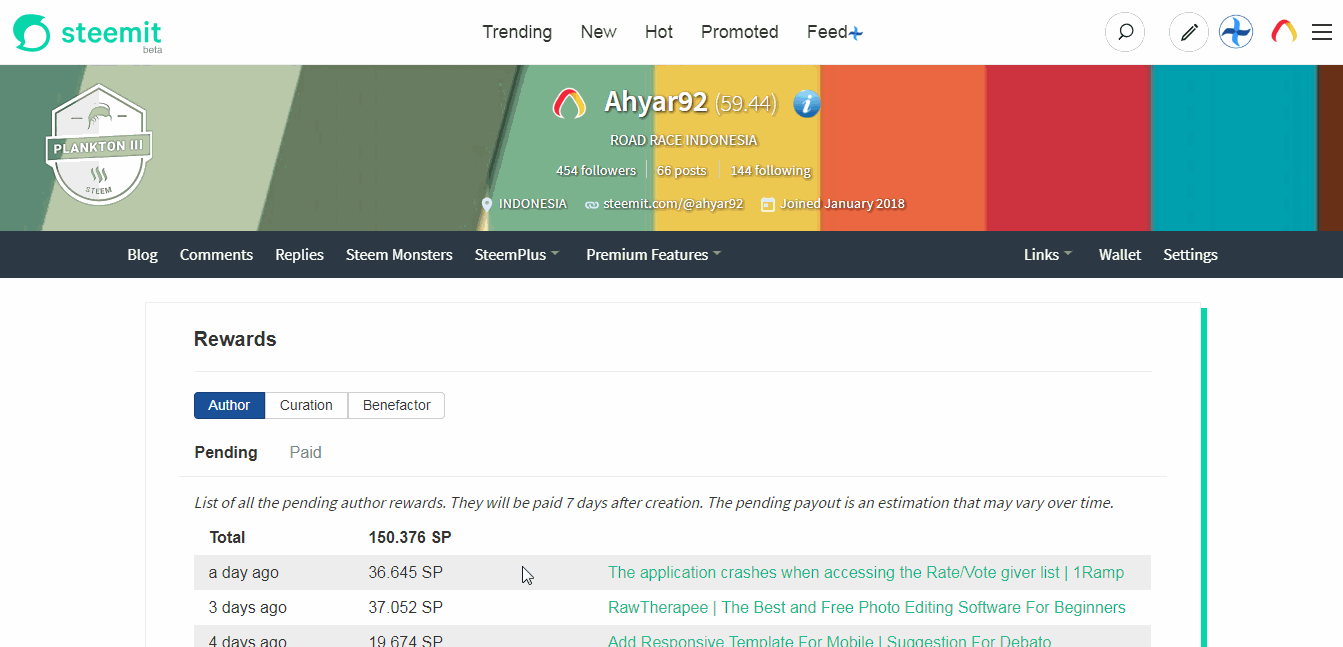 Coin Price (Steem / SBD)
If you already use SteemPlus, you don't need to visit the crypto price monitor again. Because SteemPlus has installed features for users who want to see the price of coin Steem / SBD anytime from Steemit. You can see the price of Steem / SBD coins in the Profile menu.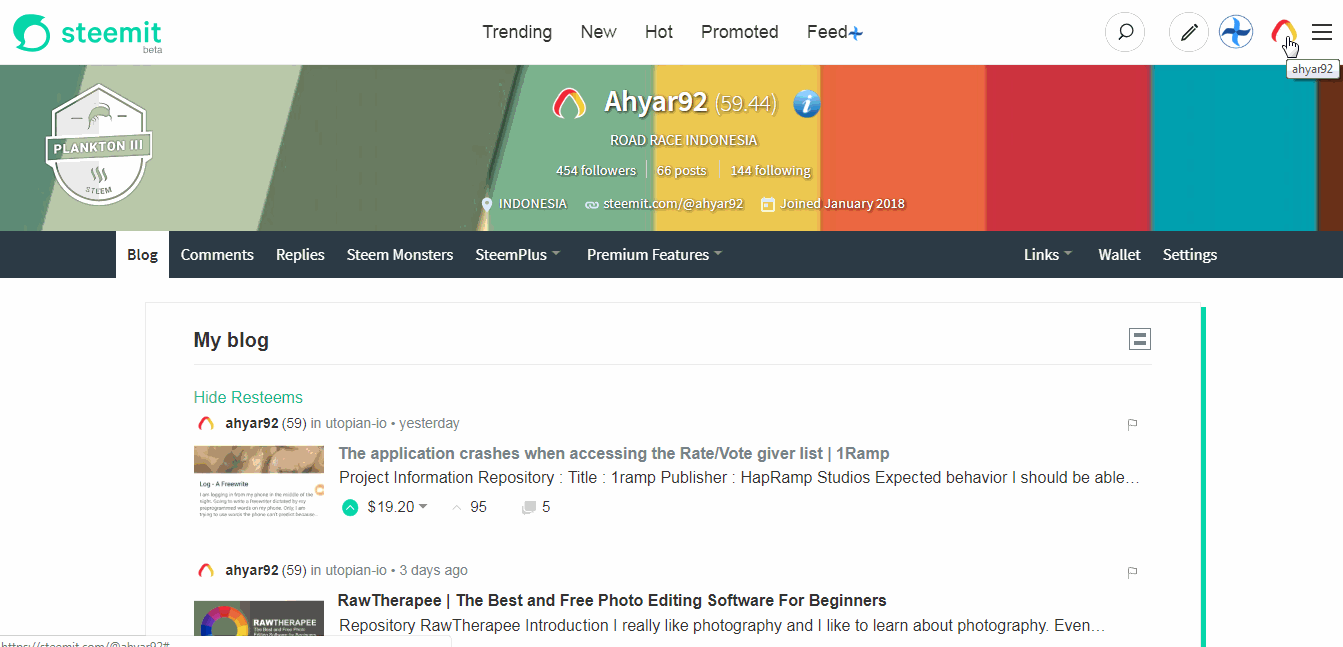 Delegation button in Wallet
This is a very favorite feature for me. Lots of users are still confused about how to delegate Steempower to other users. I also experienced this a few months ago. When I asked my friend to delegate his Steempower to me, my friend and I were confused how to do it. And by seeing the "Delegation Buttom" in SteemPlus, I was very impressed with SteemPlus.
With these feature, it will certainly make it easier for Steemit users to delegate without having to access other sites. And not only that, you can also see a list of incoming and outgoing delegates.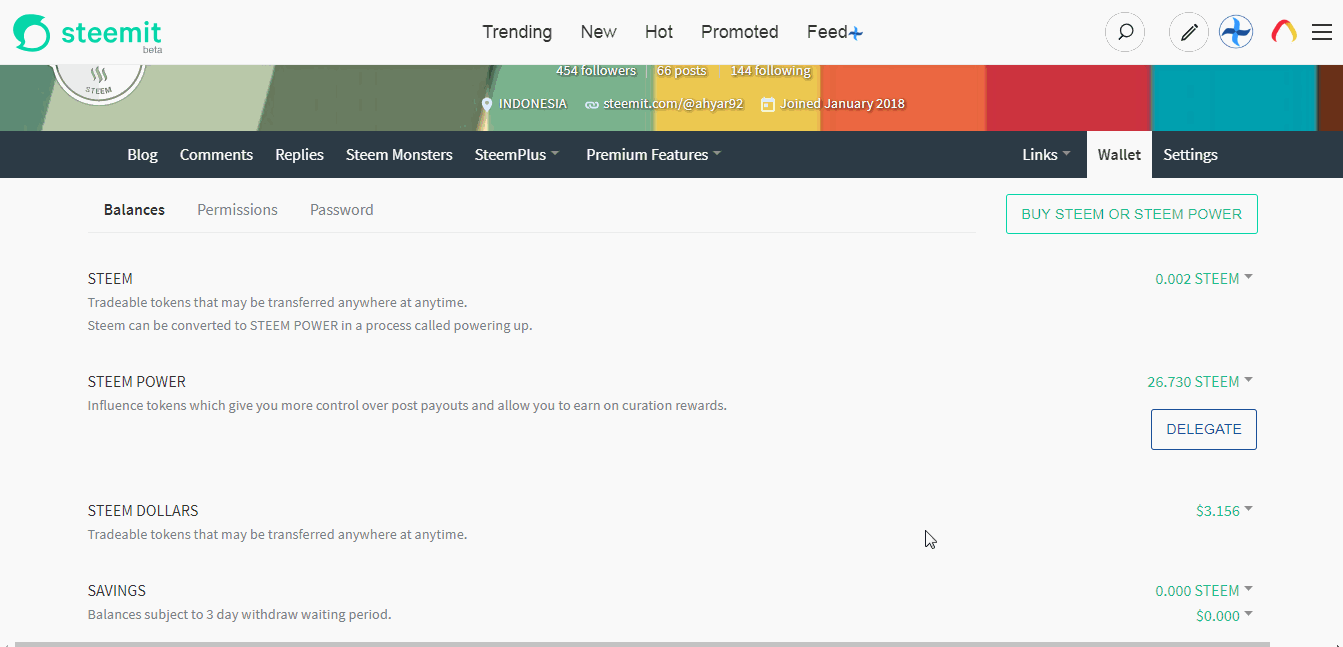 Details of Followers and Following
If before, when you see a list of followers only the username is visible, after you install SteemPlus then you will see something different. After installing SteemPlus, on the "Followers / Following" list you can see relevant information such as (Reputation, Steem Strength and Vote Value).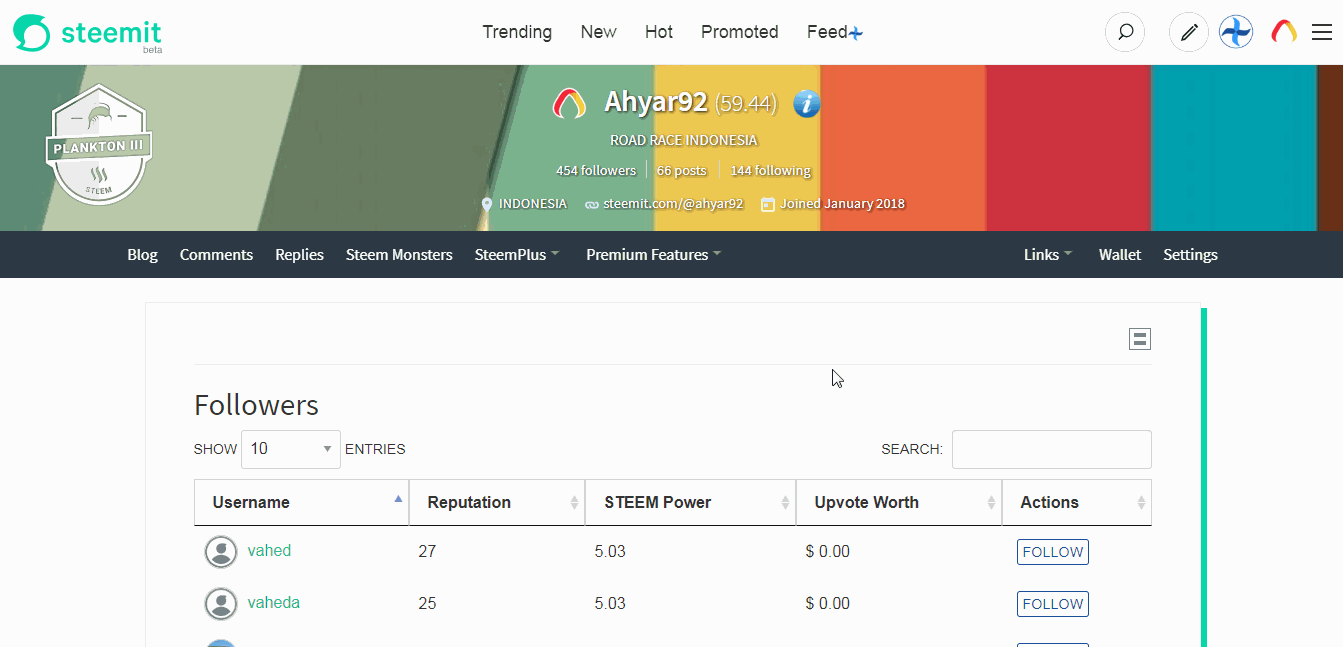 Votes Information
If all this time you have only been on the Busy Platform in order to see the percentage display and the SBD value of the Vote received. Now you can also see it in Steemit after installing SteemPlus. You can simply click on the list of Vote givers, then you will see all the Votes details that you want.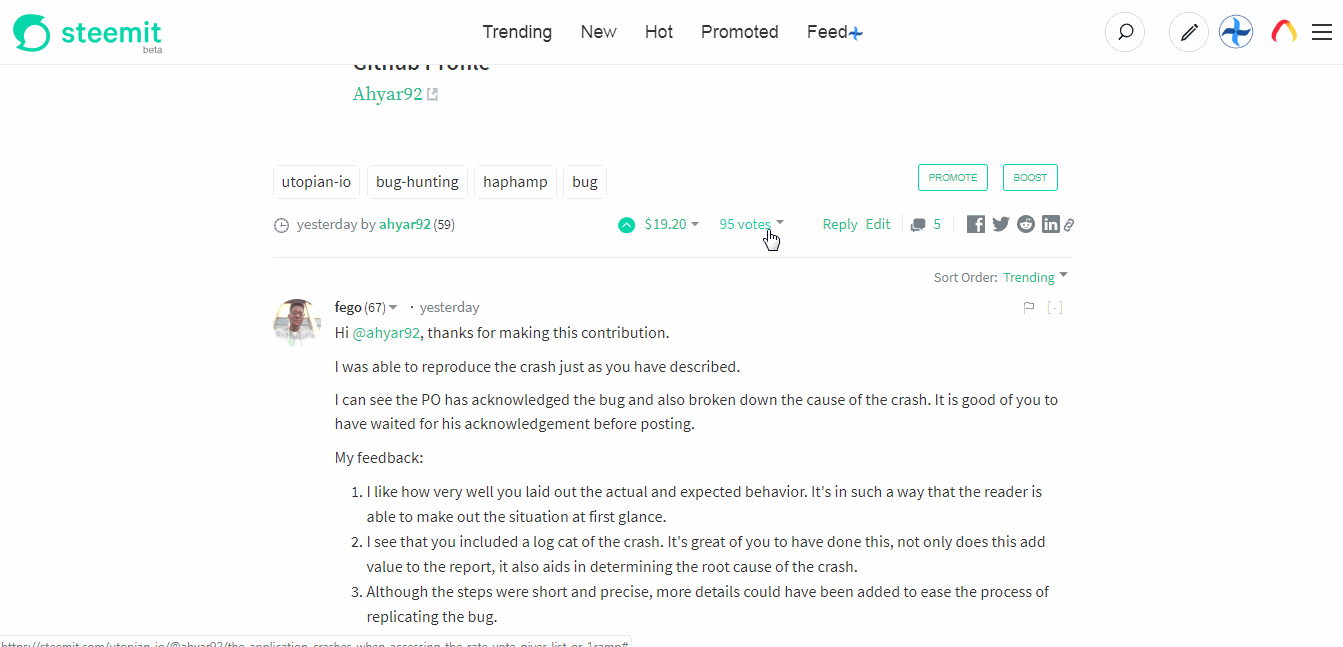 Picture of Gif for Comments
There is something more interesting than SteemPlus. In the comments column, SteemPlus does not add Emoticon as a complement. But SteemPlus adds the "GIF" feature in the comments column to show the expression on the post via the gif image. This is something interesting, because you can also search images as you want.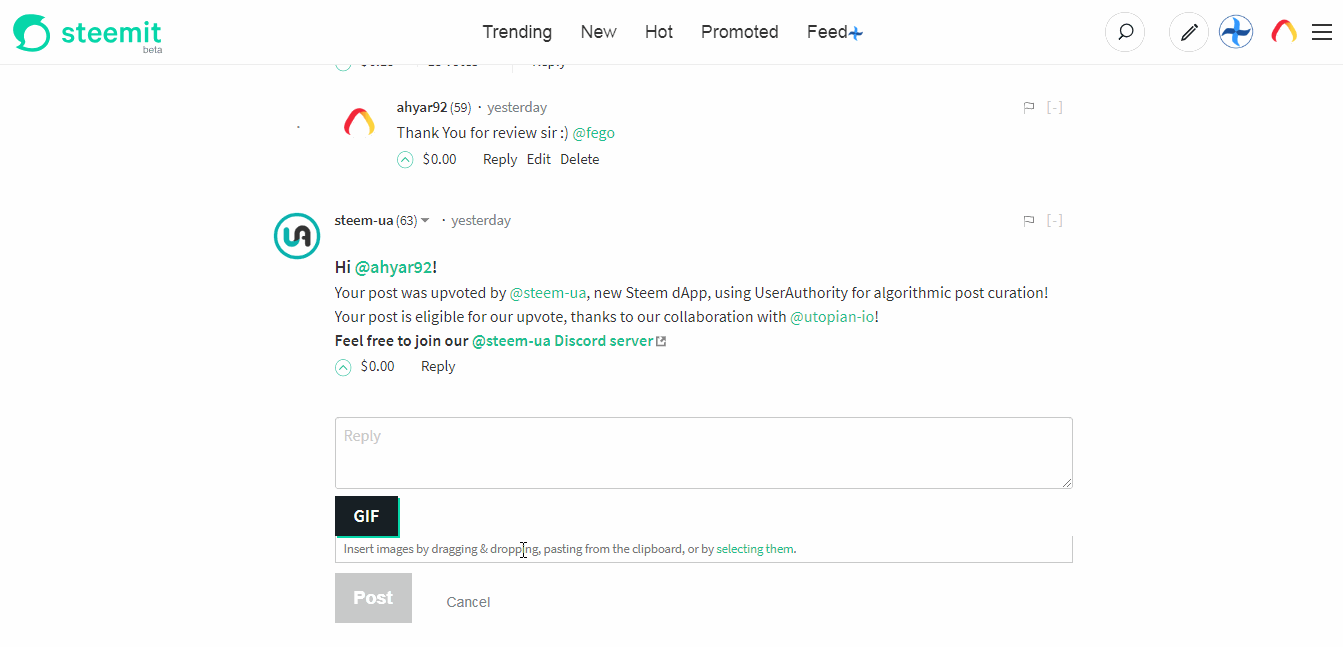 Conclusion
There are still many features available in SteemPlus that I have not yet explained. I think it's better to try it and find all the surprises themselves. I am honest, if SteemPlus is very cool and is perfect for those of you who want to get a more enjoyable Steemit experience than before. SteemPlus deserves an award for its hard work, because the project created and the features presented are very helpful for its users.
After I tried SteemPlus, I felt the incredible comfort that I found while using SteemPlus. Even though I use SteemPlus new in 2 days, but I've felt a pleasant experience. But I found one problem that arises when using SteemPlus, and I think SteemPlus must fix it immediately. The problem I found was "Features Often Too Late to Appear". This problem will occur if you are so active playing Steemit. Often when accessing several steemit pages, the SteemPlus feature does not appear immediately, you have to wait 5-10 seconds until the new SteemPlus feature appears. But the one problem that I found, did not disturb the comfort presented by SteemPlus. Even so, I hope SteemPlus thinks about the problem that I found.
If you share posts via SteemPlus, then you will get a reward or Vote from SteemPlus. In essence, SteemPlus not only provides comfort with the features presented, but also distributes rewards through Vote to its users.
At this time I think only SteemPlus is able to provide such a good concept, and if there is a sepura project, I am not sure I can surpass SteemPlus. Maybe this is just nonsense for you, my advice please try it, then you will find interesting things as I found.

Resources
All contents of this post are written by myself based on knowledge, experience, and personal use on SteemPlus.
And most of the images and and screen recordings (Gif) are edited and captured from my own device.

Github Profile