The arrival of mobile technology has made it easy for anyone to make a voice recording, it has given students, enthusiast, and professionals more options than ever before. Students may want to record what their lecturers taught them in the classroom, in other to ensure that nothing is missed. Some couples record the first speech their newborn made as soon as s/he stepped into this world. To many families, it is a remarkable moment for them and they will love to share it with the child later in life.
how will it feel like to listen to audio record of your first speech as a child? Such sound can be a great gift from your parents.
I have seen family that recorded stories as told by the senior members, this was sent to the younger ones, even when the storytellers are long gone to the spirit world.
Does journalist appreciate the value of voice recorder more than any other professionals? They use it to ensure that the report interviews of their subjects are as accurate as possible.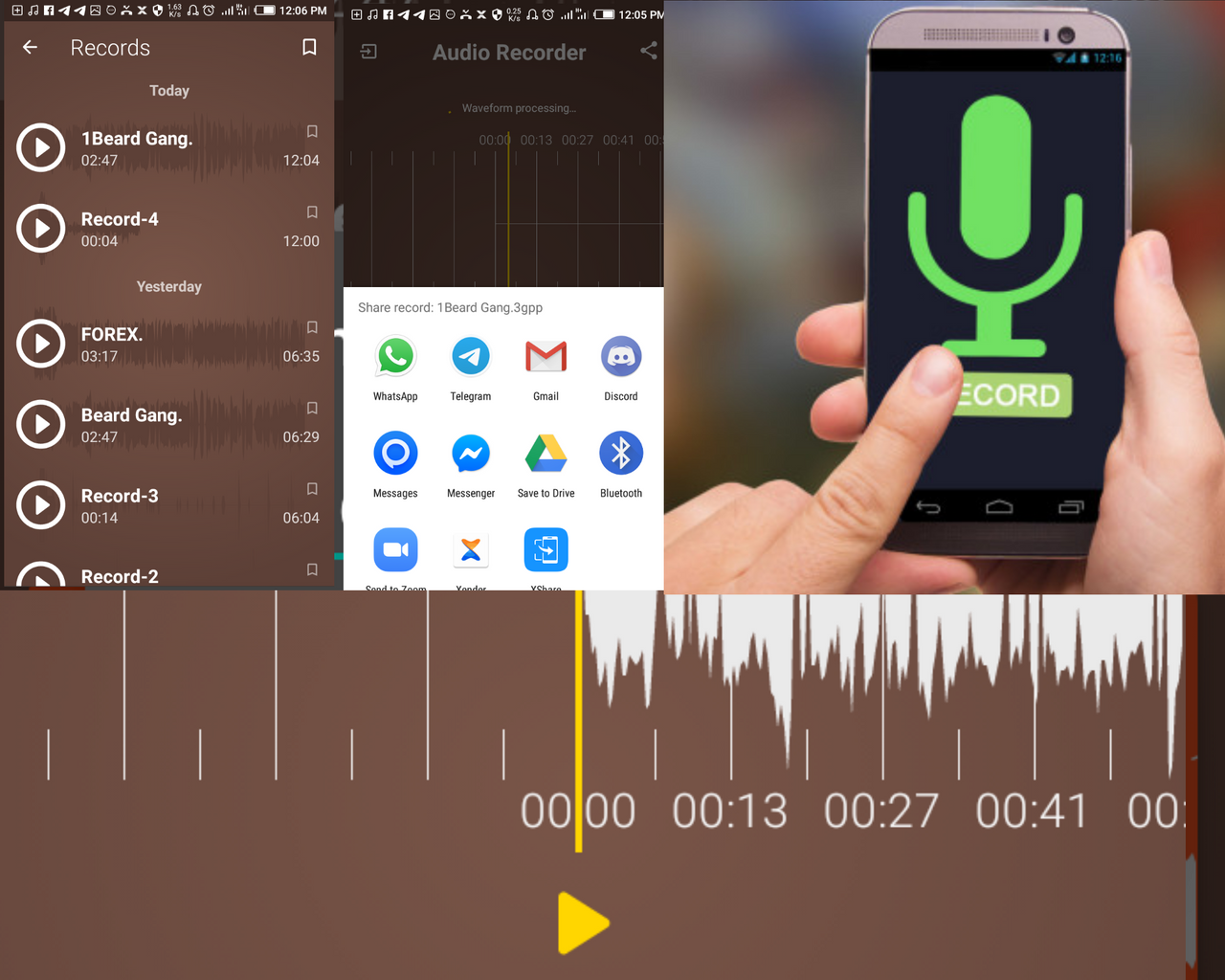 All that really matters in the above cases are quality, I am talking about voice recorder that guarantees clear audio recording. An app that allows users to share recorded files without opening file explorer saves time.
What's Up With Audio Recorder
It is a lightweight open source and advertisement free audio recorder for Android phones, it makes it easy for me to have a cool recording experience. When voice is recorded, the noise is reduced and audio gains are well optimized for great sound output. This app is available in m4a and WAV format. All my recordings are saved uncompressed, the job of compressing audio is left to users. Note that you will reduce sound quality when it is compressed. Really, you cannot eat your cake and have it! Except you have an urgent reason to save your audio file as mp3, I advise that you let it remain as WAV or m4a.
How I Use This App
As Vlogger, I do bi-monthly upload of my videos on YouTube. But my greatest challenge is getting mobile phones that can improve the audio quality of my videos. Right now, I am not financially buoyant to buy Canon or Nikon DSLR camera, and my Samsung digital camera has gone bad. Here is my new mantra.
use what you have, where you are, to get what you want.
The unique feature of the app is that it can record at the background; this made my job so easy since I know how to use a few video editing software. I could match audios with motion pictures. Ever since I have been using Audio Recorder, it compliments my video recorder, perfectly.
A disadvantage of background recording is that it will record all notification sounds, a nice way to avoid this is to disable all notifications before I begin recording session.
As a thought leader in my online communities, I use an audio recorder to record short lectures ahead of time, then I name them properly. For those that would love to do a podcast on an extremely low budget, they can start their career using this app. My approach to this is using the inbuilt microphone that comes with Samsung earpiece, it gives nice audio quality.
Let's Talk About App Features
In any software or mobile application, important buttons or icons should greet the eyes of the users as soon as the app or software is opened. This is actually not a rule, but a norm in the modern tech industry.
Homepage, What About It?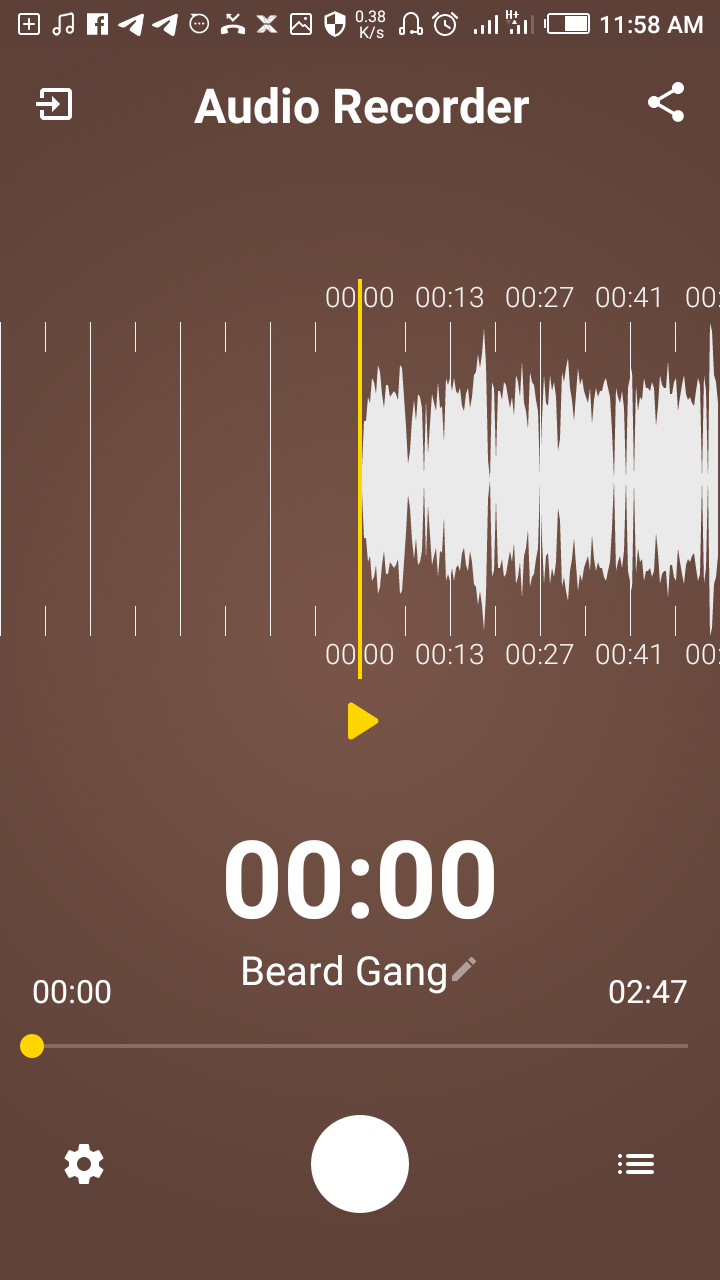 At the top-left corner is the File Manager icon, and we have a share button at the top-right corner. In the middle of my screen, I see the recorded audio in a waveform. At the bottom of the screen, there is a settings icon, record button, timeline, counter, edit, and file button to open recorded audios.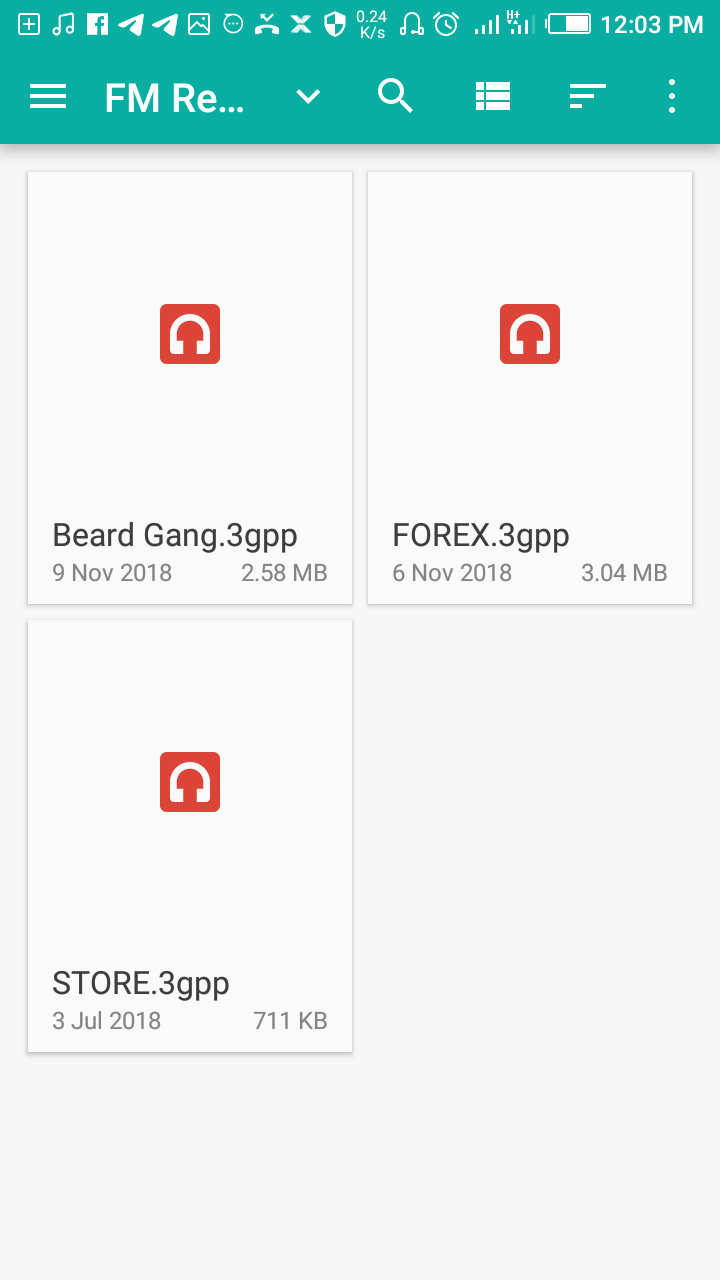 File Manager: it is important to state that Audio Recorder doubles as a music player. Does it make sense if I record audio and I cannot listen to it via the same app? No, only that you should not see the app in light of conventional music players. Aside from recorded audios, I can play other songs by selecting from old songs in my file manager, it can only load one at a time. When I click on this icon, it takes me to my file manager. Every other song can be played except those in MP3 format, as the app does not support it.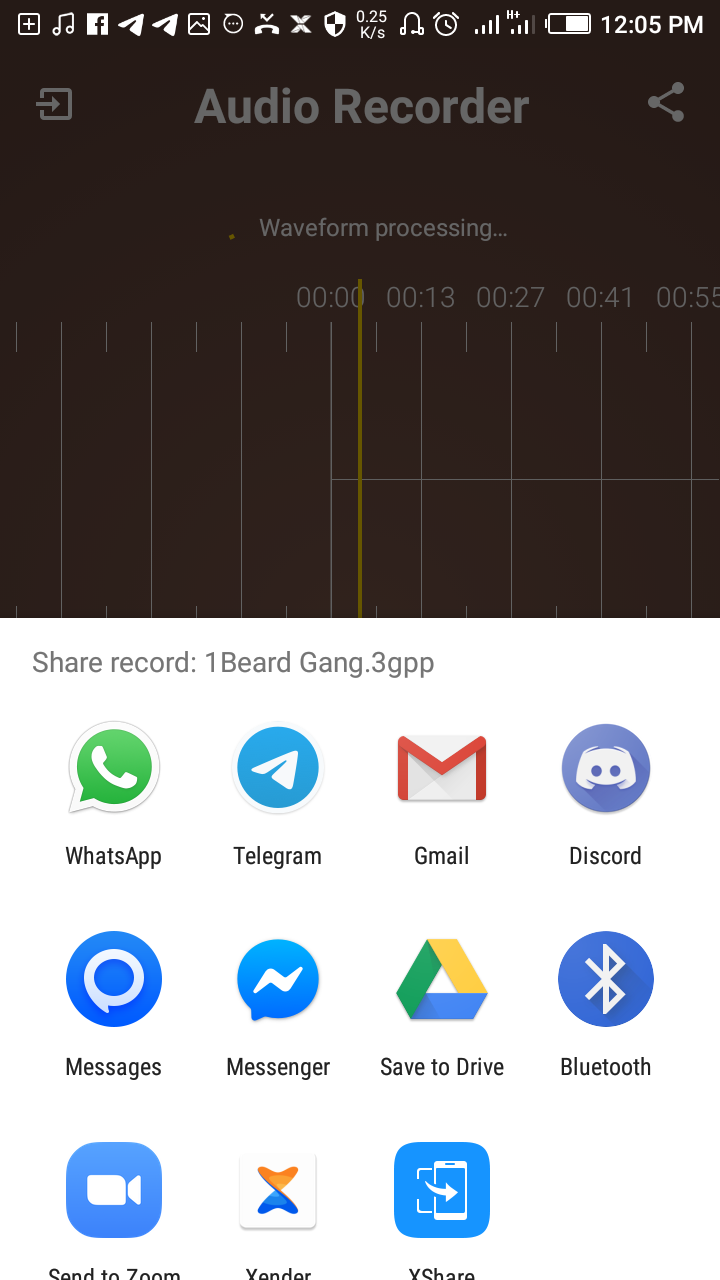 Share: it is rare to see people who record audio for their own listening pleasure, almost everyone wants to share recorded content with their family, friends and the rest of the world. When I hit the share button, it allows me to share recorded files on social media via Bluetooth and email. There are joy and excitement in sharing, share it!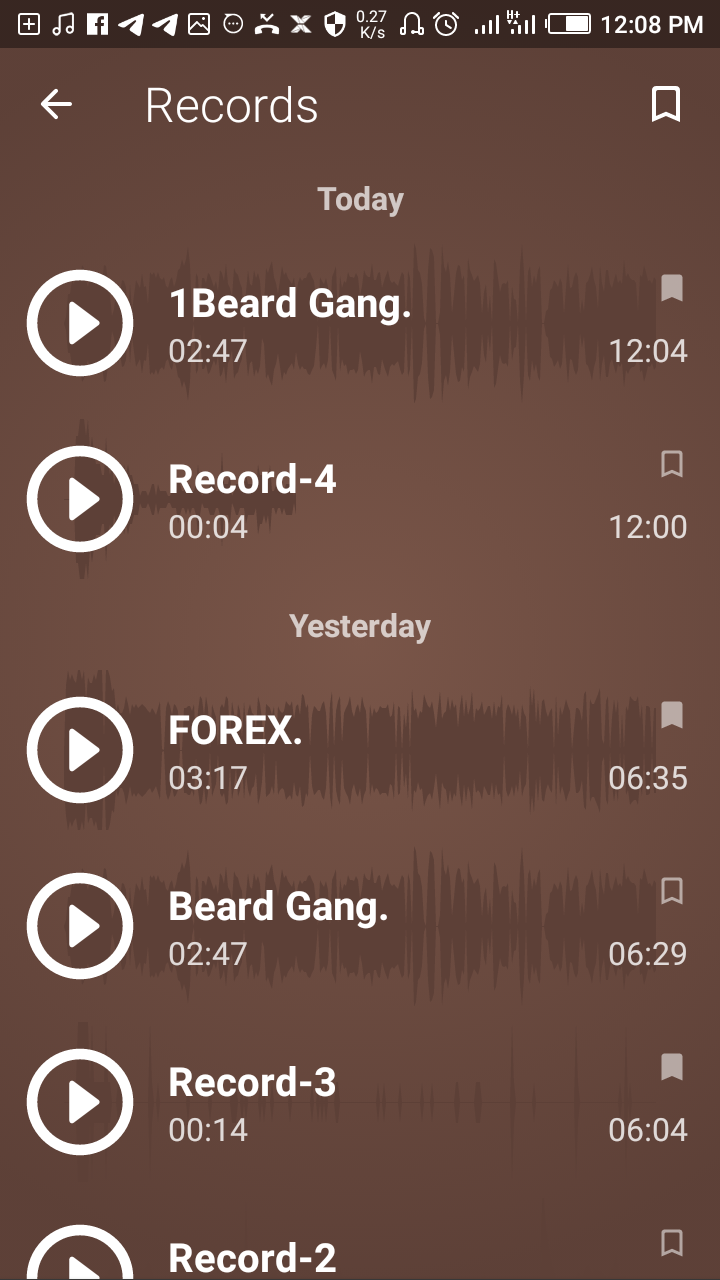 Recorded Files: this is where all recorded files are kept, by clicking on it, I can scroll to listen to any of my audio records. Since I have more than 50 recorded audios, the best option is to bookmark my favorite ones. This way, I will avoid wasting time to scroll through numerous files. Every file has bookmark icon at the right hand, once I click on it, it gets bookmarked.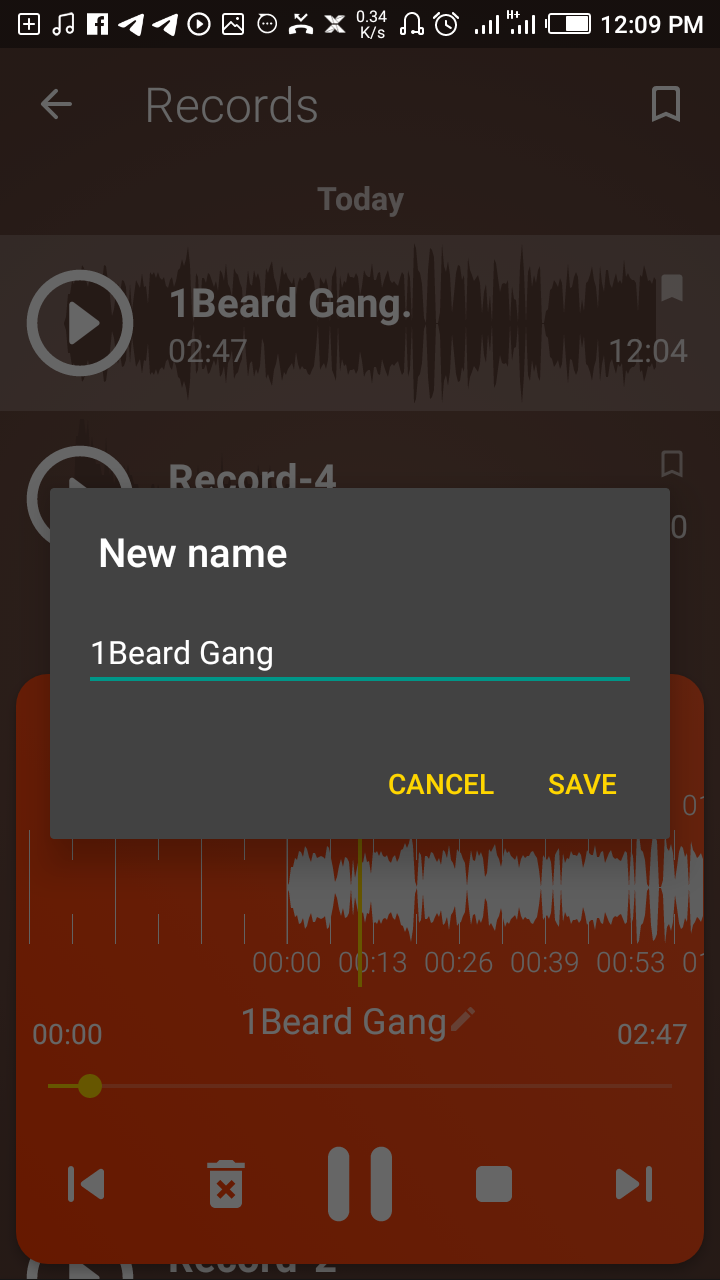 Edit: I believe that every audio file should have a unique identifier because each of them has different contents. Once I'm done with recording, I name it immediately. Already named file can still be renamed at any time.
Timeline and Record: they work dependently once the record button is hit, the timeline begins to count time, and it stops when the recording is stopped. This is useful especially when I have predetermined duration for my lectures or podcast.
Settings: it is the control room where I can adjust a lot of parameters like theme, formats and sample rates. Additionally, I can activate or deactivate the following; store records on dir, keep the screen on when recording, record on stereo. Through settings, I can delete all records. But I don't want to do that now as I am yet to backup all my recorded files.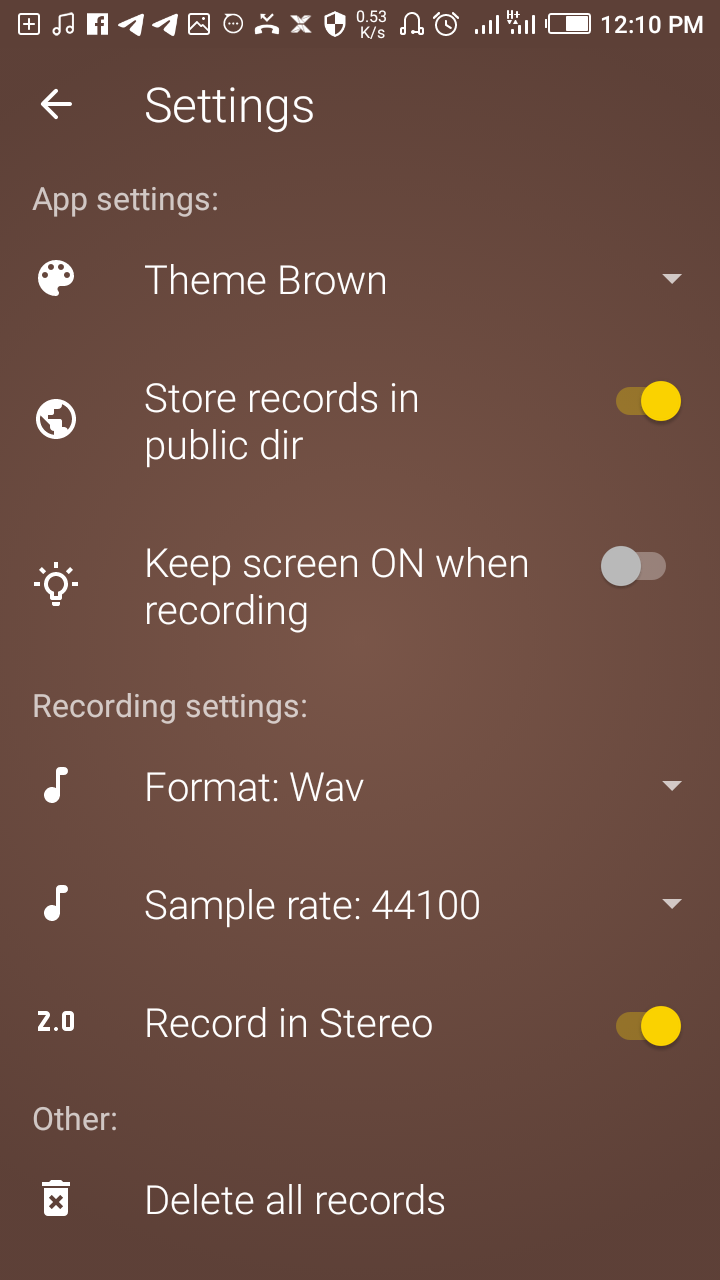 There are eight themes to choose from in appearance settings, as I said earlier, I can only choose between WAV and m4a audio formats. Aside from the default 32000 sample rates, there are an additional four (4) rates. It depends, if the surrounding noise is extremely low, I will choose 41108 because of loudness and audio gain. But in a noisy environment, 16000 rate is ideal, I only have to speak on top of my voice to have a good recording.
I have no reason to keep my screen on while recording, so I disabled it. I enabled stereo because it will improve audio quality.
Summary
Audio Recorder eliminates the excuse that you may have as far as producing audio content is concerned, it is lightweight and less than 1mb in size, so why should content producers not have it on their mobile phones? Ideas can flow into your mind at any time, the eureka moment can come when you have neither jotter nor pen, and the nearest ones may be miles away. This app allows users to quickly record their ideas and work on them later. You can engage your phone in other activities while recording is ongoing, this is another beauty of this mobile app.
It is an indispensable companion if you use an Android phone, download Audio Recorder. It was newly launched and it is getting reasonable attention in app stores. Its interface is very straightforward, it shows that the developer had users in mind while building the app.
My Suggestions
I am tempted to say that it is a perfect app and fully developed, but that statement will limit the app development in terms of new features that will benefit users. For this reason, I suggest that the following should be included in subsequent updates;
Change the rate to something like low, lower, medium, high and higher. These can be easily understood by many users. Some people don't know what 48000Hz is.

I understand the need for uncompressed audio formats like WAV, but I suggest that you include lossy audio formats like MP3 in subsequent updates since it is the most popular one in the music world.
Version
This app has enjoyed more than ten thousand downloads so far in last 5 months.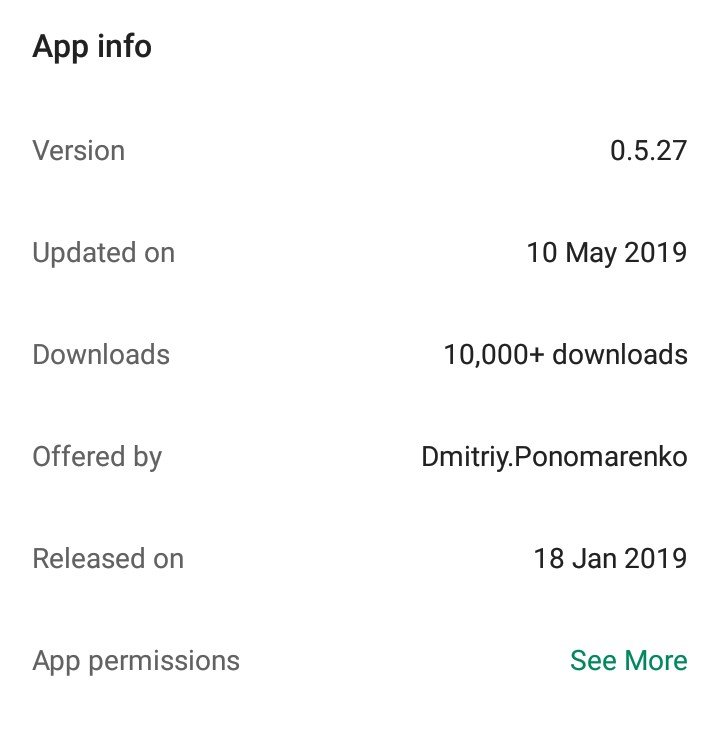 Links
Source Codes
https://github.com/Dimowner/AudioRecorder
Download Link
https://play.google.com/store/apps/details?id=com.dimowner.audiorecorder
My Github Profile
https://github.com/autofreak
Series: Nil