The role of music in human development cannot be overemphasized. Over the years, it has shaped our culture, tradition, and belief. To many people, music is the hallmark of enjoyment, listening to it makes them healthier and entertained. Really, there are other psychological benefits in music.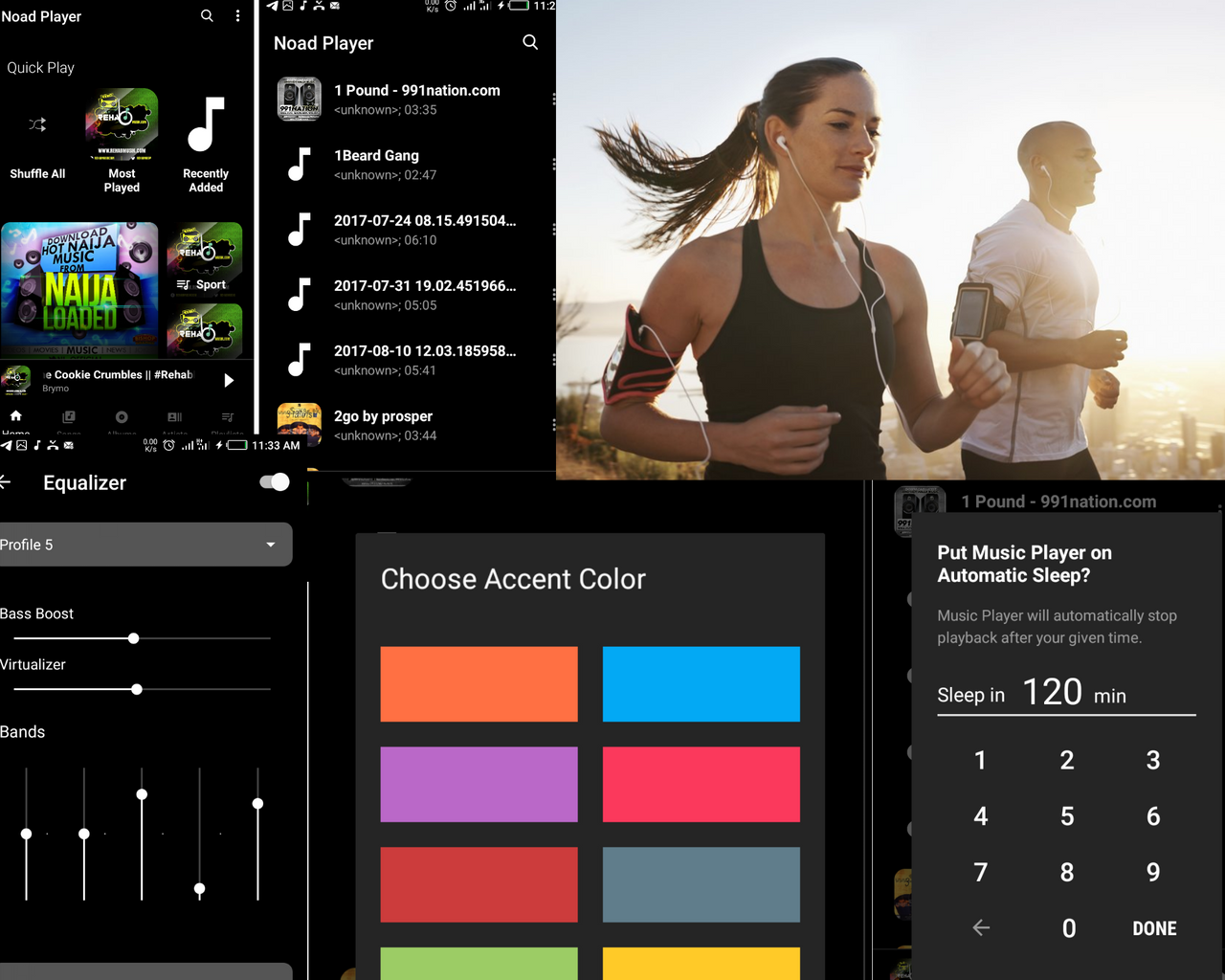 Research has shown that music can influence human behavior, thought, and feelings. This will not be a surprise to you, if you have seen people cried in Michael Jackson's music concert before, some audience gets really pumped up that they almost pass out of life. Then you can easily understand the magnificent power of songs, its ability to inspire actions, elevate or depress mood.
Individuals music taste can give meaningful insight into a different aspect of their personalities. Music helps me relax, it gives me extra energy boost while in the fitness center, doing exercises. To some extent, it is my pain reliever.
music is an invisible dose of analgesics.
Reminiscing.....
Once upon a time, the only way to enjoy music without using big hardware is to insert an audio cassette into Walkman. Fast forward to early millennium, we could listen to different music selections through audio CDs (Compact Discs). But there was a big challenge, when the surface of the disc gets scratched, which is inevitable, it begins to skip and a kind of frustration is experienced while we listen to songs. In 2006, Apple Inc. produced the revolutionary iPod, we could store several hundreds of tracks in it, this is more portable and it comes with rechargeable batteries. Adoption of this device spread like wildfire.
The mobile phone technology arrived and disrupted the music industry with its multimedia capability. With a mobile phone, I could play games, watch movies, record my voice, record video, and listen to songs. Currently, there are several hundreds of music player apps competing for our attention, they seem to be fighting for space in our RAM (Random Access Memory). Thanks to this competition, it has greatly improved the amount of value that users derive from the average music app.
I have had the privilege to use music players like Shuttle, Bop, and Vinyl. But Noad is giving them good run for their money.
Presenting Noad Music Player To You Through My Experience As User
There is a common saying that first impression lasts longer. Although not all books should be judged by their covers, how many people have the chance to open the next page in the impatient world? This is why it is recommended to make the app homepage as relevant as possible.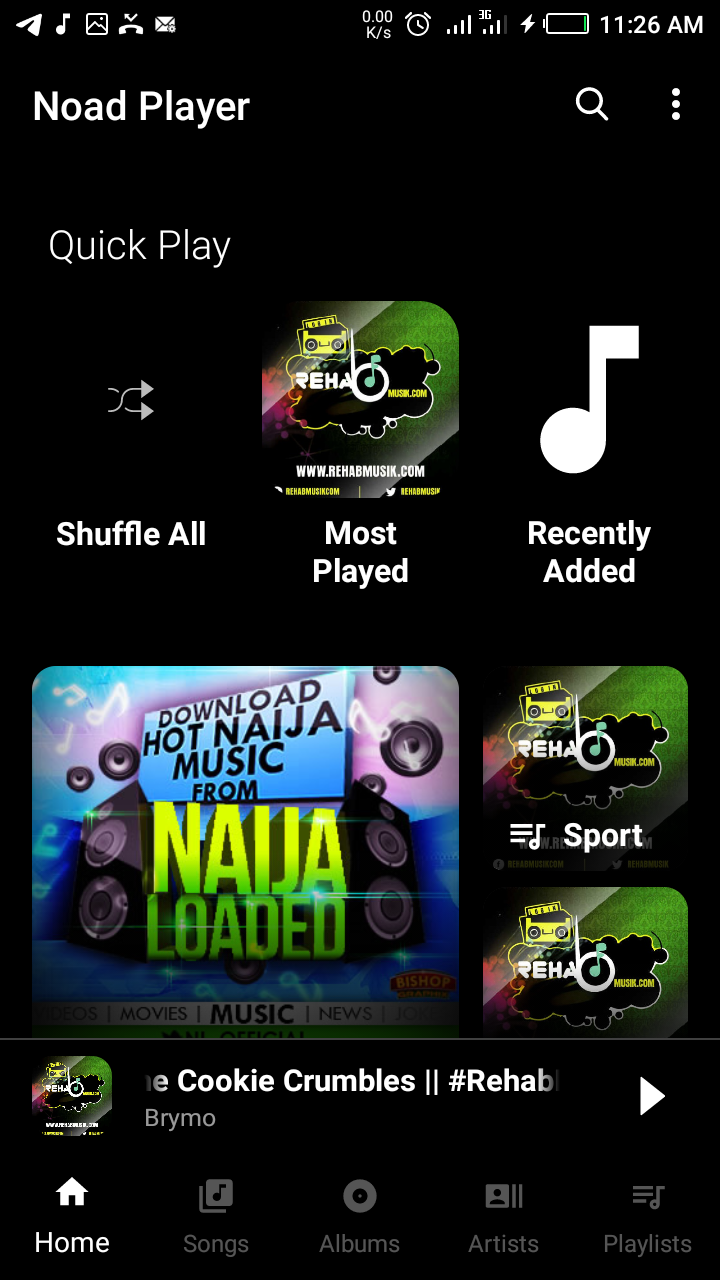 When I launch Noad Player, I see track or album pictures in the middle of my screen. Here, I have four playlists conspicuously displayed before my eyes, there is Most Played, Recently Played, Sport and Unnamed Playlist. Also, in the middle, there is Shuffle All Icon, all of these are under Quick Play. This concept is simple and unique, I don't have to start finding songs when Noad is launched, the app will intelligently put a few songs before me.
At the top-right corner of my screen, there is Search and More icon. The bottom of the screen is equipped with Home, Songs, Albums, Artists, and Playlists button- at the very top of these buttons, there is a search section that displays songs that I am currently listening to, together with pause/play icon.
Exploring Noad Features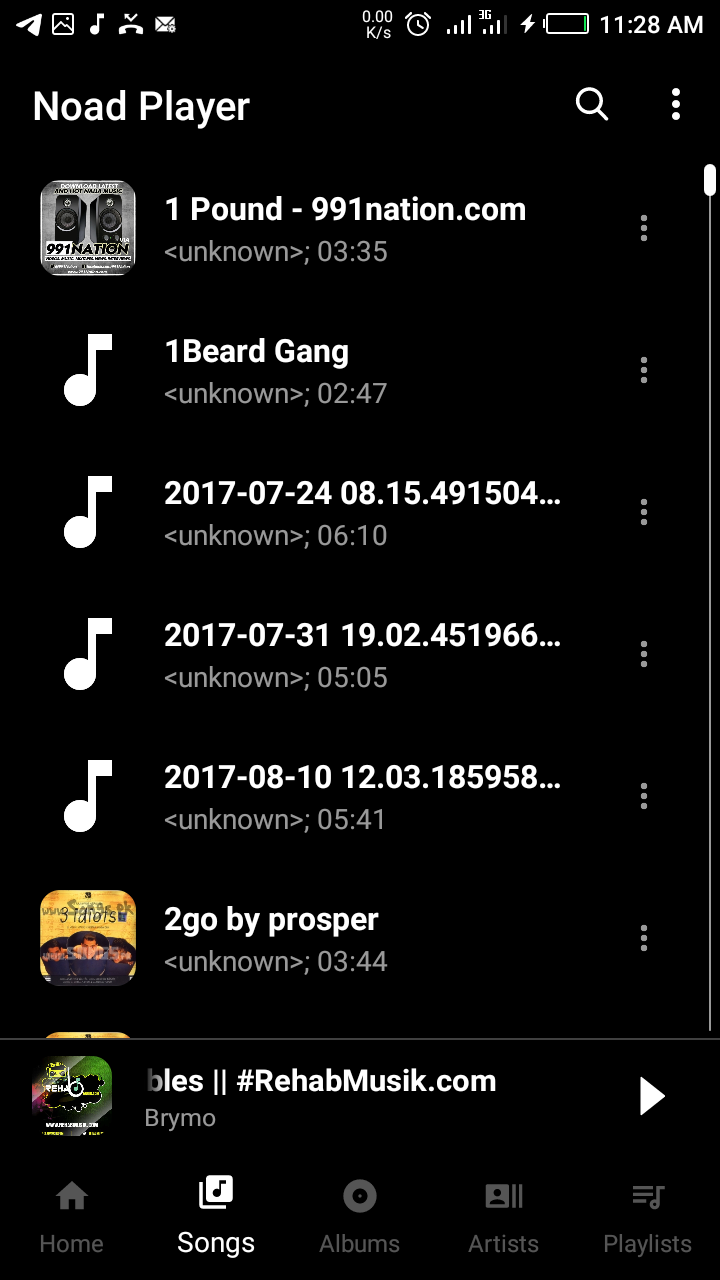 Songs: when I click on it, it displays every song on my device in alphabetically order, this made it easy to scroll to song title whose first letter fall between A and F. At the right hand of each song, there is option icon, this gives me the option to play next song, shuffle, add to queue, or add to playlist. I could go to the album that houses the song or to the artist. When I click on check info, Noad will display the filename, song title, album, file location, and audio length.
A very cool alternative to the playlist is 'add to queue' and it will be played sequentially. From experience, I noticed that Noad will not remember this queue when the phone is restarted, switched off or RAM space is cleared.
Album, Artists, and Playlists: they all work in a similar way with songs, except that albums are displayed in alphabetical order.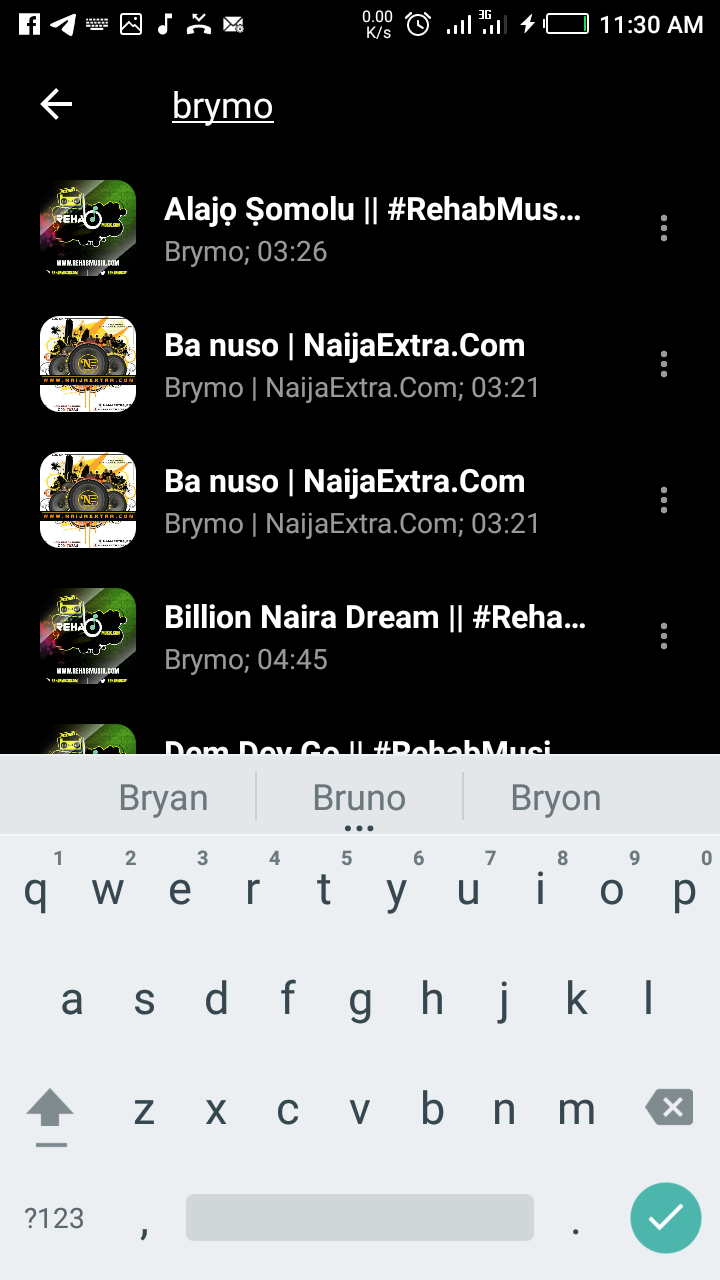 Search: this functionality eliminates time wastage, instead of scrolling till I find a song, artist or album, all I need is to type the song name. Getting a song is enough to reveal the artist and album name. This is very helpful to me in situations where I cannot recall an artist/album name.
Sleep Timer: it is a nice feature to me, I am fond of sleeping with cool songs like Celine Dion, Lagbaja, Asa and Bob Marley's, they put me to sleep while I absorb the melody and reflect on their lyrics. Really, I let my phone play songs until I sleep off, without this feature, it means that music will play till dawn, this is not cool because I have a neighbor. I often set the music sleep time to 90 minutes, the probability that I would have started dreaming after an hour of getting on the bed is high:) When I sleep off, without having to stop the music, Noad will go to sleep by itself.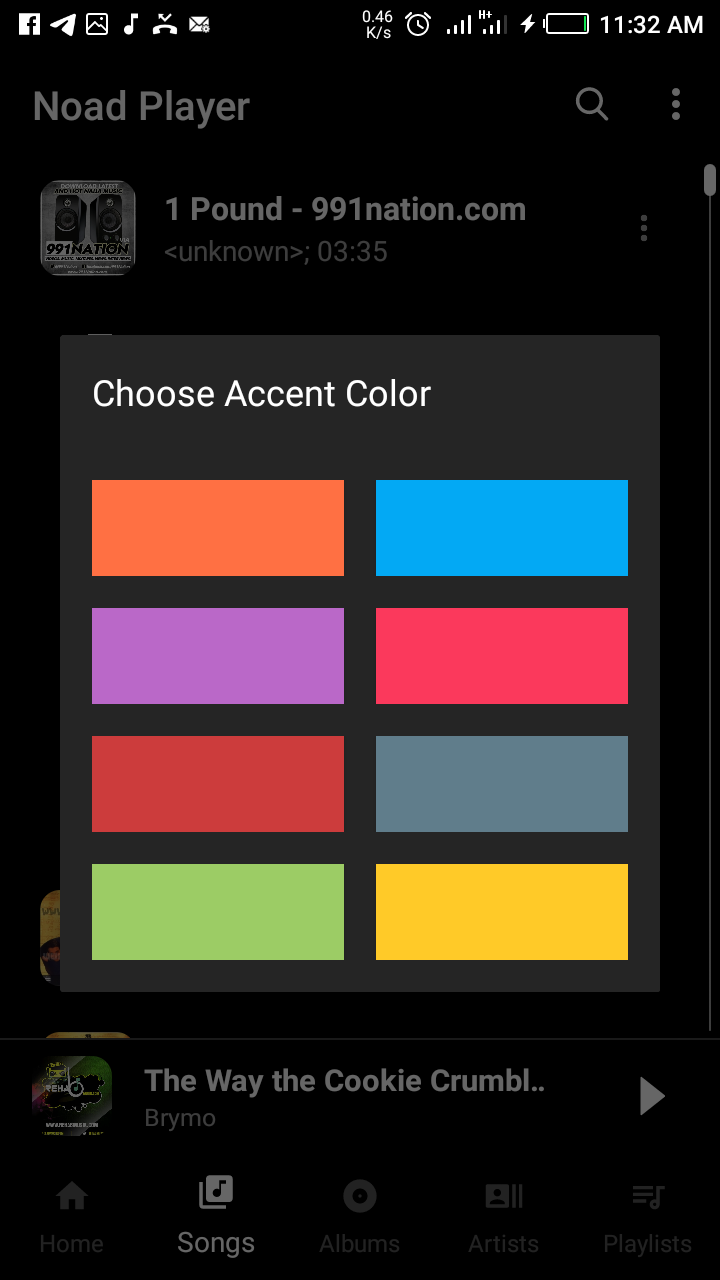 Change Theme: this is like the wardrobe of a mobile app, with it, I can change its appearance based on my choice of color. Oftentimes, I am not always cool with default themes of most apps. Well, there are eight (8) themes to choose from, users can select one that reflects their personalities. I chose blue.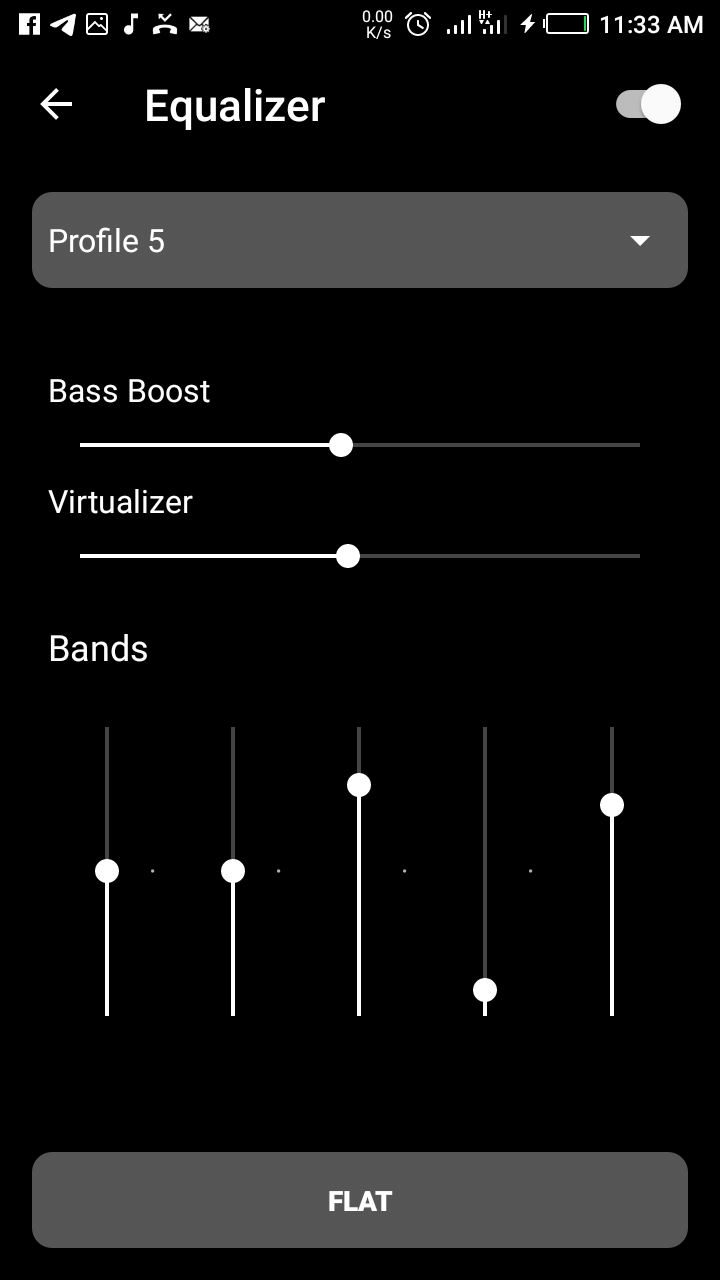 Equalizer: there are 5 equalizers to choose from, and each allows me to tweak Bands, Bass Boost and Virtualizer. It is nice to play with these sound effects. Additionally, I have different effect under a different profile, so when I activate a particular profile, it changes the sound effect based on preset configuration.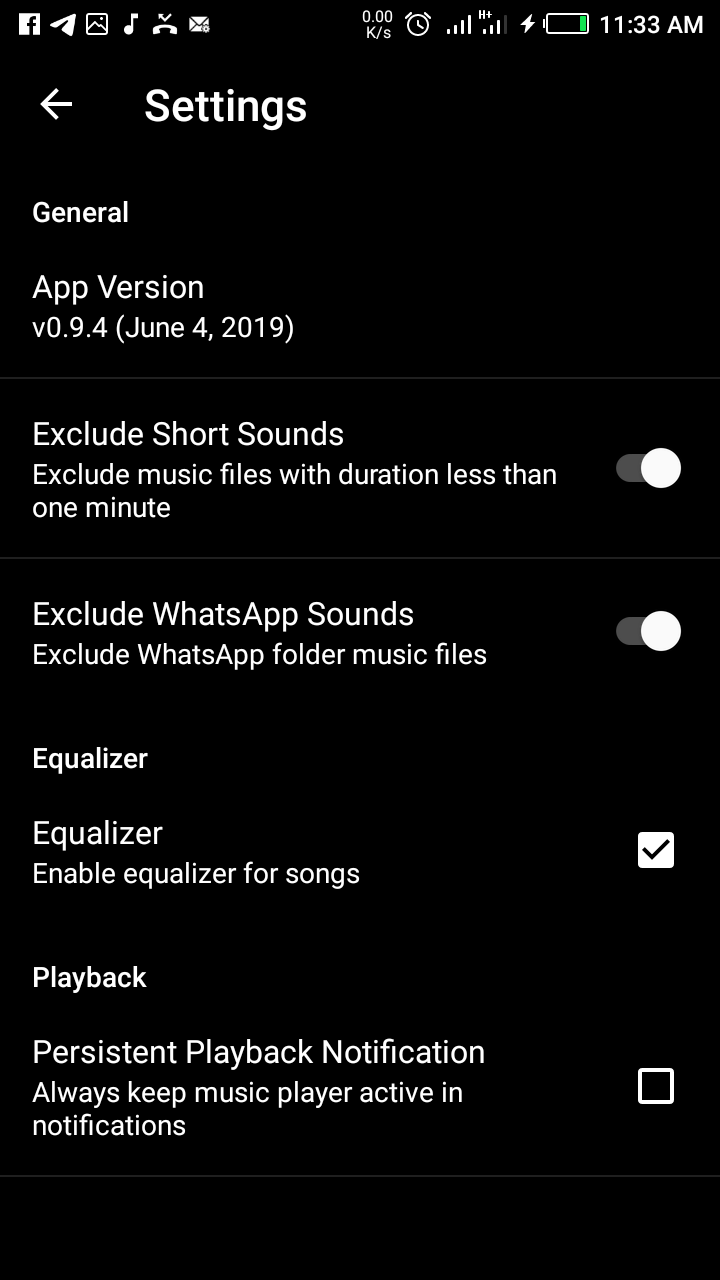 Settings: this is simple, not clogged with confusing tools. Through settings, I can exclude all songs whose duration is less than a minute. I can exclude all WhatsApp audios. I found 'Exclude WhatsApp Audios' very interesting because it makes no sense to have all voice notes played by my music player, this can be very embarrassing, especially if I am not using an earpiece and confidential audio is played. Also, I need to enable equalizer from settings, otherwise, it will not have an impact on sounds, no matter how many times I activate a profile in an equalizer.
Sync Music: when a new song is added and I don't want to wait till Noad add it to the song list, although the music player will add it over time. I can click on this icon to synchronize new songs.
Conclusion
Music is an essential ingredient when it comes to pleasure, relaxation, worship, and education. There is barely any culture in the world that does not regard music as a potent tool. This third party music player is built for everyday phone users, because of its simplicity. It is lightweight, this is pointing to the fact that developer considered users of low-end phones with low RAM.
In many ways, it is better than inbuilt music players that accompany most Android phones.
Recommendations
All mobile applications, no matter the number of efforts put into it, it can always be made better. For this reason, I will give the following recommendations;
increase the number of equalizers, and name it. For instance, it could be Pop, Jazz, Blues and so on. Using profile 1 to 5 is ambiguous.

changing theme does not have an obvious effect on the app overall appearance, the front end designer need to work on this.

Include share option
Version
Any music player app that can enjoy more than 5,000 downloads in it first two months is not doing bad.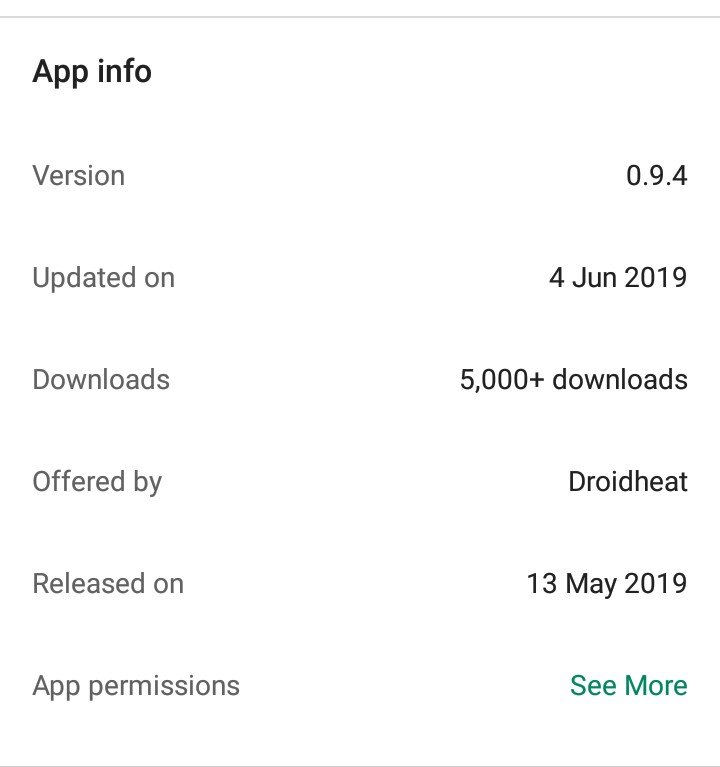 Links
Source Codes
https://github.com/gauravjot/android-noad-music-player
Download Link
https://play.google.com/store/apps/details?id=com.droidheat.musicplayer
My Github Profile
https://github.com/autofreak
Series: Nil