Have you ever ask anyone or yourself about the dangers of not using the internet with VPN virtual private network?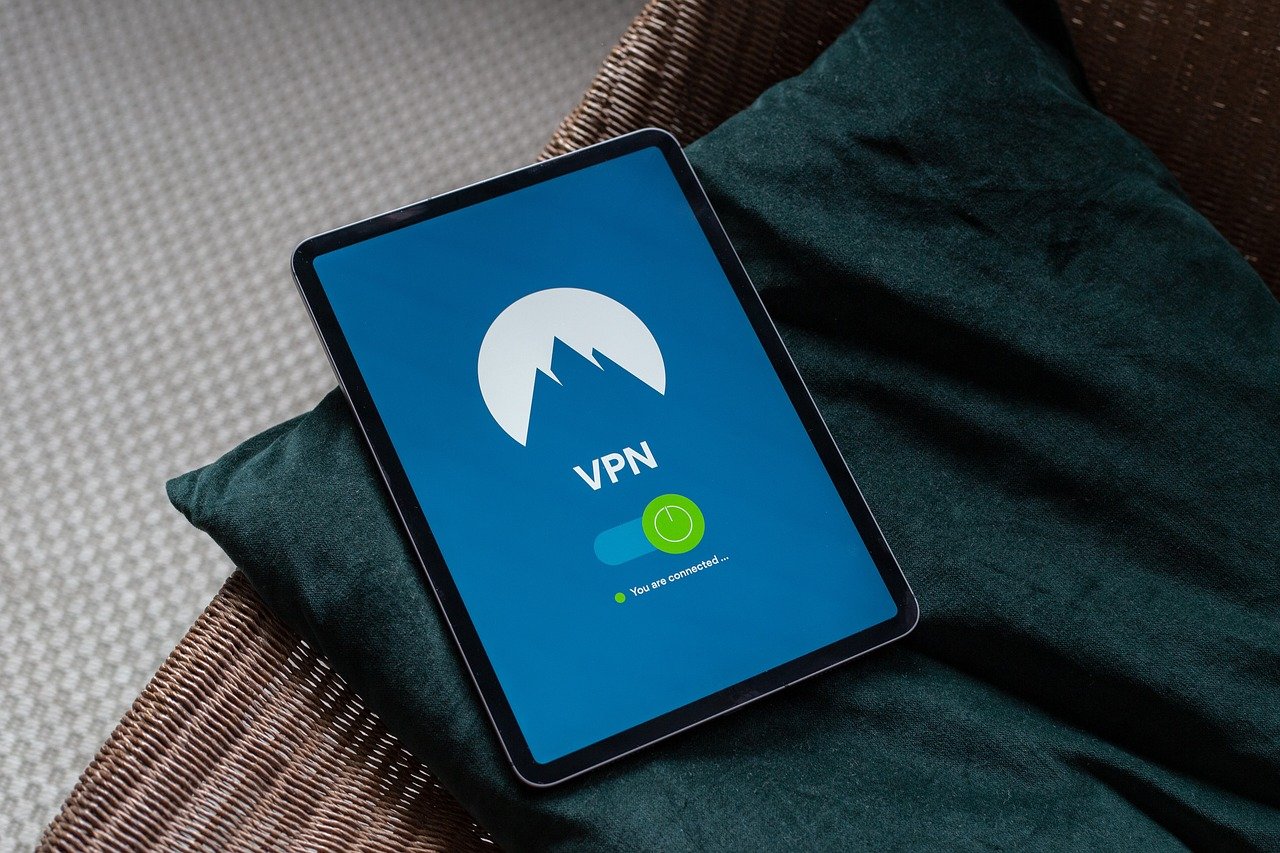 Source: Pixabay -CCO-
Presently VPN remains as the best protection tool for individuals that want to maintain consistent confidentiality. To stay anonymous online, you have to surf the internet on a virtual private network. In addition to individual personal data protection, the technology has been designed to allow unrestricted access to the internet or web content regardless of location. I have a conviction that VPN is an important solution that enables users to receive and send data on the internet, without compromising their data based on its level of encryption.
VPN opens the internet studio by making freedom within reach.
Once upon a time, I was preparing my thesis and I needed to download an important journal. I have it DOI number, yet, I could not download it due to restricted access. The only website where I can download it is sci-hub.tw, but it did not open on all my browsers, on PC and mobile. Something came to my mind, I was denied access to open internet because of my location. This is disheartening but the fight is so important that I had to deploy VPN and I got it!
For some of us, we care less about being anonymous online, restriction of this kind has become threats to internet freedom. It took me a great deal of time to come across free decentralized and open-source VPN, it is secured and consistent. The word dVPN is not part of internet registers, but it's usage is now trending in blockchain communities. Sentinel dVPN bring freedom to your virtual world.
What's Up with Sentinel?
If you have used centralized VPN long enough, you would have realized how vulnerable you are, your data can leak out. Sometimes, I call it Not-So-VPN.
life is good when there are options.
The VPN industry has been craving for decentralization for a long time, now we have it on Ethereum blockchain.
Sentinel is a decentralized VPN powered by Ethereum blockchain on mobile, desktop version runs on Cosmo and Tendermint network.
It is really hard to trust 3rd party VPN, I used 3rd party VPN for a long period, when I had no option. Decentralization is not really about creating new things, it is more like bringing the existing solutions to decentralized public blockchains.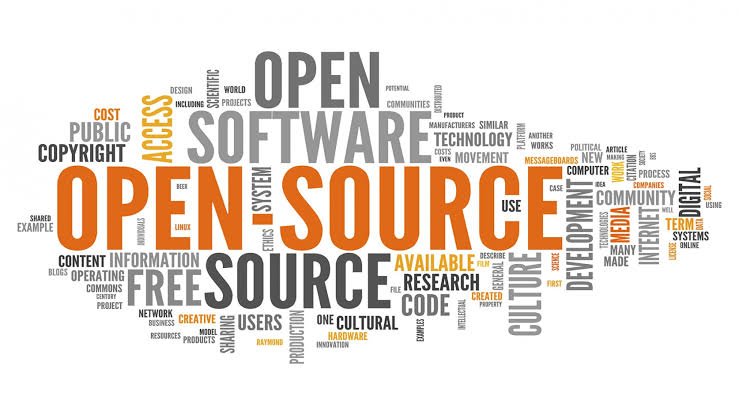 Source
Usually, the encryption and routing protocols of third-party VPN are not open-source, there is no way outsiders can prove it. Sentinel is new, and it had thousands of downloads on app stores and a lot of updates in recent times.
My Experience With Sentinel Lite
###What's Up On Homepage?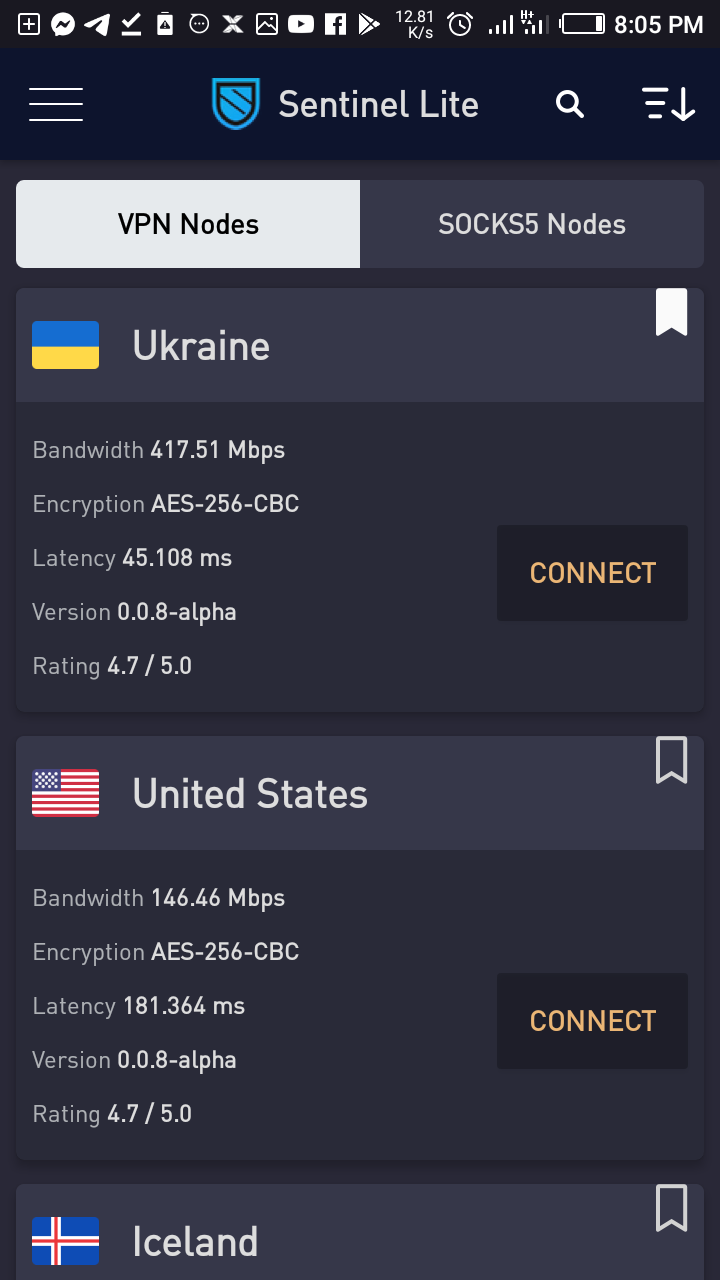 The homepage is superbly clean and easy to understand. On its top right corner, there is search and filter icon. By clicking on it, I have the option to allow the display of my favorite VPN nodes, then I can sort by default, country, latency, bandwidth, and ratings.
In choosing nodes, there are factors that I consider; first, its ratings followed by bandwidth and latency. I have to choose based on the internet speed of my device, this enables me to have a smooth experience while on the node.
At the top left, there is an option icon that gives access to dVPN usage, Language, FAQ (Frequently Asked Questions) and Share button.
There are more than 30 VPN nodes to choose from, and the developers are still trying to increase the nodes to as many as possible. Interestingly, there are more nodes from Germany and the Netherlands. All nodes use the same AES-256-CBC encryption, but different latency, bandwidth, and ratings.
Choosing a VPN Node, Let's Explore Sentinel Features.
Once I determine the type of VPN node that I want to connect with, this decision is sometimes influenced by the country name. For instance, it may be better to choose Canada over the Republic of Moldova for certain reasons like country restriction. Clicking on any node will reveal information about the city where the node is located.
After connecting with the node, I will have the following information displayed in real-time; IP address, download speed, upload speed, amount of data used, connection speed, connection duration, and VPN status.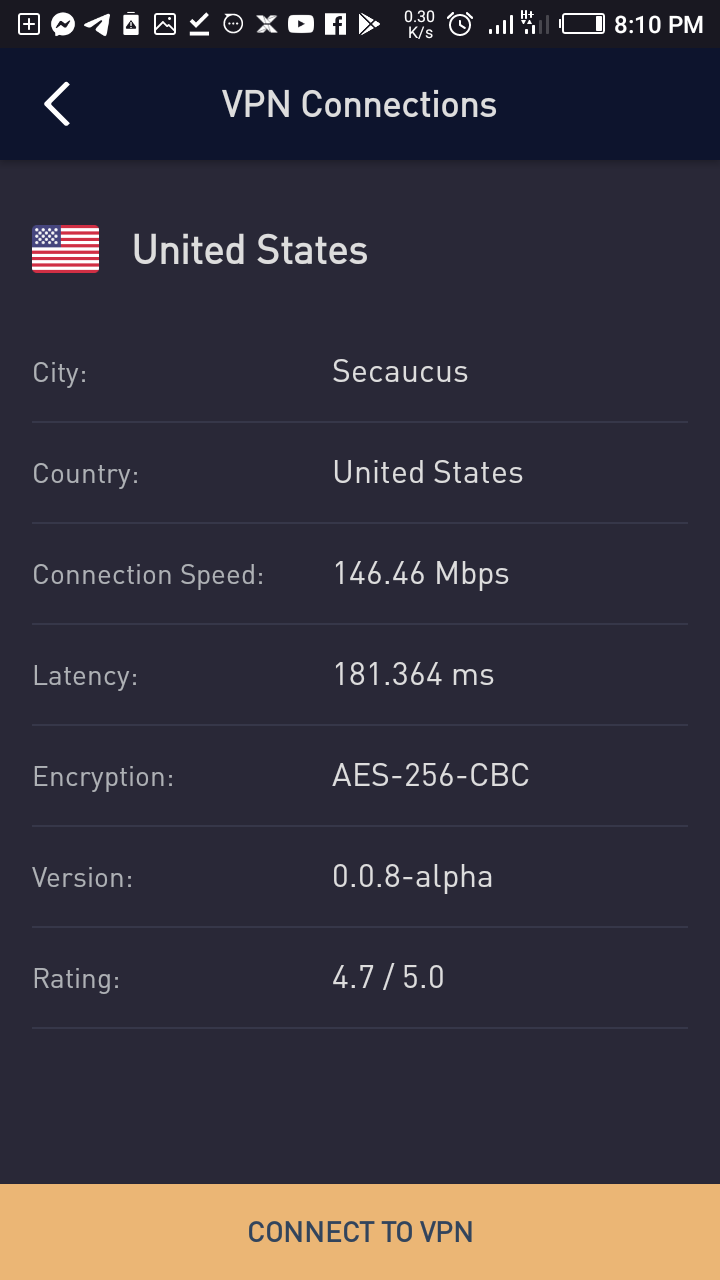 Connection duration tells me how long I have been using a particular node. Without having to check current IP via myipaddress.com, Sentinel provide these information. Also, I appreciate the fact that I can view the amount of data used on any node. At the bottom of the page, there is disconnect and view VPN button, the former is essential in case I need to leave a node for another one, and the later will take me to the homepage where VPN nodes are listed.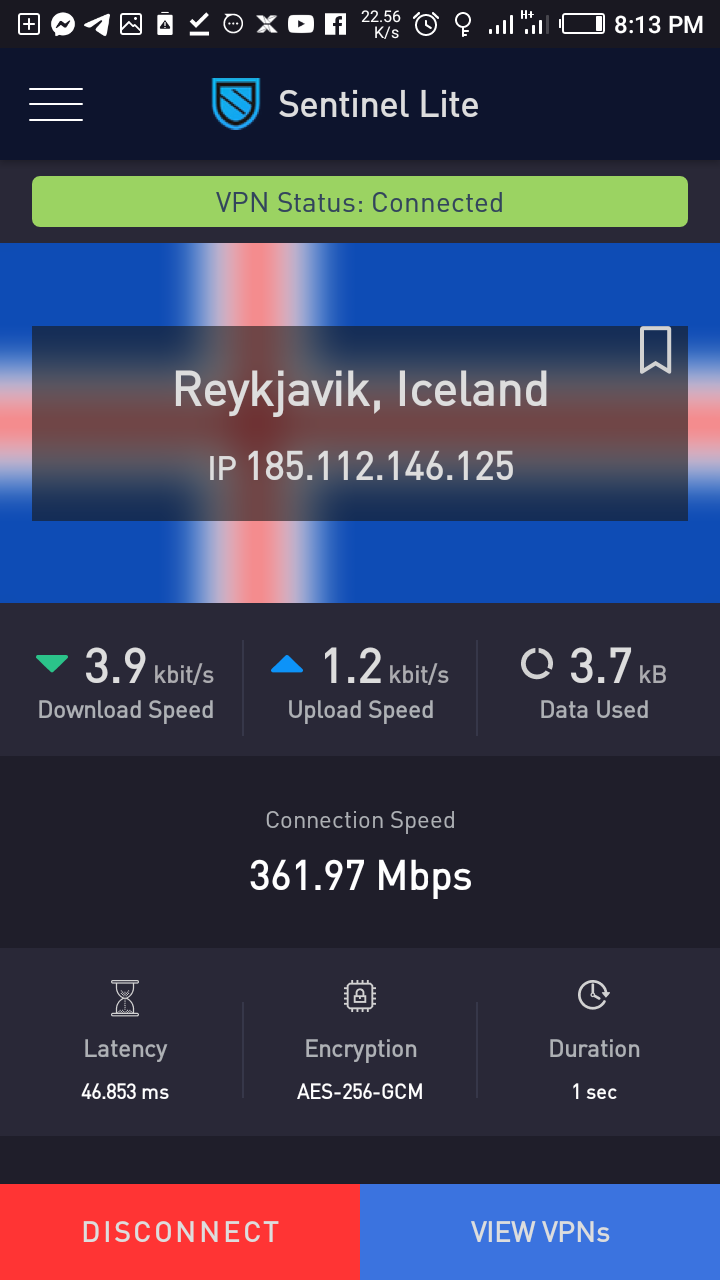 If I enjoy the service of any node, I can add it to my favorites or disconnect from it. As soon as I hit the disconnect button, I have the option to rate it or skip rating. When a node is down there is no how you can connect to it.
There is SOCK5 nodes option, it is coming soon. Really, I can't wait for it!
Search Feature: with this, I can search for nodes by country. But I barely use this feature, there are only 37 nodes for now and I use just a few consistent ones among them. Since I have added good nodes to list of favorite; there is no need to search. To avoid having all nodes displayed, I like to filter them. I will click on the filter icon, then tick 'show favorites only' and apply changes. That is it!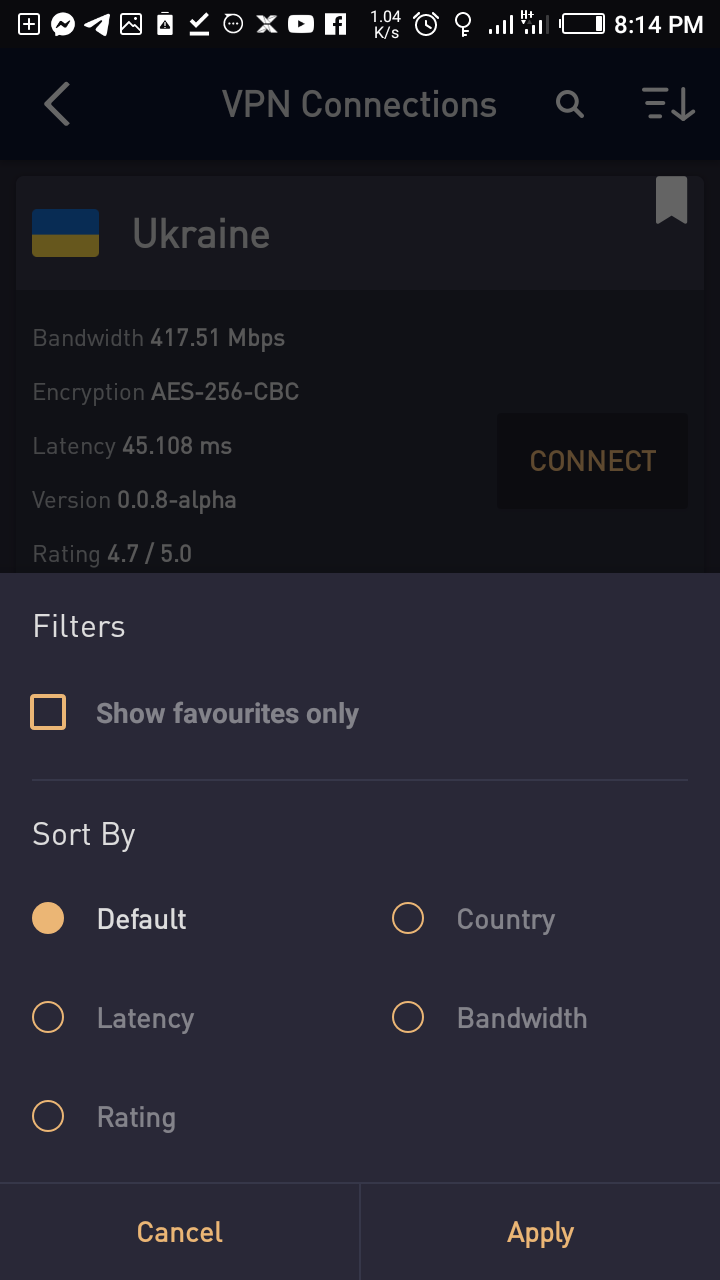 Language: currently, I can choose between five different languages. Unfortunately, I only understand English because it is my second language. However, I would love to contribute to the project in the area of language translation, this will increase language option available within the mobile application.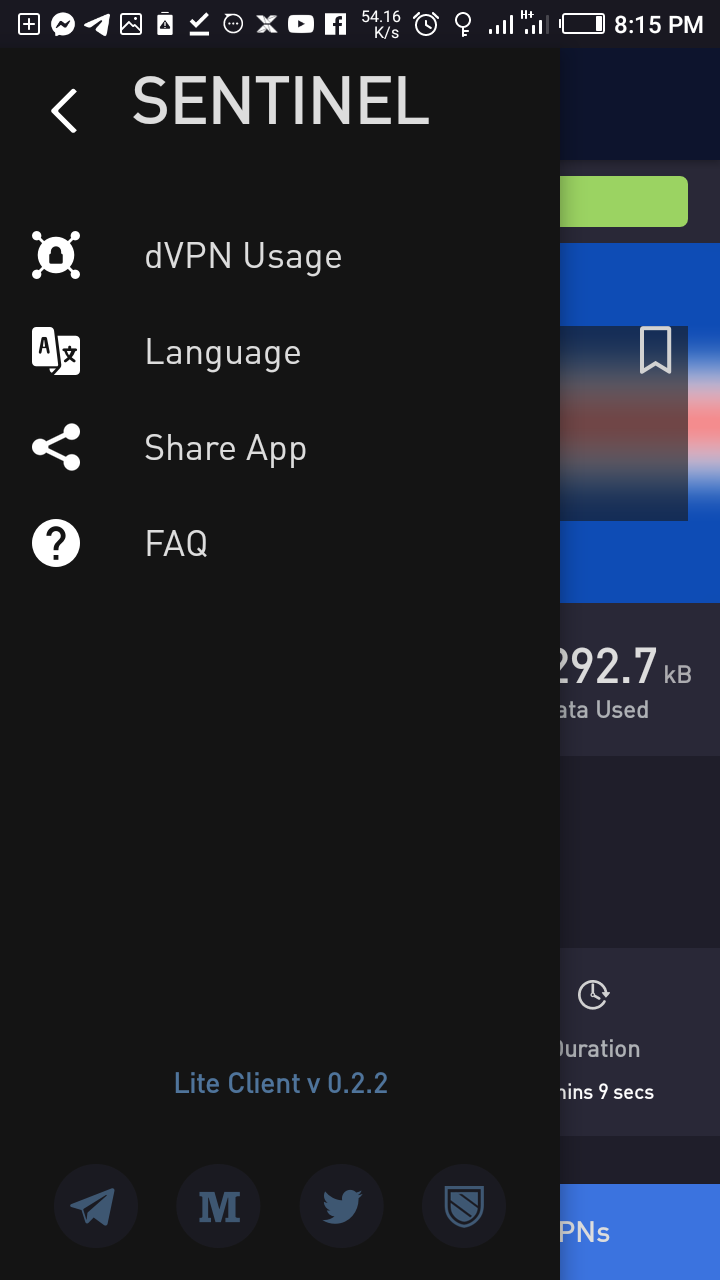 FAQ: this is an important part of any projects, it provides answers to important questions that users may have. Nevertheless, the developers have a telegram group, they are active and respond to any question related to the project.
Summary
Sentinel is a decentralized application that was designed to provide the most secure virtual private network, for users who love to stay anonymous on the internet. It is hard to believe that this app was launched a few months ago. Yet, it has enjoyed reasonable success in terms of users review, increased online community, download and open source contributions. As far as I am concerned, it does not crash, neither does it hang. Aside from the fact that it does not have FAQs (Frequently Asked Questions) and enough languages to choose from, it is a fantastic app.
I have called developers attention to it, and I believe that the next update will be awesome.
Recommendations to Developers
the app is easy-to-navigate for users that are tech-savvy, but including intro page may improve users experience.
color means a lot to some users, besides, it adds flavor to life. Adding a few themes will ensure a personalized user experience.
when nodes are down, let it display offline sign so users don't have to waste time moving from node to node to get the right one. This indicator is essential.
Version
This app is new and developers contribute to its development regularly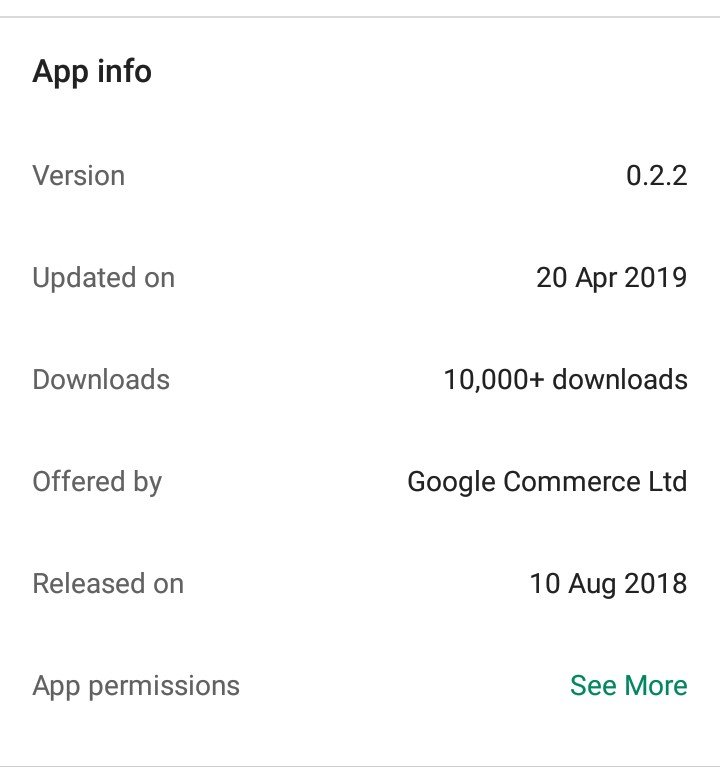 Links
Source Codes
https://github.com/sentinel-official/sentinel/tree/master/mobile-client-android
Download Link
https://play.google.com/store/apps/details?id=co.sentinel.sentinellite
My Github Profile
https://github.com/autofreak
Series: Nil