Repository
https://github.com/economicstudio/vp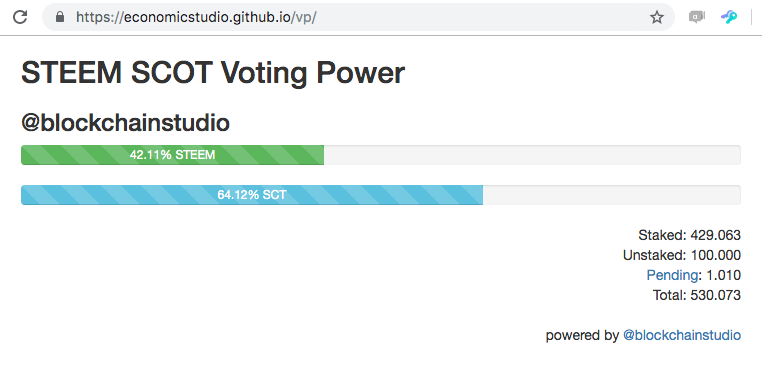 https://economicstudio.github.io/vp/?a=blockchainstudio&t=SCT
New Projects - STEEM SCOT Voting Power Viewer
This is the very first Steem Engine SCOT Voting Power Viewer.
Steem Engine SCOT (Smart Contract Organizational Token) is very new, so many people even don't know there exists separate VP for each SCOT.
Despite the separate VP, there has been no voting power viewer for SCOT, which is very inconvenient. In some SCOT community, SCOT vote value is much higher than Steem vote value, so this VP viewer is very important.
So I've made a simple VP viewer with SCOT balance information + claim function.
Usage
Currently, default token is SCT (subject to change), so you can just visit without &t=SCT
https://economicstudio.github.io/vp/?a=blockchainstudio for SCT
Using querystring enables you to make the shortcut of the full address. (especially useful on mobile)
SCOT additional Information
Staked: Staked amount (like SP)
Unstaked: Unstaked amount (like STEEM) But excluded if used for market order
Pending: Unclaimed amount
Total: Total (market order amount is excluded)
Claim function
When pending is nonzero, Pending is clickable to claim the pending tokens. It is currently using steemconnect.com (let me know if you know how to integrate keychain in js for this simple purpose.)
Part of Code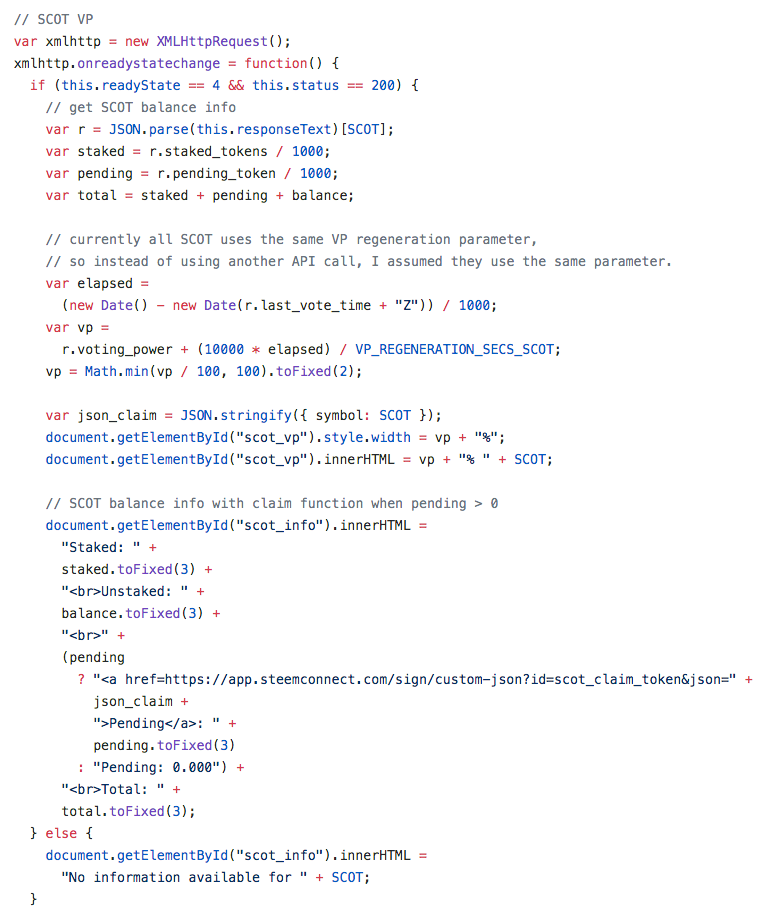 Basically SCOT VP calculation is similar to Steem. It has last_vote_time and (last) voting_power, so the current voting power should be calculated from these using regeneration parameters.

As I commented, although these parameters can be customized, all communities are using default VP use/recovery parameter, so instead of additional API call for this, I used the default parameters. But this can be changed easily later if necessary.
Technology Stack
Roadmap
Since this is very fast prototype, there are plenty of room to improve.
Show all SCOT VPs in one page.
Show more Steem VP + balance information.
Show VP recovery time
Support multiple accounts
Support keychain
Show estimated vote value (Currently SCOT vote value fluctuates a lot, so I'd like to further wait for this.)
Any feedback, Issue, PR, and fork are welcome :)
GitHub Account