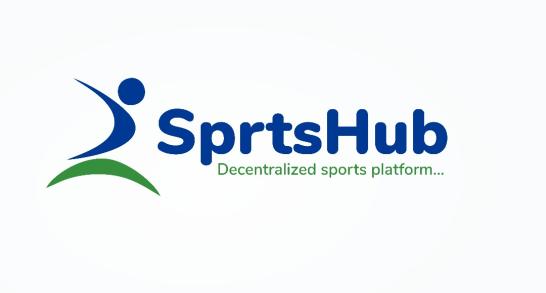 ---
It is with excitement that I introduce my newest project to the Steem Ecosystem.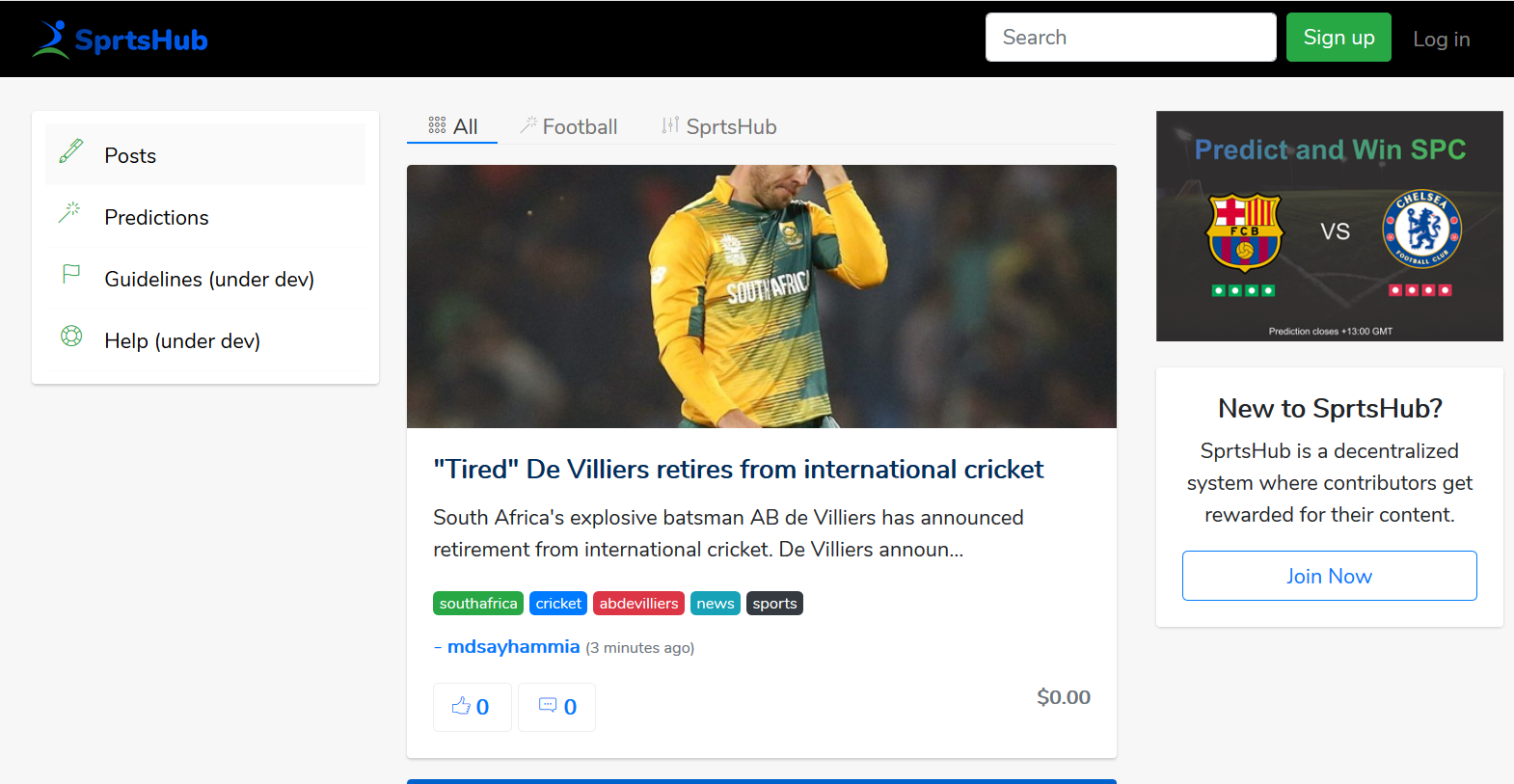 Sprtshub.io is an open-source decentralized sports sharing platform that rewards contributors for the contribution to the world of Sports. We are using this platform that is riding on the Steem Blockchain to make the earnings possible without middlemen, fair and square.
The project is currently in Alpha, open-source and available for web on Github:
Source Code: https://github.com/sprtshub/sprtshub.io
Bug reports: https://github.com/sprtshub/sprtshub.io/issues
Features
Easy to use UI
Users can signup with their Steemit Private Posting Keys
Subsequent logins can be done with email and personal passwords
Predictions and Betting
Mining through interactions and engagements
Live Streaming (in progress)
Sprtshub Reputation scoring
In platform wallet
Users can earn Sportscoin for use on the platform
Coversion of Sportscoin to SBD & STEEM
Important
Sprtshub.io is currently in Alpha. While careful development and testing has been done and is still being done - bugs should be expected. @ejemai or @stach cannot be held liable for unknown issues, loss of funds (SBD & STEEM) or mistakes made by the user. Make sure to use your Private posting keys only when signing on the platform.
---
I Feel Blessed!
---
With that out of the way, we can proceed with enjoying this open-source decentralized sports sharing platform that is designed to bring the rewards to sports lover via the Steem Blockchain
---
Development
SprtsHub.io was built entirely on the Steem Blockchain using the Steem-js library as our interface. We chose the js library because if it's flexibility and ability to run across platforms, since Vanilla js is already widely used on all platforms such as web, desktop and mobile.
The platform is hosted on an 8GB RAM server with 160GB storage running on Digitalocean Servers, one of the world's most reliable and scalable servers with over 14 datacenters spread across the world. (Constant upgrade planned)
We implemented load balancers which distributes the load on a single node thus ensuring that we have as many nodes being deployed as at when its needed, this is very important for scalability.
The Steem-js library connects via web sockets to the Steem Blockchain. SprtsHub's frontend is 80% built on Vanilla Javascript, while also implementing important frontend frameworks such as jquery and lazy loaders. All files get loaded asynchronously using only .js which guarantees fast load times of all functions and plugins.
As for the backend, we implemented laravel framework due to it's massive scalability, speed and security.
For security and caching we used Cloudflare so as to prevent against DDos attacks and malicious entry to the site. Cloudflare is the world's leader in cyber security and encryption.
The website uses advanced TLS encryption for ensuring that all data sent to and fro from our servers are kept encrypted end-to-end.
---
User Access
The steps to signup is easy and can be done in just 10 seconds.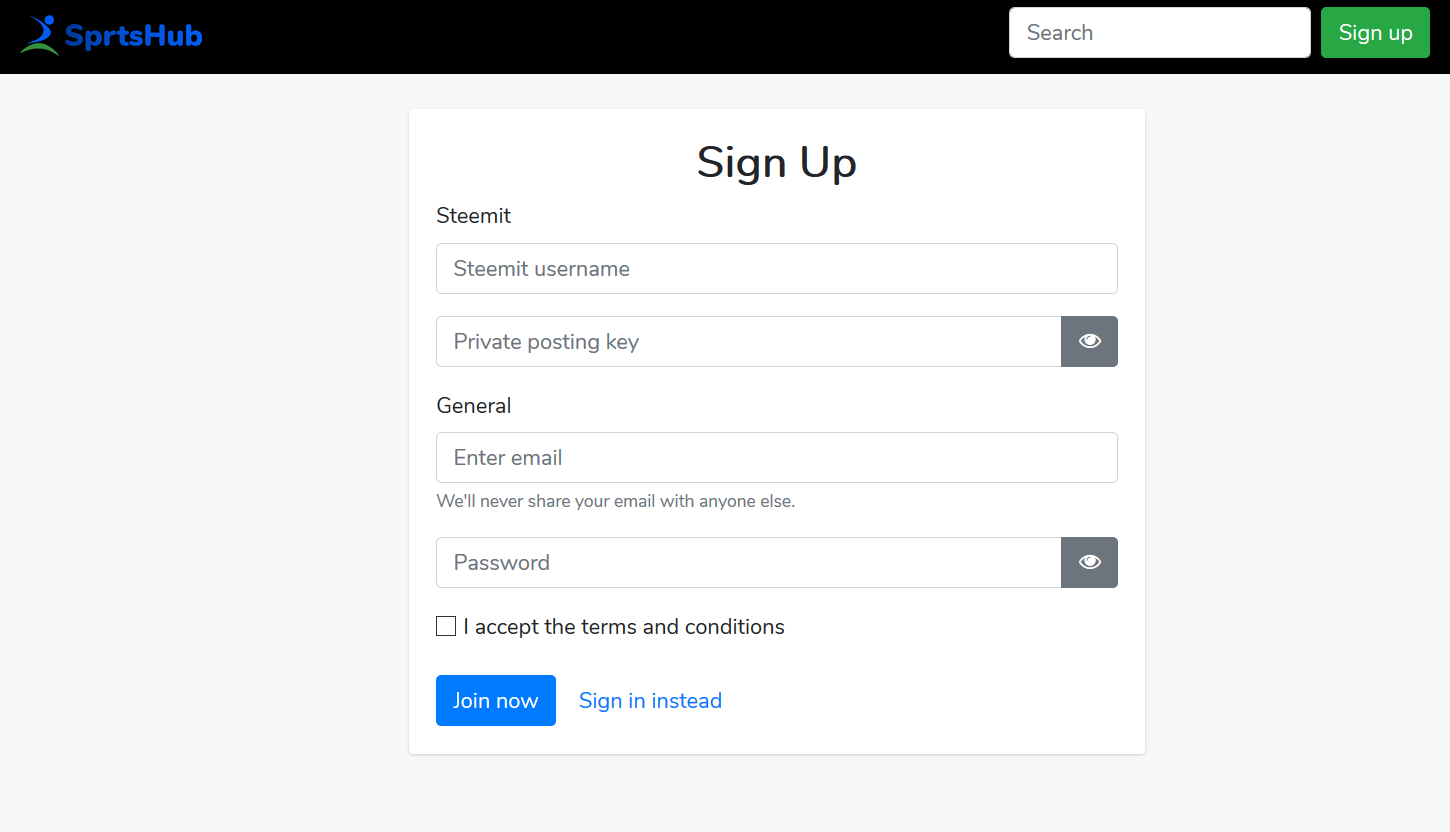 ---
You can login with your email and password, so need worrying about constantly inputting your Private Posting Keys. It is just a one time exercise.

---
Easy to use writing style, with message preview and markdown format
Writing a post on Sprtshub is fun as you can get the best experience complete with preview page and markdown format already in place.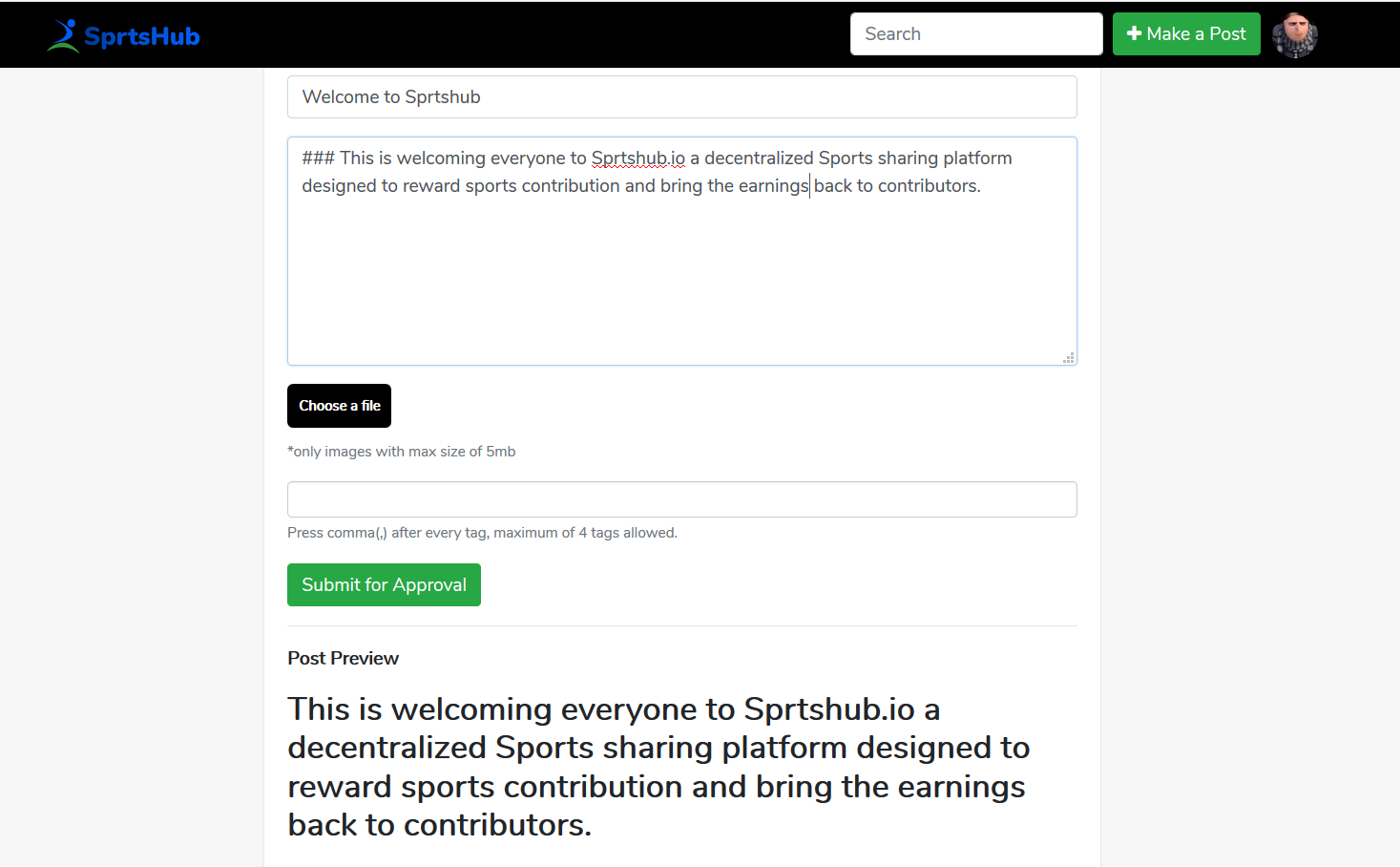 ---
Contributions approvals
All articles published through the Sprtshub.io platform will be approved by a moderator to ensure it is a sports contribution and free from Plagiarism and Spam. We are poised to encourage original contents and will use this platform to promote a plagiarism and spam free content economy.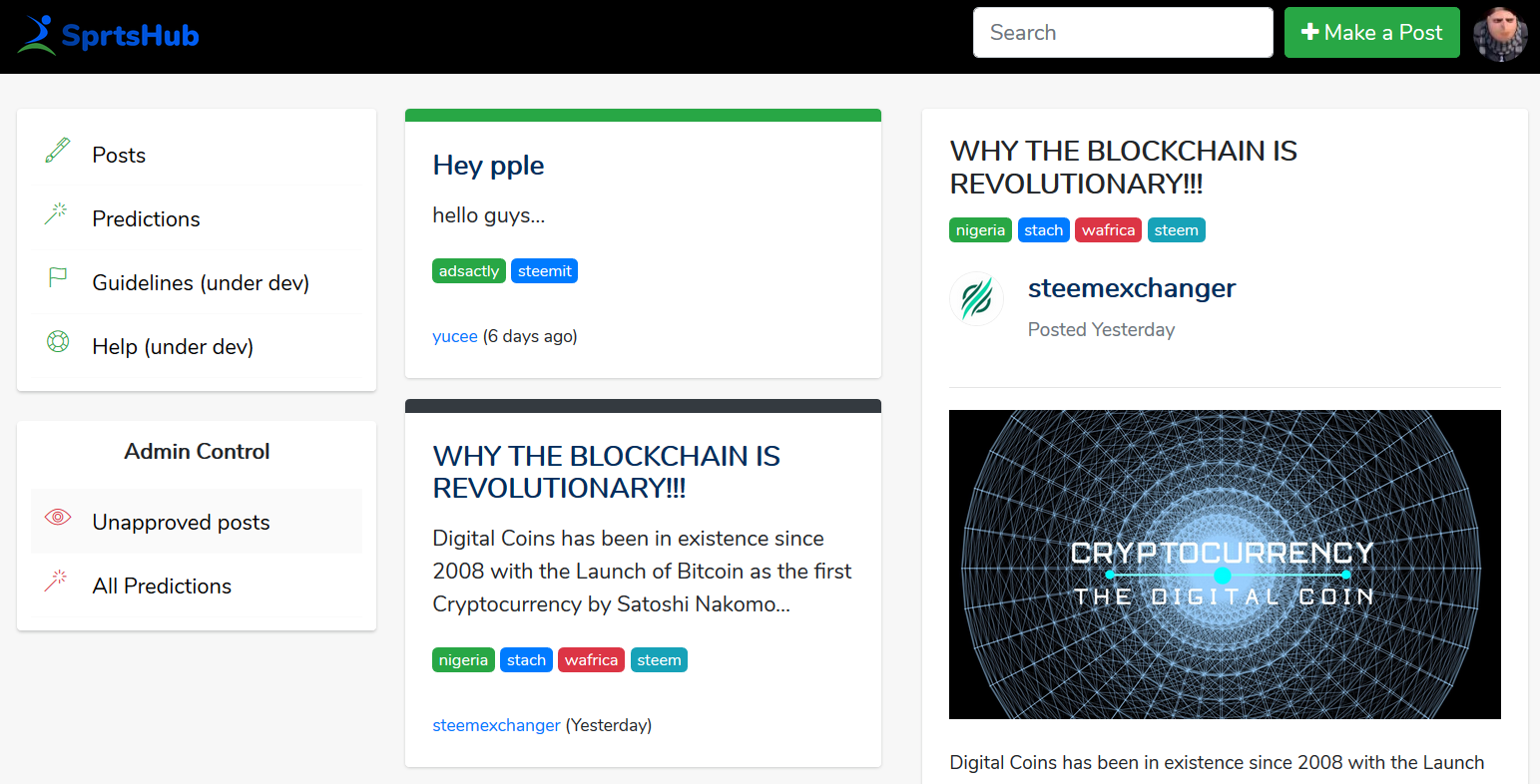 ---
Token reward with in-platform Wallet System
On the Sprtshub platform, users can mine SPC for contributing articles, commenting, predicting, staking and engaging on daily basis. You can transfer SPC to another user and also convert to SBD & Steem. Additional information on token capacity, ownership and distribution to be released soon on @sprtshub.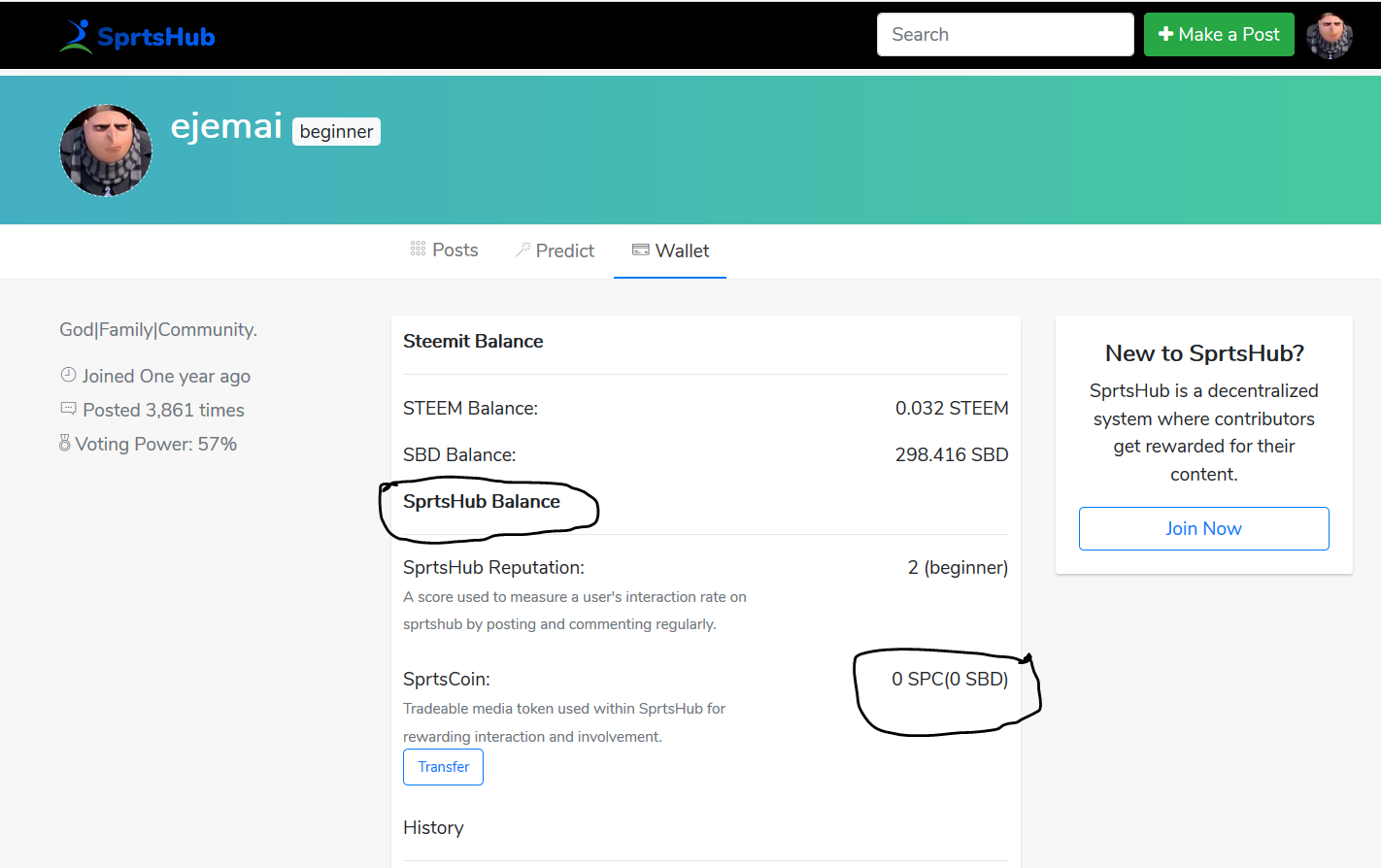 ---
Sprtshub Reputation score
On Sprtshub.io, every user has a unique reputation that measures participation and engagement. The default setting is 2 and it has nothing to do with your Steemit reputation; they are both independent of each other.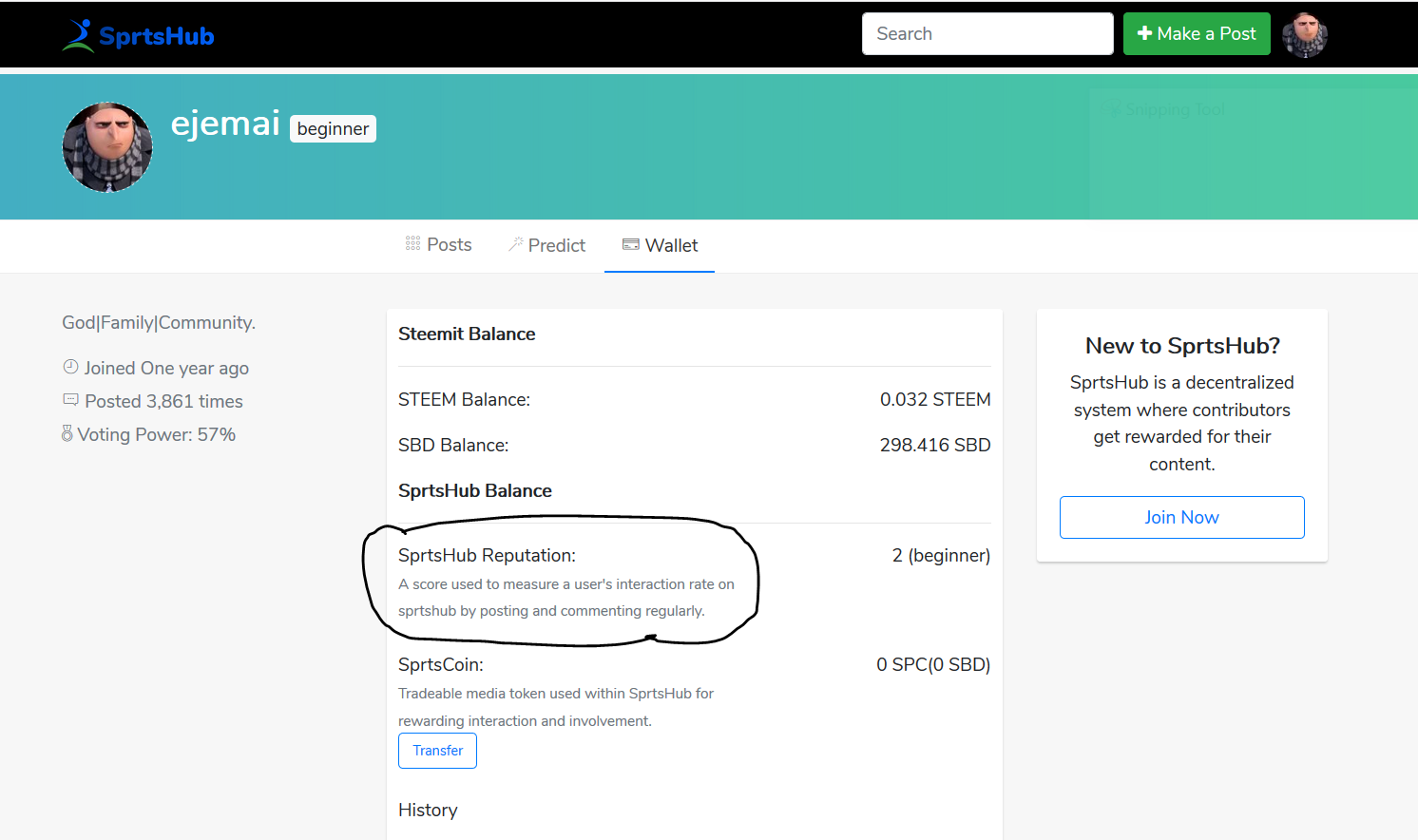 ---
SMT Compliant
We have designed Sprtshub.io to be SMT compliant and we will be porting to this much anticipated offering from Steemit inc. Tokenizing sports will be fun and we are excited to be leading the movement to bringing fun and reward to the Sporting community on the Steem Blockchain.
---
More features coming soon
This is the Alpha stage and we are working round the clock to make sure we deliver a truly decentralized sports sharing platform and we will be listening to you to make sure we give you what you want. The website is fully responsive on mobile and web.
---
Email: Sprtshub.io@gmail.com
---
Sprtshub.io is a STACH Project created to bring fun and rewards to sports sharing through the Steem Blockchain.
---
Make the world a better place for someone today!