Repository
https://github.com/holgern/beem
Details
Write details of the new/updated official documentation, highlighting all the important changes and additions made.
Looking through the beem documentation, I noticed there were many small things not quite looking like they should. I tried to get the existing documentation to build with no error, and to get it to display like it should. For example, instead of looking like that: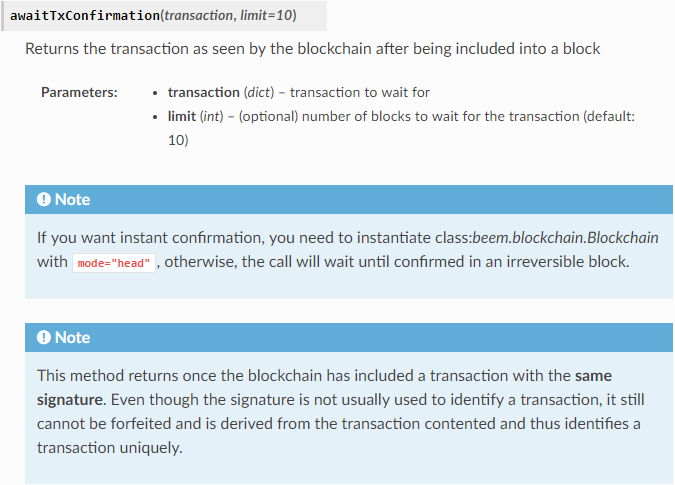 things looked like this: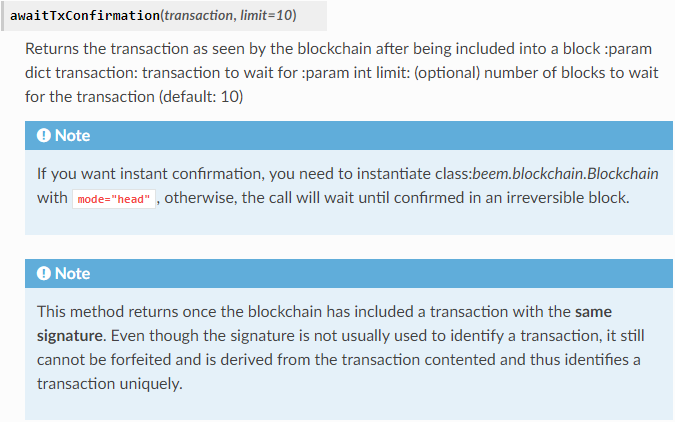 You'll see that the parameters did not get parsed correctly, and caused the whole paragraph to include some semi-readable text.
Similar errors in the Sphinx Syntax and general typos were fixed by me. There also is a feature by Sphinx that makes linking to other parts of the documentation very comfortable. I applied this to I think all places where this can be applied. This greatly improves the comfort in using the documentation in my opinion (when you can jump right to the documentation of the mentioned classes/functions).
Further examples: (click on the images to view them full screen)
Nearly all of the changes are similar to those in the above screenshots.
After my changes, the documentation no longer displays any warning when building. I already fixed quite a lot of warnings in this Pull Request some time ago.
Components
The changes I made were spread pretty much all over the documentation. Most of the changes are in parts of the module, that got created or edited after the "birth" of beem.
Links
I changed the following pages of the beem documentation
GitHub Proof of Authorship