Keep track of your activities with Activity Diary. (episode 2.)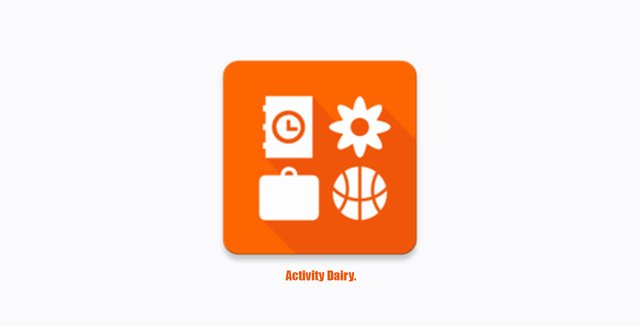 Hello! Steemians.
This is a sequel to my previous post about Activity Diary. Honestly, I didn't think I was going to write this episode so quickly. Well, I got a great boost after using the activity diary again.
Today, I set out some targets for myself. One of the targets was to create and publish two articles. One of the articles is what I'm working on right now. The other article is for a project where I work as a freelancer.
In my previous publication, where I introduced this series, I briefly talked about how the human life cycle is built around different activities. Every single day we are engaged in an activity, even a state of equilibrium called rest, is an activity.
The major objective of that article was actually to introduce an app that makes activity track possible and very easy. I did a quick introduction of the app on this point;
Furthermore, I explained how the app functioned. I attached screenshots and a short video clip to drive that point. I further went on to explain why it was necessary to keep track of our daily activities. I gave 3 three reasons why activity tracking was necessary and important. They are;
It helps you know your level of productivity.
It informs you of your adherence to strategies in achieving your goals and objectives.
It helps you keep track of your physical activities.
Link to the full publication is available in the "Links" section below.
In the previous post, I did a general overview of Activity dairy. In this post, I will be reviewing the major features of the app like I said I would.
Disclaimer: This contents of this post are my personal reviews based on my experience with the app. The reviews are my opinions and my opinions alone. You are liable for whatever course of action you take with regards to this post.
Without further ado, let's delve into the review of Activity diary.
Review of Activity Diary's features.
In this review, I will be reviewing only the features, or, functionalities I deem important. Some of these features might be basic but are important.
The first feature I will be reviewing is the user interface (UI).
Activity Diary User Interface (UI)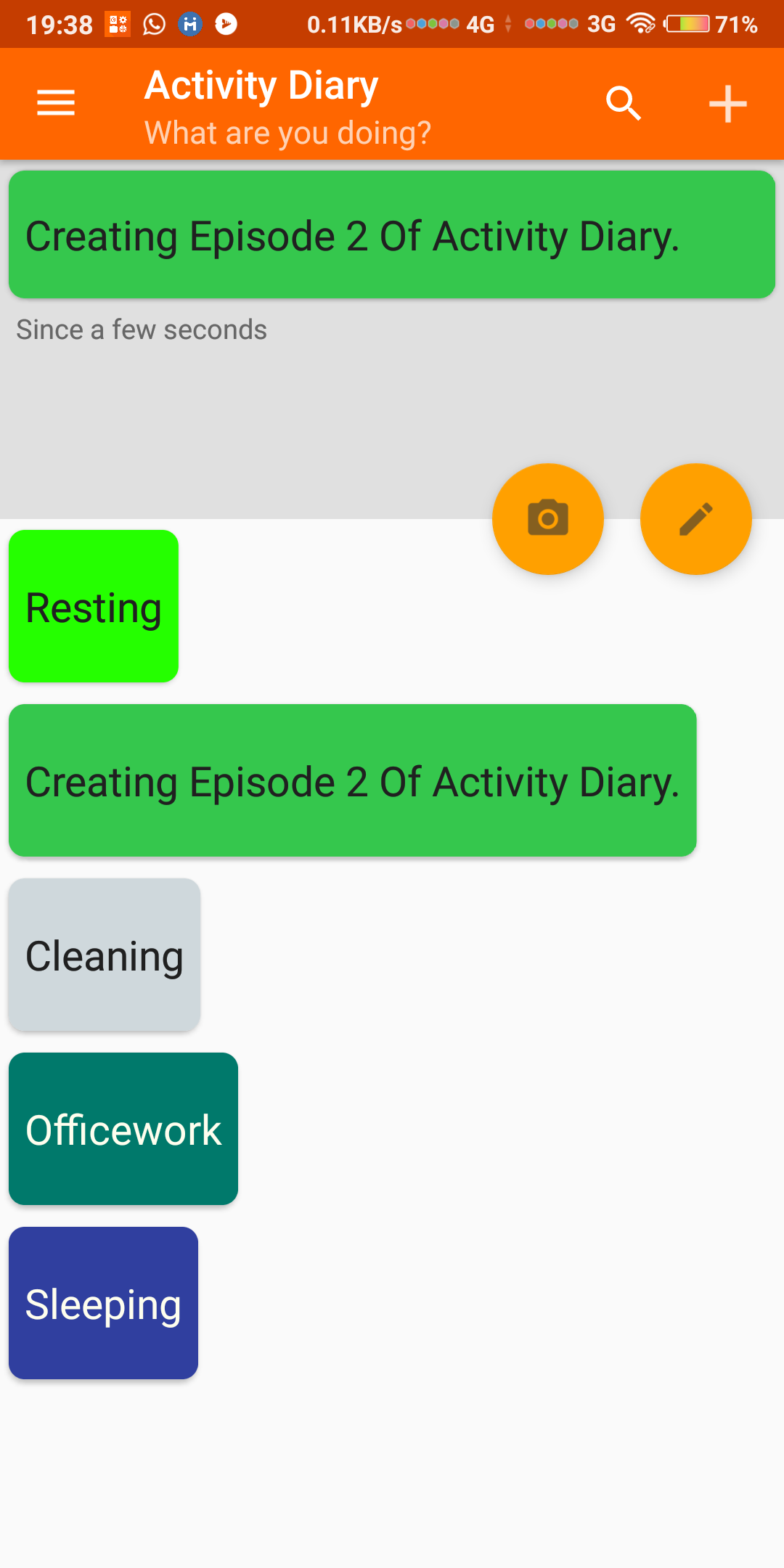 The user interface of any project whether an app or a website is the first point of contact with an end-user. Before a user starts navigating around the software, the first thing he takes not is the user interface. That is why most developers find a way to make the user interface of their apps attractive. Sometimes, bad interfaces repel end-users. I know this because there are several apps I stopped using just because the (UI) wasn't great. But those are in cases where I had a long list of alternatives.
The User Interface of Activity Diary is good. It's not the best. It just suits the app perfectly. There are no UI customizations. The only customization that had something to do with UI is when you are creating an activity. You can tweak label color.
Although I'm someone who loves to tweak and customize user interfaces, this wasn't a deal breaker for me. I'm okay with how the activities are displayed on the main page.
Overall, the UI of the app is great. It's not the best like I earlier stated, but it's just perfect for the app.
Functionalities
The app is laced with functionalities that are necessary for an app of its descriptions.
Like I said in the previous article, the app is too easy to use. You don't any help using the app.
Starting an activity.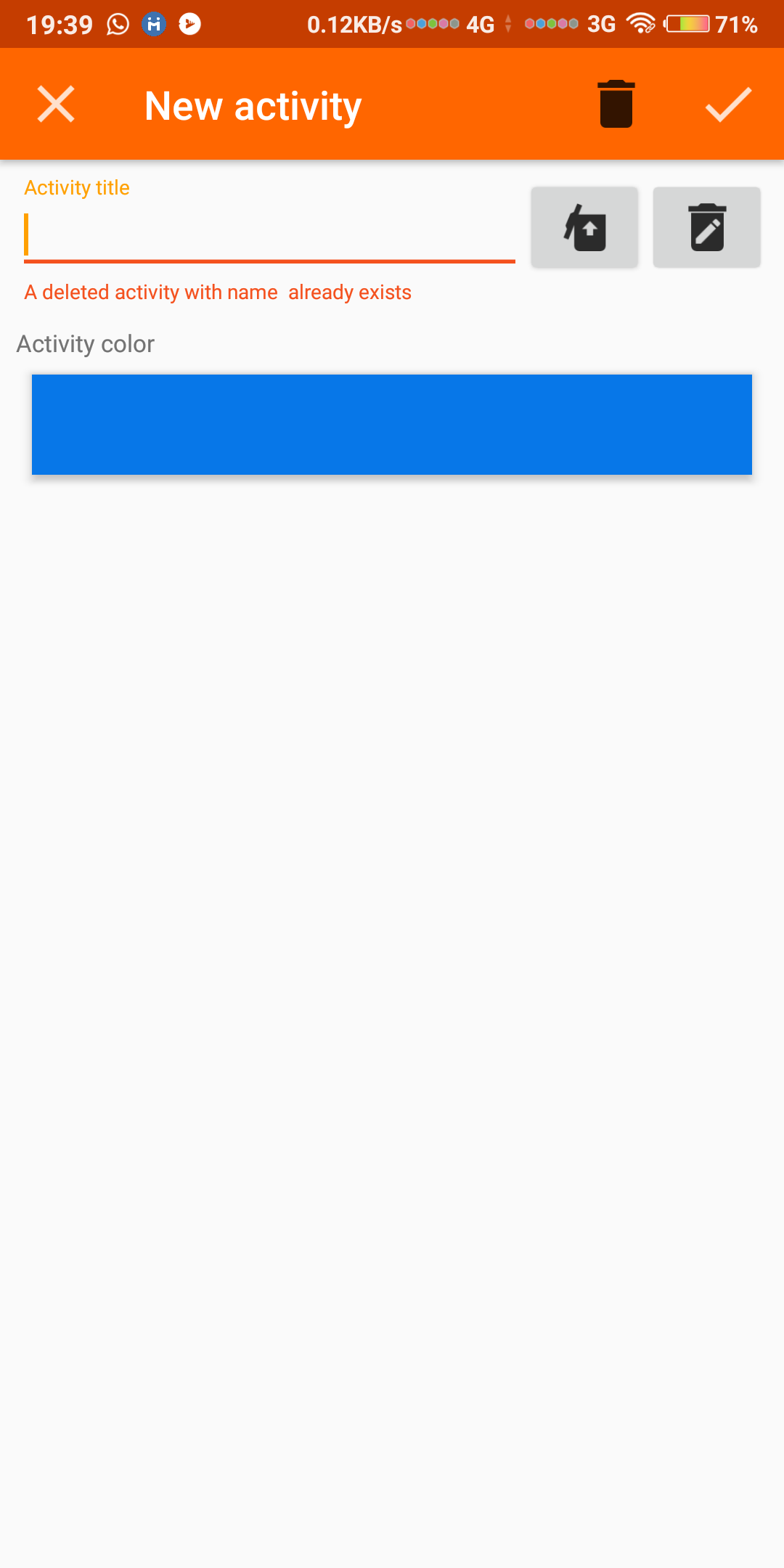 To keep track of your activities using the app, you first have to start the activity. Starting an activity on the app is not rocket science. To start an activity you simply need to tap on the available activities you have created. By default, the app comes with a list of activities. These are not imposed on you, so you are free to modify the preset activities. You can choose to create a new list of activities, edit existing ones or even delete them. I am not sure of the maximum number of activities that can be created. I created over 30 activities and the app accommodated all of them. To do this, it created a sort of scrollable grid to the side. So the more I activities I added, the more the grid. I don't think anyone engages in up to 30 different kinds of activities in a day though. For me, my activities are mostly;
Praying after I wake up in the morning
Cleaning
Eating
Working
Resting
Playing music
Seeing a movie
Playing video games
Sleeping.
This is my list of activities when I'm home all day, which is almost every day. My daily routine is not planned in that order though. Sometimes I clean in the evenings and not in the morning. Sometimes, I see a movie on my phone at night. With these activities already preset, I don't have to create a new one whenever I want to start an activity. All I do is click and that's it.
Notes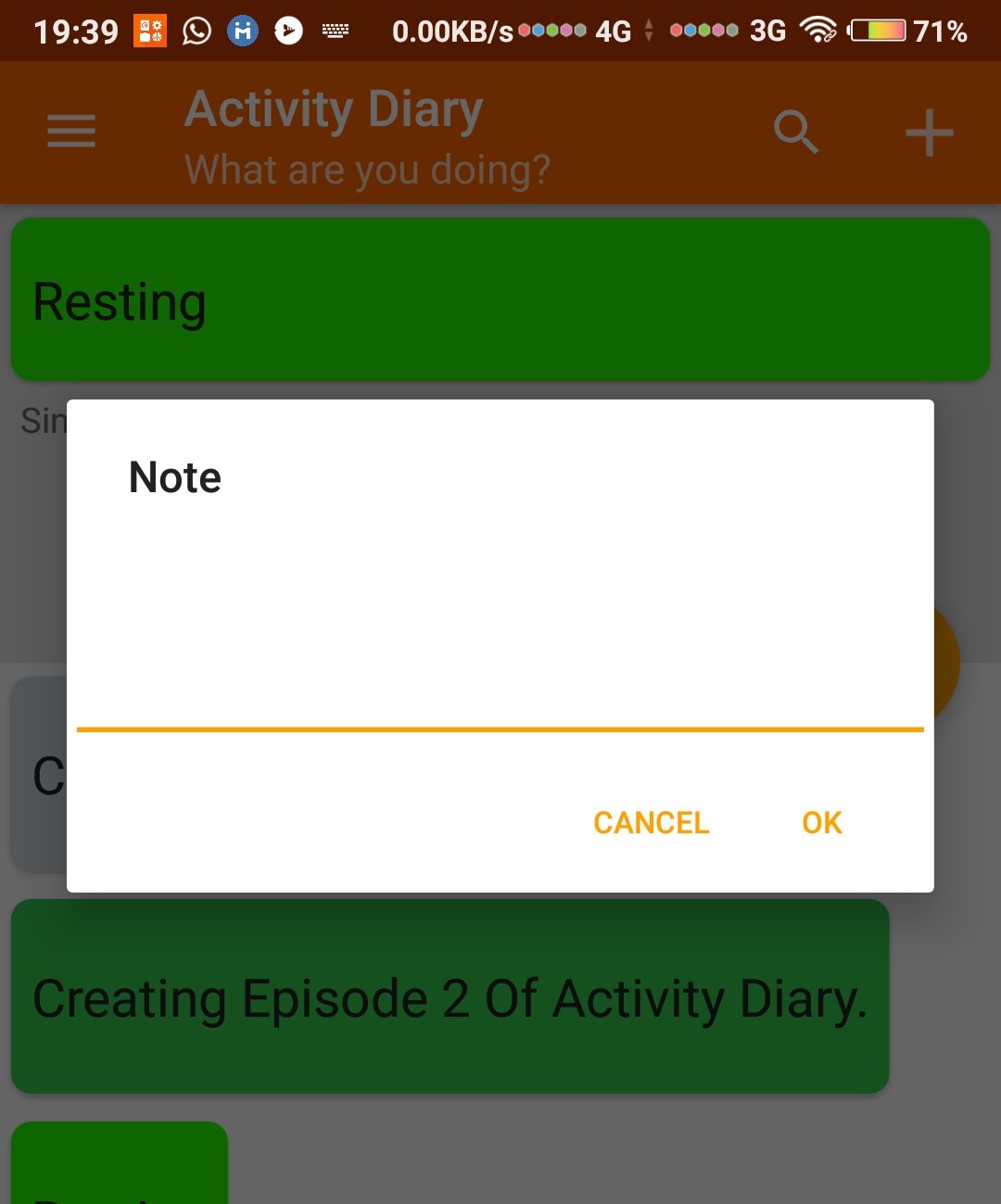 The app lets you add a note describing your activity. This makes you keep an accurate record of your activities. For example, I begin an activity, "working". Maybe for a day, I can recall the order in which I worked. But, after a week or two, I must have forgotten. Adding notes makes the activity more descriptive. When I start the activity "working", I can add a note describing what I'm working on. I can even go further to add the location where I was working. This feature is great. The app wouldn't really be effective if this feature was unavailable.
Photo capture
Aside from adding notes about an activity, you can also capture and attach images to it. This is super cool. The notes, combined with an image will give you an even clearer description of your activities for that day and every other day.
Diary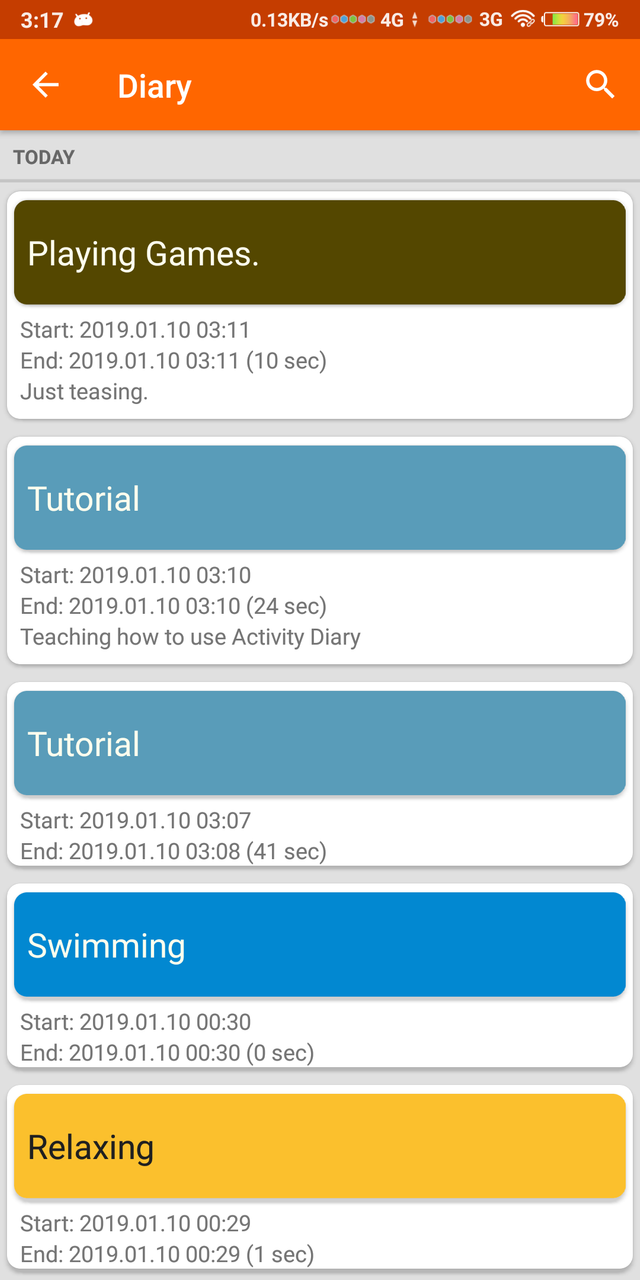 The app wouldn't be called an activity diary if it didn't have a diary, would it?
The diary is where all your activities are recorded. This is automatically done by the app. You don't have to do anything manually. As soon as an activity is activated and ended, the record goes straight to the diary. In the diary, you see the details of the activities. You can click on anyone and you are shown more details about the activity. That is when the activity started, when it ended, you'll also see the notes and image you attached to the activity. It is great right? Yes, it is. There are some flaws in the diary though. I will discuss this in the next episode where I will highlight the pros and cons of the software.
Statistics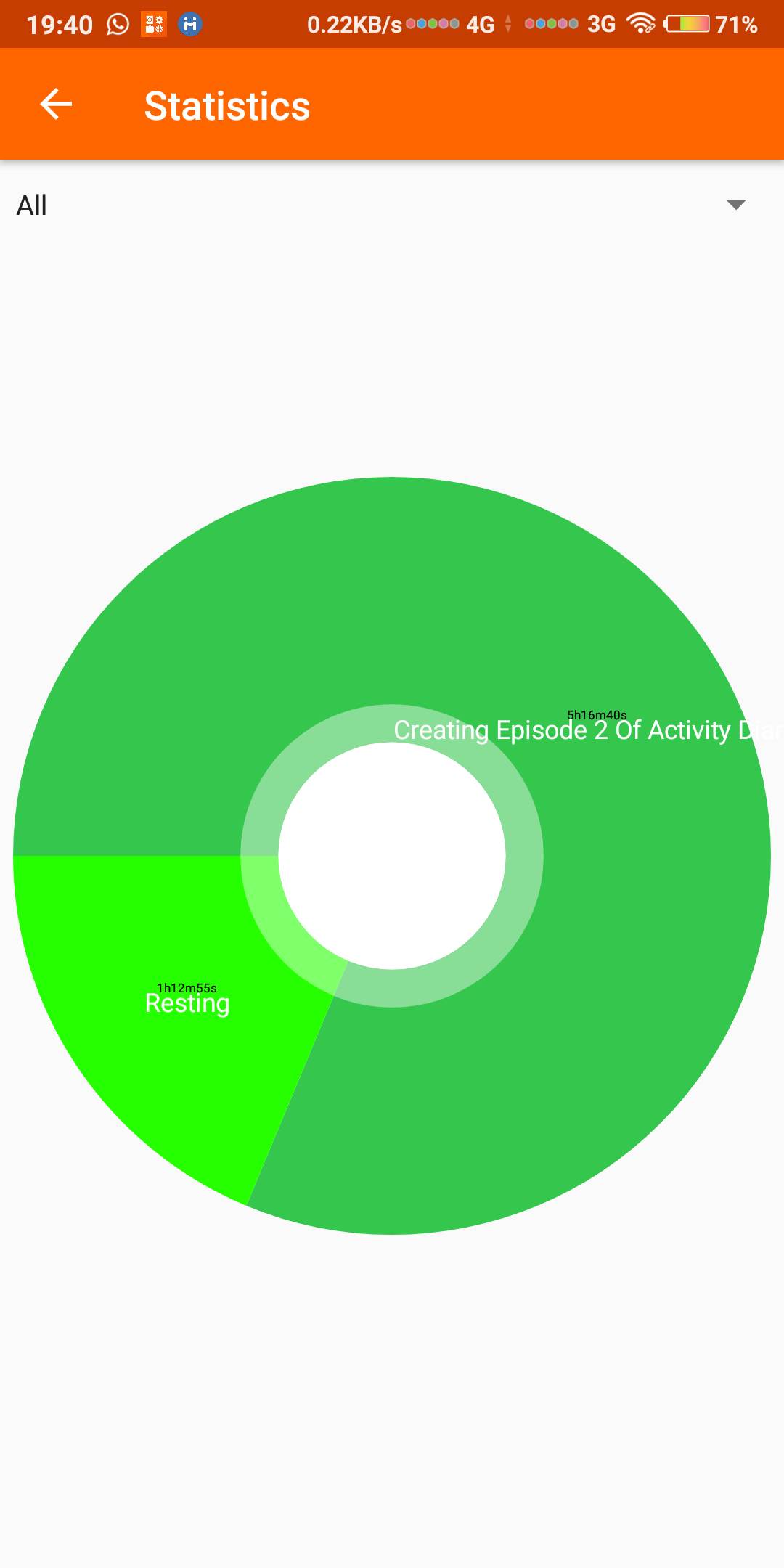 The app also keeps statistics of all your activities. The statistics are represented using a pie chart. The metrics for how portions of activities on the pie chart are divided is the time spent on an activity. You have the option to sort the statistics. You can decide to sort the stats to ;
Display the stats of all your activities recorded.
Activities in the last 7 days.
Activities in the last 30 days.
All activities in a week.
All activities in a month.
All your activities in a year.
The feature is great and I love it.
Import and Export of Log data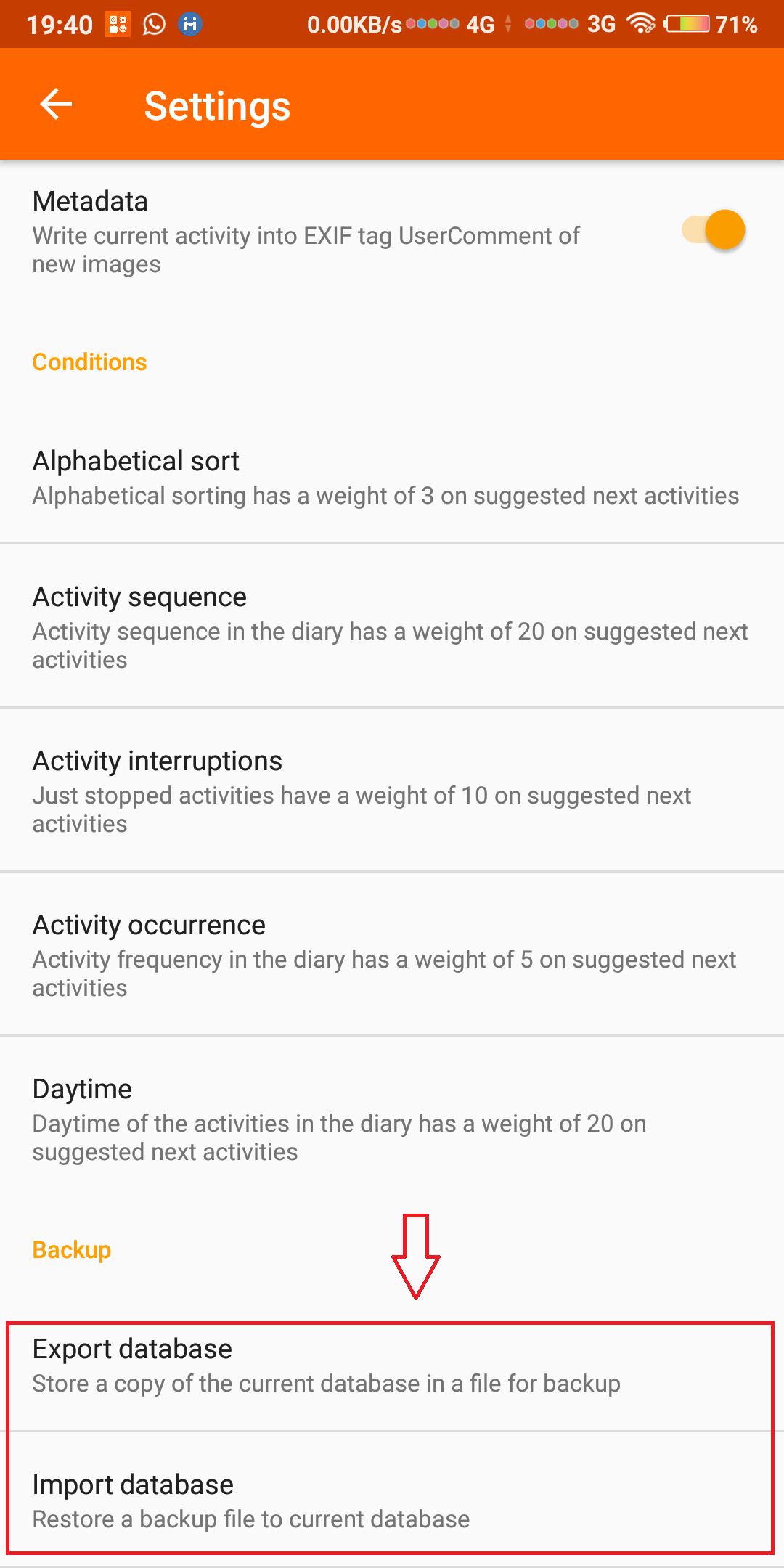 Data is precious. The app stores a log data that you can export or import. This means you can switch your data between different devices. This is also a means of backup. This feature is essential to people who are serious about keeping track of their activities. They wouldn't want to lose track of any records. With this feature, they can conveniently backup the log data and save to a cloud drive or wherever they use for backup.
Map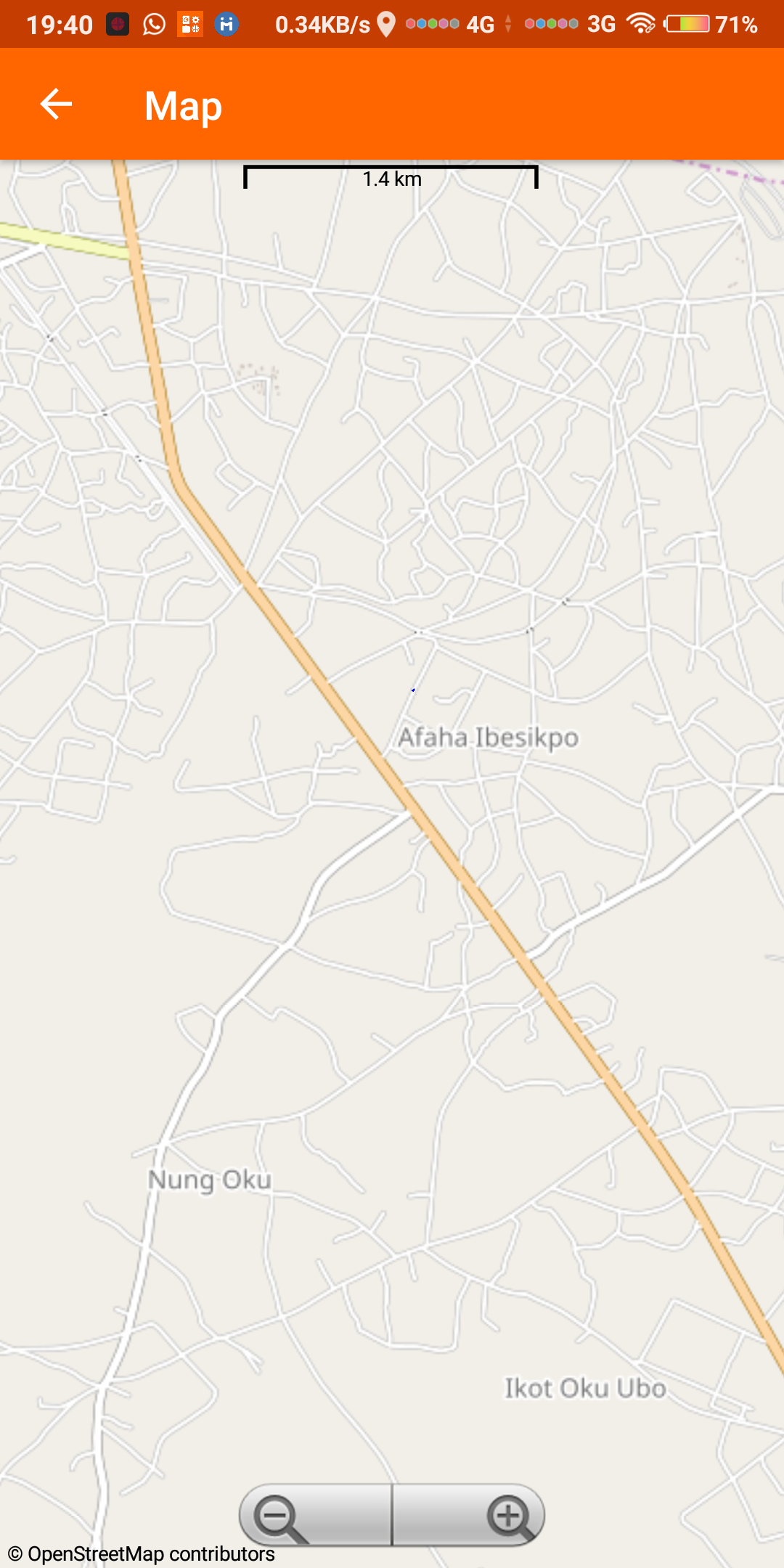 The app has a map on its options menu. I have never used it. I tried using it today. Honestly, I didn't see the importance of the map in the app. Maybe if I could attach my location coordinates to any activity, I would consider it important. But then it just shows my current location. Well, I had an afterthought. Maybe it is not so unimportant after all. What if I was performing an activity in an unknown area and I wanted to get the location to attach to my notes, this would come in handy. It means I wouldn't have to leave the app to get my information about my location.
---
Summary.
In this article, I have been able to review the major features of the activity diary.
The importance of activity tracking like I mentioned in my previous publication can't be overemphasized. If you really want to get productive this year and achieve a lot of things, try to keep track of the activities you are doing now. At the end of the day, review your activities and ask yourself, Am I meeting up with my goals and targets for the year? By reviewing your activities, you will find all the answers you need.
Activity diary is an amazing app. I'm excited I got reunited with the app again. I hope to see where activity tracking takes me to.
In the next episode, I will be highlighting the pros and cons of the software. Hopefully, there will be more pros than cons. Furthermore, I will be making some suggestions on some areas where the app can be improved.
Thanks for reading.
Links
Project repository: https://github.com/ramack/ActivityDiary
App download link: https://f-droid.org/repo/de.rampro.activitydiary_134.apk
Resources:
The content of this post is based on my knowledge of the project and mostly my experience. All images used have their source links provided just below them.
Series backlinks:
Simple mobile apps to help you manage your activities and resources.
Github profile: