In a previous "Clash of Steem dApps" post, 1Ramp went head-to-head with Partiko - another smartphone app to access the Steem blockchain. It was a close combat, with Partiko having the upper hands in a few aspects; one of which was the draft feature. However, the clash reached stalemate, as 1Ramp triumphed in some other areas.
In 1Ramp's latest update, I was delighted to see the implementation of the [multiple drafts] feature. Other features included are Delegation information and Steemit's resteem feature. In this article, I'll be reviewing the recent version of 1Ramp (v. 0.1.12). This update was released about a week ago, on the 29th of November, 2018.
Repository
https://github.com/hapramp/1Rramp-Android
What is 1Ramp?
If this is the first you've heard about 1Ramp, it is a social media platform that unites creatives based on their area(s) of specialisation. It also rewards creatives when they share their works with others in their communities. As a social media based on Steem, it rewards its users with Steem's currencies.
Categorically, I'll be reviewing the android version of the app, which can be found on Google play store. Nonetheless, there's also a Web app that was released some weeks ago, but that is beyond the scope of this review. Here's a list of the features that'll be considered:
(i) Drafts
(ii) Delegation Information
(iii) Blog Repost
(iv) Others
(i) Drafts
One of the suggestions I made some time ago, was that 1Ramp should implement a multiple drafts feature. As some other Steem apps are already doing well in this regard. For example, eSteem app supports multiple drafts, while Partiko has a single drafter, with 1Ramp initially having none. The drafts feature on 1Ramp extends to short posts, blogs and competitions writeups by contest creators. These are the three categories of posts on 1Ramp.
How does the draft feature work?
To save a draft, you simply have to tap the cancel button (at the top left corner) whilst writing a post. This automatically prompts an option, just tap Save Draft. All posts saved can be viewed from the profile tab and can be completed later. Exiting a draft whilst editing it, automatically saves the changes on the draft.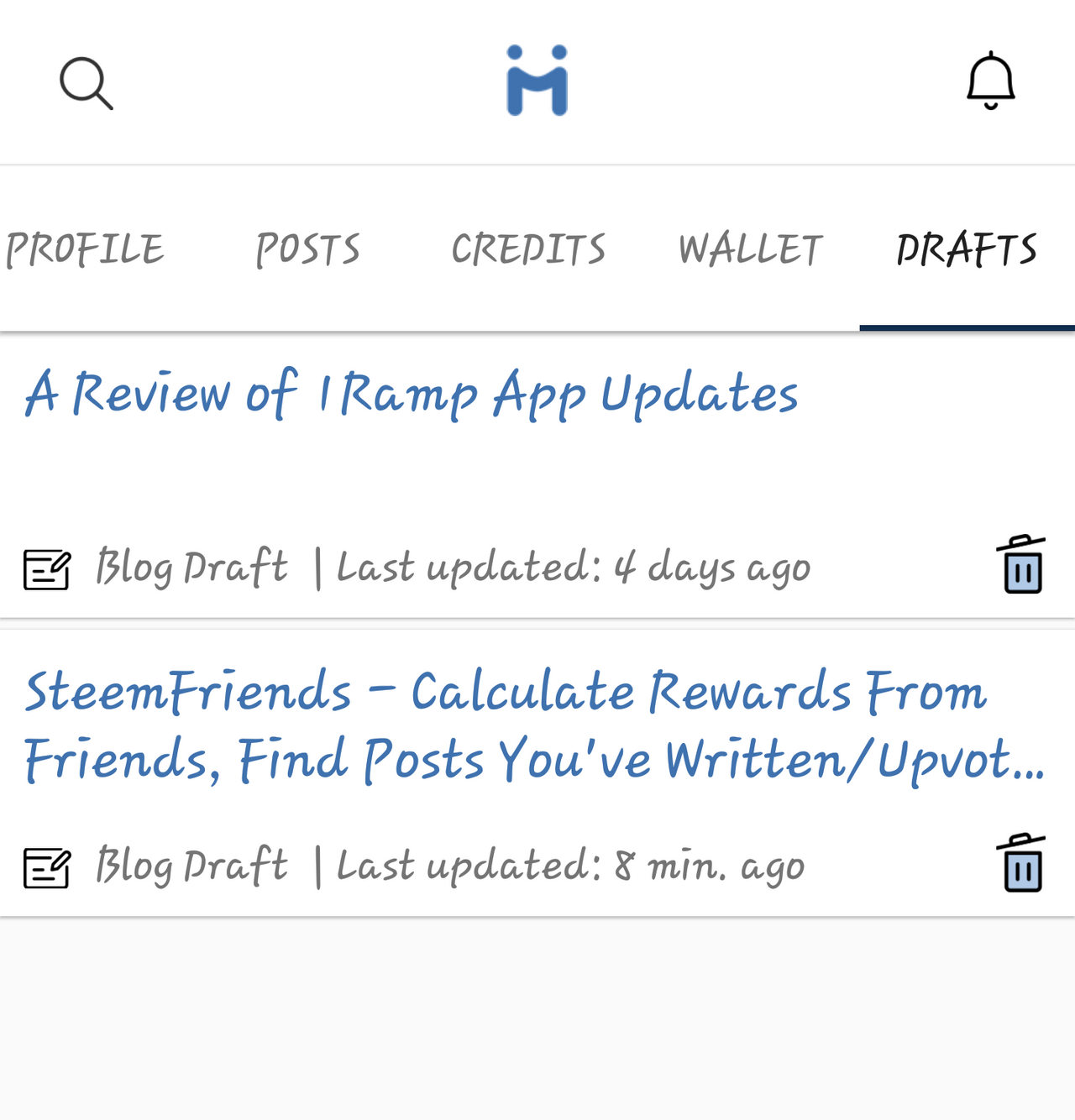 The inclusion of drafts allows creatives (users of 1Ramp) to simply begin typing their writeups or uploading their artworks, and then saving them for a time when they're ready to publish them. I like how 1Ramp's drafts feature was introduced. They went from having no draft to possessing multiple drafts. It shows how seriously they take feedbacks. However, saving drafts is a part of my daily routine. I can still remember when I joined Steem, and how I had so many drafts on my eSteem app.
With the drafts feature, creatives can begin composing what they do best on the go, save it for later, and then resume the work when they're free. Prior to the inclusion of this feature, a text editor with a draft feature might have served as a middleman, for users to save their works before posting them. Taking out this middleman would influence how posts are shared, and attract new users to 1Ramp.
The draft feature would make writeups more polished, as it supports proofreading and overall comprehensiveness on the platform. Imagine posting whatever thoughts crossed your mind to the blockchain, without taking some time to review, save, resume, edit before posting it. That certainly would result in chaos. Also, having another look at saved writeups provides an opportunity to increase its details.
Suggestion
It would be great if 1Ramp could automatically save drafts in the background, when one mistakenly exits the app. This would be especially helpful to content creators. Sometimes, you may not want to close an app on your Android device, but due to system lags it could force close. Making the draft feature automated when the app is exited would come in handy.
(ii) Delegation Tab Updates

(a) Delegation Information
Normally, to view delegations on Steem, I'd have to use Steem Bot Tracker's Delegation Manager or Steem World. The inclusion of this button on 1Ramp makes things easier. I don't have to leave the app to use other Steem tools. At the same time, It's important to note that this feature is not available on other Steem smartphone apps (eSteem or Partiko).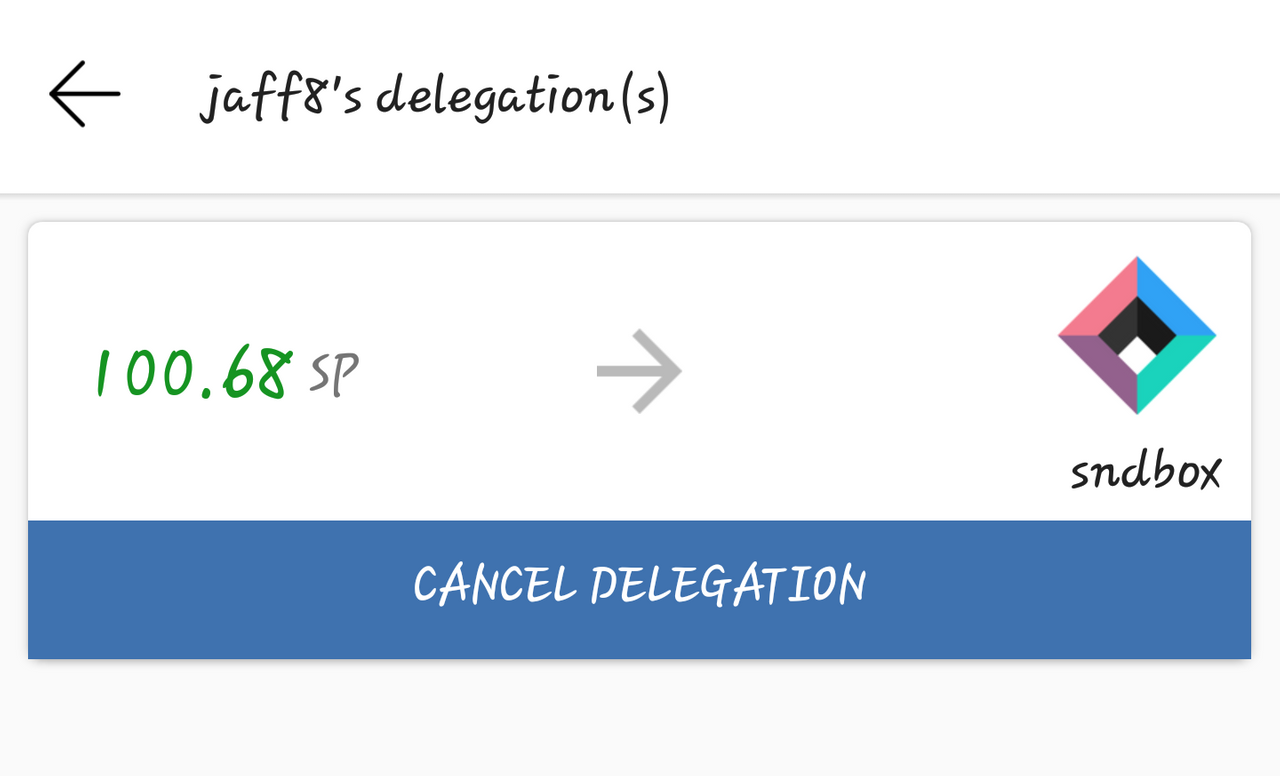 As you can see from the image above, this tab shows delegations made on my account. It can be seen that a hundred Steem Power is currently delegated to Sndbox. This feature is not limited to specific users. You can also check delegations made by other Steem accounts. Are you wondering the projects Steemit Inc is currently supporting? Wonder no more. All you simply have to do is check the delegations made by Misterdelegation's account.
Here's a sneak peek of the delegations made by Misterdelegation: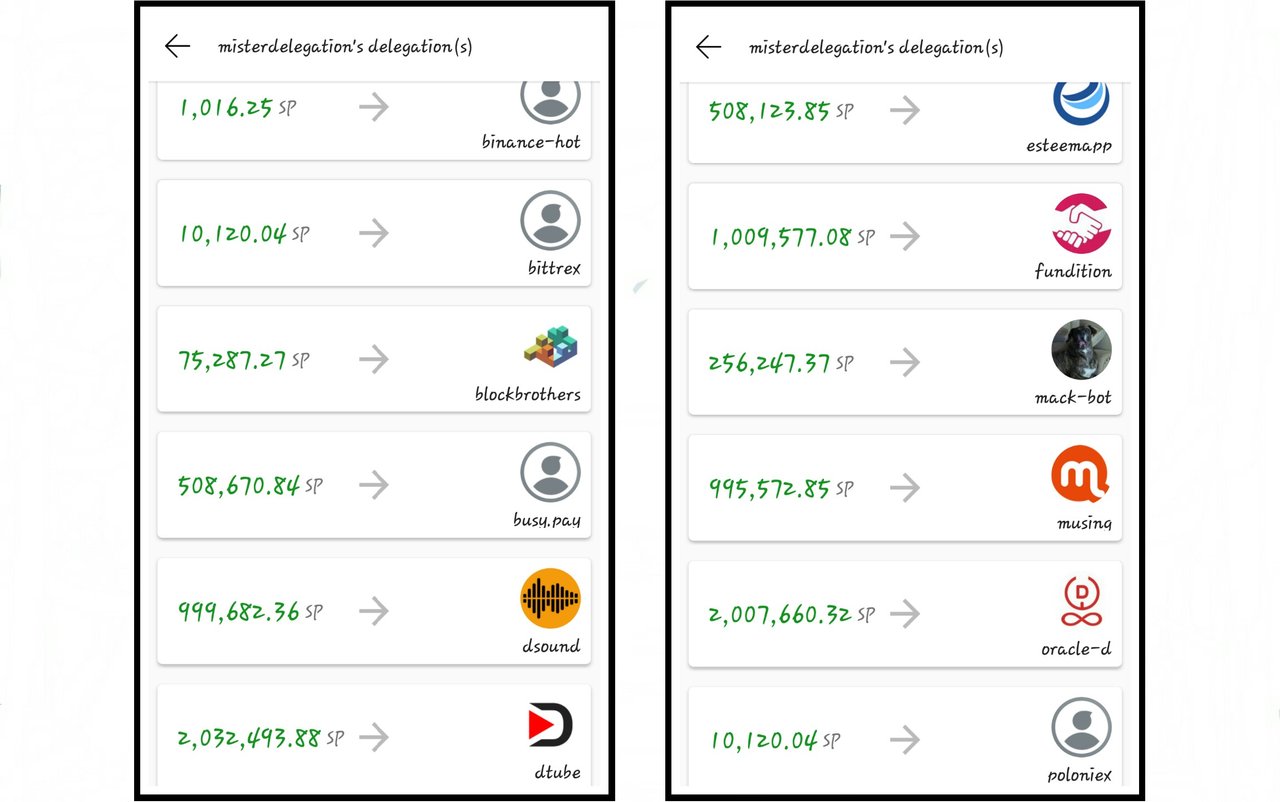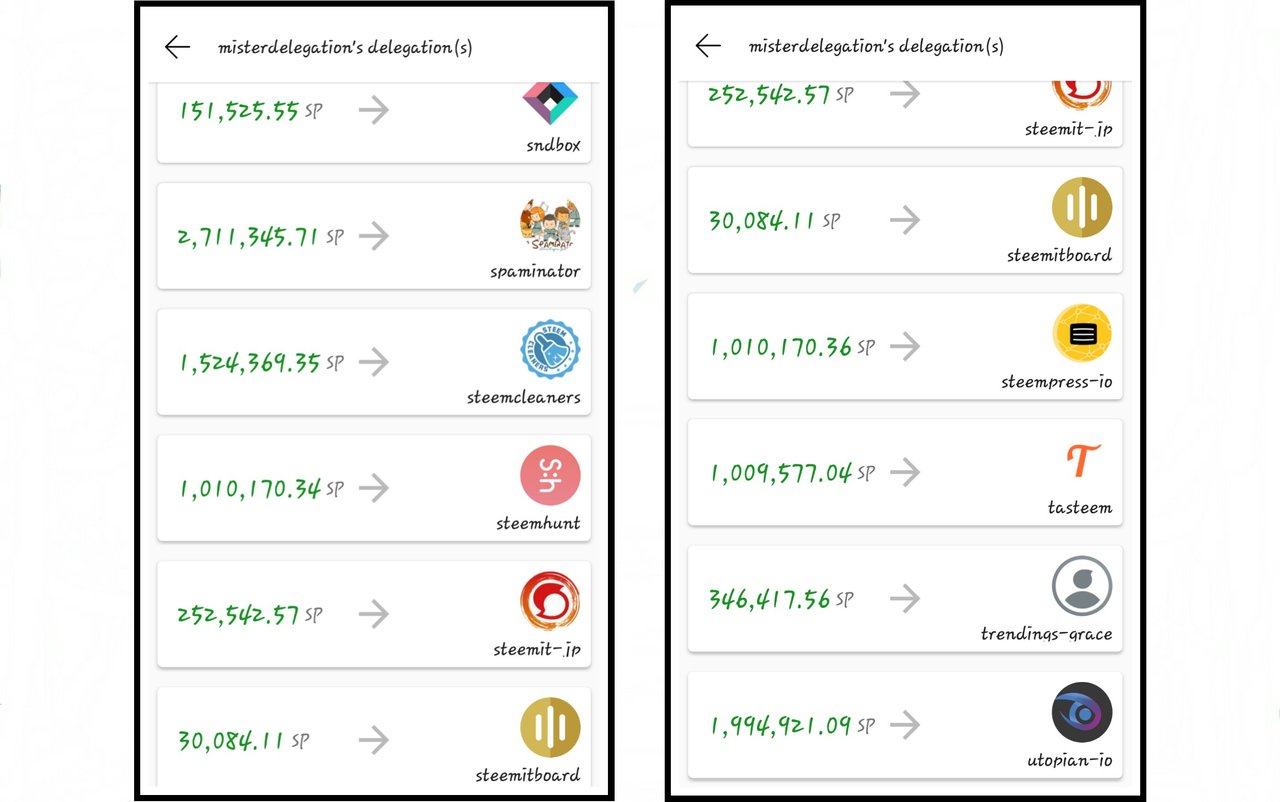 If you are using the app for the first time, all you simply have to do is head over to an account's wallet under the profile. This feature makes it easier to access delegation information on any Steem account. Currently, it only shows delegations made. Delegations received may be a new feature in the next update.

(b) Delegation Cancellation
Have you tried to cancel a delegation before? Well, I've done so. I had to use SteemConnect then, by delegating 0 Steem Power to the account. The process has been made easier with 1Ramp's recent update. Now, all I have to do is go to my wallet and cancel the delegation I no longer wish to continue. Superb!
Suggestion
The inclusion of a feature that lets you increase or reduce delegations made to accounts. This would be the shot in the arm that I've been waiting for. Here is why; some months ago, I wanted to reduce a delegation I made to a user from 500 SP to 100 SP, but I couldn't. I had to first cancel the initial delegation, then make a new one with a hundred SP. If there's a one click button to increase or reduce delegations, I'd find it very appealing.
(iii) Blog Repost
I like to think that reposting a content is a way to share content you find interesting, and you believe that your followers will see it that way too. Steemit's resteem button is similar to the retweet button on Twitter and the share button on Facebook. It's interesting to understand the importance of these buttons on various social networks. 1Ramp as a growing platform, recently introduced this sharing function. 1Ramp calls it the repost button, as it's a way to reshare contents from creatives on the platform.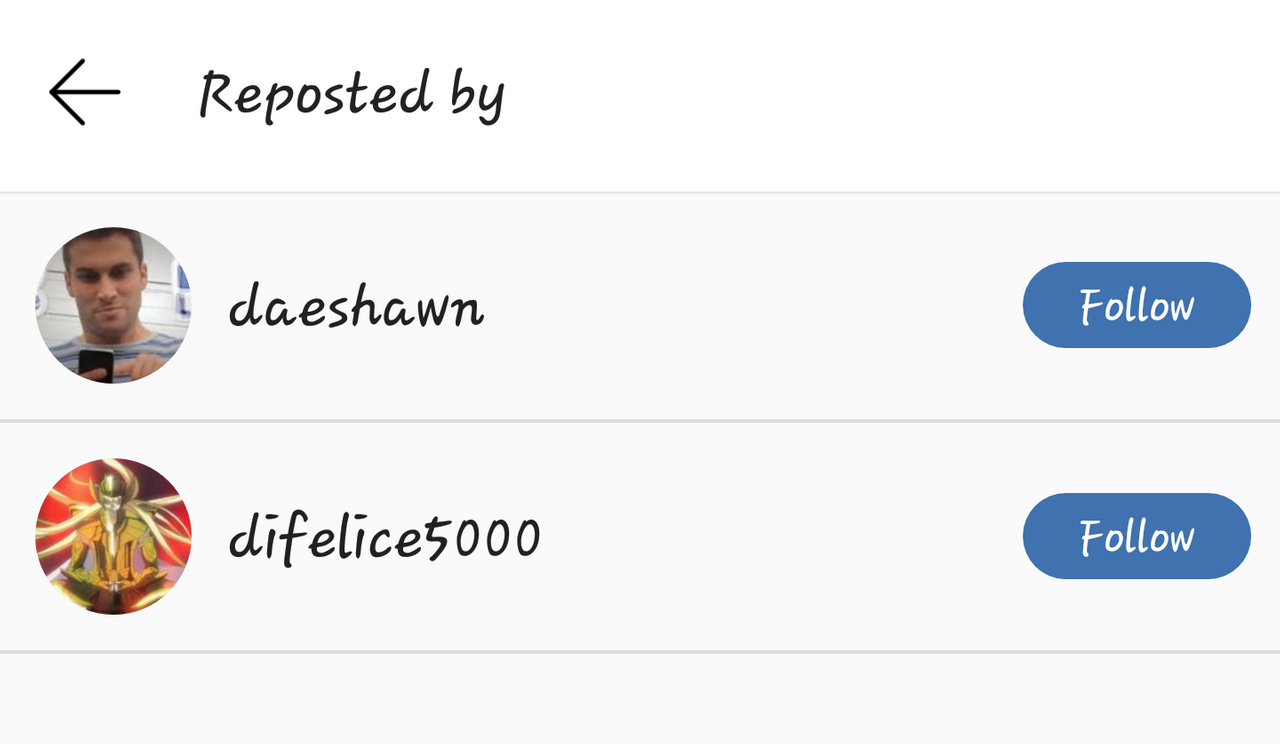 When a 1Ramp user reposts a blog, it shows up in the account's blog feed. Those following the account will also see the post. If a post was rated (as it is called on 1Ramp) by a user, then it may be advantageous to repost it as well. This will help the post to gain more exposure, thereby leading to it being rated by other users. The number of reposts is shown close to the post rewards on 1Ramp. Clicking on the number of reposters shows the usernames of reposters. Prior to the inclusion of this feature, I used to check number of resteems as well as those who resteemed my posts on SteemDB.
When a creative creates a steem account and joins 1Ramp, he (or she) will usually start with a small follower base. The repost button can be a helpful tool to create awareness within his or her community. This is a feature that can help 1Ramp's communities to grow. It's a provision that can help community members support each other. This is because when a post is reposted by someone that writes regarding the same topics (or similar 1Ramp community), it brings attention to the other users. Especially when the reposter has a large amount of active followers.
Note: Resteem rewards do not exist on Steemit, 1Ramp is not in any case different. Reposting posts on 1Ramp, could help get others to curate it as well, and that could increase the post rewards. An increase in post rewards would create a proportionate increase in curation rewards.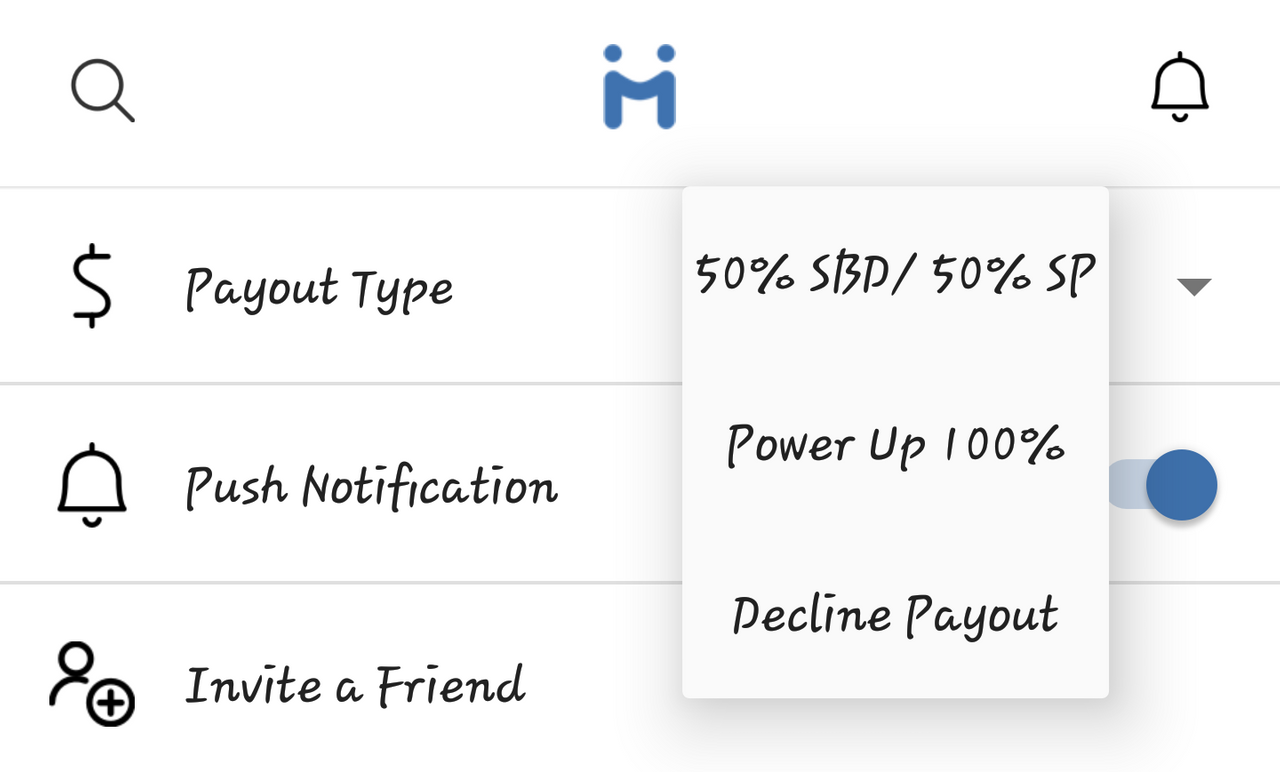 (iv) Other Updates
There was no option to select how author rewards would be received prior to this update, but now there is. You can choose 50% SBD and 50% Steem Power or 100% Steem Power, or you can decide to do the honorable thing by declining Payout. These options can be found in a user's settings. Most apps have these options in the text editor, 1Ramp is quite different in this regards. As a unique app, you have to expect the unexpected.
Conclusion
This update satisfies several wants. At this point, it would be unfair to compare 1Ramp with any other Steem dApp. 1Ramp has firmly reinvigorated its differentiating factor with these recent updates. There have been several updates on 1Ramp, Partiko and eSteem, since I last featured them in my "Clash of Steem dApps" series.
Nevertheless, right now a comparison may lead to an extremely one sided result. I'd probably do a comparison in a few weeks time, as I wait to see how other Steem dApps respond to 1Ramp's bar-raising update. A healthy amount of competition vitally stirs up improvement. This update is particularly noteworthy. I'm really excited about the draft feature. I'm glad 1Ramp listened. And I don't plan to stop talking.
Official links
• 1Ramp website
• 1Ramp on Github
Series Backlinks
• Reviewing 1Ramp's Competitions + App Updates
• Reviewing 1Ramp's Unique Features
Clash of Steem dApps (featuring 1Ramp)
• Contest Hero vs 1Ramp's Competitions (Clash of Steem dApps)
• 1Ramp vs Partiko (Clash of Steem dApps)