Proof-of-Work (PoW) is a system where miners compete amongst one another to complete transactions on the network and get rewarded. This algorithm is used to confirm transactions and produce new blocks to the chain. It is the original consensus algorithm in a Blockchain network. Since Byteball isn't Blockchain based, it has no miners. Even so, there are several other ways to earn bytes.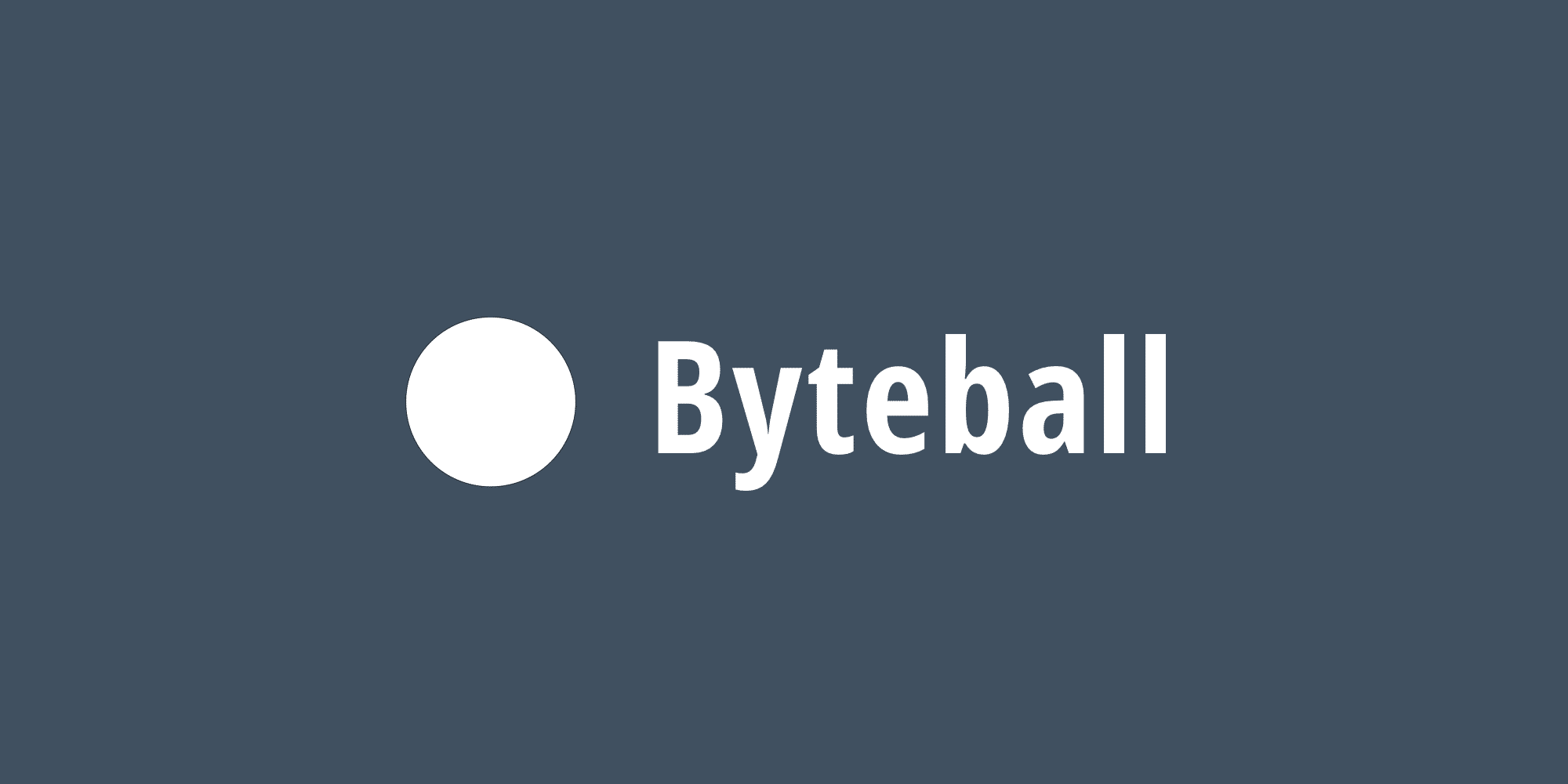 A reward program is setup to incentivise people (contributors) when they donate their excess CPU power. Therefore, you get rewards without spending a feasible amount of effort and time in mining coins. You also enjoy the satisfaction derived from helping people.
In this article, we'll be giving critical attention to a Byteball's chat bot that has gained traction over the past few months. Previously, I did a brief introduction to most of Byteball's chat bots here - My Experience Using Byteball Chatbots.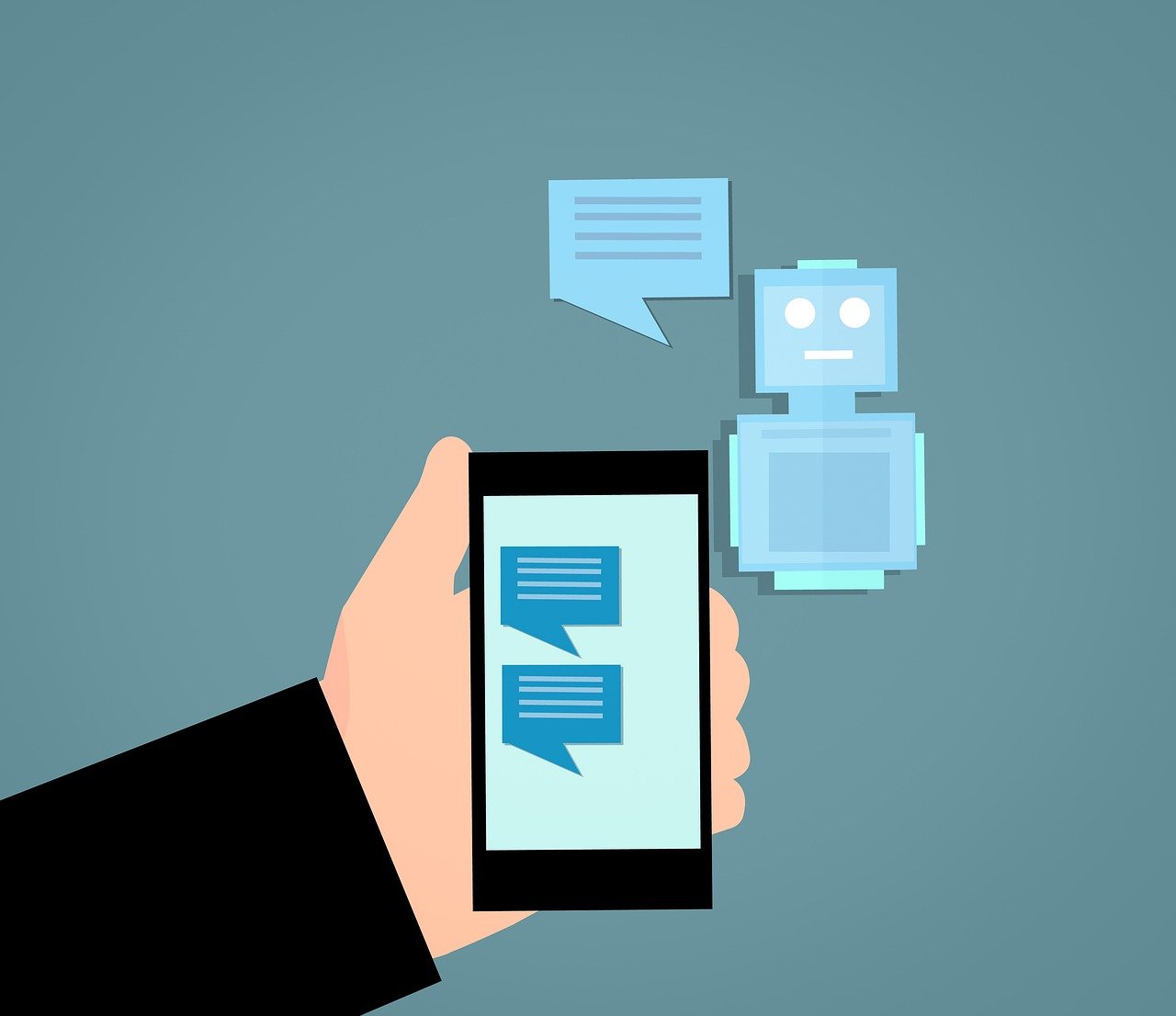 • Image showing a chatbot | Photo by Mohamed Hassan on Pixabay
Repository
https://github.com/byteball/WCG-distribution
What is WCG linking bot?
It is one of the chat bots that can be found on Byteball's Bot Store. WCG is an acronym that stands for World Community Grid. This chat bot periodically authenticates World Community Grid accounts' points, in order to reward contributors with bytes.
After I tried the steem attestation bot on the 12th of July, the next bot I tried out was WCG's. It's not like I have hyperthymestic syndrome. I remember that date because of another event that occurred on it, of which I cannot tell you. ;) Anyway, both bots are easy ways to earn rewards on Byteball, and surprisingly distributions are still on. World Community Grid in itself is an open source project, and it is not directly related to Byteball. It is also supported by IBM.
The project involves contributing your computer power to help science in discovering cures for Ebola, AIDS, childhood cancer and other real world problems. Actually, WCG initiative is a more beneficial alternative to using your processing power to mine cryptos. The primary purpose of mining cryptos is to make personal gains, while threats to human existence are neglected.
Why not support a project that has such a huge impact on humanity, and earn rewards in the process? This is where World Community Grid comes in. When you join the WCG project with Byteball's bot, you also earn bytes. Byteball users simply link their wallet to WCG, and receive a reward proportionate to the amount they contribute to the project.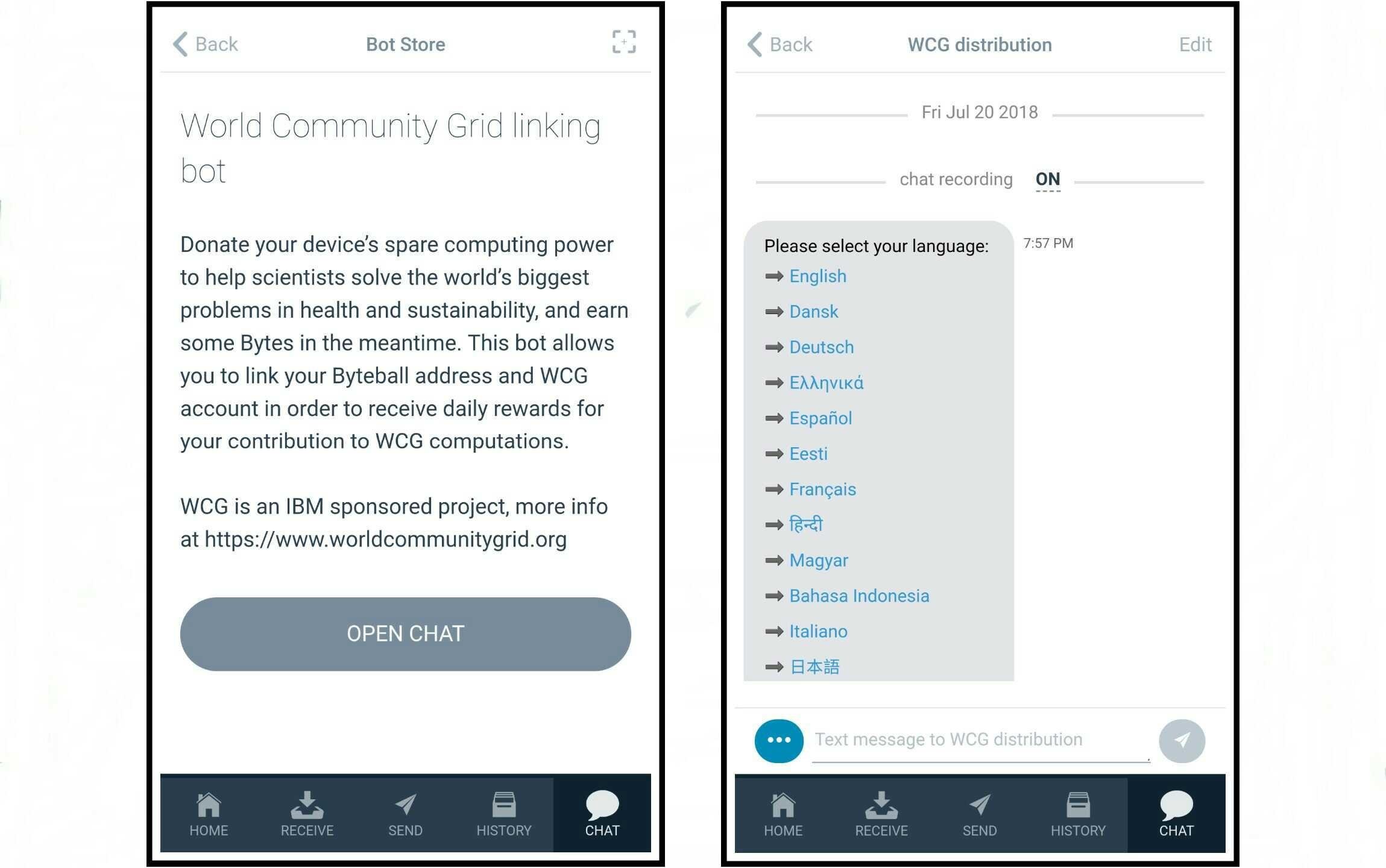 • Screenshots showing World Community Grid linking bot
How can I link my Byteball wallet to WCG?
It is a very simple process. You simply have to add the WCG linking chat bot from the Bot Store. The bot usually sends instructions once it is added. The next step is to register on worldcommunitygrid.org, this step is compulsory. Then you have to link the account created on worldcommunitygrid.org to your Byteball wallet.
On world community grid website, go to settings (top right) and then click the profile button at the menu. After logging in, you can change your username. Set it to the one given by the WCG linking chat bot, it usually starts with Byteball_xxx, mine was Byteball_ccf31980. Then ask the bot to check again.
If you are not comfortable with the username generated by the bot, after linking your wallet you change it again. The initial username given is for verification. You have to notify the bot that you have changed your username, by clicking the 'change account name' with WCG linking bot. Type the username you changed it to on WCG and the bot will update your username. Tada! Your username have been changed successfully.
Rewards Calculation
As mentioned earlier, you are rewarded in bytes according to the amount of points you generate on World Community Grid. If you get 100,000 points, you are rewarded $1 worth of Bytes. The bot relies on the data that is sent by WCG API. The bot just connects to WCG, picks up the score of its users and calculates a reward based on that. Therefore, your rewards are directly proportional to your points.
Byteball don't have any direct influence over WCG projects. If there is a problem with the information the API sends, it can only be resolved by WCG.
Mode of Payments
Payments are made once a day by the WCG bot. Since the relationship between the WCG points and the rewards in bytes are directly proportional, rewards for little points are still sent. No matter how small.
The bot is semi automated, so at times there may be 1 to 3 days delay in payments. Points are never lost because the bot uses API integration. Rewards are sent once the bot is able to get the statistics. When the bot skips a day, it takes the score that you had the last time it paid, and includes it in the next day's payout.
The factors that determine the points you earn on WCG are the computer's CPU speed and number of cores. The project was not created to get you wealthy, but to provide support in finding solutions to real world problems. The byte rewards are just an additional benefit.
If you use your CPU power for mining, you'll definitely earn more rewards. But would that help people outside the world crypto? That's a question you should consider before making your decision. Byteball discourages industry mining, it warns that rewards would be reduced if discovered.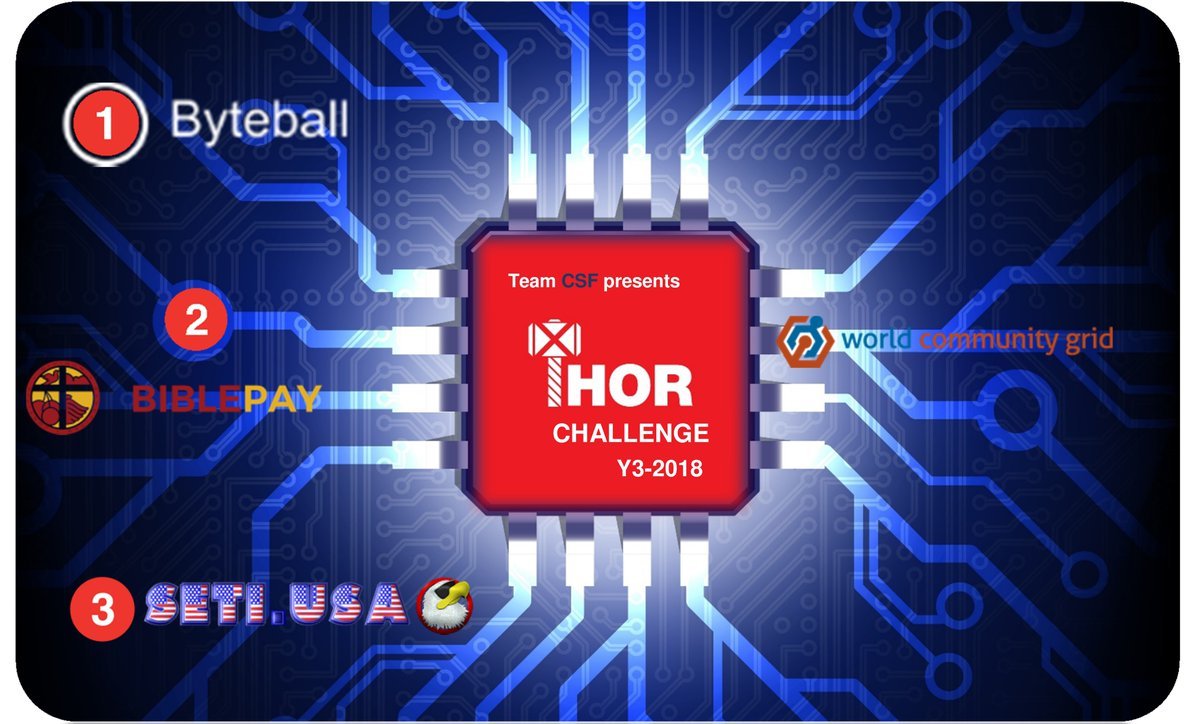 • Thor challenge image by Team CSF on Twitter
Byteball WCG Team
Recently, the Byteball WCG-team won the Thor challenge. The Thor challenge is a contest that ran for 4 weeks, having a round each week. After the first week, the top 20 teams advanced to a second round that ran for another week. Then top 10 teams advanced to the third week. The final week consisted of only 3 teams, to race head to head for the final victory. It was a tough battle.
Byteball team made it through the four rounds. More than 1000 byteballers contributed their spare computing power to the challenge. I'm glad to have participated in this challenge. Byetball WCG team continues to grow rapidly. Some months back, we were only a few hundred. We were able to support scientists and researchers in their search to cure Ebola, AIDS, Childhood cancer and other terminal diseases.
I experienced the feeling of making a significant impact in the fight against diseases, and I do not intend to give up. Bytes rewards were also distributed amongst contest participants in proportion to the points they had in their WCG accounts. It's so interesting to earn some bytes while doing good for humanity.
Byteball's WCG Bot Recent Update
Two days ago, an update was made on Byteball's WCG bot. They introduced diminishing returns to the reward schedule. Starting November 20th, anyone who has more than 40 devices connected to WCG, will see a drop off in Bytes rewarded for the devices above 40. WCG points would not change for all devices, but the proportionate bytes rewards would be reduced.
This update was due to industry mining that was discovered. According to Valerius Coppens, Byteball's Head of Strategy, industry mining was causing about 50 GBytes dumps daily on Bittrex. This was immediately after reward payments were made. That evidently had an effect in the price of GBytes. The drop in rewards is meant to discourage industry mining.
Personally, I think these people are getting the electricity used free of charge. Or maybe they are stealing electricity to get rewards in bytes. In my neighbourhood, there will be little or no gain when you mine with paid electricity. The tariff of the electricity distribution company is on the high side. I believe these individuals are missing the point. The purpose of this project is to help the world, before gaining rewards. And not the vice versa.
Anyway, It's normal to see people exploiting various vulnerabilities to advance selfish interest. That is the world we live in. People are more concerned with what they can gain, instead of what they can give. The update is a change in a positive direction.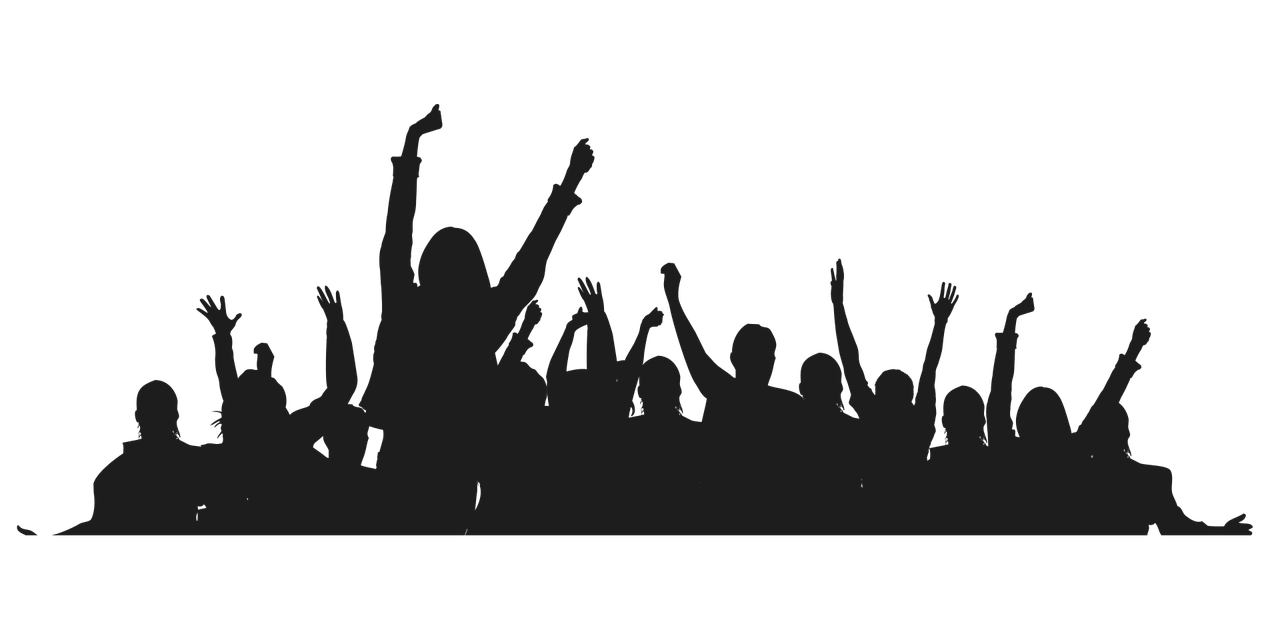 • Support humanity! | Photo by Pixaline on Pixabay
Conclusion
Before contributing your computing power, you have to know that the WCG bot is not primarily designed for the rewards. However, if you have an idle computer, you can make some bytes from running the program. Don't be greedy, you may get penalised. Within past few days, I have been unable to contribute my computing power. This is a result of the unstable power supply I'm currently experiencing. Hopefully, this would be rectified very soon. I just can't wait to resume my contribution. :)
Don't get discourage if the rewards are small at first, focus on the good you've done. There's a great satisfaction in knowing that you have supported humankind in a way.
Thus, help the world and get rewarded for it.
Official links
• Byteball's WCG Bot on Github
• Byteball on Github
• WCG Distribution on Byteball Wiki
Series Backlinks