The long awaited Game of Thrones series is back to the TV screen. There have been hype all over the Internet for this last season. It wasn't easy anticipating its return and I definitely wouldn't want to miss any episode. For other mid budget series that can't afford similar hype like GOT, it may prove difficult to keep track of their episodes. I'm not sure I can even remember the days some series are being aired, for example American Gods, The Good Fight, Gotham, e.t.c. But life's too short not to enjoy every one of them.
If you find it hard to follow so many TV shows, I'd be introducing you to a way you can easily track all of your favourite TV Shows. You wouldn't miss any episode anymore with DroidShows app on android. The app tracks your favorite shows saved in it, and informs you when there are new episodes for you to watch.

Repository
https://github.com/ltGuillaume/DroidShows
What is DroidShows?
DroidShows is an android app that tracks TV shows/TV series. The application shows your favourite series, number of episodes, air dates. It is quite challenging to be up-to-date when you watch a bunch of them, so DroidShows helps you manage your favourite TV Series. It also help you take note of episodes that you are aware of its release but haven't seen yet. The app also utilizes interesting features, such as pinning, filters and swipe gestures.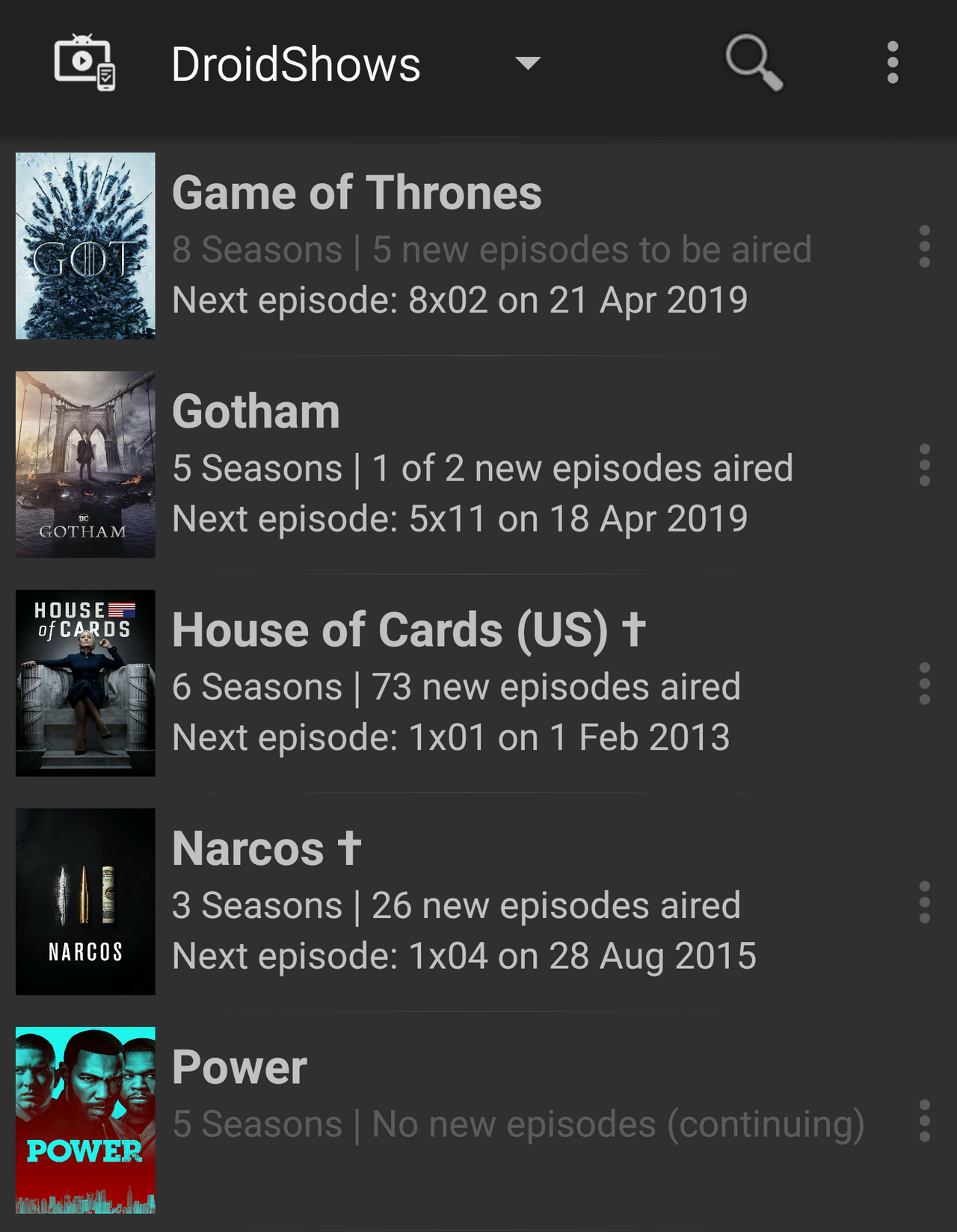 DroidShows is a free app you can find on F-Droid. You wouldn't encounter any Ad or in-app purchases. All it needs is a good internet connection when updating a show info or viewing full-size posters. On my DroidShows list you would find Game of Thrones, Gotham, House of Cards, Narcos, Power, Teen Wolf, The Gifted and The Good Fight.
DroidShows is actually an improved version of DroidSeries. DroidSeries was created about a decade ago, whereas DroidShows was launched in 2014. DroidSeries was created by Carlos Limpinho and Paulo Cabido (alias Kopus on XDA), then later modified on Gitorious by Mikael Berthe. On the other hand, DroidShows was created by Guillaume who liked the old DroidSeries project.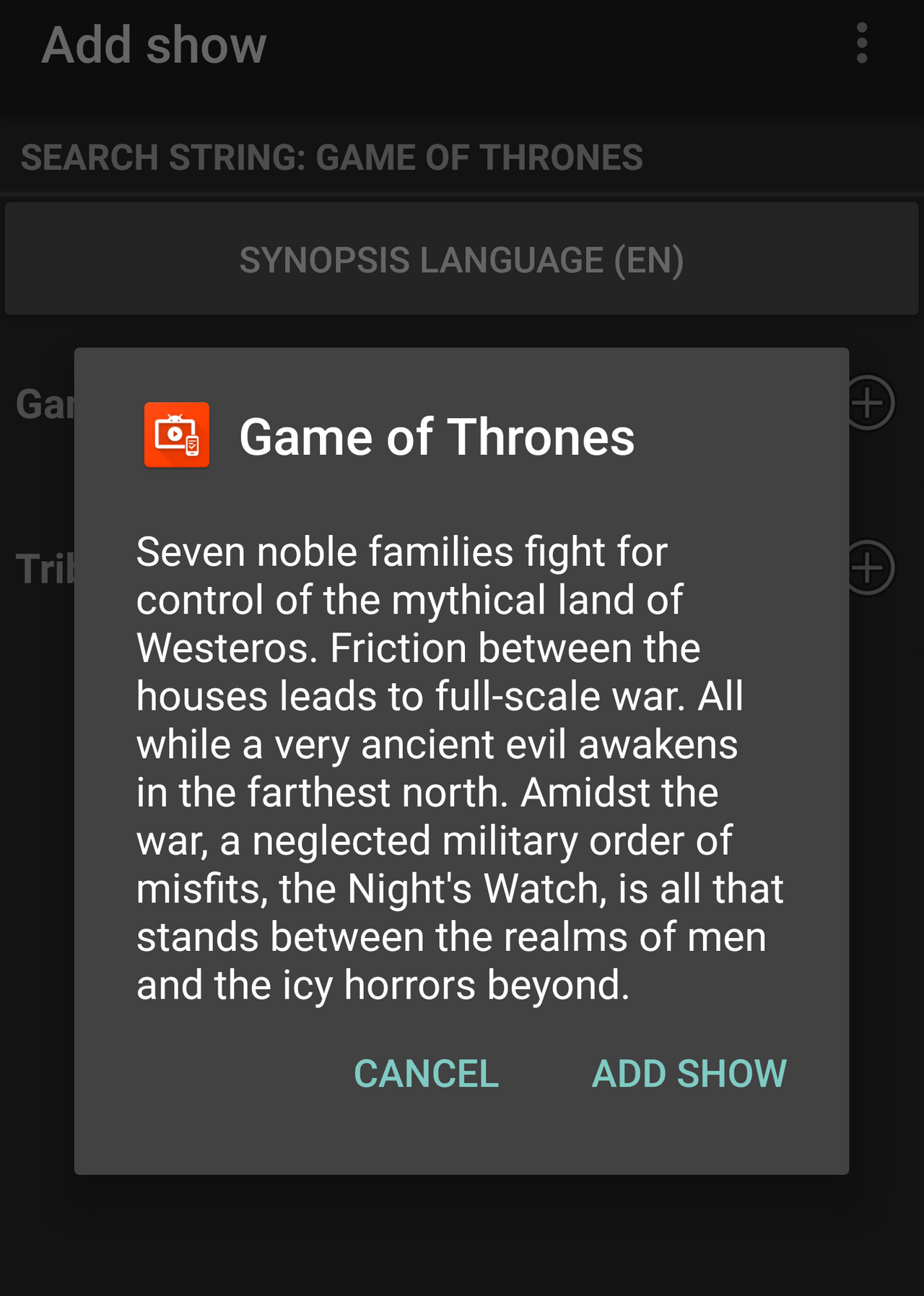 When you open the app, you can add TV Shows to your list. You simply have to type the name of the TV show, and then tap on the add icon beside the name. Clicking on the TV Show's name displays the synopsis. The synopsis supports several languages, you'd have to choose your preferred language. If there are several series with a similar title, the synopsis can be used to identify your choice.
DroidShows has three sections - homepage, archive and log. The pages can be selected by using the drop down menu at the top left corner of the app. The homepage displays all your TV shows, including the number of seasons and when the next episode would be aired. The archive page shows the TV shows you have archived. There is an option to add a show to the archive page. The log page shows the recent TV shows you recently marked as seen. You can also swipe from left-to-right to return to previous page.
When a TV show is added to DroidShows, it shows a list of seasons and episodes in each season. You can differentiate the episodes you have seen from the one you haven't seen, by simply marking them as seen. You can also mark a season as seen. The feature I find most interesting is the "seasons up to here are seen" option. If I am to mark season 7 of Game of Thrones with that option, it automatically marks all the previous seasons as seen. You can also swipe from right-to-left on the homepage to mark an episode as seen.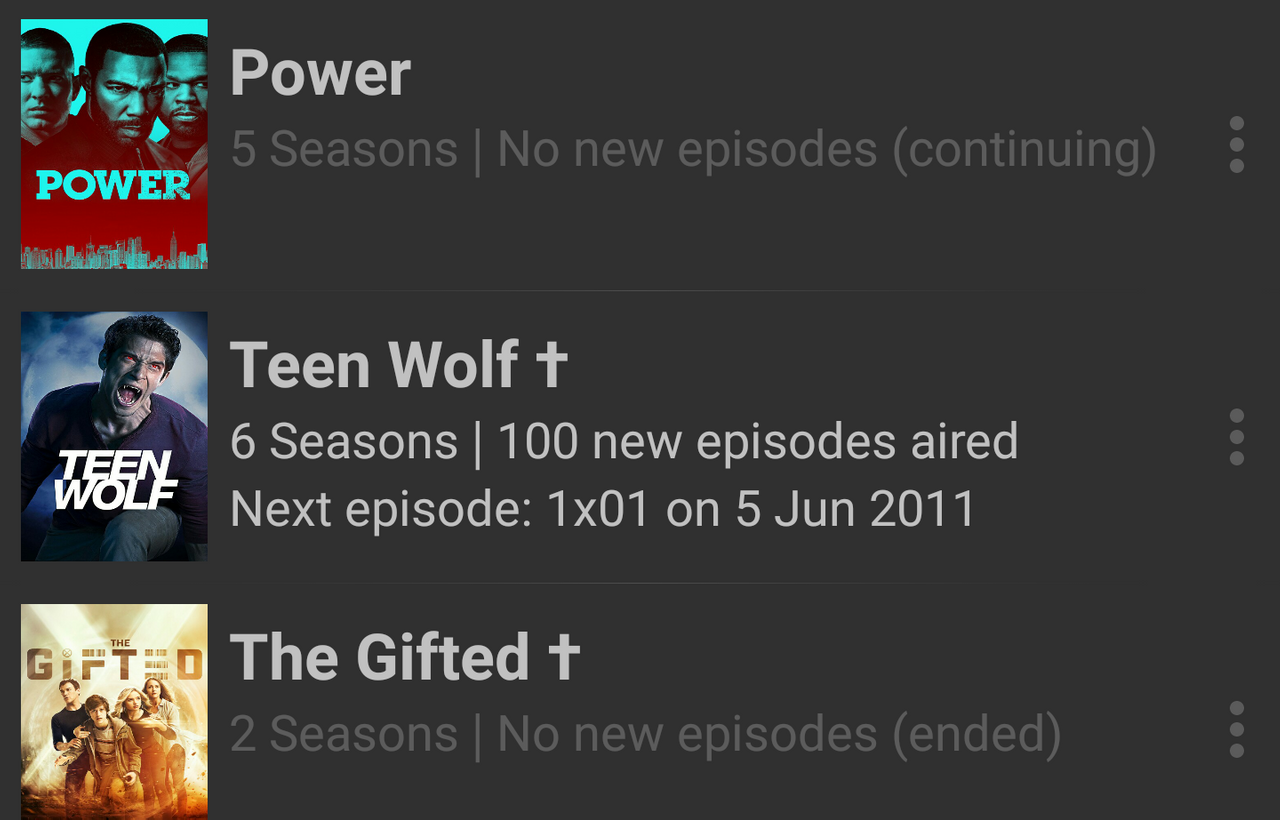 DroidShows also helps you identify series that would be continued and series that have been discontinued. For example, my list shows that Power is going to be continued although no new episode has been released. While the list shows that Teen Wolf has been discontinued or ended.
Show & episode details
It displays the relevant information regarding a TV show. The name, parental guidance rating, movie category, IMDB rating, release date, airing time, duration, synopsis and cast are also displayed. You don't have to visit another website to get these informations, as they are all shown in DroidShows.
Episode details shows the title of the episode, IMDB rating, date, synopsis, writers and directors. These information are updated for new episodes.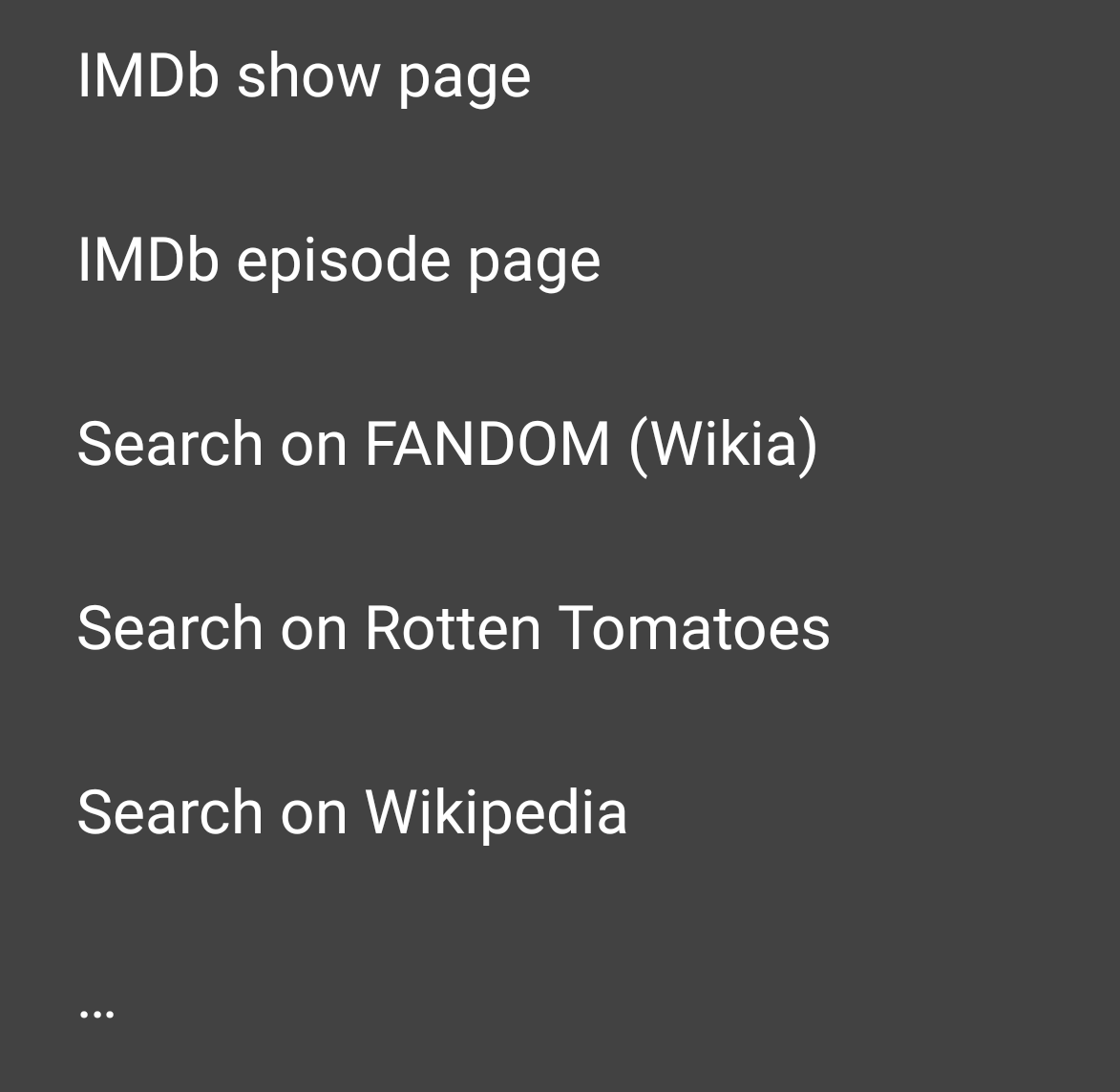 External resources
The external resources button for a show displays the links to IMDB TV Show's page and episode's page, searches on Fandom (Wikia), searches on Rotten Tomatoes and searches on Wikipedia.
Filter and sorting options
With the exlude seen filter option, you can remove the series you've watched all the episodes from your list. You can also decide to show only TV shows from certain TV networks, e.g. CBS All access, Fox (US), HBO, MTV (US), Netflix and Starz. If I select to display only HBO and Starz series on my list, it'd display just Game of Thrones and Power. The sorting option is to show episodes according to name or according to series not yet watched.
General settings
In general settings, which is labelled as options on the app, you can set the app to automatically perform daily backups. There is also an option to restore backup on the app. There is an option to update shows' latest season only. The app normally displays date of the next episode, but it can be changed to date of next airing episode in its settings. There are several other options to make your time on the app pleasurable.
DroidShows vs Push TV app
In the good old days, I used Push TV app on my Nokia Lumia. It is quite similar to the DroidShows app, but the latter has more features. Push TV app has a backup service just like DroidShows.
On Push TV app, when you select a recent episode of a series as seen, all the previous episodes are marked automatically too. Whereas on DroidShows, it has the "seasons up to here are seen" option. That option automatically marks all the previous seasons as seen. I would enjoy DroidShows more if it had that feature Push TV app had. That would mean introducing an "episodes up to here are seen" option.
Generally, DroidShows is a more comprehensive android app. It works smoothly, although I've had to force-close the app a few times. On the other hand, Push TV app is good one, just that it had a chance to break into the android sphere.

Project Update
On the 12th of April, 2019 a new version of DroidShows was released. Version 7.9.3 of the app contained some updates, bug fixes and minor improvements. Previously, the app assumed that the first unseen episode is the next episode. The option to calculate the next episode by starting from the last episode being marked as seen was recently included. The new option was also accompanied by a timestamp. It is relevant since users can now mark next episode starting from the most recently watched.
Previously, pinned TV Shows on the app were displayed as white, and this caused a display problem in some devices. Now pinned TV Shows simply have a "pin" next to them. I prefer to see the pin icon, it makes it easier to know why a TV Show is displayed above the others.
Searches on Fandom (Wikia) and Rotten Tomatoes was improved to display accurate information. If you click on the Fandom and Rotten Tomatoes link on the app now, you can be sure to arrive in the right place.
Conclusion
I'm certain you would never complain about missing an episode of your favourite series with DroidShows app occupying a space in your phone. The app wouldn't let you miss new episodes of TV shows you follow. Although the app notifies you of new episodes, you should note that it doesn't provide means for you to stream or download the episodes. The app only serves as a reminder so you wouldn't miss any episode. The dark theme is great, who doesn't like night mode? Definitely not me.
Official links
Related
In the light of movies you definitely should check LightDL's movies platform. It's a website that has a lot movies and TV shows, ranging from Korean, Chinese and Hollywood movies and TV series.
Also, if you're one that loves Nollywood. There's only one place on the internet that you can download nigerian movies online without paying a dime. Too good to be true right? Yeah, I know. You definitely need to check it out.
Yeah, you guessed right. It seem like we can't run out of options when it comes to downloading movies online. Well, the next platform I'm about to tell you is one that you probably have heard about. You may have used it in the past. It is no other than O2TVSeries. A website that has become a household name. It can be very useful for if you're being conservative about your data usage.
That's it guys. Do have a great day.