Despite the bear market currently affecting the crypto sphere, with a decline in activities on Steem, Steem still remains the 6th most active blockchain in the world. Moreover, there are several new projects on its blockchain.
Depending on your preference, there's a handful of Steem condensers to access the blockchain, and a growing number of dApps. These are fashioned with unique ideas and features. We're getting closer to a time when there'd be a Steem version of every cellular social network.
In this article, we'll be giving attention to a directory that enlists most projects on the blockchain. Definitely not all, some projects may not be listed if not added by a user or the developer. Currently, there are about 445 projects available on this directory. You most likely would find your favourite steem project on this directory. Check it out. :)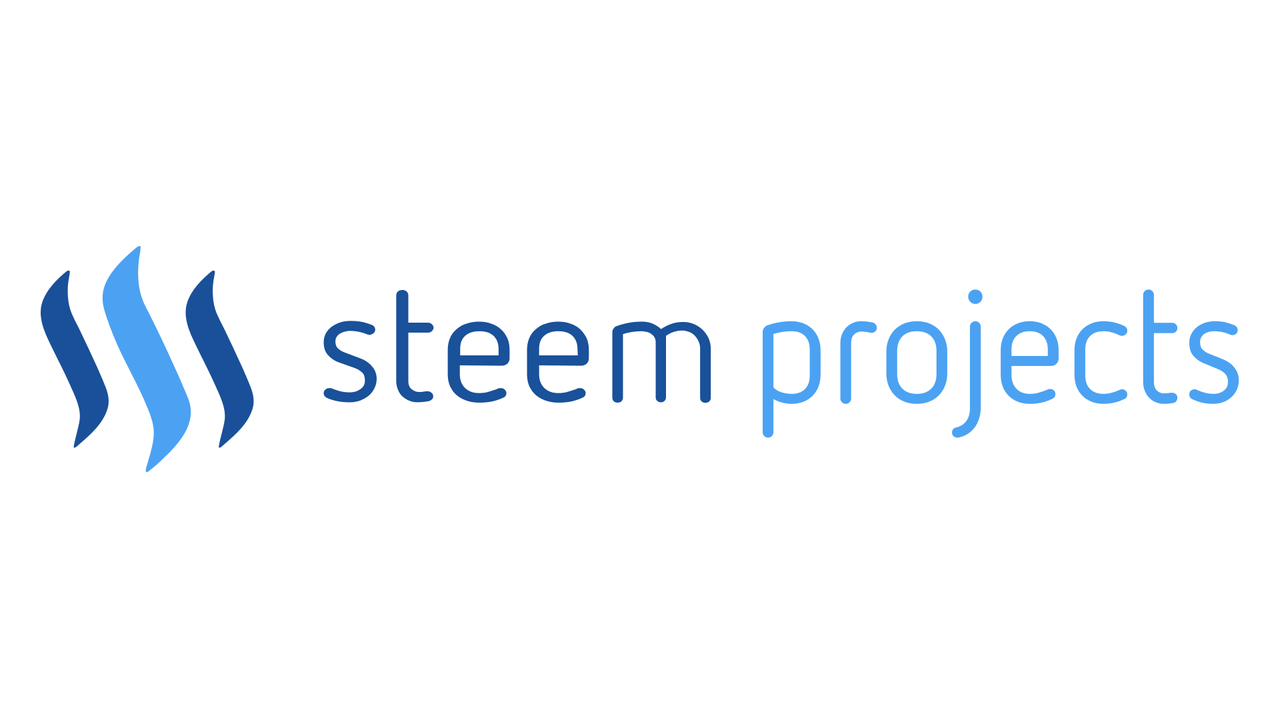 Repository
https://github.com/wise-team/steemprojects.com
What is Steem Projects?
Steem Projects is a directory of apps, websites and tools built for Steem users. For each project on the website, there is a dedicated page that shows a detailed description and activities of a project. This project portrays the level of creativity of the Steem community, ranging from developers to graphic designers.
I first heard about the idea for the project last year, while I was watching a live stream of SteemFest. When it was released months later, the Steem community loved it. Ned tweeted about it during that period. One can even use the website to advertise Steem's diversity.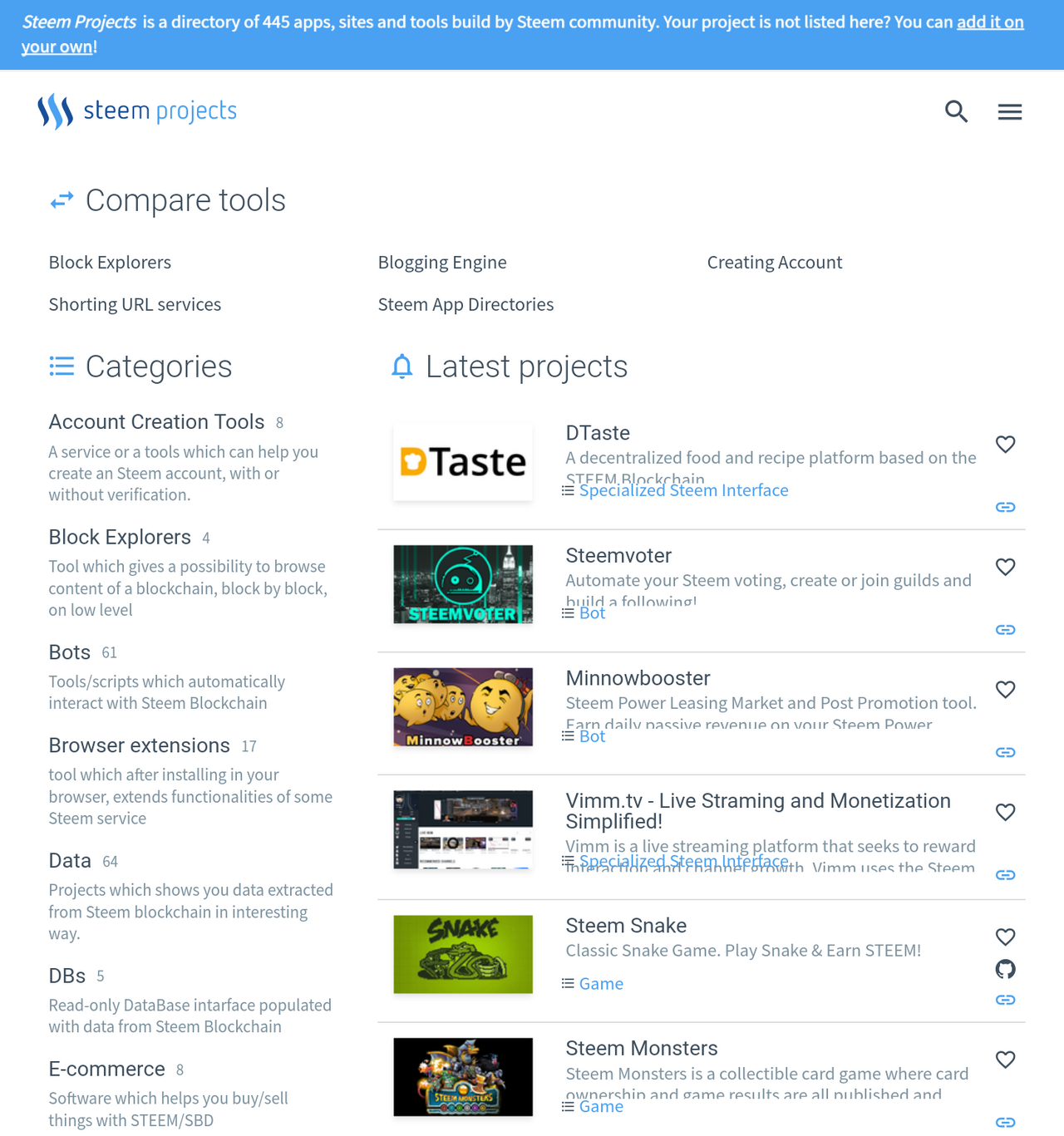 • Image showing Steem Project's homepage
You can find a search button on the homepage. To find a project or its category, simply enter its name. If it's available on the website, you'll see it in the results. You can also choose to compare block explorers, blogging engines, account creation tools, url shorteners and Steem directories.
Categories
There are about 16 categories of projects on the website, ranging from account creation tools to others. There were actually a fewer number of categories when the website was created, it only started increasing with time.
Similar projects are listed under a particular category. For example, the Browser Extensions category shows chrome extensions that were created to interact with the Steem blockchain, and increase the functionalities of other Steem projects. One of the extensions found here is the SteemPlus extension, which I currently use to post articles on the blockchain.
Another example is the Account Creation Tools category, where AnonSteem and QuickSteem are listed. AnonSteem is one of the most popular tool for creating a steem account. It has been around for a long time, even when account creation was less strenuous. It is even more important now, since the introduction of Resource Credits and delayed account creation by Steemit.
There are 15 other categories, with the last category showing projects that do not fall into the other categories on the website. It also happens to be the category with the most number of projects. About 93 projects are listed on this category. This catergory shows projects like Oracle-D and SteemPress. These are two projects, I feel, have positively impacted on the blockchain. The former attracts new investments, while the latter brings contents from WordPress.
Project Page
The Project Page provides detailed information on a project. There are three sections on a project page - basic data, team members and status & catergory. The project name, website link (if any), description of the project and contact details can be seen on the project's basic data. The link to the project's announcement on Steemit and its images are also shown.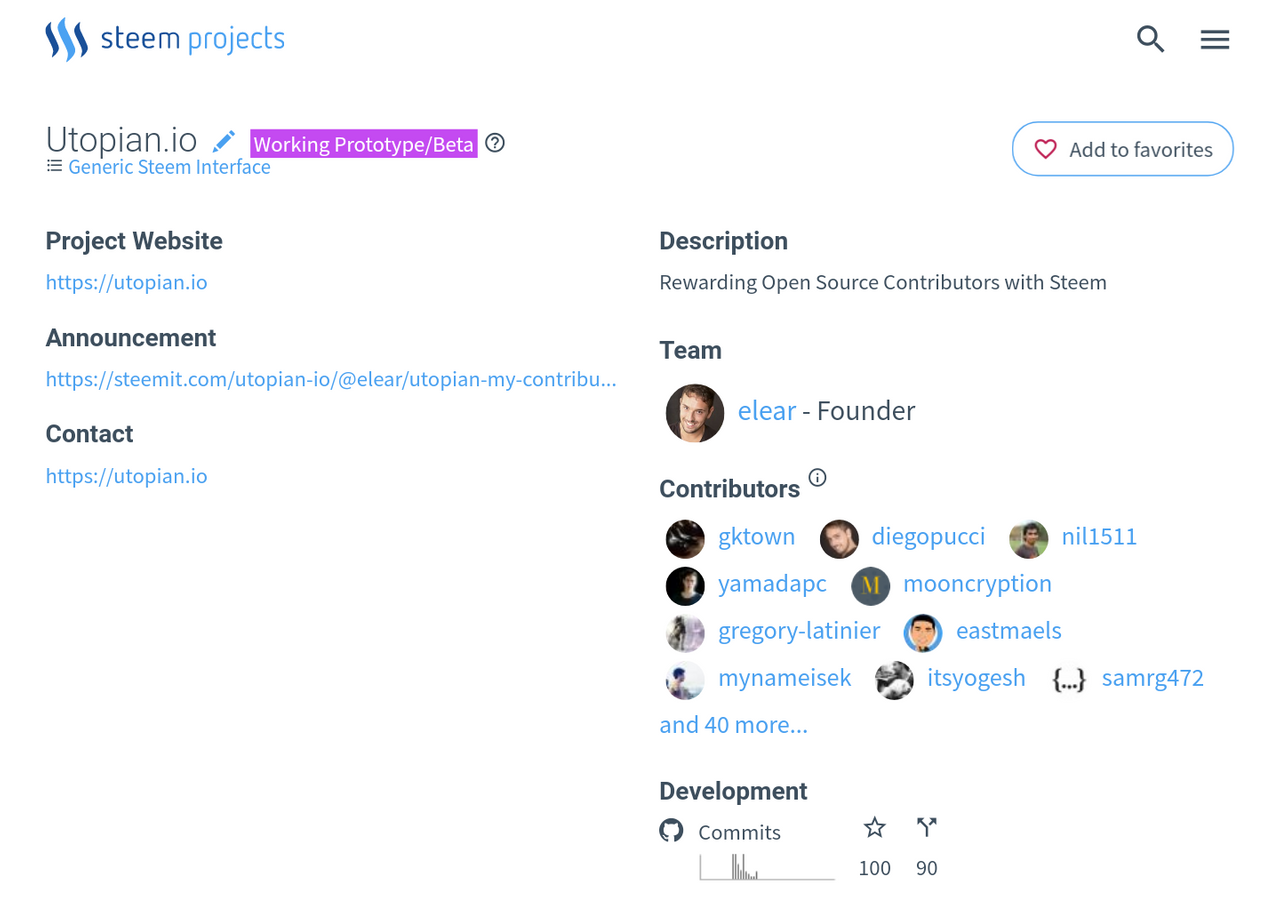 • Project page of Utopian.io on Steem Projects
The team section shows the founder(s) of the project and other team members. The team members can be found on the contribution tab. It shows the top 10 contributors, and a link is provided to view other contributors (when it's more than 10).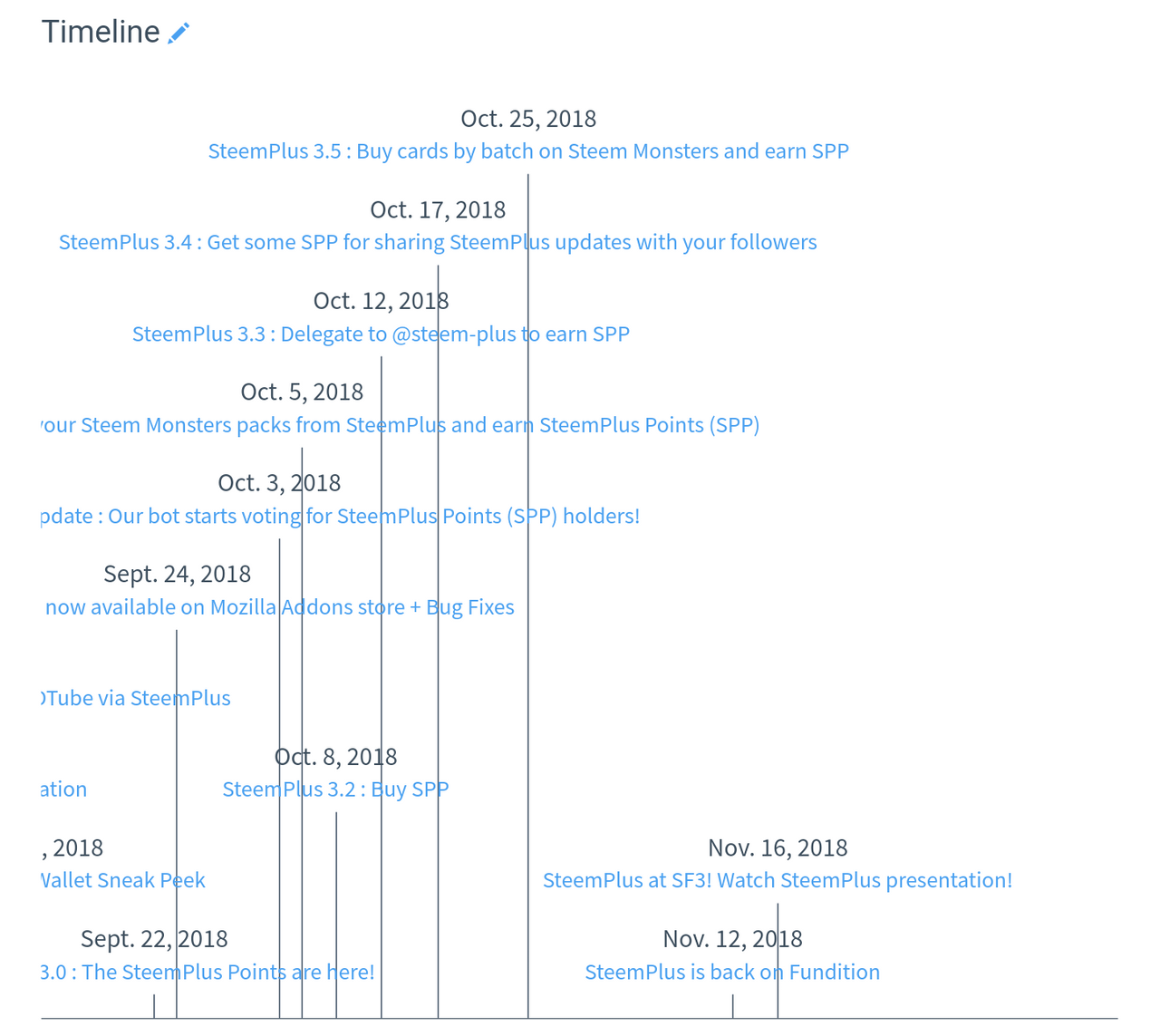 • Project timeline of SteemPlus on Steem Projects
The status & category section is a special section for developers. It's where they can link their projects to relevant repositories. It displays basic stats and the project timeline. The basic stats shows commits made on the github repository as well as the number of stars and merges. The project timeline displays updates made on the project with links to the Steemit posts.
User Page
A user page can be accessed by clicking on the username on a project page. It can also be assessed by adding "@username" to Steem Projects' url. Since the website is not a condenser nor a dApp, not all steem usernames have profiles on the website. Only users that have signed in using SteemConnect or Github have their usernames displayed.


• Checking my username on Steem Projects
If you check the username of an unregistered user, it shows the page above. But if you are to check for maybe the website developer - Noisyy or SteemPlus' Stoodkev, you'll find relevant information.


• User page of SteemPlus' Stoodkev on Steem Projects
A user page shows projects a user have contributed to, projects favourited by the user. The user page also shows other accounts that are linked to the profile.
Security
To sign into Steem Projects, one would have to login using SteemConnect or Github. If you are to login with SteemConnect, it is advised to use a memo key. That is because the website doesn't need posting or active roles. This should be done to limit security risk. I'm very comfortable with the use of memo keys, no panic whatsoever. Github can also be used, to easily link open source projects one has contributed to.
Challenge / Suggestion
The current market condition has lead to an abandonment of several projects on the website. While the developer of some may have absconded after profiting from the steem community. When you click on the url of some of these projects, it leads to Ads infested pages, while others simply do not exist. Some open source projects do not appear as open source projects on the website. While for some that appear as open source projects, clicking on the link led me to an invalid page.
I would recommend an internal audit is done for each project on the website, about half of them do not exist anymore. It would be a bad experience for a new user, going through the website with hope of finding steem-based projects.
Steem Projects vs Other Directories
Steem Projects is not the only directory on Steem, there are several others. They include: SteemTools, Steem.Center and Steemlets. SteemTools used to be a direct competitor to Steem Projects, currently it redirects to Steem Projects. The code for SteemTools is still available on Github. On the other hand, Steemlets has been abandoned.
Nevertheless, Steem.Center is a wiki-styled directory that shows relevant steem articles and projects. Both Steem Projects and Steem.Center users can edit and add information to projects. Users can log into Steem Project with either SteemConnect or Github, but on Steem.Center users will need to create an account on the website. There are only a few images on Steem.Center, whereas Steem Project shows screenshots for each project.
Steem Project is a more comprehensive directory, showing concise information on each project. Steem.Center, on the other hand, is where you head to if you're more concerned reading about Steem history. Both projects are interesting, and I'm glad both still exist.
Conclusion
This is one tool that makes it easier to ascertain the rate at which the Steem community is growing in diversity. I was delighted to know about it before the project was launched, but it's never too late to know it exists. Steem Projects puts most of the awesome projects on Steem in one place, which is fascinating. I wonder how many projects I wouldn't have known about if this tool didn't exist.
If you have been looking a tool that shows you project on the blockchain, search no more. This is what the Steem community needs to get a grasp on what's available. I know creating a directory ain't an easy job, thanks to the innovative team for developing such a directory.
Regarding the question asked at the title of the article, I have several projects I'm fond of on Steem. It'd be an endless list if I'm to write them all out.
I'm glad you made it here. Do have a great weekend. And do not forget the current market condition creates an opportunity to increase your share capital on Steem. :)
Official links
• Steem Projects
• Steem Projects on Github
Series Backlinks
This is the first post in the series. Subsequent posts will be made on other features available on Steem Projects.