According to the Merriam-Webster dictionary, a friend is "a person who helps or supports someone or something."
Friendship on most social networks is dependent on human interaction and communication. Is Steem any different? How do you determine your friends on Steem? We'll be discussing the answers to these questions in this article. Sit back, relax and enjoy the ride. :)
On Steem, users can communicate with one another via the comment section. They can also interact through upvotes. Upvoting a post or comment usually signifies an agreement with its content.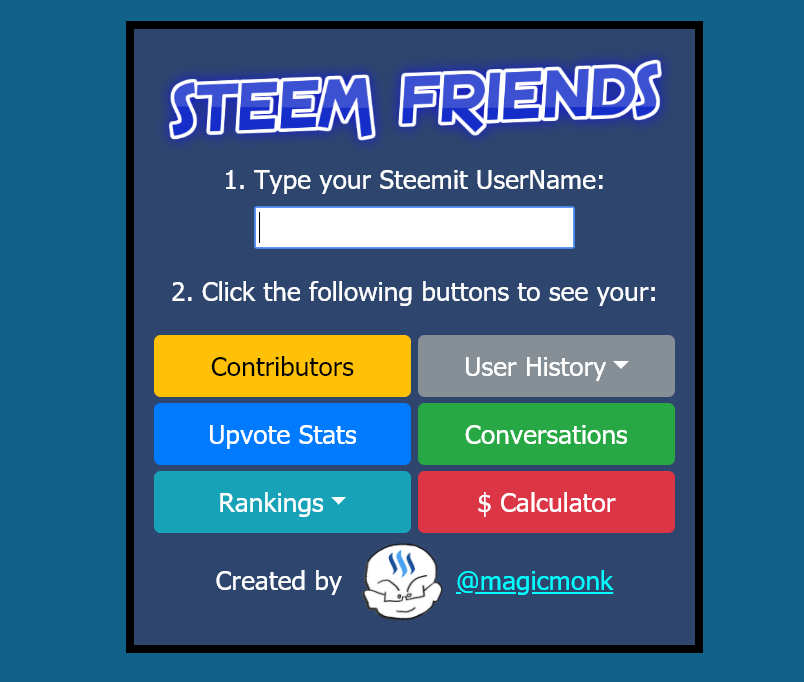 • Screenshot of SteemFriends.org homepage
Repository
https://github.com/bulletproofmonk/MySteemitFriends
What is SteemFriends?
It is a tool used to check an account's relationship with other steem accounts. It tells you who your friends are on the blockchain, based on number of upvotes (and its weight) received from them. Originally, it was known as 'MySteemitFriends.online'.
As time went on, it became necessary to rename the project. The previous URL was just too long. Short URLs have a better chance at being "catchy," and are more likely to "stick" in someone's head. It was, therefore, renamed from My Steemit Friends to Steem Friends. The domain extension was switched from .online to .com. The new name shows that it is not limited to Steemit, as it is also relevant to other Steem condensers.
The developer behind this awesome project is Edward Chan (@magicmonk). He was inspired by Oflyhigh's tool, Who mute me? The who mute me? tool is a simple script that displays user(s) that have muted a particular Steem account. Really cool tool, I must admit. With this tool, I found out that a long time associate of mine muted me. It gave me clarity, as to where I stand.
When Steem Friends was created, it was limited to displaying steem accounts that have upvoted posts from a particular user. It also showed the articles that these accounts upvoted.
Even at that, it was an amazing website. Some users gave some of their coin holdings (Steem and SBD) to their top friends listed on the website. I benefited from one of those. The tool provided a way to know active followers.
Over the months, there have been several updates. Not the name alone, when you visit the website there are now 6 options in the drop down menu. The features include:
(i) Contributors
(ii) Upvote Stats
(iii) Conversations
(iv) Rankings
(v) $ Calculator
(vi) User history
In this review, we will be giving attention to the first three features. In a sequel, we will take a look at the others.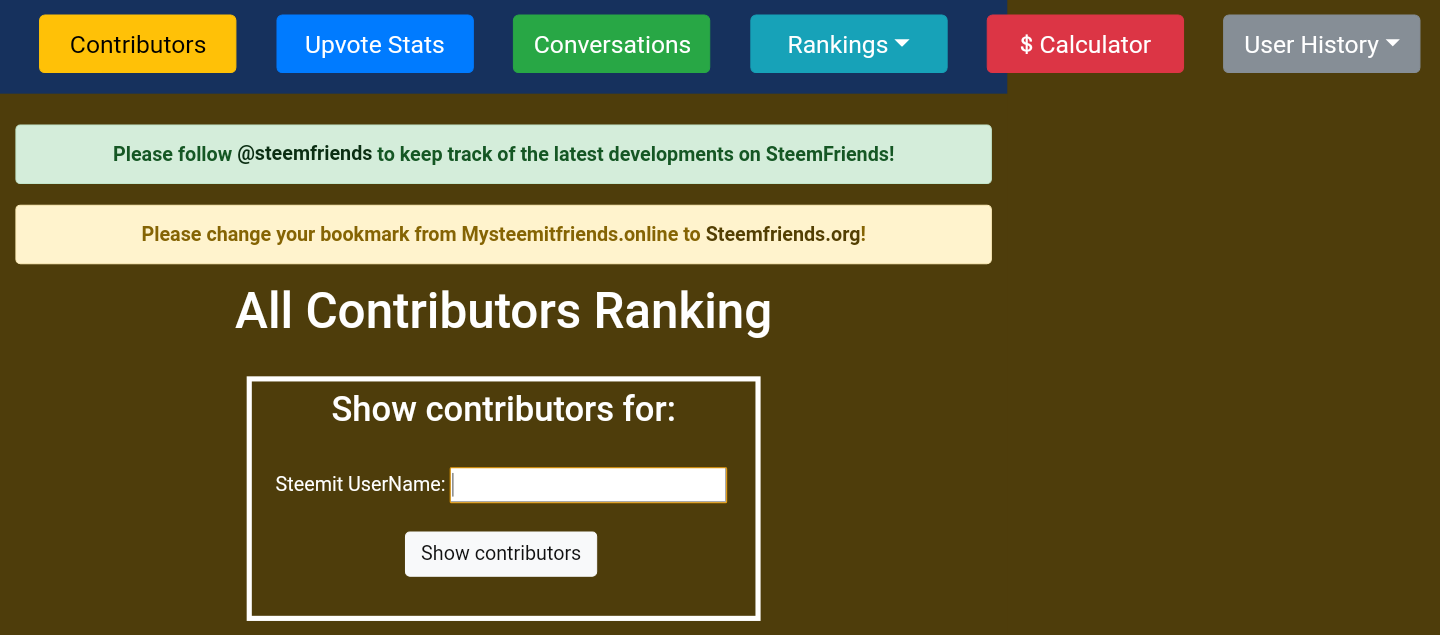 • Screenshot showing SteemFriend's Contributors' page
(i) Contributors
This tab on the website shows a list of accounts, and their contributions made through upvotes. To access this tab, you can insert your username on the homepage and click the yellow button labelled "contributors". Or click on the dropdown menu and select "Contributors". This would lead you to the contributors' page.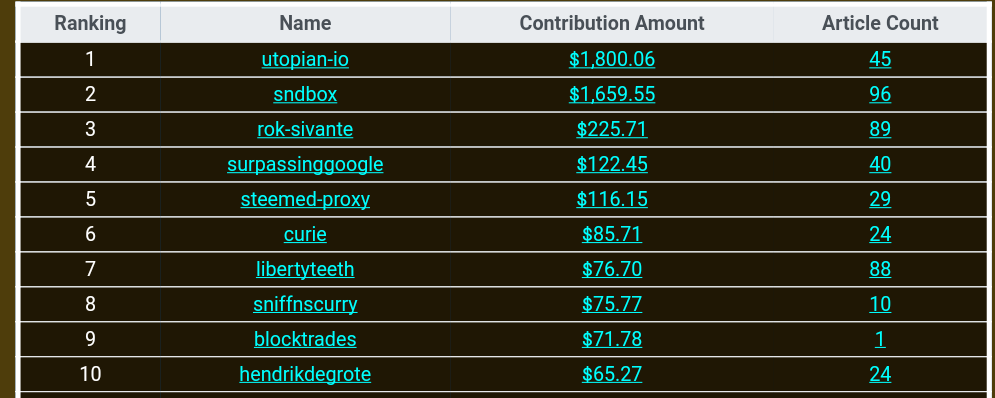 • Table found on SteemFriends' Contributors page
The table found on this tab shows the ranking, name, contribution amount and article count. According to the website, utopian-io is my number one contibutor. The contribution amount column shows I've received $1,800.06 from Utopian, through upvotes on 45 posts. The second on the list is Sndbox, who have rewarded 96 of my posts worth $1,659.55. While the third on the list is Rok-sivante, who upvoted 89 of my posts with a worth of $225.71.
The ranking on the Contributors' tab is based on the upvotes worth. That is why Utopian-io is placed above Sndbox, although they have upvoted lesser number of posts than Sndbox.
The contribution amount shows the worth of all the upvotes received from these accounts. The contribution amount is displayed in dollars. You can get how the website arrived at the contribution amount through the article count column. Utopian's $1,800.06 contribution from 45 articles, signifies the sum of their upvote values from the 45 articles: $1,800.06.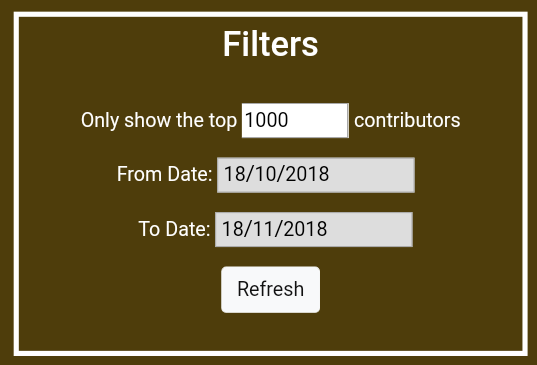 • Contributors' filters
There are filters on the Contributors' page. You can chose the number of top contributors to display. If I want to see my top 5 contributors, I'll input 5 in the box that shows 1000 in the screenshot above. I can also check top contributors within a defined time period. Let's say I want to check for top contributors for the month of October. I'll set the date from 10/01/2018 to 10/31/2018. That would show me top contributors for the month of October 2018.
With this feature, you'll be able to know where your rewards are actually coming from. Without this feature, I wouldn't have known that Utopian have rewarded me more than Sndbox. Who would have thought? I mean, Sndbox have upvoted more of my post than Utopian. So I just assumed that they've rewarded me the most.
(ii) Upvote Stats
This tool's page is divided into two. It shows who have upvoted a user and the number of post that was upvoted. This is quite different from the Contributors' tab. The Contributors' tab is focused on the worth of upvotes, while the Upvote Stats tab is focused on the number of upvotes.
This tool is quite similar to the initial feature of My Steemit Friends website, which was focused on the number of upvotes received. This tool also shows a list of top upvoters and top users an account has upvoted in a descending order.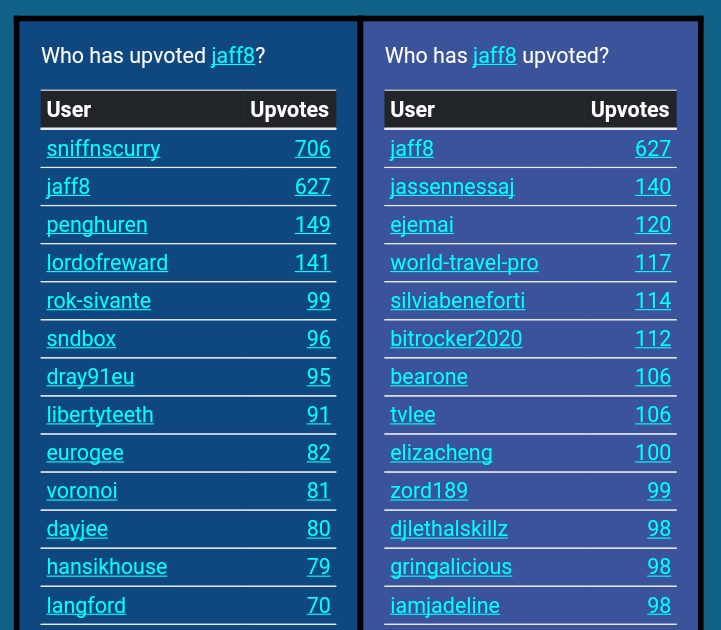 • Tabs found on SteemFriends' Upvote Stats page
Looking up my account on this tool shows where most of my upvotes are from. Sniffnscurry is number one on "Who has upvoted jaff8?" tab, with 706 upvotes. Jaff8 is number two on this list with 627 upvotes. This means that I upvote most of the articles I post. Well, heaven help those who help themselves. :D Penghuren is number three on the list, with 149 upvotes.
The other tab on Upvote Stats shows users that I have upvoted the most. I'm number one on this list. I was always taught to be my number one fan. :) Others in this list are, Jassennessaj and Ejemai. I have upvoted them 139 and 119 times respectively.
The votes mentioned above are for both posts and comments. The settings can be changed to posts only. Just like in the Contributors' page, I can decide to veiw the upvotes within a specific time period.


• Upvote Stats ranking types
There are three ranking types on this page. You can decide to show the Upvote Stats by number of upvotes, by total weight or by SP and total weight. Selecting the number of upvotes ranking is self explanatory. When you select the total weight ranking type, it shows Upvote Stats based on the voting weight used. While selecting SP and total weight ranking type shows a list based on the voting weight used in relation to the account's steem power.


• Screenshot showing Coversations page on SteemFriends
(iii) Conversations
This feature was included to Steem Friends around February this year. It is a tool used to see conversations between two steem accounts. You can check the conversation of X and Y, by inputting X's username in the first box and Y's username in the second box. This would show comments and replies on each other's post.
Have you ever seen a steem username and feel you've interacted with this user before? Would you like to know if you've actually had any conversation with him/her?
This tool would prove very helpful. I had a long conversation with a Steemian about a month after I joined. I still remember her name, but I can't surf through my comments since I have made thousands of them already. Even so, since I know her name, all I have to do is input my username in the first box and hers in the second.
The Conversations' tool sorts comments and replies between users according to time. From newer interactions to older ones. It also provides the links to the comments on Steemit.
I used the tool some weeks back to check my conversation history with @surpassinggoogle. He was a really kind and helpful friend when I joined the blockchain. As thoughts of him crossed my mind, I headed to the website and wrote my username and his in the spaces provided. I saw comments I made when his mum was seriously ill, his replies even after we lost her.
This is a tool that takes a steem user back in time. It reminds you of wonderful memories and of course, sad ones too.

SteemFriends Expected Updates
For now, MySteemitFriends is still active and redirects to SteemFriends. In future updates, MySteemitFriends would be discontinued. Since domains aren't free, it's a wise decision made by the developer. It is best you memorise the new domain name, if you haven't done that already.
The changes in the domain name and extension make it easy to memorise.
Conclusion
Steem Friends is an all-important tool for curators, writers and data analysts. At times, I'm interested in analysing data on Steem, but I do not have the required expertise. With Steem Friends, I can do this. It connects to SteemSQL database, which I ordinarily wouldn't be able to access.
Whose upvote have given you the most rewards? Who upvotes you the most? What conversation would you like to see again? Would you like to determine the relationship between two accounts?
SteemFriends is here to help.
Official links
• SteemFriends website
• SteemFriends on Github
• MySteemitFriends.online - A new tool to see who gave you how many upvotes on Steemit
Series Backlinks
This is the first post of a new series. I intend to write more on SteemFriends in a subsequent post.