It is easy to assume that I'm referring to your account's reputation, when I asked the question "What's your rank?" Within the context of my previous post, we are all friends; therefore, what's your rank amongst your friends?
In this article, I'll be focusing on the various "rankings" you'll find on SteemFriends. I strongly suggest that you read my previous post on the series, to understand the features already discussed. Here is a link - SteemFriends - Showing Your Friends on the Blockchain.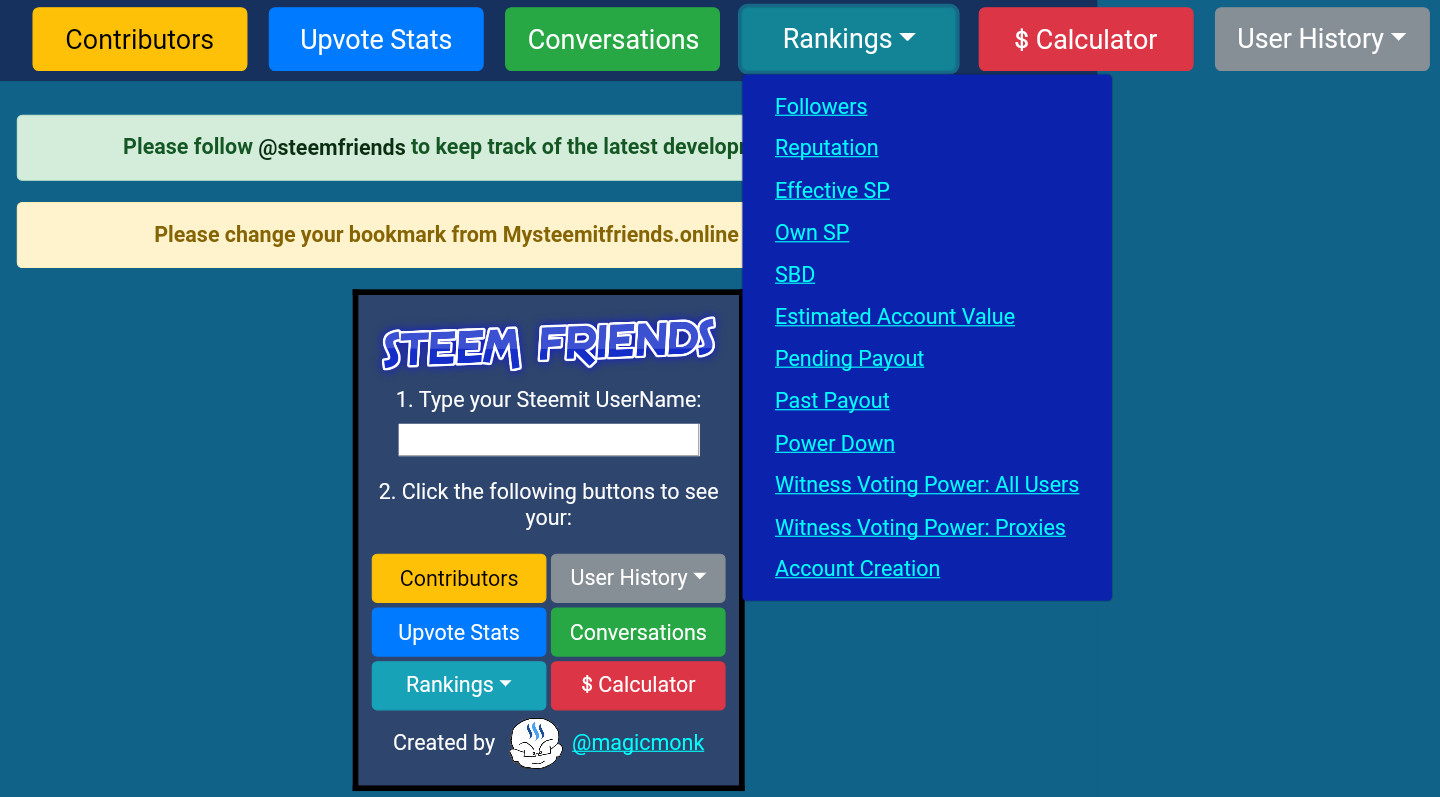 • Screenshot of SteemFriends.org homepage
Repository
https://github.com/bulletproofmonk/MySteemitFriends
What is SteemFriends?
If this is the first you've heard about SteemFriends, it is a tool that is used to check an account's relationship with other steem users. The ranking feature on SteemFriends tells your account position on steem, based on your number of followers, your steem power, your reputation, and other categories. Initially, it was known as 'MySteemitFriends.online'. The name was changed some months ago to SteemFriends.
SteemFriends connects to SteemSQL, a public Microsoft SQL database containing all the Steem blockchain data. That is why SteemFriends' rankings is possible in the first place.
To access the various ranking systems, you can insert your username on the homepage and click the button labelled "Rankings". Or click on the dropdown menu and select "Rankings" with a down-arrow. The list of the of the different ranking categories that appear on SteemFriends can be found below.
(i) Followers
(ii) Reputation
(iii) Effective SP
(iv) Own SP
(v) SBD
(vi) Estimated Account Value
(vii) Pending Payout
(viii) Past Payout
(ix) Power Down
(x) Witness Voting Power: All Users
(xi) Witness Voting Power: Proxies
(xii) Account Creation
(i) Followers
This tab shows an account's ranking based on the number of followers. For my account, it says "jaff8 has 1333 followers and is ranked at 7924." A link is also included at the bottom of the page to see the page my username appeared on. My username appears on page 159. I'm definitely not among the top hundred nor thousand accounts on Steem. :(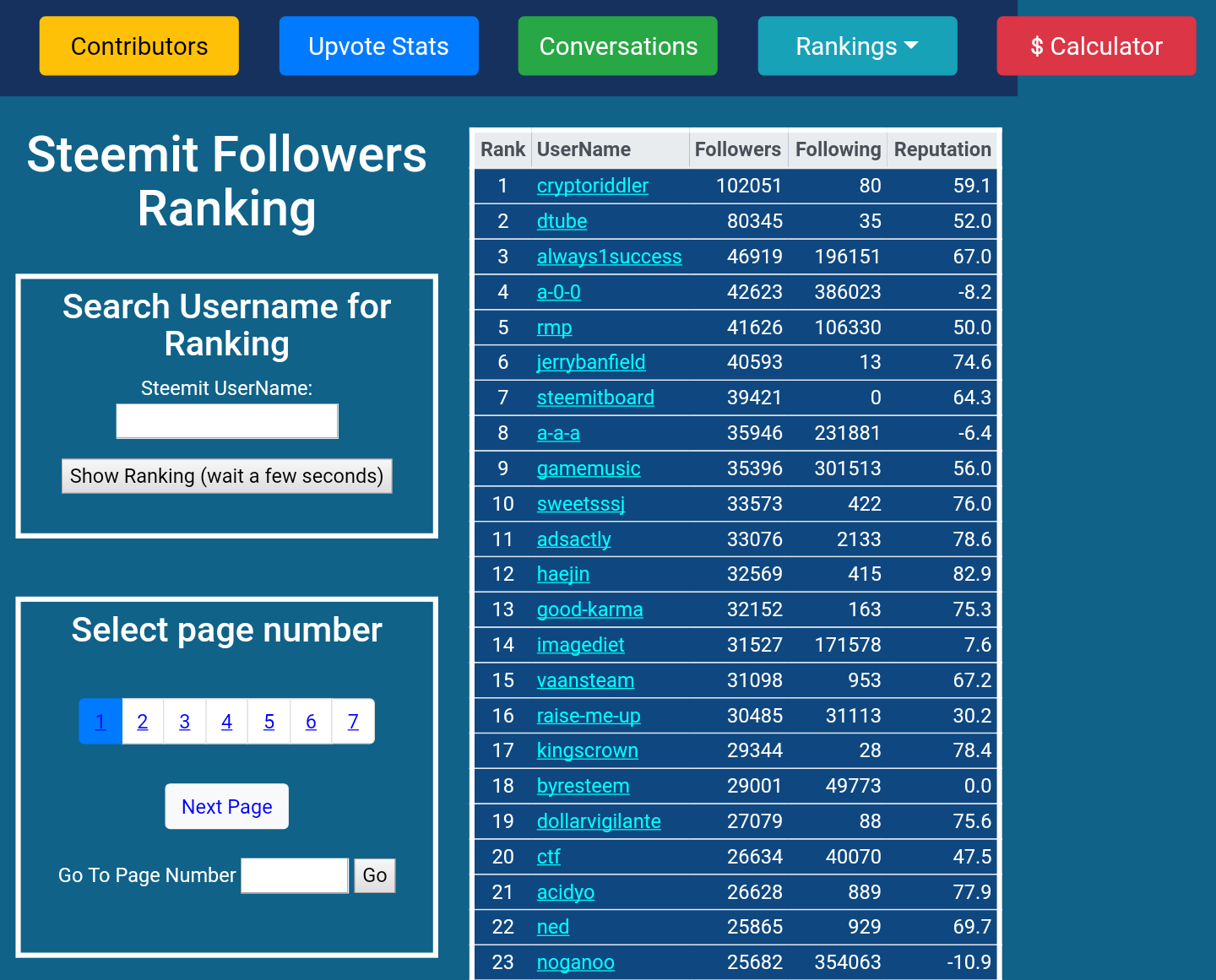 • Screenshot showing most followed accounts on Steem
With this tool, you can also check the most followed accounts on Steem. By clicking the "followers" button. The first page shows the most followed accounts in a decent ingredients order. Cryptoriddler is number one on the list, so he has the most followed account on Steem. I used to think it was Heajin, because he's been involved in many controversies on Steem. He still appears on the first page though, but number 12.
If we are to judge dApps based on the number of Steem followers, then Dtube is the winner. Dtube is the second most followed account on Steem. That is understandable, it's one of the oldest dApps and also quite popular.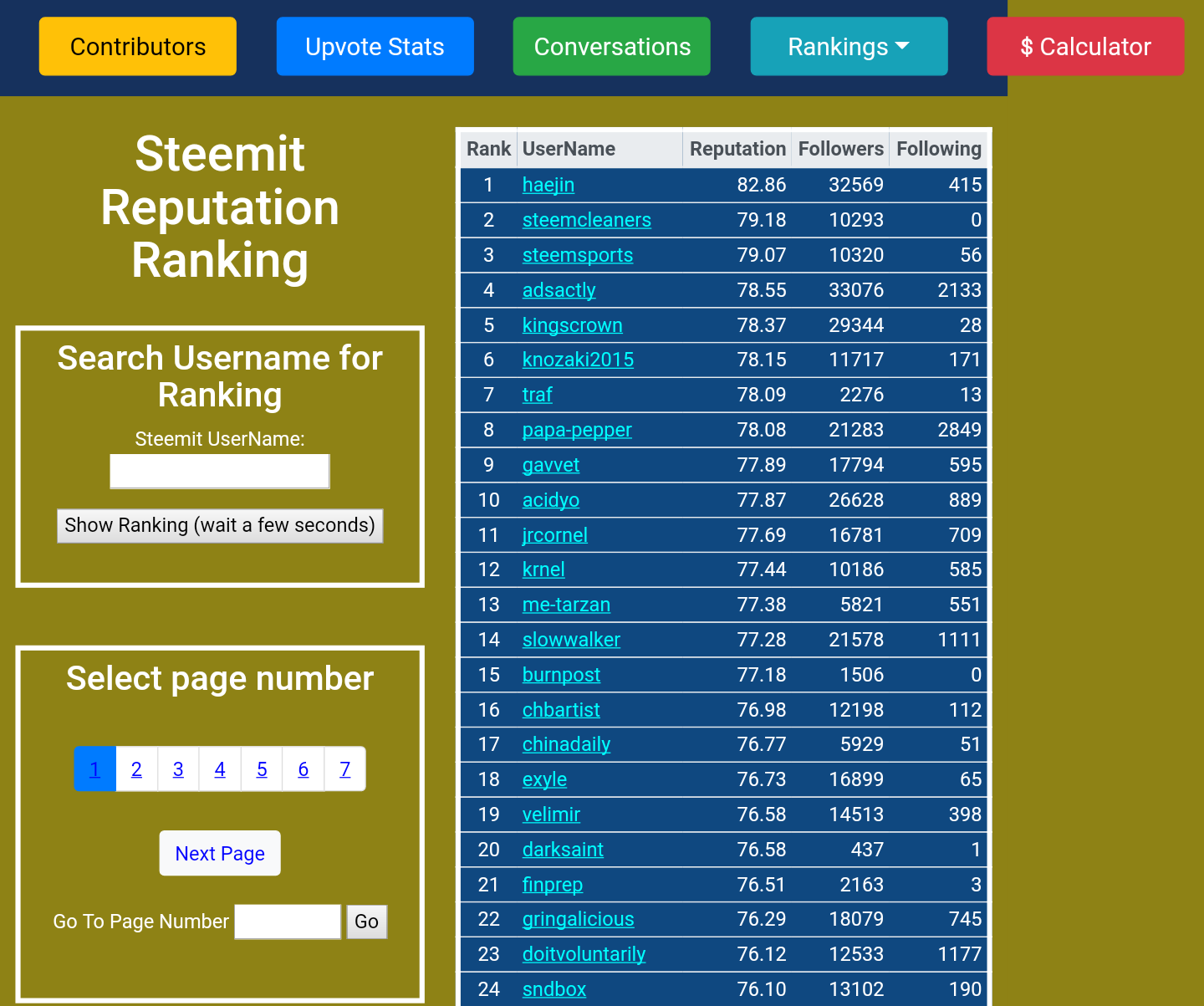 • Screenshot showing ranking by reputation on SteemFriends.org
(ii) Reputation
This other tab shows accounts ranking based on their Steem reputation. Here Heajin is number one. He was known as "The Lord of the Rewards Pool" during the last Steem bull run. That helped increase his reputation. The second account with the highest reputation is SteemCleaners. This is an account that helps to reduce spamming and plagiarism on Steem. They definitely deserve the reward.
When I joined Steem, SteemSports had the highest reputation. They aren't the highest anymore, but they are still giving it a run. They are the third most followed account on Steem.
If you are interested in knowing your rank based on your reputation, this is the tool you need.
(iii) Effective SP & (iv) Own SP
Effective SP or Steem Power on the website means the Steem power an account currently possess. For Effective SP tab, outward delegations are not considered, but received delegations are considered. While the Own SP tab doesn't consider delegations.
Steemit's account is number one on both Effective SP and Own SP tabs. Steem's account is number two on effective SP list, while misterdelegation is number two on Own SP list. All three accounts belong to Steemit Inc. Some users have been complaining about this, because it makes Steem centralised in a way. Since official accounts own the most SP, that means they could influence many things.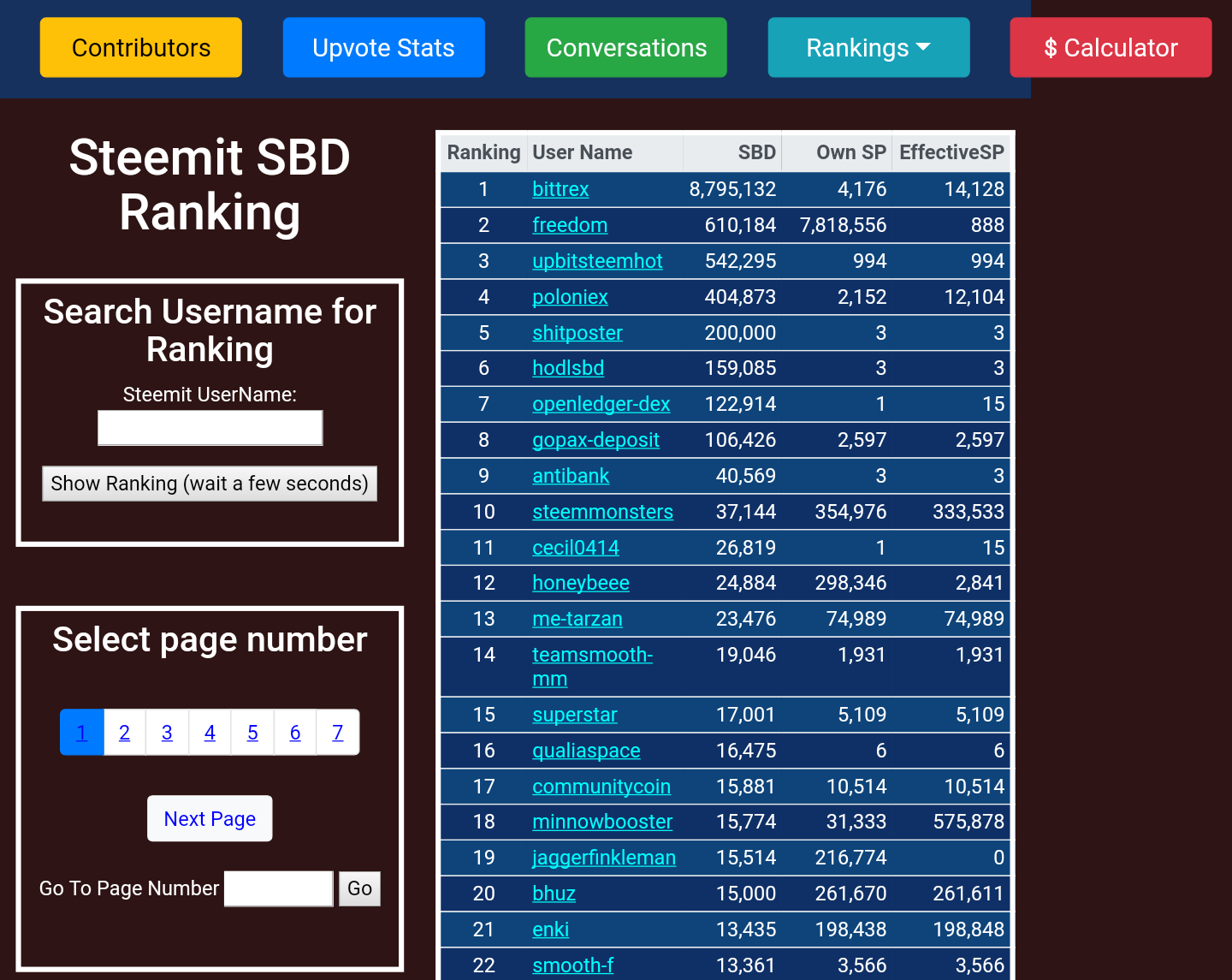 • Screenshot showing ranking by SBD on SteemFriends.org
(v) SBD
SteemFriends also shows ranking based on the number of SBD in an account's wallet. Most of the accounts on the top of the list belong to exchanges. Bittrex for instance, is number one on the list with over 8,000,000 SBDs. The closest to that is Freedom with over 600,000 SBDS, who is number two on the list.
Rewards on Steem usually comes in SBD and Steem Power. When users recive these rewards, most sell the rewards to exchanges. Bittrex being the most popular exchange on Steem, it is understandable why they're number one on the list.
(vi) Estimated Account Value
The estimated account value tab on SteemFriends takes into account the total amount of SBD, Steem and Steem Power an account have. It also have columns showing an account's SBD, Steem and Steem Power. Steemit is number one, followed by Bittrex. The third on the list is Misterdelegation. Steemit and Misterdelegation presence on the list is due to their Steem Power. While Bittrex presence is due to its SBD possession.
(vii) Pending Payout / (viii) Past Payout
The Pending Payout page shows Steem's 7-day top accounts based on their pending payouts. While the Past Payout page shows a 30-day top accounts payout based on SBD.
On the Pending Payout page, the top five users are expending over 1,000 USD. Chbartist is number one on this list with about 3000 USD in pending payout.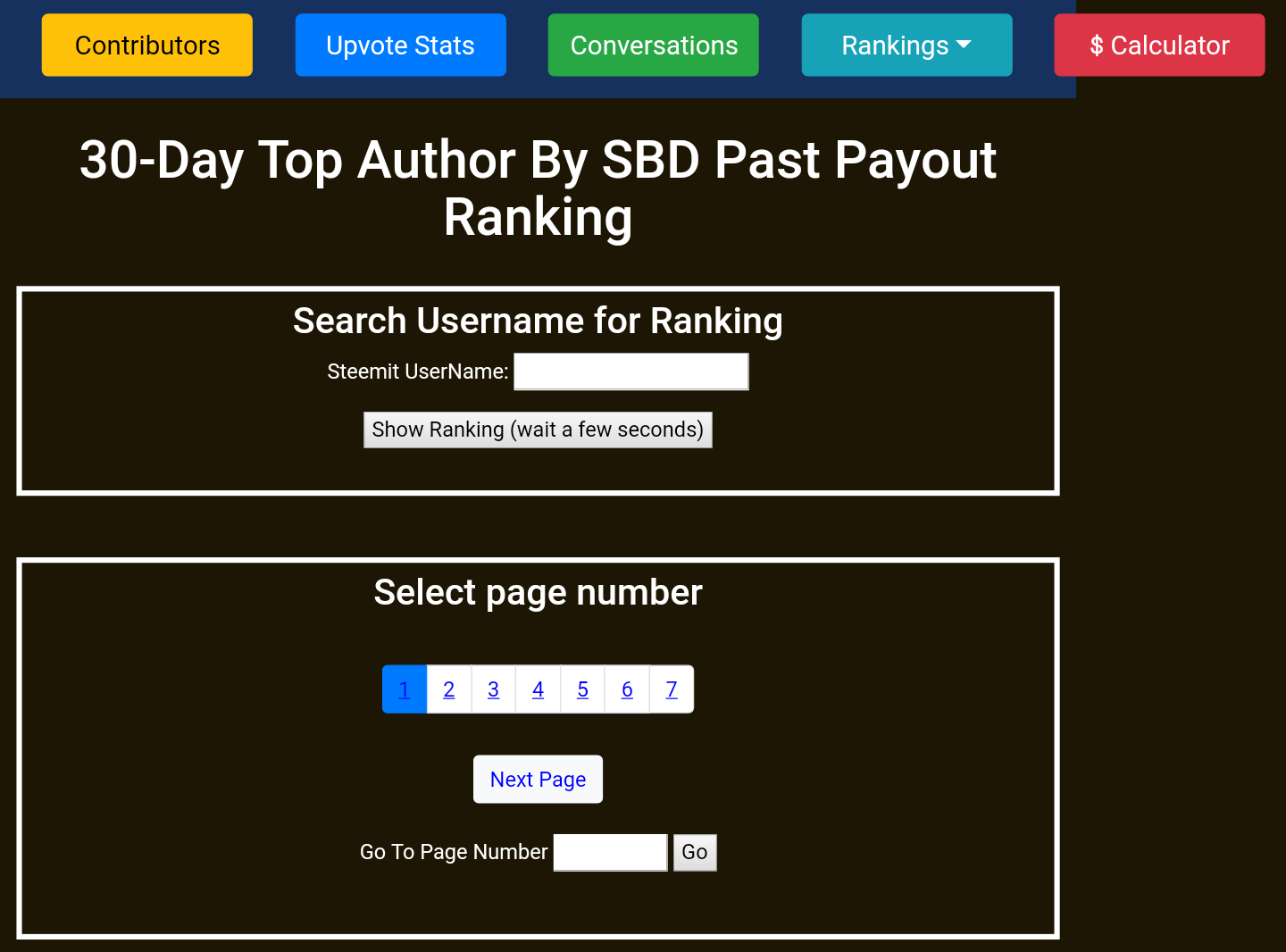 • Screenshot of Past Payout's page on SteemFriends.org
Currently, it seems there is a bug on the Past Payout page. It doesn't show any information.
(ix) Power Down
Would you like to know who is powering down? On the Power Down page you can find big accounts powering down. The powering down of these accounts usually have effect on the price of Steem. The page contains a box where you can write the number of top accounts you want to see. It highlights the account's row in red when it is powering down.
You can select to view only users powering down in the options tab, by selecting powering down users.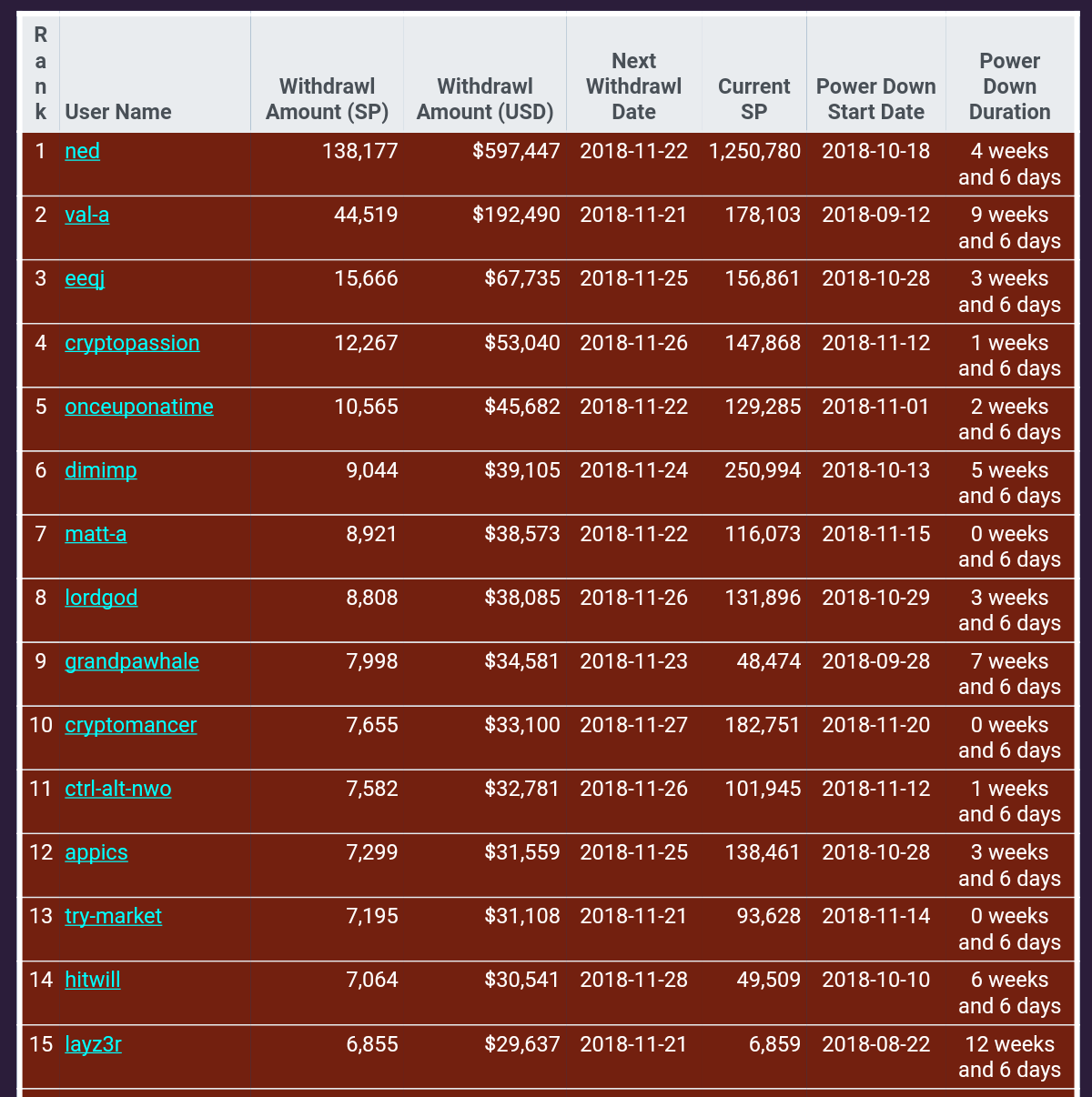 • Screenshot of Power Down page on SteemFriends.org
On the list, it shows Ned, Fyrstikken, Ngc, and fulltimegeek are all powering down. The dollar equivalent of the withdrawn amount it shows is inaccurate though. This is because it takes 1 Steem as 4.32 USD. I wish it were so, but that was many months back. Probably this page hasn't been updated since then.
(x) Witness Voting Power: All Users / (xi) Witness Voting Power: Proxies
An account on Steem can vote for witnesses or decide to set a proxy. The witnesses voted by the proxy becomes the account's selection by default. The value of an account's witness vote is dependent on the account's vests.
Witness Voting Power: All Users and Proxies pages show lists of top Steem accounts. The information found on both pages are similar, showing own vests and proxied vests.
These pages help users to know Steem accounts that can influence witness ranking. If the first and second account found on these lists vote a witness, that witness would appear amongst top 40 witnesses.
(xii) Account Creation
An easy tool that shows when an account was created. Wondering when a steem account was created? There is a search box on the Account Creation page.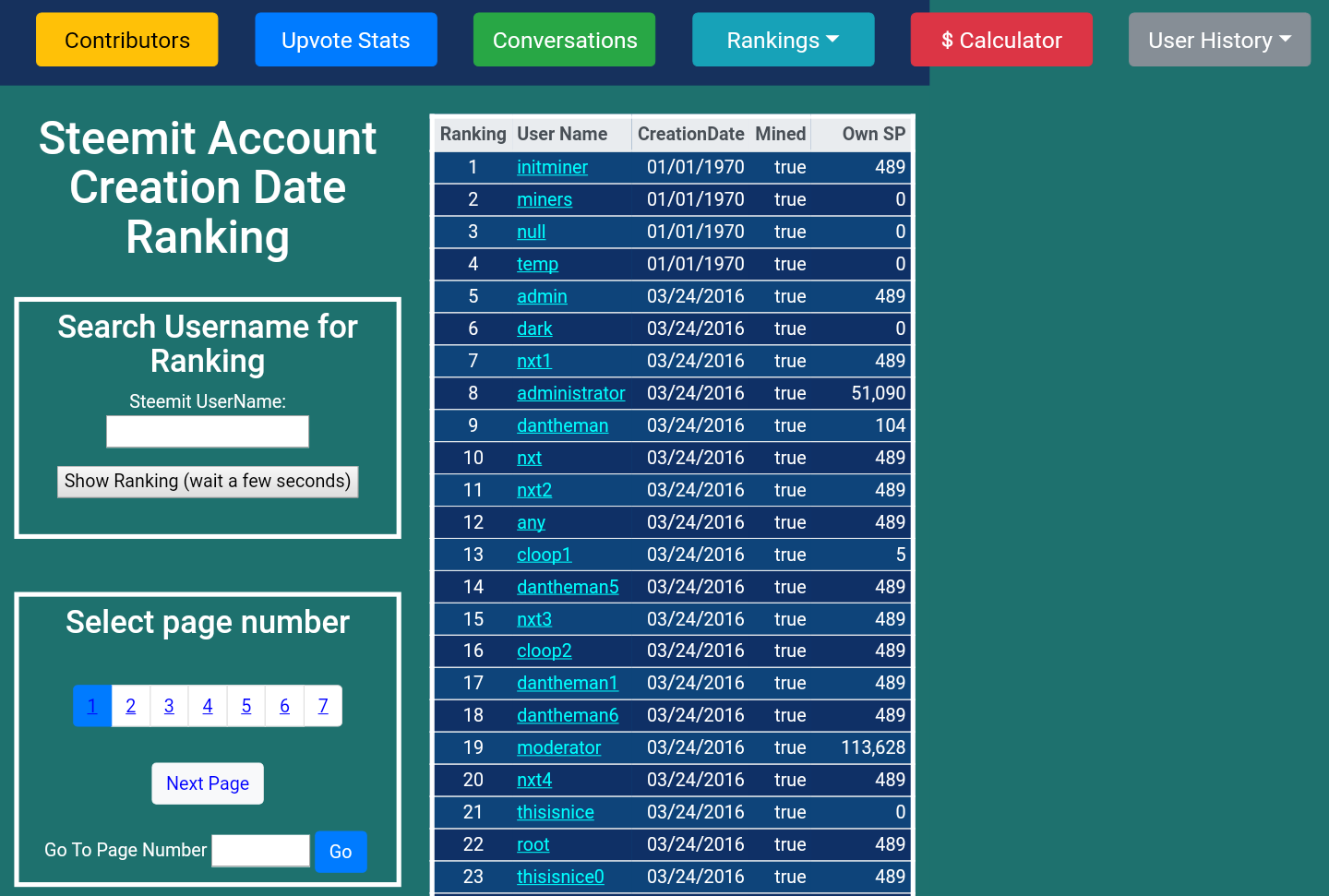 • Screenshot of Account Creation date page on SteemFriends.org
The oldest accounts on Steem are initminer, miners, null and temp. The account creation date for the accounts shows 01/01/1970. It wasn't actually created in the year 1970, it is just an Epoch date or Unix time. That is the date when the time started for Unix computers, and that timestamp is marked as '0'.
Other accounts on the first page were created on the 03/24/2016. Steemit, dantheman, and moderator appear on this page. This may come in handy for those that are curious about how steem started.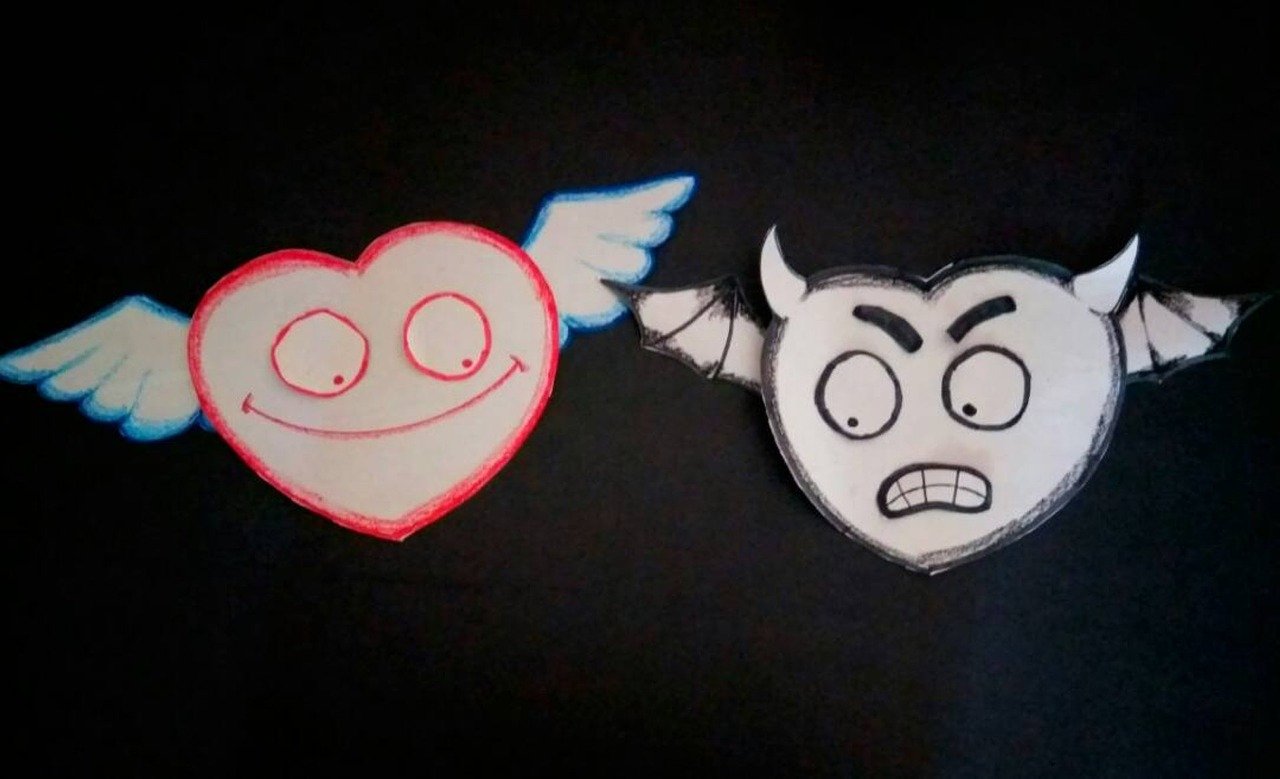 • Image by techexpect on Pixabay
SteemFriends' Rankings vs SteemWhales
They are both open source projects. SteemWhales is primarily used for ranking steem accounts, while SteemFriends isn't limited to ranking steem accounts.
SteemFriends ranking is based on followers, reputation, effective SP, own SP, SBD, estimated account value, pending payout, past payout, power down, witness voting power (all users & proxies) and account creation date.
While SteemWhales ranks is based on estimated account value, SBD, SP, steem, curation rewards, posting rewards, number of following, number of followers, number of posts and reputation.
SteemFriends doesn't rank accounts using curation rewards and number of posts, while SteemWhales doesn't rank accounts based on witness voting power. Both websites have features that compliment each other.
Conclusively, both SteemFriends' rankings and SteemWhales' look comprehensive. But the information found on SteemWhales are not accurate, it hasn't been updated for a really long time. I would suggest that SteemFriends try to make use of charts when showing distribution of coins. Charts would appeal to people that have problem with numbers.
Conclusion
SteemFriends' rankings provide valuable information regarding steem users. It gives me a glimse of the amount of SBD users have. SteemFriends has both historical tools (eg. Account Creation, Past Payout) and analytical tools. I never knew Dan's account was created before Ned's (Both are founders of Steem). It would be appreciated if the bug on the Past Payout page is fixed.
Official links
• SteemFriends website
• SteemFriends on Github
Series Backlinks