Repository
https://github.com/drov0/steempress
Components
Gutenberg is a new editor for wordpress. Wordpress will use this starting from version 5.0 as a default editor. Getenberg has many advantage over classic editor. I want Steempresss to integrate with Gutenberg. This is integration so some kind of coding will be needed.
Proposal Description
Steempress work very well with classic editor. There is an option to choose whether post to steem or not. I would like to add this feature to Gutenberg editor.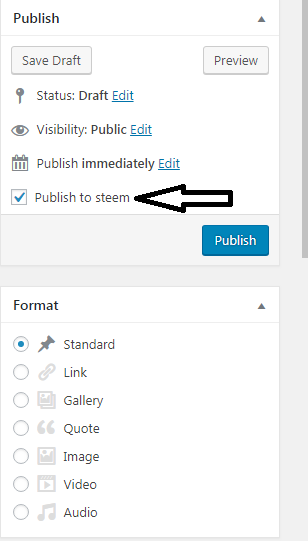 In above image, An arrow is pointing to public to steem check box.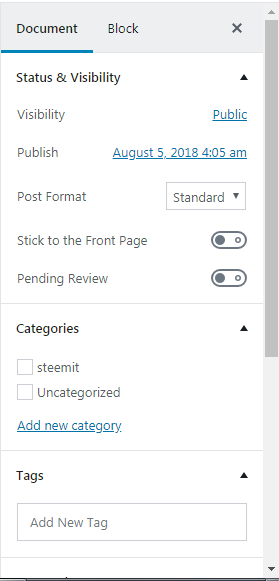 In Gutenberg editor there is no option for the public to steem check box. This is because integration with Gutenberg is still needed.
Mockups / Examples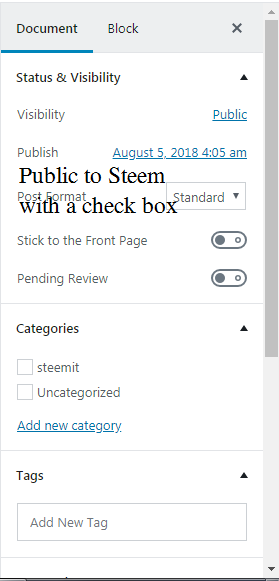 I would like to add public to resteem check box under the Public. It is labelled in the above image. As a ender use I don't know about the coding. If steempress developers need code for integation, the following link will lead to wordpress/gutenberg project in github.
https://github.com/WordPress/gutenberg
Benefits
As wordpress will use gutenberg as a default editor starting form version 5.0. A lots of blogger will use this because of its design and easy to use features. Steempress team will need to follow with wordpress changes.
GitHub Account