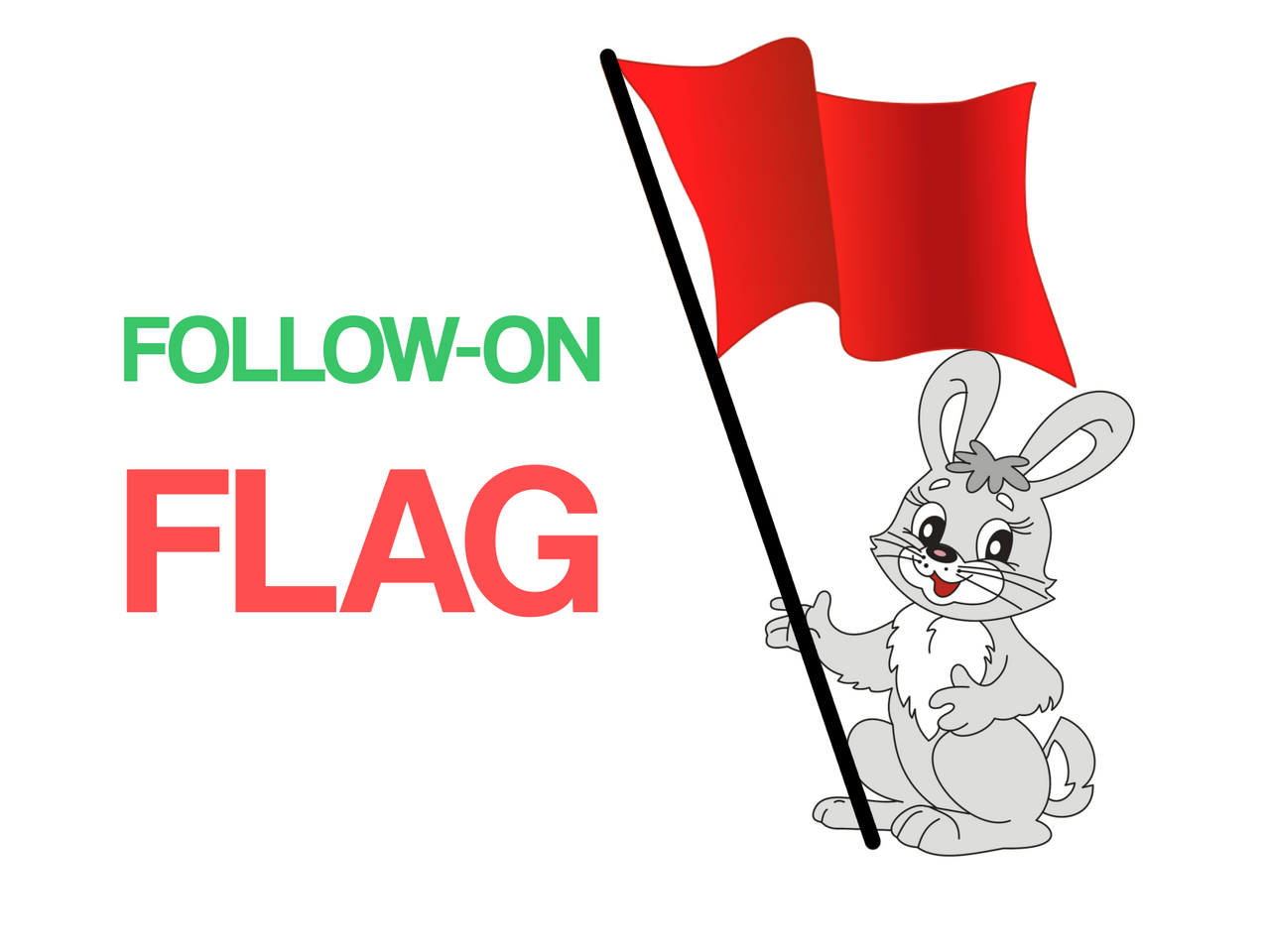 Repository
https://github.com/CodeBull/FollowOnFlag/
Follow Steem Flag Rewards (SFR) approved flags and automatically flag those abusive content. Follow-on flag is flagging abuse following another abuse fighter's lead. It is very effective in reducing or zeroing out abusive content's rewards.
How it works
The bot streams blockchain operations and looks for SFR approval comments. It looks for the approval category, finds the flagged author and permalink. Based on settings it flags right away or saves the data into the embedded database for flagging when Steem account's voting mana reaches 100%.
The user can set minimum pending payout left and maximum author SP before flagging.
At this moment it only works for flagging root posts.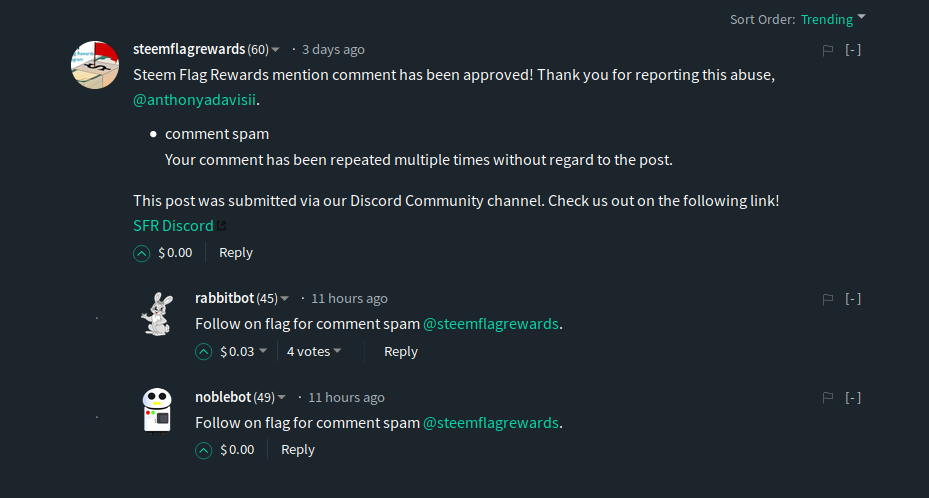 The follow on flag comment is a reply to the @steemflagrewards comment
How to setup
To run the bot you need Node JS setup. If you do not know how to do that, please watch this tutorial on YouTube. After setting up Node JS, please follow the steps below.
Step 1
Clone the repository if you have Git installed. Open up the terminal and write the following command.
git clone https://github.com/CodeBull/FollowOnFlag.git
Here is an excellent video tutorial on how to install Git and how to clone a repository. You can also download the repository and extract on your server or computer.
Step 2
Open ecosystem.config.js file on a text editor and replace YOUR_STEEM_USERNAME with your Steem username and POSTING_WIF with your private posting key.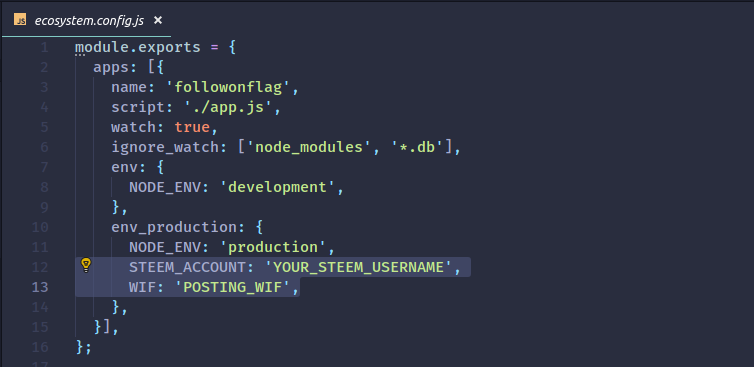 Open config.js file and make changes according to your needs.
MAX_SP - Maximum amount of Steem Power of the abuser you want to flag. This should be a number. We don't want to commit suicide so we only tackle abusers with equal or less SP than us.
MIN_PAYOUT - Minimum pending payout in STU. This should be a number too.
FLAG_AT_100 - If set to false, the bot will flag right away. When it's set to true it will wait for 100% voting mana.
DOWNVOTE_WEIGHT - How much weight to use to downvote. Should be in float percentage and a negative number.

Step 3
NPM is a package manager for Javascript. It is installed automatically when we installed Node JS. We will use it to install our required modules and project dependencies.
PM2 (http://pm2.io/) is a process manager for Node JS applications. It will allow us to keep the bot running. This ensures no downtime. There are other options available but I prefer PM2.
Install PM2 globally using NPM by running the following command on your terminal.
npm install -g pm2
We need to tell PM2 what application startup system we are using so that it can restart our bot when we reboot. Use the following command and follow instruction. Here is a video tutorial if you want to follow.
pm2 startup
Step 4
Install bot's dependencies using npm. Run the following command on the terminal and wait for it to finish.
npm install
Step 5
Start the bot using PM2 with the following command.
pm2 start ecosystem.config.js --env production
Now we need to tell PM2 to save our bot application so that it can restart when our server reboots.
pm2 save
We are done and our bot should be looking for SFR approval comments and abuse to flag.
Technologies
Contributing
Clone the repo and make the changes you wish to make. If you find any bugs, please create an issue.
These two features are needed for the bot:
Follow on flag for abusive comments
Setting mana parameters
GitHub Account
Disclaimer
Flagging is a risky business, there are often retaliations. Please flag responsibly. I cannot be held responsible for any harm caused by the use of this software.
Huge shout-out to @iamstan and @lovenfreedom who encouraged me to fight abuse and help me write this post. You two are awesome. :)
Rabbit and Red Flag clip art is used under appropriate free license.