Related Informations
Describe the bug
When I tried to click on the "history" option after deleting history from the collection option, then the app crashed.
To Reproduce
Steps to reproduce the behavior:
Open the app.
Go to the main menu of the app and click on the "Collection".
You will see two tabs. Tap and hold the "history" and click on the delete icon to delete it.
Now once again go to the app's main menu and try to go to the "History" option and see an error.
Expected behavior
I expected that I could click on history after deleting it from the collection menu without getting any trouble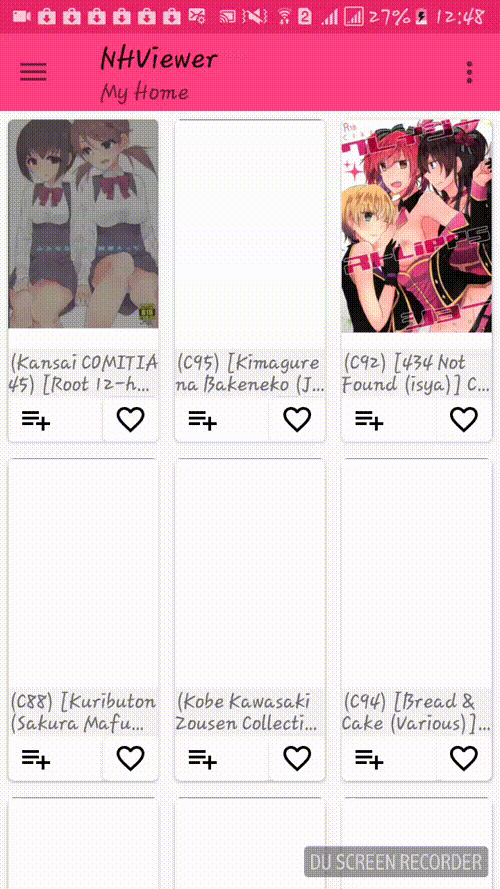 Information:
Device: Samsung A5
OS: Android 6.0.1
Version 1.0.3
07-27 12:48:29.182  5007  5007 D AndroidRuntime: Shutting down VM







07-27 12:48:29.182  5007  5007 E AndroidRuntime: FATAL EXCEPTION: main







07-27 12:48:29.182  5007  5007 E AndroidRuntime: Process: personal.ttd.nhviewer, PID: 5007







07-27 12:48:29.182  5007  5007 E AndroidRuntime: java.lang.NullPointerException: name == null







07-27 12:48:29.182  5007  5007 E AndroidRuntime: 	at java.io.File.<init>(File.java:146)







07-27 12:48:29.182  5007  5007 E AndroidRuntime: 	at java.io.File.<init>(File.java:118)







07-27 12:48:29.182  5007  5007 E AndroidRuntime: 	at personal.ttd.nhviewer.Model.Saver.JSONSaver.getFile(JSONSaver.java:411)







07-27 12:48:29.182  5007  5007 E AndroidRuntime: 	at personal.ttd.nhviewer.Model.Saver.JSONSaver.getJSONArr(JSONSaver.java:269)







07-27 12:48:29.182  5007  5007 E AndroidRuntime: 	at personal.ttd.nhviewer.Model.Saver.JSONSaver.getCollection(JSONSaver.java:116)







07-27 12:48:29.182  5007  5007 E AndroidRuntime: 	at personal.ttd.nhviewer.Model.Saver.JSONSaver.getHistory(JSONSaver.java:68)







07-27 12:48:29.182  5007  5007 E AndroidRuntime: 	at personal.ttd.nhviewer.Model.comic.ComicMaker.getComicListHistory(ComicMaker.java:31)







07-27 12:48:29.182  5007  5007 E AndroidRuntime: 	at personal.ttd.nhviewer.Controller.fragment.HistoryFragment.setList(HistoryFragment.java:24)







07-27 12:48:29.182  5007  5007 E AndroidRuntime: 	at personal.ttd.nhviewer.Controller.fragment.base.BaseListFragment.onViewCreated(BaseListFragment.java:95)







07-27 12:48:29.182  5007  5007 E AndroidRuntime: 	at android.support.v4.app.FragmentManagerImpl.moveToState(FragmentManager.java:1471)







07-27 12:48:29.182  5007  5007 E AndroidRuntime: 	at android.support.v4.app.FragmentManagerImpl.moveFragmentToExpectedState(FragmentManager.java:1784)







07-27 12:48:29.182  5007  5007 E AndroidRuntime: 	at android.support.v4.app.FragmentManagerImpl.moveToState(FragmentManager.java:1852)







07-27 12:48:29.182  5007  5007 E AndroidRuntime: 	at android.support.v4.app.BackStackRecord.executeOps(BackStackRecord.java:802)







07-27 12:48:29.182  5007  5007 E AndroidRuntime: 	at android.support.v4.app.FragmentManagerImpl.executeOps(FragmentManager.java:2625)







07-27 12:48:29.182  5007  5007 E AndroidRuntime: 	at android.support.v4.app.FragmentManagerImpl.executeOpsTogether(FragmentManager.java:2411)







07-27 12:48:29.182  5007  5007 E AndroidRuntime: 	at android.support.v4.app.FragmentManagerImpl.removeRedundantOperationsAndExecute(FragmentManager.java:2366)







07-27 12:48:29.182  5007  5007 E AndroidRuntime: 	at android.support.v4.app.FragmentManagerImpl.execPendingActions(FragmentManager.java:2273)







07-27 12:48:29.182  5007  5007 E AndroidRuntime: 	at android.support.v4.app.FragmentManagerImpl$1.run(FragmentManager.java:733)







07-27 12:48:29.182  5007  5007 E AndroidRuntime: 	at android.os.Handler.handleCallback(Handler.java:739)







07-27 12:48:29.182  5007  5007 E AndroidRuntime: 	at android.os.Handler.dispatchMessage(Handler.java:95)







07-27 12:48:29.182  5007  5007 E AndroidRuntime: 	at android.os.Looper.loop(Looper.java:148)







07-27 12:48:29.182  5007  5007 E AndroidRuntime: 	at android.app.ActivityThread.main(ActivityThread.java:7325)







07-27 12:48:29.182  5007  5007 E AndroidRuntime: 	at java.lang.reflect.Method.invoke(Native Method)







07-27 12:48:29.182  5007  5007 E AndroidRuntime: 	at com.android.internal.os.ZygoteInit$MethodAndArgsCaller.run(ZygoteInit.java:1230)







07-27 12:48:29.182  5007  5007 E AndroidRuntime: 	at com.android.internal.os.ZygoteInit.main(ZygoteInit.java:1120)