Related Informations
Expected behavior
I expected that the app would warn or block me when I tried to bookmark a blank page.
Actual behavior
The app crashed when I bookmarked a blank page. After that this crash occurring every time whenever I am trying to open the app.
How to reproduce
Here is every possible detail to reproduce the bug.
1. Open the app
2. Click on the bookmark button at the top of your screen.
3. Notice the crash. After that, whenever you will try to open this app, you have to face the crash. (You can make it workable again after deleting the app data)
App version: 04.07.01
Operating system: Android 6.0.1
Recording Of The Bug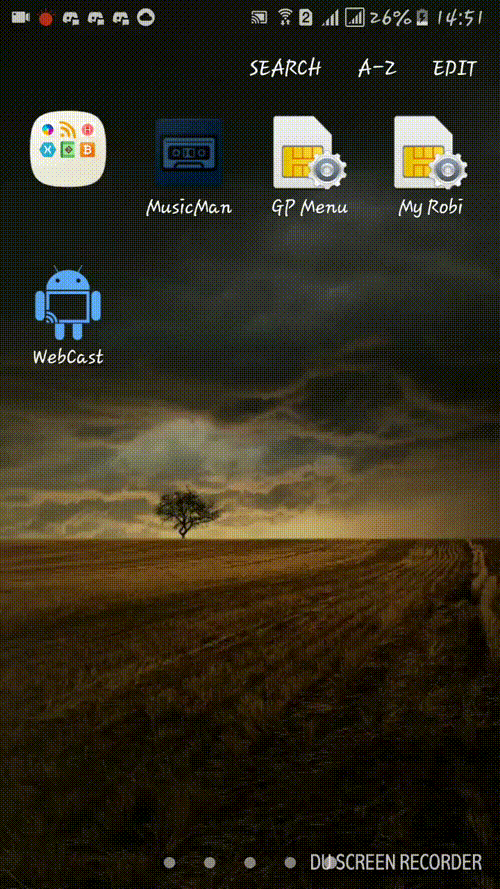 LogCat
05-21 14:35:14.108  8984  8984 E AndroidRuntime: FATAL EXCEPTION: main

05-21 14:35:14.108  8984  8984 E AndroidRuntime: Process: com.github.warren_bank.webcast, PID: 8984

05-21 14:35:14.108  8984  8984 E AndroidRuntime: java.lang.NullPointerException: Attempt to invoke virtual method 'boolean java.lang.String.equals(java.lang.Object)' on a null object reference

05-21 14:35:14.108  8984  8984 E AndroidRuntime:    at com.github.warren_bank.webcast.webview.BrowserActivity$DrawerListItem.equal(Unknown Source)

05-21 14:35:14.108  8984  8984 E AndroidRuntime:    at com.github.warren_bank.webcast.webview.BrowserActivity$DrawerListItem.find(Unknown Source)

05-21 14:35:14.108  8984  8984 E AndroidRuntime:    at com.github.warren_bank.webcast.webview.BrowserActivity$DrawerListItem.contains(Unknown Source)

05-21 14:35:14.108  8984  8984 E AndroidRuntime:    at com.github.warren_bank.webcast.webview.BrowserActivity.onCreateOptionsMenu(Unknown Source)

05-21 14:35:14.108  8984  8984 E AndroidRuntime:    at android.app.Activity.onCreatePanelMenu(Activity.java:3142)

05-21 14:35:14.108  8984  8984 E AndroidRuntime:    at androidx.f.a.e.onCreatePanelMenu(Unknown Source)

05-21 14:35:14.108  8984  8984 E AndroidRuntime:    at androidx.appcompat.view.i.onCreatePanelMenu(Unknown Source)

05-21 14:35:14.108  8984  8984 E AndroidRuntime:    at androidx.appcompat.app.g$d.onCreatePanelMenu(Unknown Source)

05-21 14:35:14.108  8984  8984 E AndroidRuntime:    at androidx.appcompat.view.i.onCreatePanelMenu(Unknown Source)

05-21 14:35:14.108  8984  8984 E AndroidRuntime:    at androidx.appcompat.app.j.i(Unknown Source)

05-21 14:35:14.108  8984  8984 E AndroidRuntime:    at androidx.appcompat.app.j$1.run(Unknown Source)

05-21 14:35:14.108  8984  8984 E AndroidRuntime:    at android.os.Handler.handleCallback(Handler.java:739)

05-21 14:35:14.108  8984  8984 E AndroidRuntime:    at android.os.Handler.dispatchMessage(Handler.java:95)

05-21 14:35:14.108  8984  8984 E AndroidRuntime:    at android.os.Looper.loop(Looper.java:148)

05-21 14:35:14.108  8984  8984 E AndroidRuntime:    at android.app.ActivityThread.main(ActivityThread.java:7325)

05-21 14:35:14.108  8984  8984 E AndroidRuntime:    at java.lang.reflect.Method.invoke(Native Method)

05-21 14:35:14.108  8984  8984 E AndroidRuntime:    at com.android.internal.os.ZygoteInit$MethodAndArgsCaller.run(ZygoteInit.java:1230)

05-21 14:35:14.108  8984  8984 E AndroidRuntime:    at com.android.internal.os.ZygoteInit.main(ZygoteInit.java:1120)