Repository
https://github.com/code-with-sam/moveclub
Move Club is a platform dedicated to human movement. Utilising blockchain technology Move Club aims to reward humans who run, jump, climb, swim, kick-box, dance or any other movement you can imagine.
I've wanted to build a platform like this for many years, fascinated by tracking my own data. Joining the STEEM ecosystem again at the start of 2018 this was the first idea I wanted to build on top of the blockchain but decided to start with other projects to learn what was possible. On a basic level, you could think of Move Club aiming to be Strava on STEEM with extra details that make it unique to a blockchain based product.
I use Strava almost daily along with other fitness tracking tools in the past. I'm excited by the prospect this data can be A) Decentralised and B) Rewarded.
The initial version I am sharing today puts forward the idea and includes the basic features to begin trying the platform. I'm super interested to hear what you think.
Current Progress
There is a beta version online you can try out - https://move.codewithsam.club
The project started as an adapted version of my boilerplate meaning basic templates and authentication were ready to go. The main difference with this project is that it aims to have the majority of the experience on the main page, adding new workouts directly above the main feed.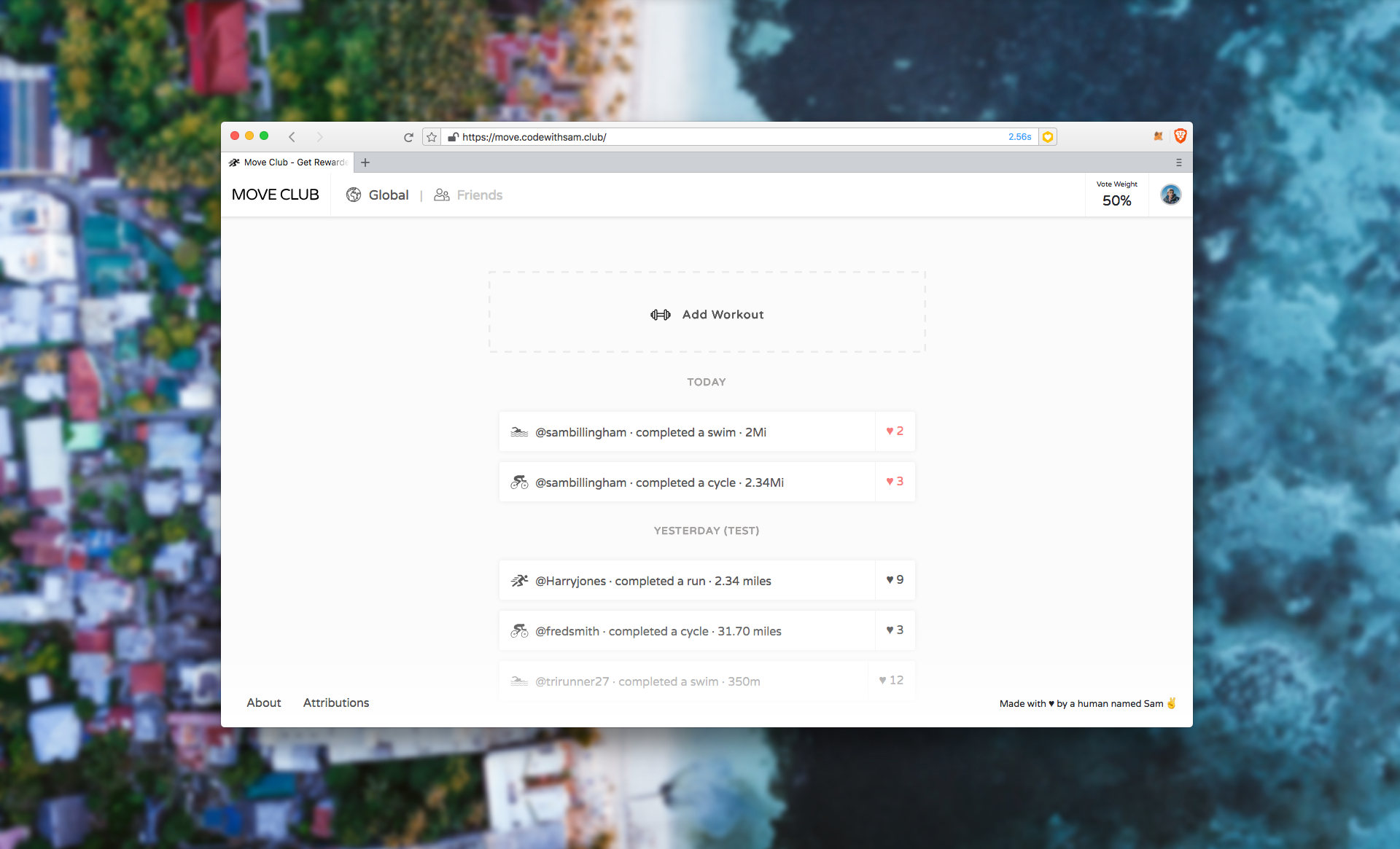 Move Club Main Feed
The Activity feed shows a chronological list of Workouts/movement being added by members. The aim is to keep it simple (with the potential to add additional data options in future), adding just a workoutType, distance and duration and you're done. Your data is viable on the global feed but also on your personal profile page.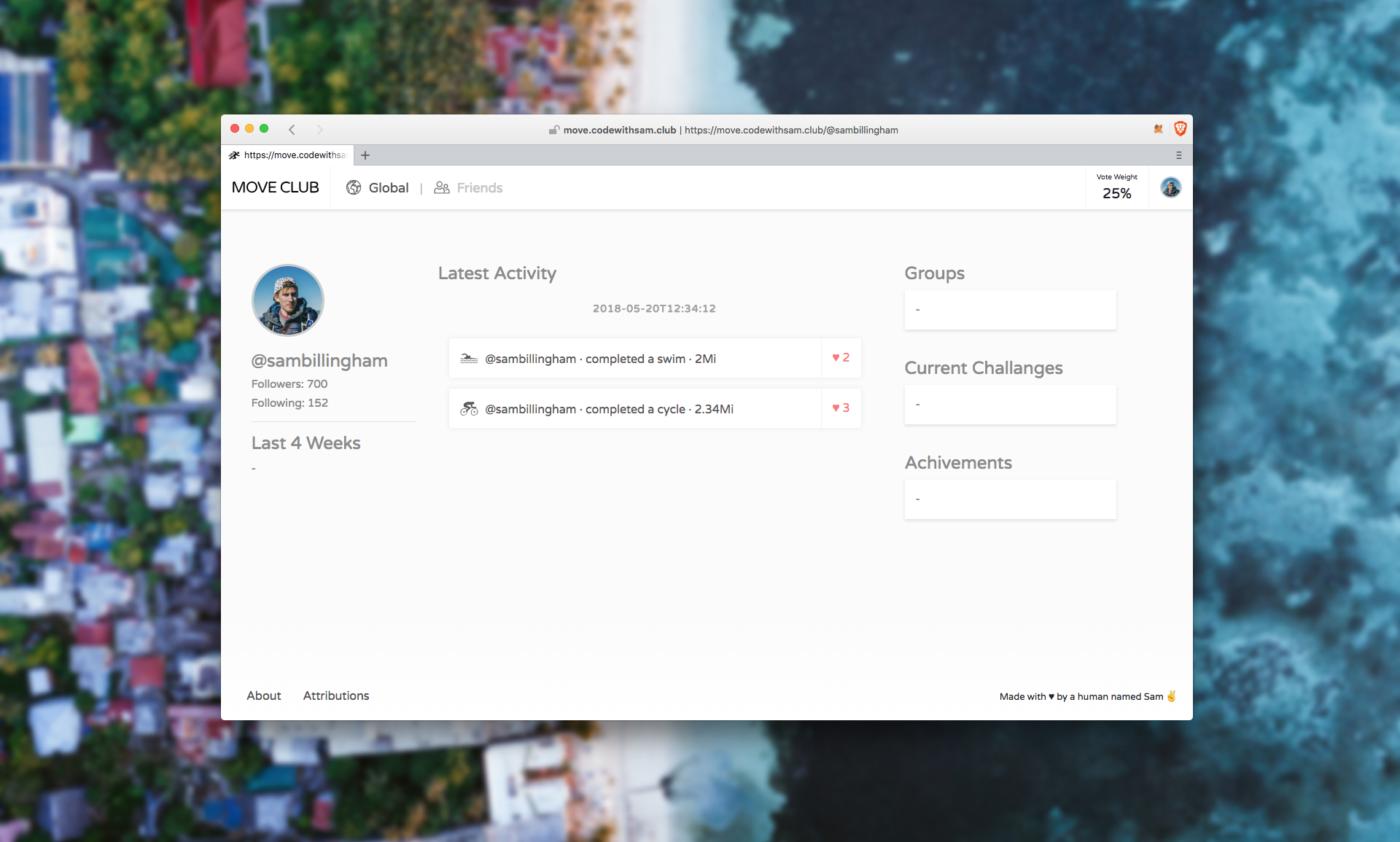 Move Club Profile
Individual profiles aim to provide more data, showcasing totals, averages and aggregated data. In future, there are many possibilities. Including custom groups created by members or communities. Daily, weekly or Monthly challenges. Achievements and awards for personal, group, site milestones.

Modal
When clicking to add a workout the user is shown the CTA to log in with STEEM. When the user has already authenticated this loads the modal to enter activities. In future, there can be a more detailed sign-up/information flow to help with STEEMs current difficult onboarding process.

about/contributions pages
Alongside the Feed and profile pages, there is extra information on the About page and attributions for creative commons icon assets used across the site.

I opted for a global vote weight slider. Defaults to 25% but can be adjusted to quickly upvote at your desired weight. I thought it felt cleaner to not clutter the hearts/likes with a pop-up slider everytime you want to like an activity. Also dangerous to leave at 100% for some of those large stake holders out there.
How Is It Different?
One important aspect to note it that Move Club does not post top-level blog posts. Meaning - when adding a workout to the site it will not show up in you blog feed on sites like Steemit and Busy. Content is still added to the blockchain but it is a 2nd level post on a move-club.data thread. This allows the users to freely add activities without feeling they will be spamming followers.
Unfortunately, this makes retrieving data a little more difficult. Functions like getBlog() or getCreatedBy() do not work for 2nd level posts. With a little extra engineering, we get the content for the data account and filter for the respective feed/club/user.
Technology
Express.js - Backend
Pug.js - Templating
Steemconnect - Authentication
steem.js - Data
Roadmap
The initial version allows you to add activities and vote them, That's cool but there is massive potential for exciting features. Here are a couple ideas I have moving forward, would be ace to hear yours.
Integration with third-party sites - Automatically prepare activity posts from your other fitness/tracking apps
Custom activity type + extra details (Title, Image, Details, etc)
Auto draft weekly/monthly reports based on activity that can be easily posted.
Use historical data to create extra account metrics
Friends list (only people who use move.club )
Communities/groups
Challenges/Achievements
Mobile optimised site and possible native mobile app
Support for posting key auth instead of Steemconnect
Need to be invited/accepted other members already on move club (aim to eliminate bots/scammers from joining) (people who accept members will be tracked if a member is banned it will black mark the person that accepted them.)
Contributions & Ideas
As always, super interested to hear what you have to say about this project. I'm avalible on Discord as sambillingham#7927 and do my best to reply to all comments here and on Github.
Name/branding is currently WIP
Github
Initial version of project, commits are to master over the past week. - https://github.com/code-with-sam/moveclub