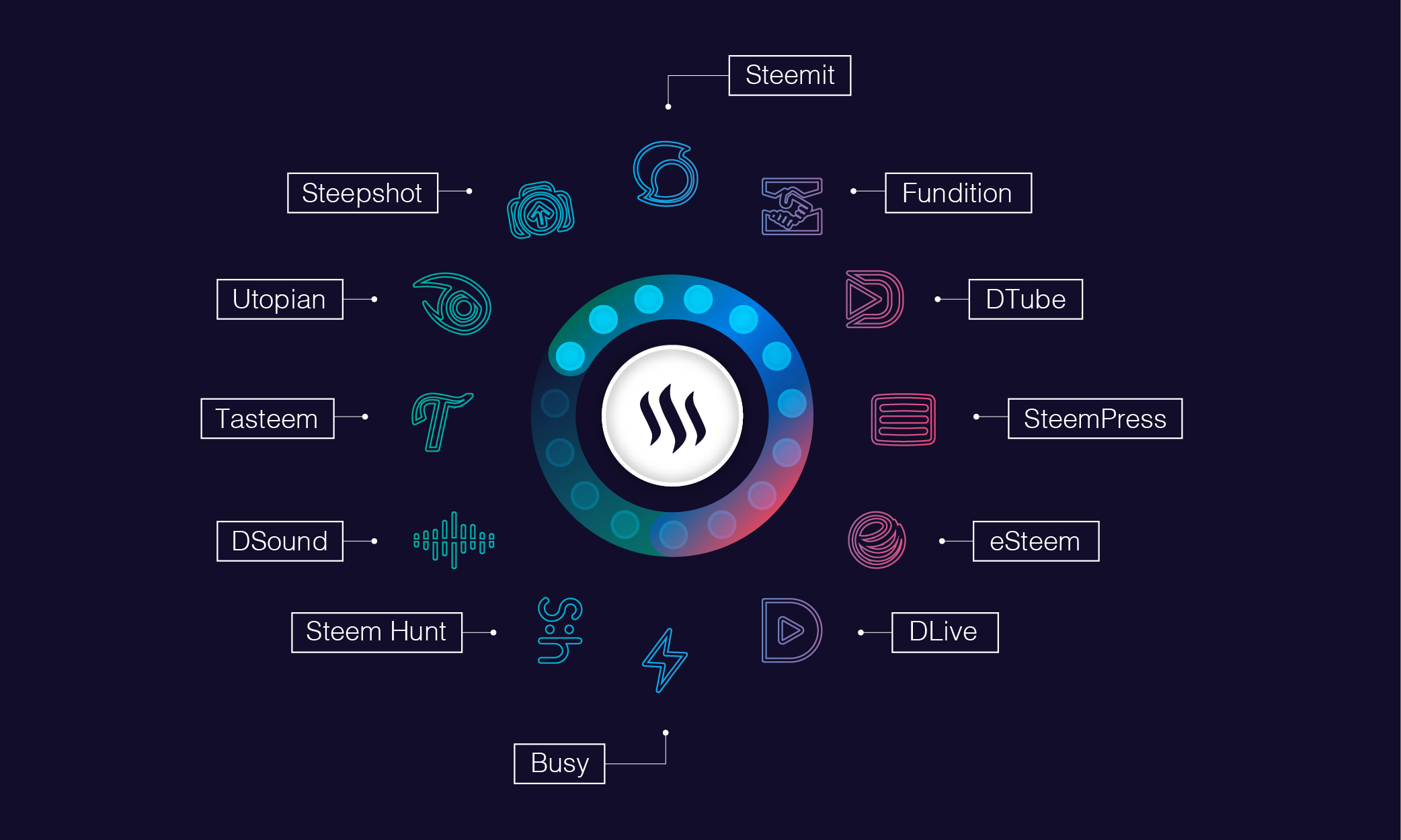 Project Exhibition Boards
This month, the @sndbox and @creativecrypto design team are working together on an exhibition! We'll be sharing mockups of our exhibition boards for Steem DApps and resources over the next several days. All of the graphics we create as a result of this exhibition (posters, infographics, icons, Steem explainer pamphlets) will be entirely open source and available for all Steemians to use for events of their own, apps, marketing and beyond.
---
Click here for more on The Crypto Renaissance Exhibition
---
This public exhibition will showcase the tools and resources built for creative professionals on the Steem blockchain and specifically how @sndbox members have integrated them into their practice and daily work. The exhibition will be open to all visitors for several weeks and serve as a free and public space for New Yorkers and others to learn about the Steem blockchain, the world of crypto, and immediately begin converging their creative work with the Steem ecosystem.
The Crypto Renaissance Details
Schedule: July 20 (Opening @ 7:00PM) - August 15, 2018
Location: 100 Bogart Street | Brooklyn, 1st Floor Gallery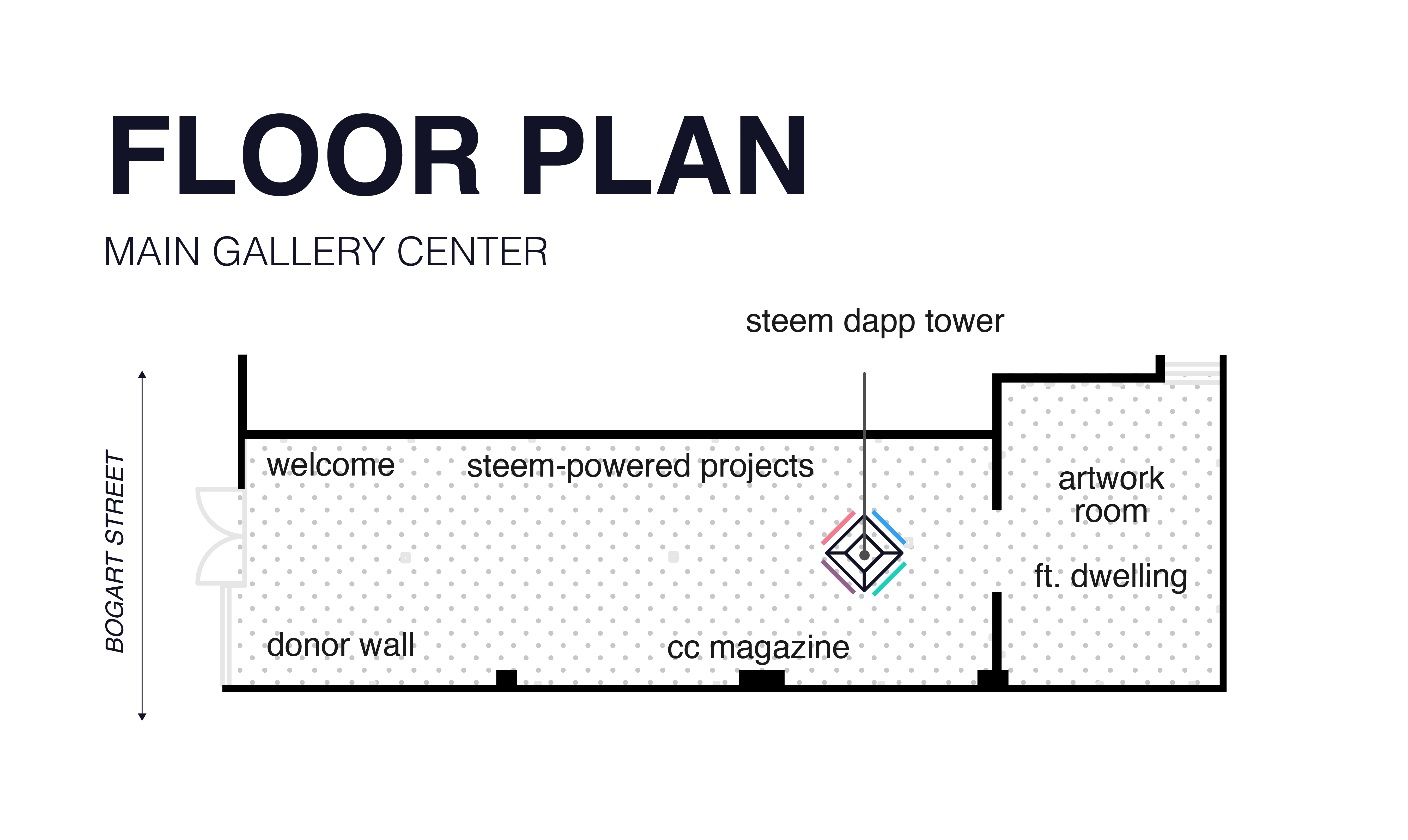 Steem-Powered Projects
As part of the show, a series of exhibition boards will showcase several Steem-powered projects that were part of Sndbox's first Cohort. Here are two of them, @kr-marketing and @phillyhistory.
---

KR-Marketing is a blockchain journal and crypto marketing initiative. This team is a hybrid of Korean illustrators, marketers, and blockchain experts who collaborate to develop infographics surrounding news, events and terminology across the whole of the cryptocurrency ecosystem.
The KR illustration team has created a comprehensive library of icons and infographics that are then shared across multiple platforms including Steemit.com. Through the interface of Steemit, @kr-marketing is able to tokenize their work and leverage those funds to further promote cryptocurrency education and awareness across other social networks. Here are just a few examples of the fun and informative graphics created by @leesongyi and @leesol.
Account: @kr-marketing
Project Leaders: @keepit, @leesongyi, @leesol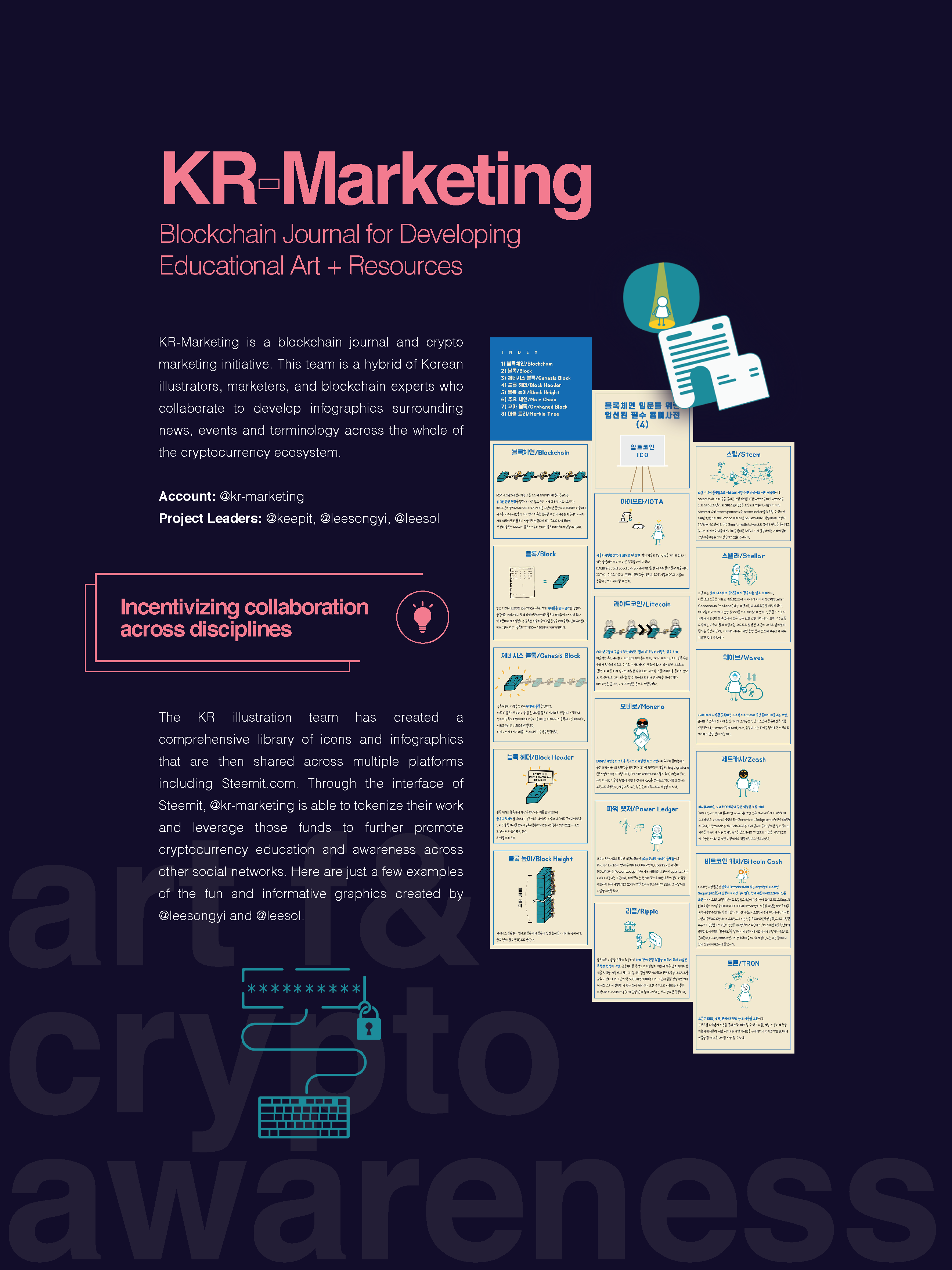 "History 5151" is a graduate-level history seminar at Temple University taught by Professor Kenneth Finkel. Throughout the course, students were tasked with documenting assignments using the Steem blockchain while exploring new resources for non-profit development in the Philadelphia area. Over the course of the semester, documentation accrued Steem which was then compiled into a grant and delivered to a local non-profit institution.
In 5 months; 15 graduate students were able to raise a total of 3,800 Steem. At the end of the course, this Steem was transferred to The Wagner Free Institute, one of Philadelphia's oldest history Museums. Funds will be used to support a yearly Fellowship Program in the Fall Semester of 2018.
The Wagner Free Institute of Science at 17th Street and Montgomery Avenue in Philadelphia is a museum and educational institution that remains nearly unchanged since the nineteenth century. Its free public education courses on science, after more than 160 years, stands as the oldest program devoted to free adult education in the United States. The Institute was formally incorporated in 1855 and designated a National Historic Landmark in 1990. Its museum, library and archive constitute a living vintage resource and a unique cultural destination.
Account: @phillyhistory
Funds Raised: 3,800 Steem
Grant Recipient: The Wagner Free Institute of Science of Philadelphia
Students: @charliehersh, @cheider, @chelseareed, @connellgregg, @dduquette, @engledd, @jfeagan, @gvgktang, @hourofhistory, @johnesmithiii, @landy-yinan, @peartree4, @tmaust, @xiaonanli and @yingchen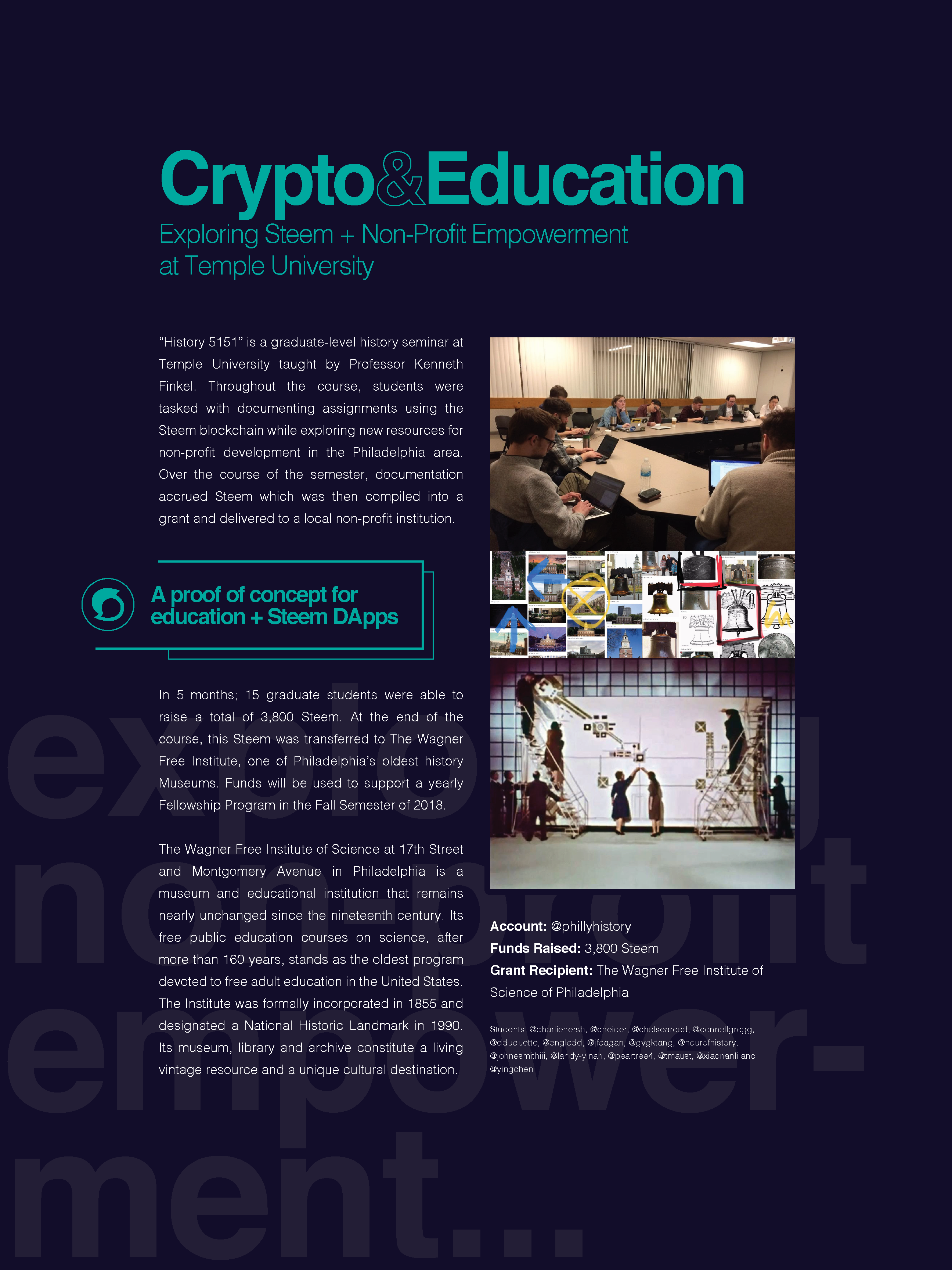 Steem DApp Tower Installation
The DApp Tower is a 3'-0" x 3'-0" square base that rises 9'-0" into the air. It's the centerpiece of the exhibition. The installation will be an educational showcase for Steem applications, highlighting a handful of social applications built on the Steem blockchain. This post is an update surrounding the graphics we've produced and of the full "Tower" design to be fabricated. Boards on the tower include introductory graphics and language designed to help newcomers learn more about Steem. QR codes linking to each featured DApp. We're also very excited about our Steepshot Selfie Guestbook! Visitors will be able to log into Steepshot using a tablet connected to the @exhibition account. Our team will be upvoting the "guestbook" to help pay for the show itself.
See the installation rendering, below: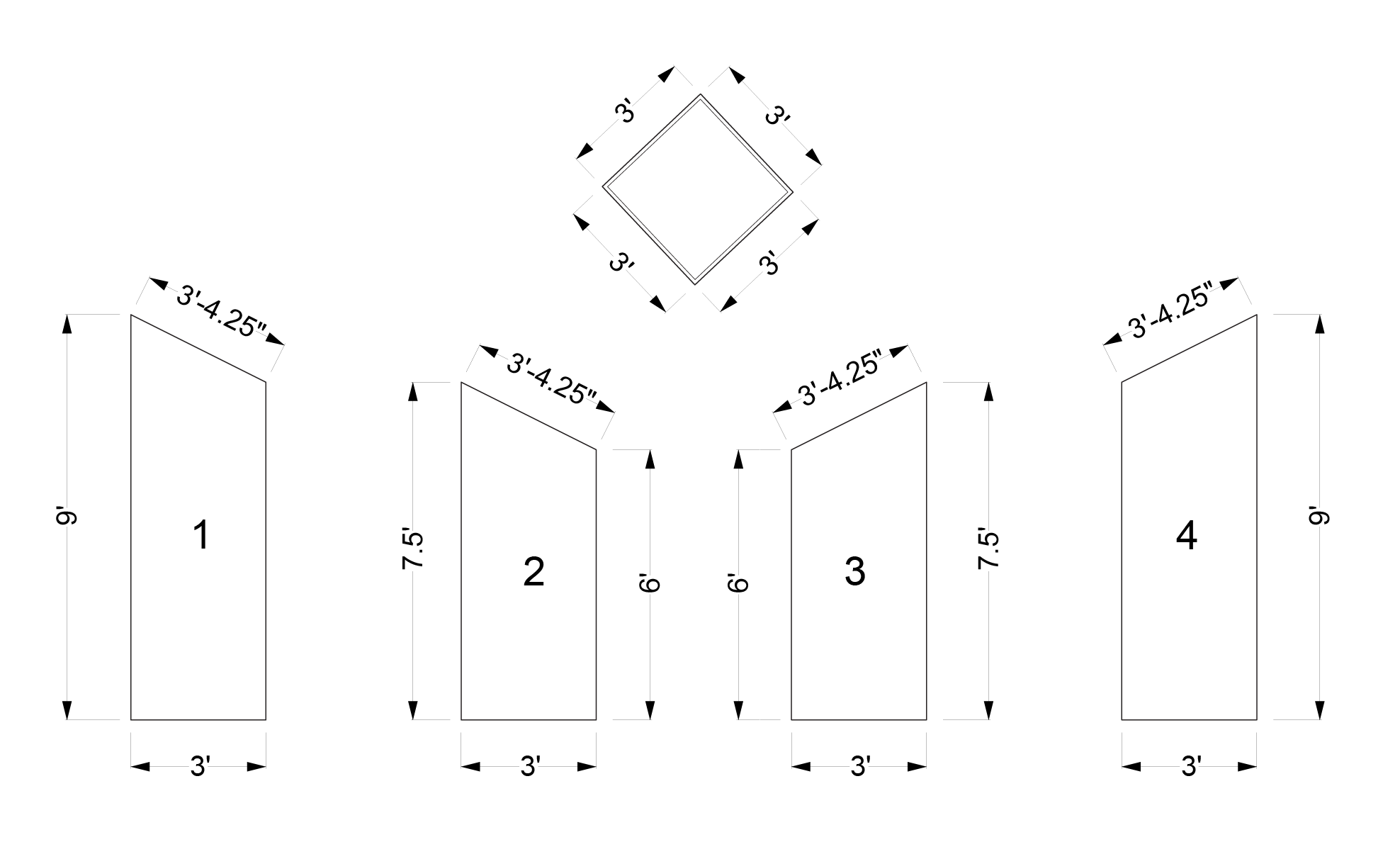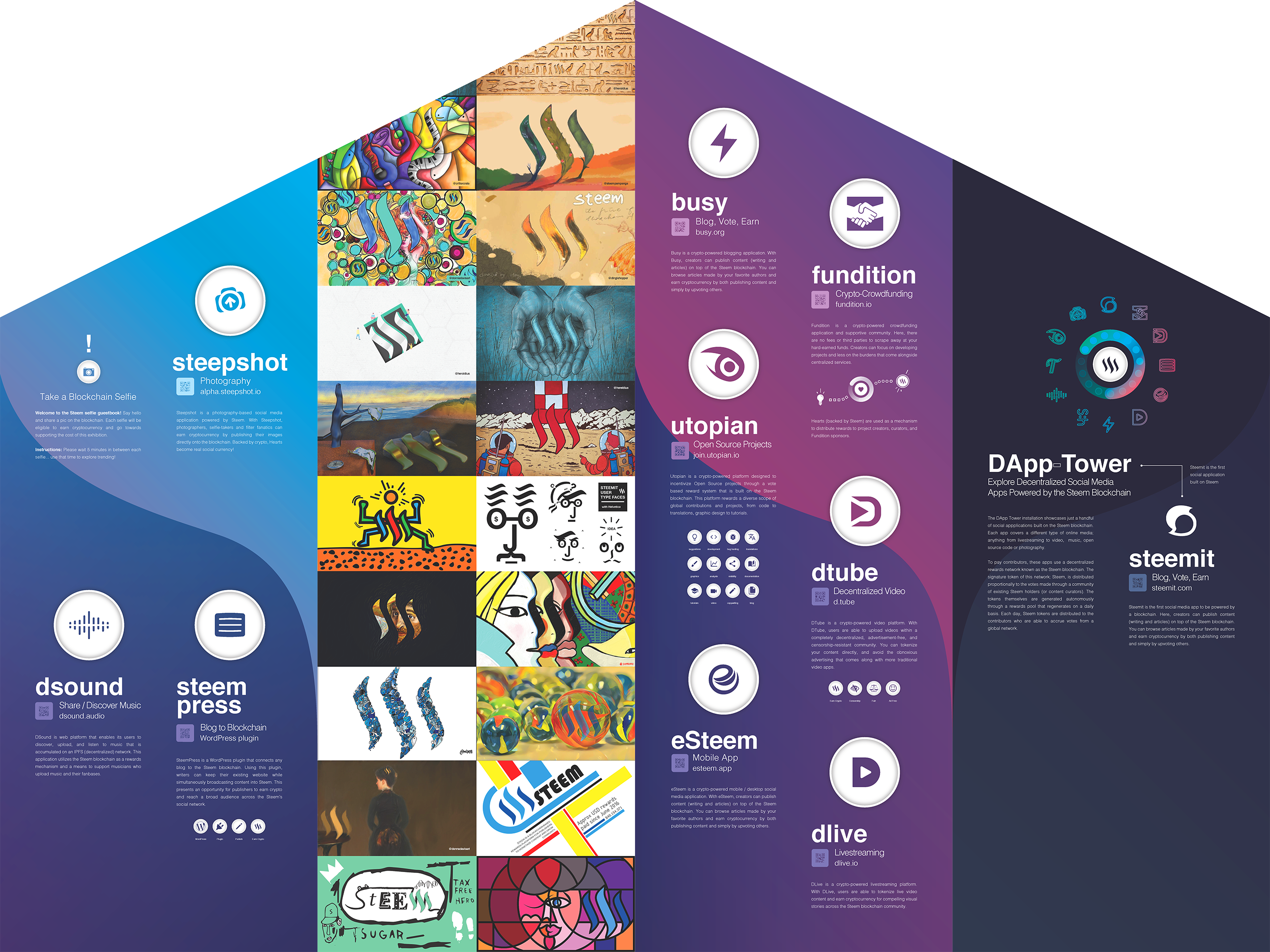 Open Source Posters, below:
These folders contain open-source assets (adobe illustrator files, icons and infographics) that will be used for The Crypto Renaissance Exhibition in New York City. These graphics were developed and used for signage pertaining to the exhibit and are made available here to the public to use under a Creative Commons license. All @sndbox content CC BY-NC-ND, 2018.
---
Click here for more on The Crypto Renaissance Exhibition
Our Fundition Page:
link here
---
Follow us on Twitter > Sndbox + The Creative Crypto + Facebook
---