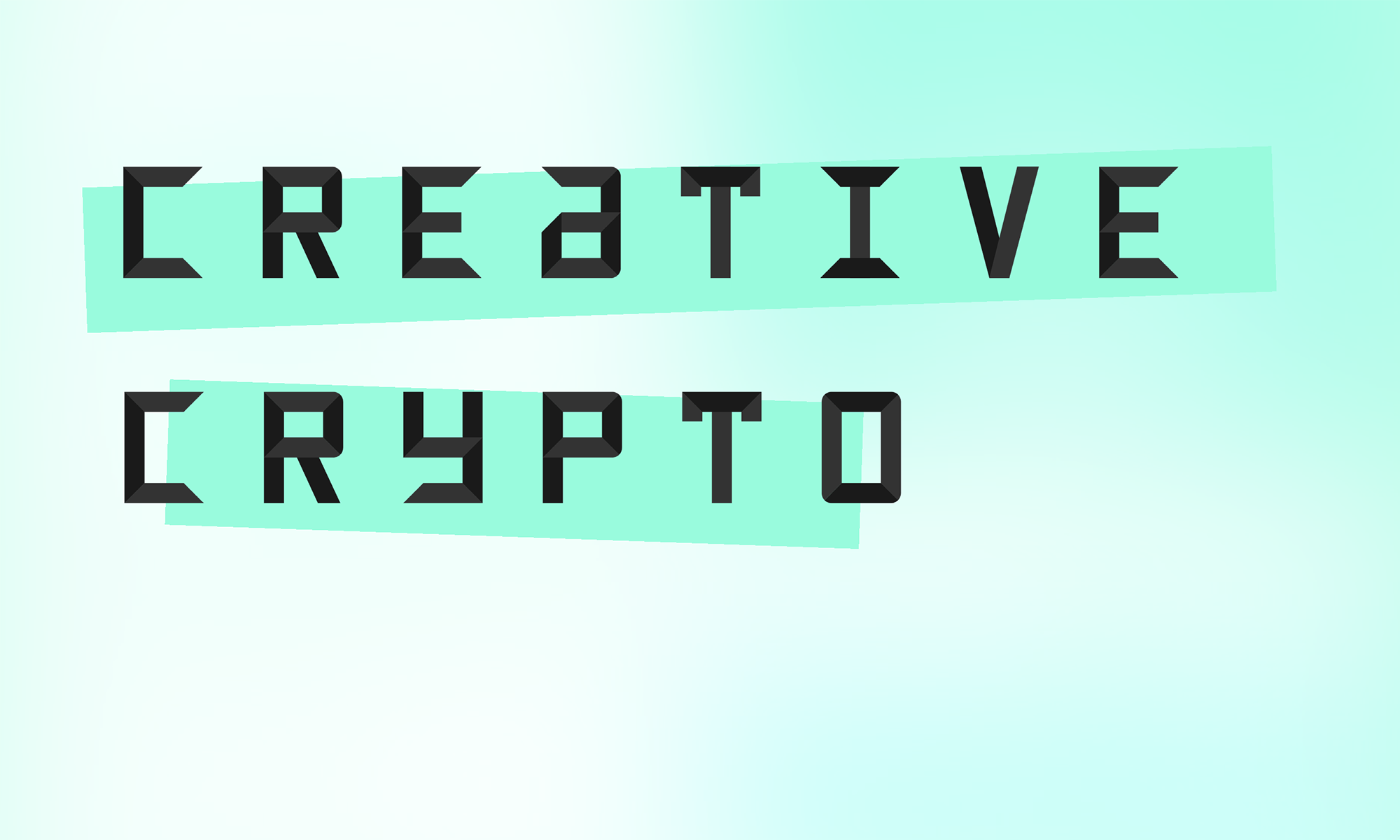 Project Development @ Sndbox
This past year we launched - The Creative Crypto Magazine - a beacon for the most artful and interesting blockchain initiatives, dApp showcases, and cryptoart that the internet has to offer. By way of the Magazine, we have interviewed, teamed up, and worked with the leading artists and companies in the cryptocurrency world and fostered Media Partnerships across New York City to push the conversation of crypto forward.
In this article, we'll be sharing a range of updates surrounding ongoing website development, curation initaitives, media partnerships, events, artwork and some of our favorite featured stories.
---
Visit us @ https://thecreativecrypto.com/
---

The Creative Crypto (@creativecrypto) is an online magazine dedicated to the growing culture of blockchain - art, design, fashion, architecture, music, entrepreneurship, social impact, and more. The magazine serves as the nexus for activity and information across all crypto-networks and as the foundation for unique design projects born from creative partnerships. Our mission is to make blockchain culture and its components accessible and appealing to anyone interested in the emerging technology.
Our team is a global, multilingual and interdisciplinary collective of writers, editors, curators, developers and artists. We work collaboratively to articulate complex topics through the lens of artful and elegant illustrations.
Original Artwork

Each of the thumbnails for our featured articles are also original art pieces created by homegrown Steemians like @zsolt.vidak, @carrotcake, @kr-marketing and @aaronhong. The thumbnail is the window into the story and we believe in building compelling windows to draw the crypto-curious into a topic that they might not yet know much about.
Over the last 6 months, our team has published nearly 400 articles and over 150 original artworks. Looking forward, we want to build a much stronger support network for both our artist and dev community who collaborate on incredible content every week. The Steem blockchain is an incredible asset for publications like ours and we are excited to explore new ways of rewarding contributors by way of Steem-backed upvotes and bounties.
---
Here is a sample of @creativecrypto artwork to date...
---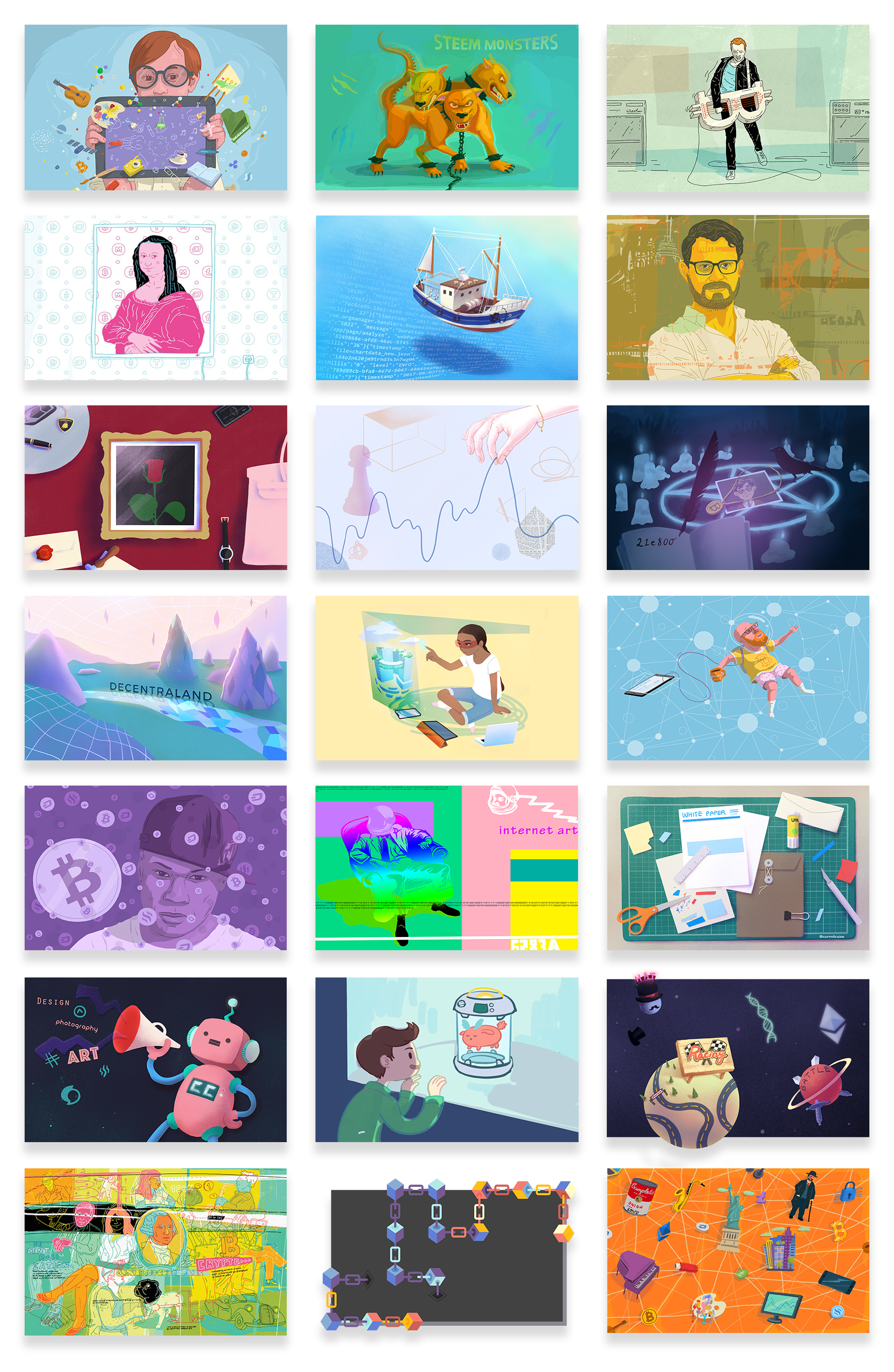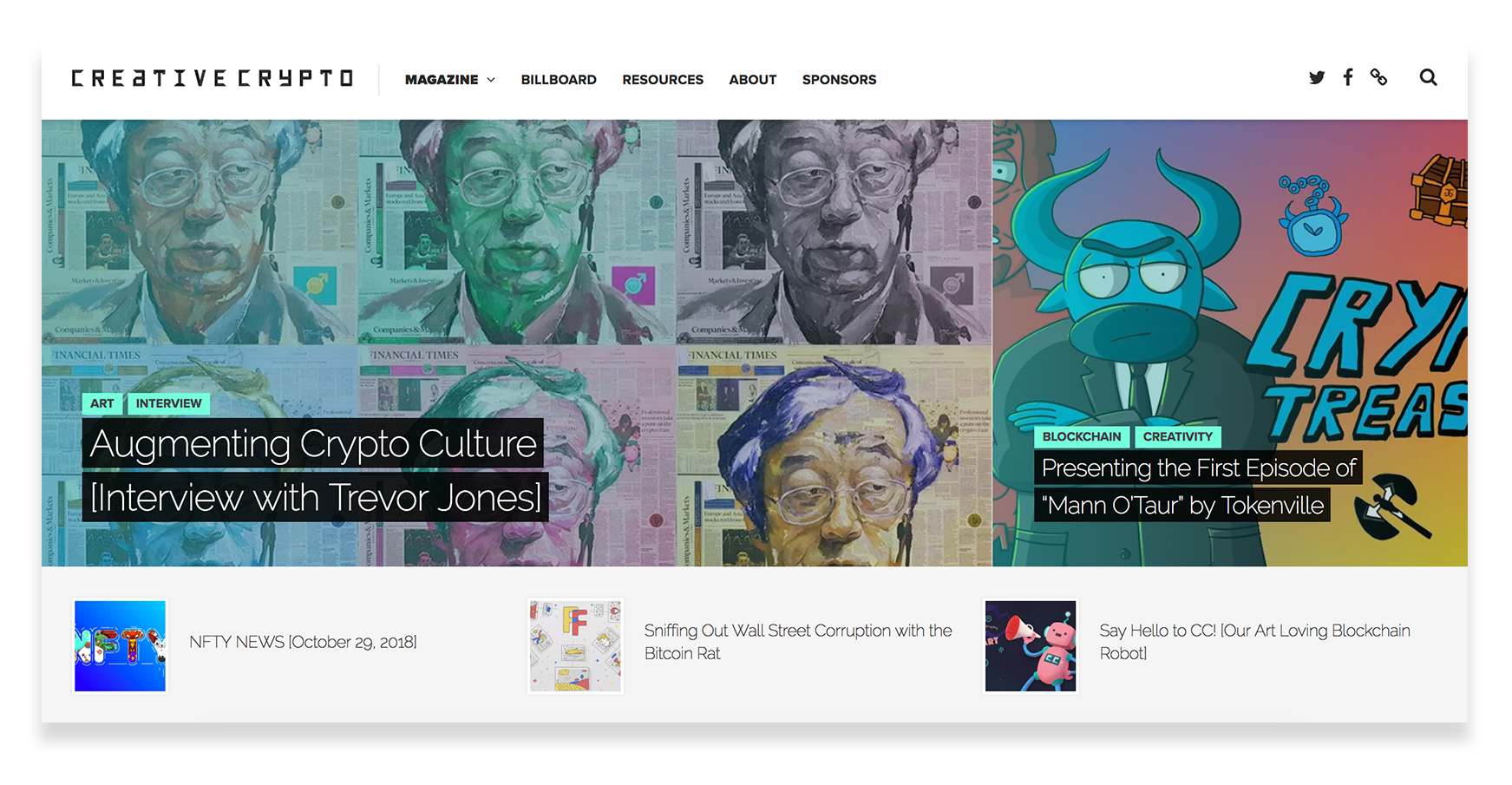 Featured Articles + Community Billboard

The front page of The Creative Crypto features long-form thought pieces, interviews, and industry specific discussions. Our Billboard tab showcases shorter form content, event announcements, dApp updates and unique snippets of crypto-culture. The balance of the two has helped us connect with a dedicated and growing audience.
Here is a sample of recent interviews and articles -
Audience building is key. Over the last few months, we've become extremely active on Twitter - where the vast majority of crypto-culture discourse is developing and the crypto-curious are meandering for entry points into this industry. In crafting the magazine as one of those entry points, Twitter [and] Steemit have become incredible forums for us to grow from scratch.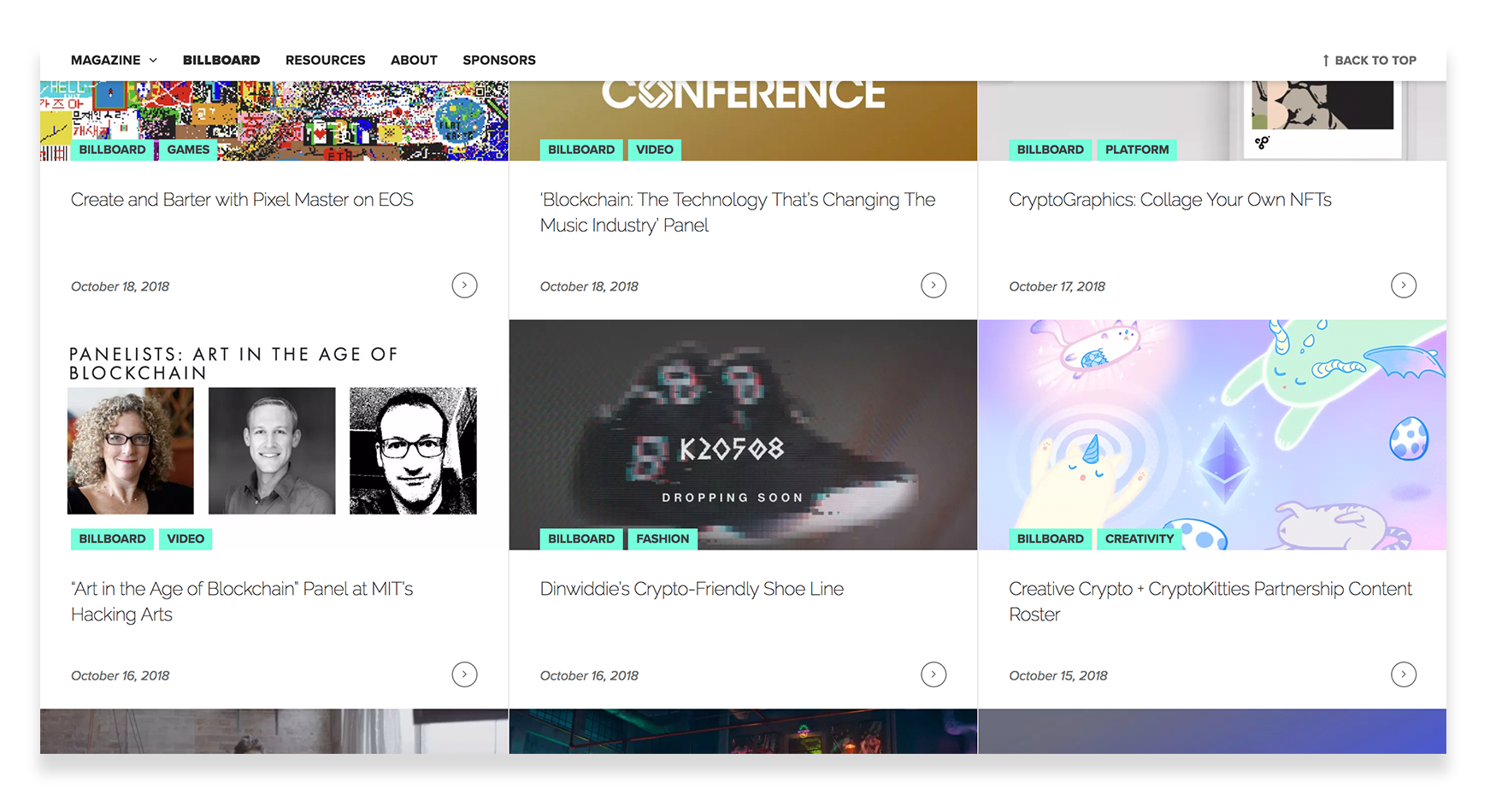 Media Partnerships

This past month Sndbox + The Creative Crypto were Media Partners at two events in New York City - New Art Academy's NYC ArtTech + Blockchain Connect at New York University and Mondo.NYC in Brooklyn.
Good for crypto, great for Steem. We believe in constructive industry specific events that focus on crypto / art or blockchain / music. All too often, the conference circuit can turn into an echo chamber of Bitcoin believers and hype activists. The events we take part in are - not - about hype, but about action and critical discussion. Ultimately, we want Steem to be at the table, the podium or the booth when these types of events happen.
At the Mondo event, we teamed up with Steemit Inc. to host a workshop all about Steem and why this blockchain is an empowering ecosystems for musicians. At the New Art Academy, our very own Michael Lee moderated a panel on the future of Crypto Collectables with the biggest names in the cryptoart market today.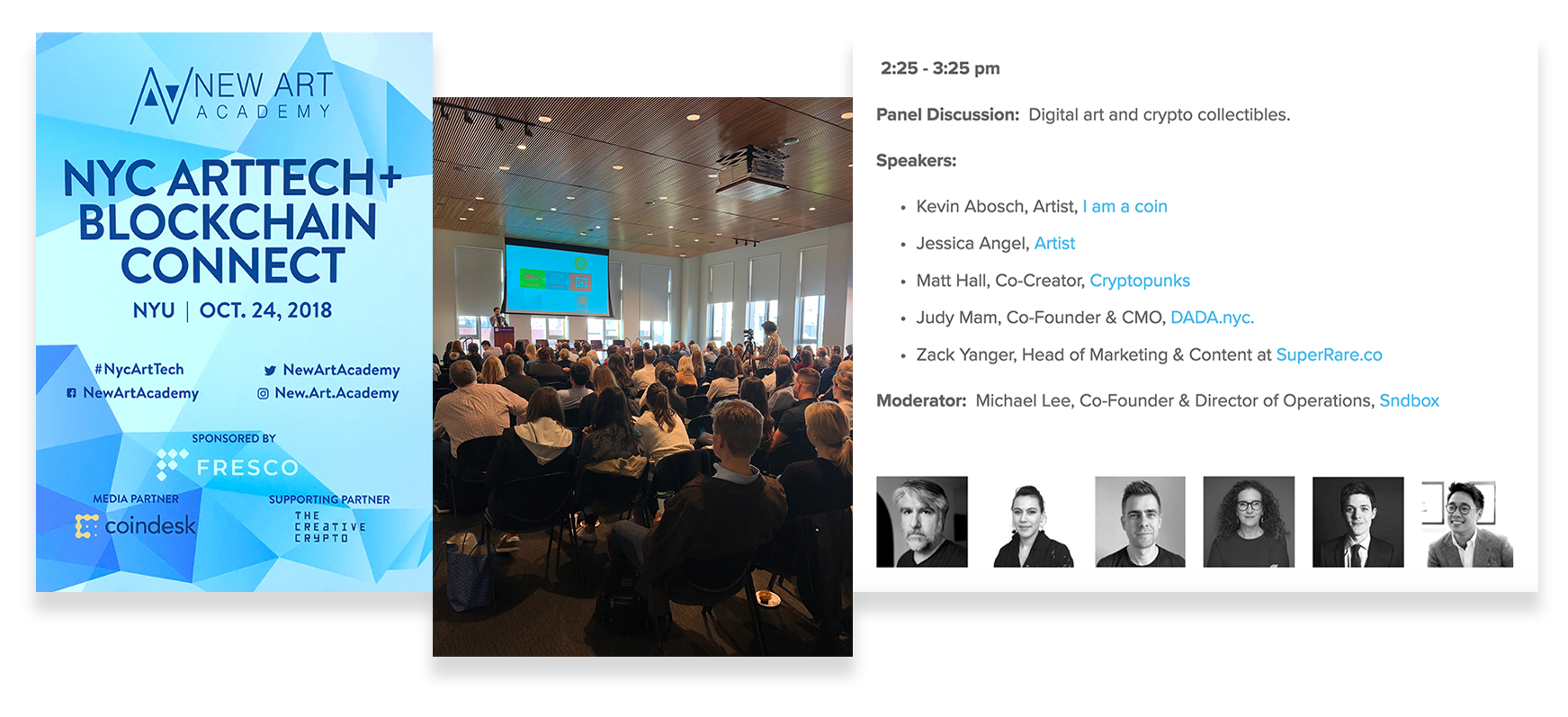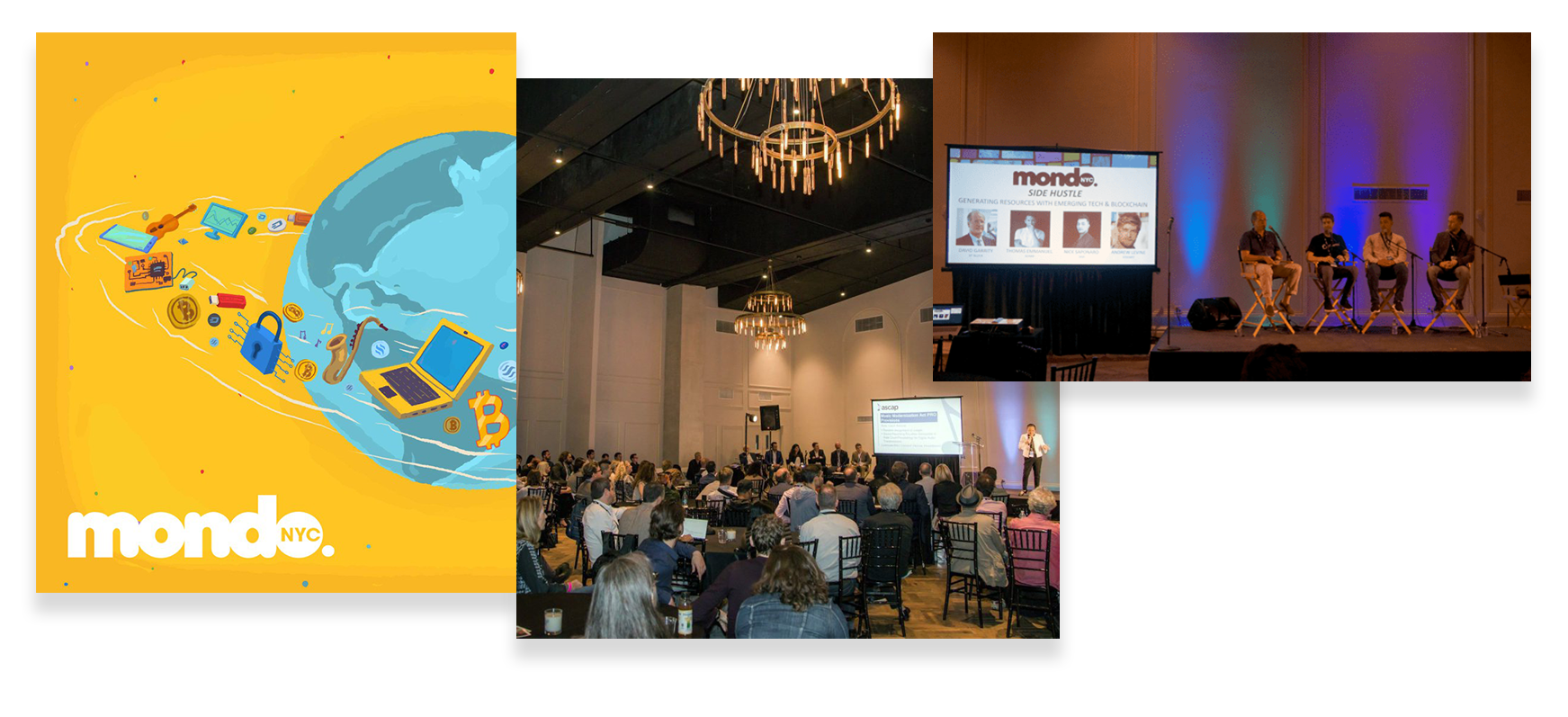 Building Bridges

Our team takes "buidl" a bit too literally sometimes. We think visually and absorb new technology best by participating and using it. In conjunction with partnerships we also work on physical projects in and around New York City that illustrate the disruptive benefits of Steem and the whole cryptocurrency environment. Steem Park was our first example. Now we're looking to take that concept even further.
This past summer, we hosted The Crypto Renaissance - a Steem dApp and Art Exhibition in New York City. Today, we're planning a new series of physical works that leverage the "special creative powers" of the blockchain. We could not accomplish these projects without the support of the Steem community, specifically @steempress, @fundition and @utopian-io.

About the Blockchain + Powered by the Blockchain

Our magazine uses SteemPress - a plugin that merges the front end of WordPress with the Steem blockchain. With SteemPress we've been able to tokenize all of the content we publish and leverage accrued Steem Power to fund new projects, curate artists, raise bounties for contributors and developers.
We also are proud users of Fundition - a crypto-crowdfunding platform that is helping us to accrue funding for a physical version of our digital magazine for 2019 called IMO. You can read more about our Initial Magazine Offering and all the fun projects going on inside of it - right here.
Supporting Creatives with Curation
On the curation and discovery side, we're been developing a smart robot who we adoringly refer to as CC. She loves discovering cryptoart and amazing artists, designers, musicians, writers, photographers and cool dApps from all over the world. CC helps our Magazine track down under-rewarded creatives on the Steem blockchain, and gives them crypto just for sharing their art and ideas.
---
Right now = CC's full upvote is worth $1.44 USD or 1.8 Steem.
So far, she has delivered 8,842 upvotes to artists.
Source
---
How does CC work? Learn more here. First, she browses the blockchain. Her pixelated eyeballs scan thousands of posts each week looking for dozens of artsy hashtags like #cryptoart, #photography, #creativity and more nuanced tags like #kr-art which are used by Korean artists. She also digs into the history of each artist to make sure they haven't been doing anything sneaky (like publishing work that doesn't belong to them.) Once CC finds an artist she likes, she upvotes them and then leaves a nice comment on their post. Here's an example from a photographer on Steem @fiftysixnorth -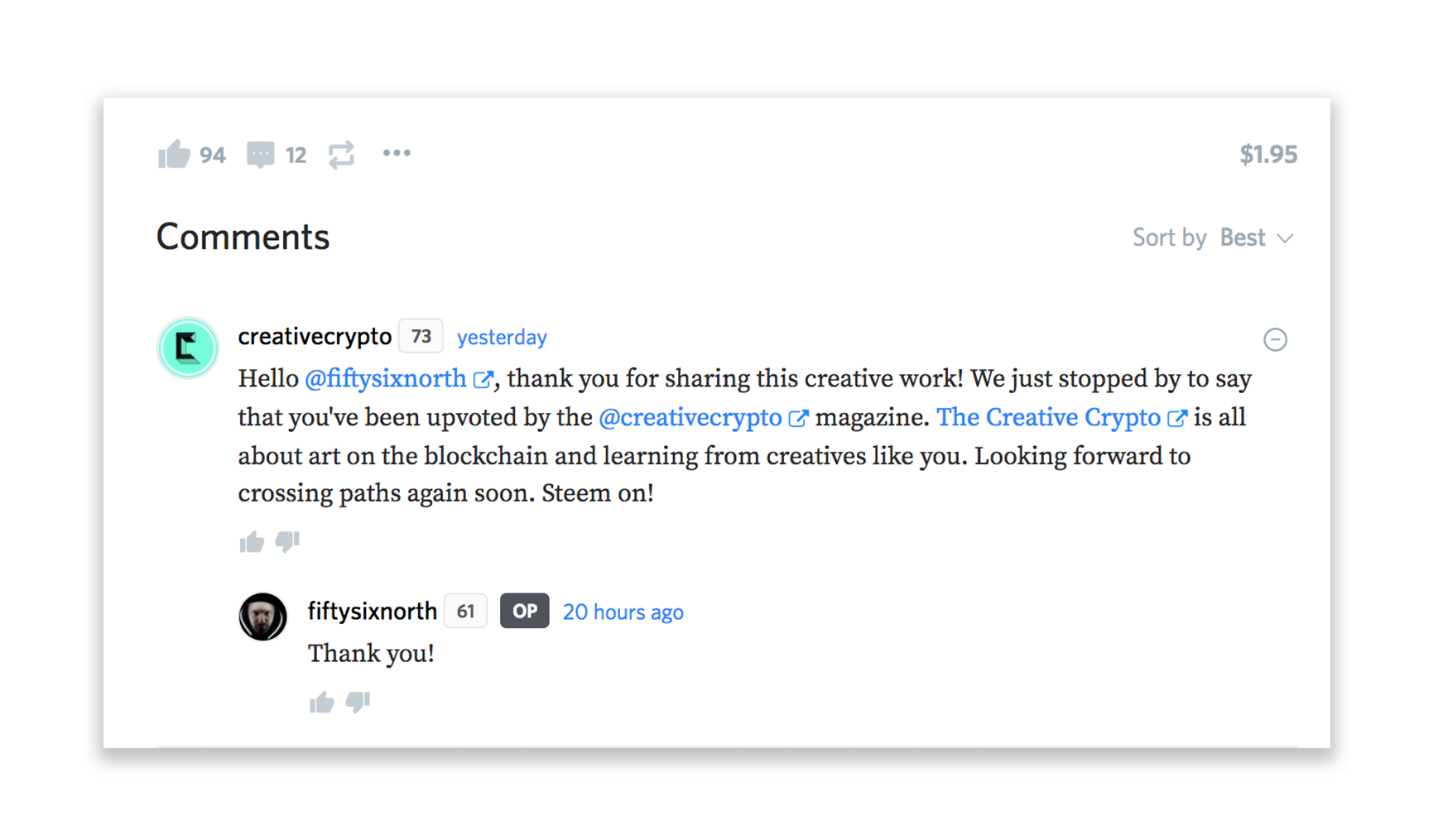 CC does this usually around 16 or so times each day. CC is super passionate about discovering creatives so we let her do her thing. Over the last few months, CC has definitely begun to reveal her favorites. These cryptoart All Stars are on her whitelist - @dadanyc, @knownorigin, @steemmonsters, @decentraland and @creativechain.
---
Explore more of dApp favorites via our Resources Page
---
Behind the scenes - CC's super powers were designed by @emrebeyler, one of our Magazine's amazing devs. Looking ahead, our curation efforts will continue to get smarter and blend a balance of human + machine.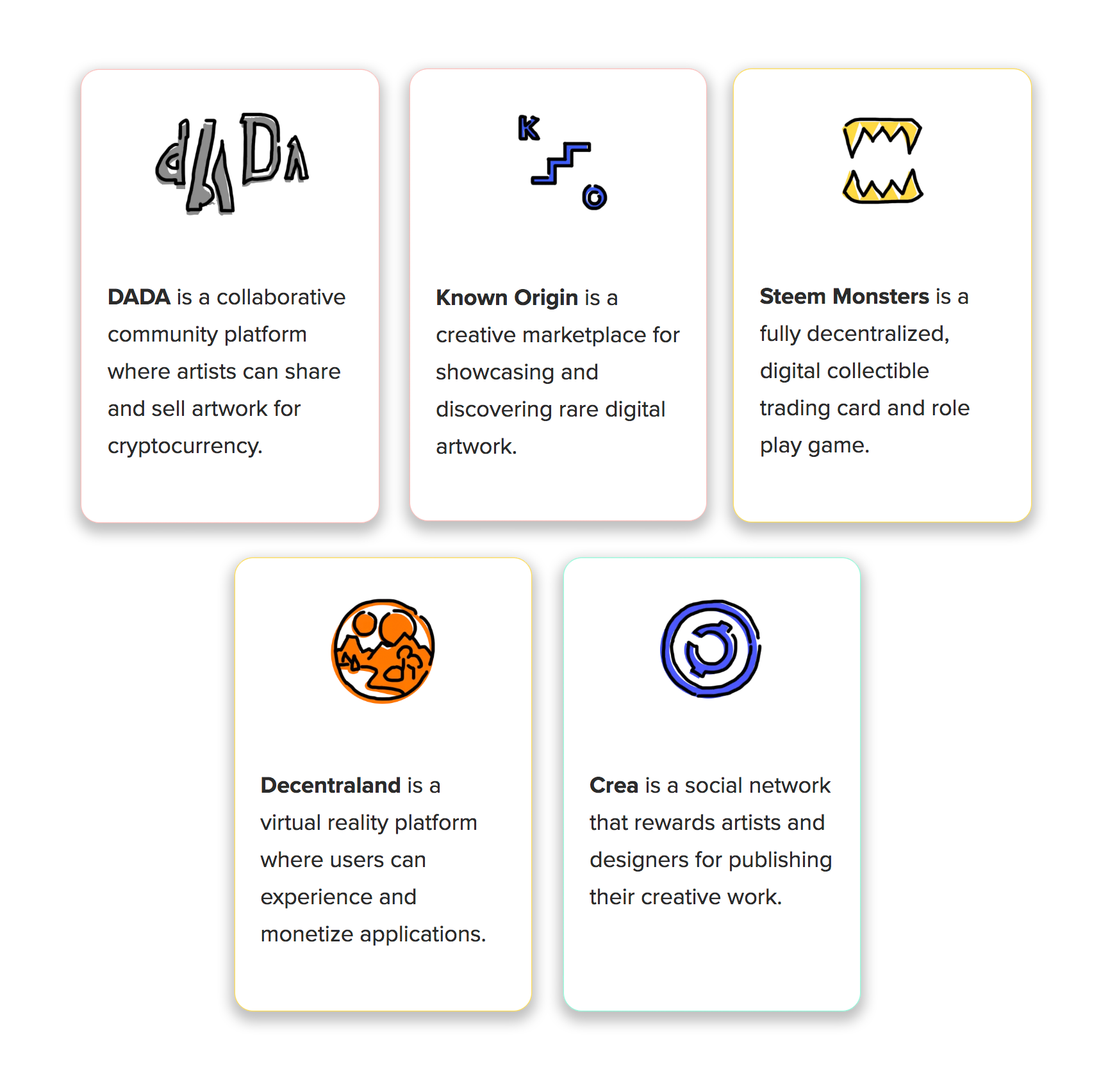 A Beacon for Creative Empowerment
Our goal heading into 2019 is to build an arena of ideas and discussion concerning creative projects that are not being held anywhere else. Typical blockchain-related news sources like Coindesk and Coin Telegraph are fueled by financial movement, general speculation, and corporate announcements. In the rare instances that they do report on a creative project such as Crypto Kitties or even a platform like the PROPS Project, but there is little insight into the rich ecosystem of production that backs these endeavors - the experiences, future forecasts, ongoing opportunities, and educational resources are not made visible.
Stay tuned for more exciting updates next week about The Creative Crypto. If you're interested in learning more, make sure to stop by our presentation at Steem Fest 3 in Poland next week!
If you would like to support the Magazine, please consider adding us to your voting trail. You can also subscribe to our weekly newsletter on the website and follow our Twitter account.
---
Visit us @ https://thecreativecrypto.com/
---

Empower artists, writers, musicians, non-profits and community initiatives - delegate Steem Power to @sndbox (using the links below) or follow our curation trail. Learn more about Sndbox - watch our introduction, here.
Follow us on Twitter, YouTube, and our magazine The Creative Crypto / @creativecrypto