Repository
https://github.com/sogatanco/nebeng
About NEBENG
NEBENG (Nemu-Bengkel) is an application to find the nearest car workshop and motorcycle workshop. When your vehicle is damaged in transit, you don't know where it is closest to repairing it. Nebeng is the solution.
What feature(s) did you add?
We added Admin Page that contains:
Admin login page
This login page consists of 1 button and 2 text input for username and password. The data used for this login process is taken from the NEBENG Rest API that we uploaded in the previous post
Dashboard page
The dashboard page consists of cards that display the number of users and workshops. On the dashboar page there is also a chart that was built using Chart Js to compare the number of motorcycle workshops and car workshops according to the date of input. here is also a folder to display location details of all workshops.
Bengkel View Page
This page was created to display all BENGKEL (workshop). This consists of two pages, namely a car workshop and a motorcycle workshop.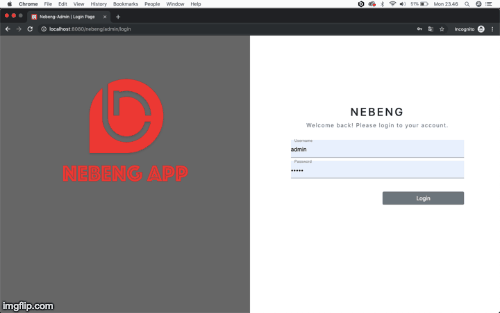 How did you implement it/them?
semua proses pada fitur yang telah kami tambahkan dibuat menggunakan bahasa pemograman PHP (Codeigniter), Bootstrap dan jQuery. Dan data, kami ambil dari Rest API yang telah kami buat kemarin. Berikut sedikit cuplikan kode: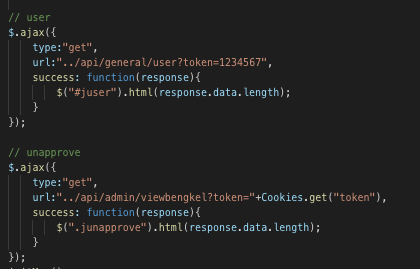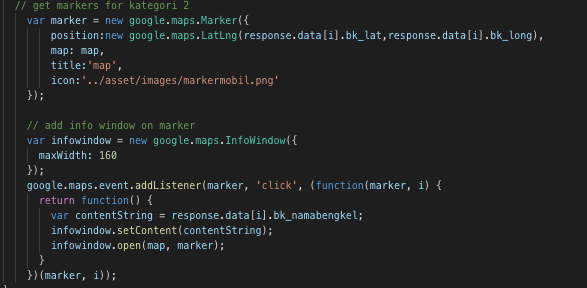 Commits on Github
https://github.com/sogatanco/nebeng/compare/master@%7B06-15-19%7D...master
Github Account