Repository
https://github.com/sogatanco/nebeng
About NEBENG
NEBENG (Nemu-Bengkel) is an application to find the nearest car workshop and motorcycle workshop. When your vehicle is damaged in transit, you don't know where it is closest to repairing it. Nebeng is the solution.
What feature(s) did you add?
Users Page
It is a page to display all registered users on Nebeng Aplication. Each users consists of user full name, email, cellphone number, gender and number of locations entered by the user.

Function to Delete User
It is a function to remove users who violates the rules. This function accessed by pressing trash button on right-top of user card view.

Count number of location inserted by user
Then Number of location that inputed by user not available when request USER API. So here we need to request another API to get the location number. There is an API to get the Location with parameter is user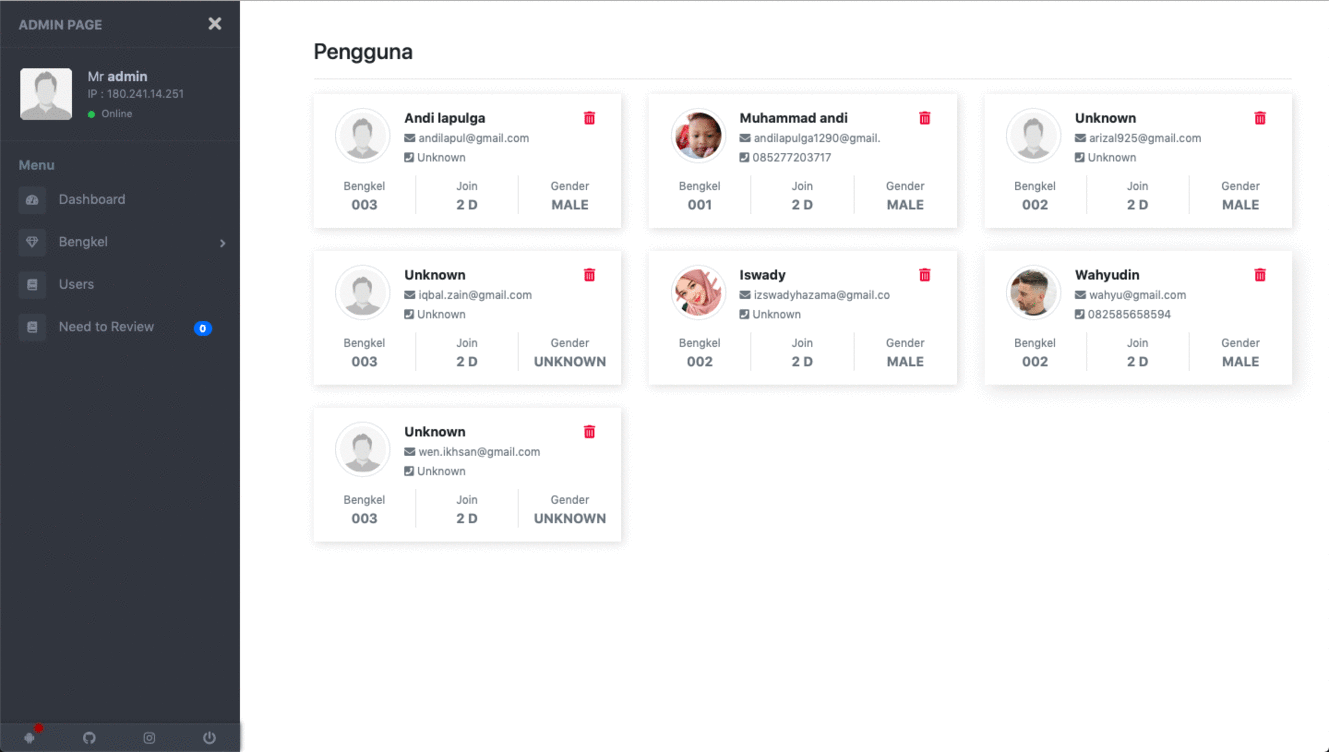 How did you implement it/them?
All processes in this added features are made using the PHP (Codeigniter), Bootstrap and jQuery programming languages. data and action requested from the Rest API that we made yesterday. Here's a little code snippet:
function getUser(){
        $("#content").html("")
        $.ajax({
            type:'get',
            url:'../../api/general/user?token=1234567',
            success:function(response){
                console.log(response)
                $.each(response.data, function(i,user){
                    var profil=user.us_profil;
                    if(profil==null||profil==""){
                        profil="profil_null.png"
                    }
                    var nama=ifUnknown(user.us_nama);
                    var email=user.us_email;
                    var hp=ifUnknown(user.us_nomorhp);
                    var sex=ifUnknown(user.us_jk);
                    var join=user.us_gabung;
                    $("#content").append(`
                    <div class="col-sm-4">
                    <div class="card-view">
                        <div class="row">
                            <div class="col-3 ">
                            </div>
                            <div class="col-7">
                               <strong>`+capitalFirst(nama)+`</strong><br>
                               <small class="text-muted"><i class="fas fa-envelope"></i> `+email.substring(0,22)+`<br><i class='fas fa-phone-square'></i> `+hp+`</small>
                            </div>
                            <div class="col-1" id="hapus" data-email="`+email+`"><i class="fas fa-trash-alt text-danger"></i></div>
                        </div>
                        <div class="row detail">
                            <div class="col-4 text-center text-muted pd">
                                <small >Bengkel</small><br>
                                <strong id="count`+i+`">000</strong>
                            </div>
                            <div class="col-4 text-center text-muted pd">
                                <small >Join</small><br>
                                <strong >`+prettyDate(join)+`</strong>
                            </div>
                            <div class="col-4 text-center text-muted">
                                <small >Gender</small><br>
                                <strong>`+sex.toUpperCase()+`</strong>
                            </div>
                        </div>
                    </div>
                </div>
                    `)  
}

$("#content").on("click","#hapus", function(){
        var conf=confirm("Are you sure to Delete it ?");
            if(conf==true){  
                console.log($(this).data("email"))
                $.ajax({
                    type:"DELETE",
                    url:"../../api/admin/deleteuser",
                    data:{
                        token:Cookies.get('token'),
                        username:$(this).data("email")
                    },
                    success:function(res){
                        alert("Deleted")
                        getUser()
                    },
                    error:function(err){
                        alert("failed to delete")
                    }
                })
            }
    })

function to count number of location inserted by user
this function added in getUser() function
$.ajax({
                        type:'get',
                        url:'../../nebeng/api/general/bengkel?token=1234567&pemilik='+email,
                        success:function(response){
                            jbengkel=response.data.length
                            $("#count"+i).html(addZero(jbengkel,3))
                        },
                        error:function(err){
                            jbengkel=0
                            $("#count"+i).html(addZero(jbengkel,3))
                        }  
                    })



To Convert date to pretty word like 1 MIN, 3 DAYS, 1 WEEKS, 2 MONTHS, etc I used this following function :
function prettyDate(time){
    var date = new Date((time || "").replace(/-/g,"/").replace(/[TZ]/g," ")),
        diff = (((new Date()).getTime() - date.getTime()) / 1000),
        day_diff = Math.floor(diff / 86400);
            
    if ( isNaN(day_diff) || day_diff < 0 || day_diff >= 31 )
        return;       
    return day_diff == 0 && (
            diff < 60 && "NOW" ||
            diff < 3600 && Math.floor( diff / 60 ) + " MIN" ||
            diff < 7200 && "1 hour ago" ||
            diff < 86400 && Math.floor( diff / 3600 ) + " H") ||
        day_diff < 7 && day_diff + " D" ||
        day_diff < 31 && Math.ceil( day_diff / 7 ) + " W";
}

    // funtion add leading zero
    function addZero(num, size) {
        var s = num+"";
        while (s.length < size) s = "0" + s;
        return s;
    }

Commits on Github
https://github.com/sogatanco/nebeng/compare/master@%7B06-20-19%7D...master
Github Account