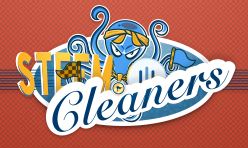 ---
Phishing has restarted on Steem. Hackers have produced hundreds of comments using over a dozen different stolen accounts. The comments have malicious links and are written in a way to entice and trick users to click on them.


This is an example of a phishing comment.
A comment like the one above will take you away from Steemit or any other Steem front end. It will take you to a website that's made to look like a legitimate service. It is actually a fake website.
The fake website is designed to trick you to put in your account name and password (or active key). When you do that, the hackers log into your account, steal all your money and change your password. Then they use your account to spam other phishing comments with.
Flags/Downvotes
The @steemcleaners team of accounts (which includes @guard and @plentyofphish) will flag any malicious phishing comments a hacked account posts. We will try to flag it to negative reputation where possible.
If you restore your account, make sure to let us know right away. We will remove all the big flags we can to restore your reputation. In return, you will have to delete all the phishing comments the hackers posted through your account.
Warning: Please don't delete comments that have a large flag/downvote on them or we cannot remove it!
No Free Money
The hackers want you to fall for their tricks. There is no free "30 STEEM". There never will be. They just know that you want to earn on Steem and are trying to trick you.
Report!
Report any phishing to us at https://discord.gg/STXSV4g or through our form at http://steemcleaners.com/reports/new. Phishing takes precedence over every other form of abuse. Even if you're on our blacklist, we will still help you. Our #1 goal is to stop phishing and support the Steem ecosystem.
Recover
Take a look at your account's Steemd.com profile.
Example:
Creation Service

Recovery account: @steemmonsters in this case. That's the Trustee Account that must be used to recover your password.
Last account recovery: The default date is 1970. If it says a different date that's the date the account was previously recovered (password reset).
In this case, the user will have to contact @steemmonsters (by going to their Discord and asking for help) to have their recovery process started.
Steemit Inc Account

Recovery account: @steem. This is the most common situation as most accounts were made by Steemit Inc for users.
To start your recovery process if your Trustee Account is @steem, go to https://steemit.com/recover_account_step_1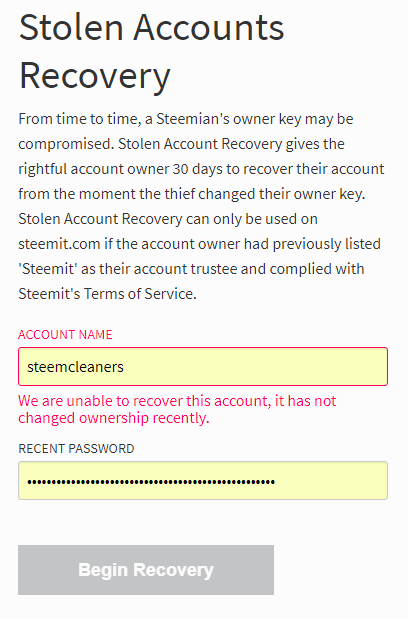 This is what the recovery form looks like
Put in your account name
Put in the last password you have for your account
Submit the form and you will see a form with more information
In the second form, make sure you put in the email you signed up with originally
Check your email often! Account recoveries take Steemit Inc approximately 24-48 hours.
Reference Guide
If you're not sure how to reach your Trustee Account, check out this contact list on the @plentyofphish GitHub repository: https://github.com/gryter/plentyofphish/blob/master/guides/account-recovery.md
We welcome users to translate this post in their own words and post their own phishing warnings!