Since a few weeks an idea, how to improve the Steem ecosystem exists in my head and I couldn't figure out how to properly transfer the idea to the community.
Recently I started my first "App" on the Steem Blockchain - the SteemHQ.com Community Witness - and I feel like now is the right time to present you a proposal how to radical improve the Steem Blockchain for mass adaption and how to achieve a much fairer and less exploitable distribution of the Steem author reward pool.
Components
The following proposal requires a rework of the Steem author reward system on protocol level which could be rolled out in an upcomming hardfork. For such a drastical change consensus of all witnesses and Steem stakeholders is required.
Proposal
The proposal is called "Exponential Author Reward Method" and will try achieve a much fairer and less exploitable distribution of the Steem author reward pool.
The higher the author reward for a content post, the lower the reward for another upvote of equal voting power
The higher the author reward for a content post, the higher the penality for another downvote of equal voting power
Mockups / Examples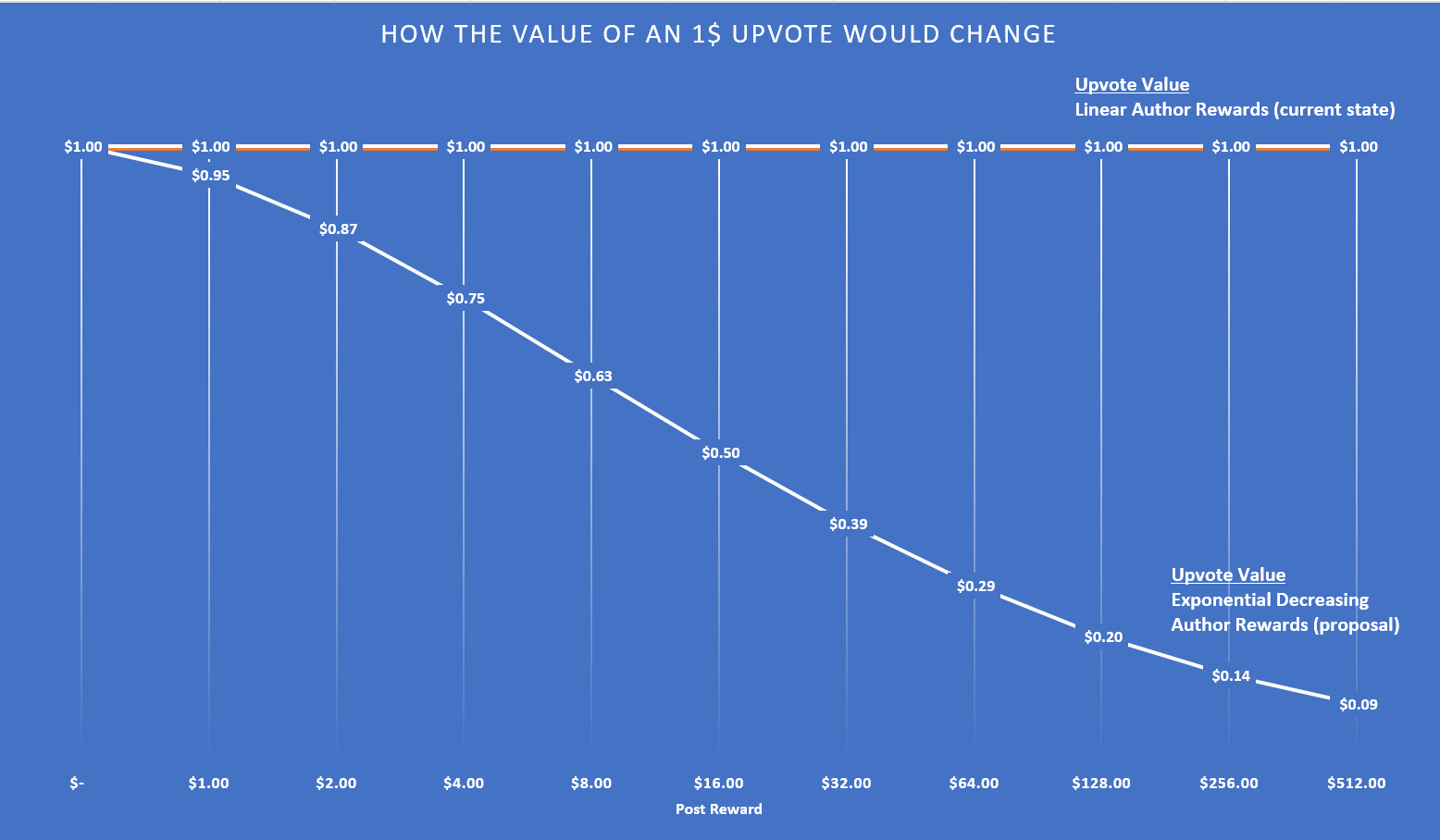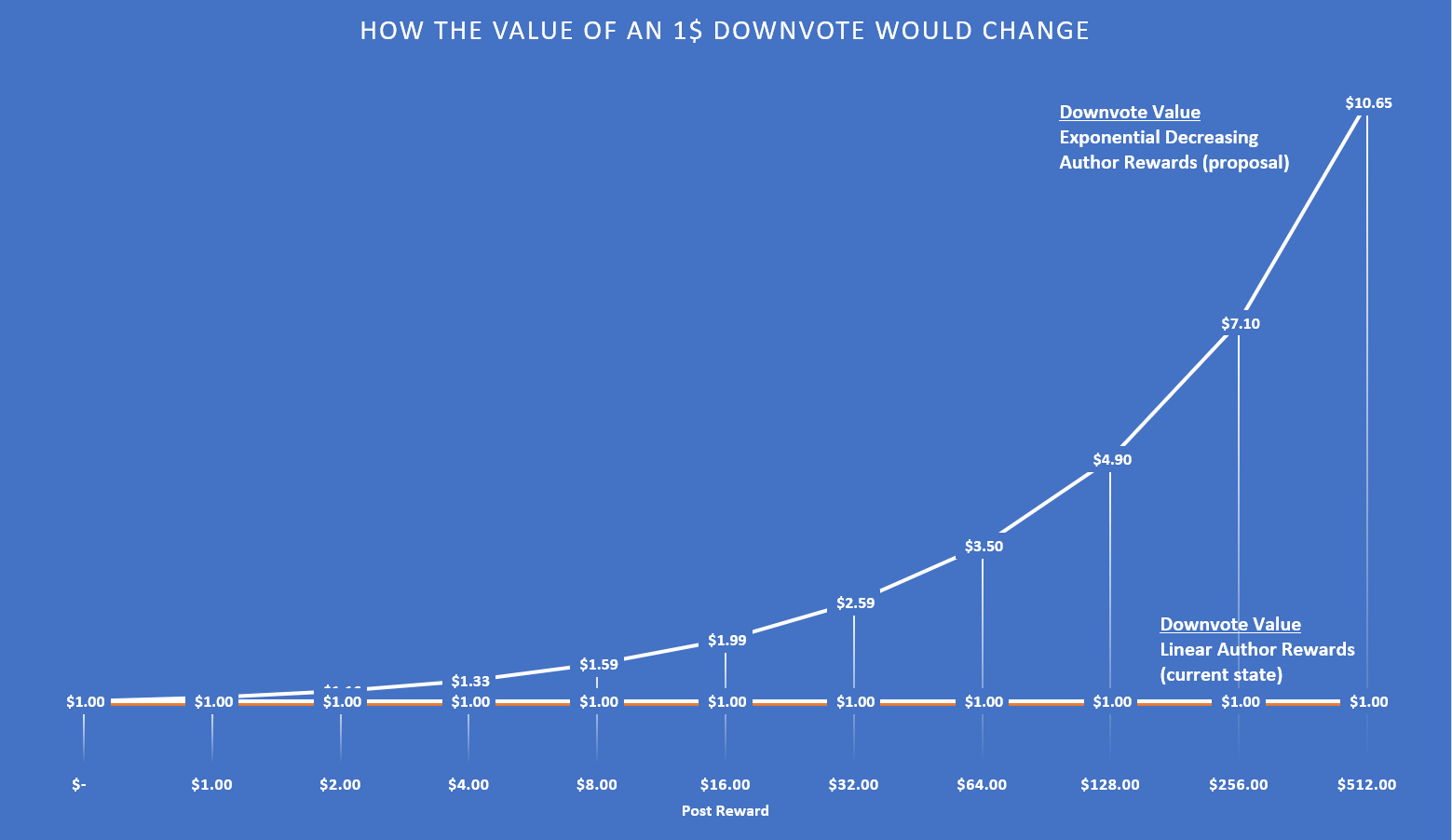 Benefits
Wider distribution of the reward pool
Speaking of today, a large part of the reward pool goes into the hands of a small number of accounts. The proposal would lead to a wider distribution of the reward pool and further encourage voting for quality content and downvoting for bad content.
Steem will only be successful if the project can grow much further, so the value for content should be measured on quality instead a backup of large stakeholders or a large stake of Steempower.
Lower the impact of voting bots
Voting bots are here to stay on the Steem blockchain. With this change, the positive effect in promoting quality content with bots will stay but it'll become less profitable the higher the reward is pushed and more of a risk of getting a downvote, which will have a much higher impact. Money put into voting bots will be much more at stake, when somebody tries to promote bad content.
Encourage downvoting on bad content
With downvoting becoming more powerful on higher valued content, community-driven services like @steemcleaners or @cheetah will have a much larger impact on keeping Steem a place with great content. Even @berniesanders should have an easier time downvoting overvalued chart analyses without sacrifying his whole stake of Steempower.
Possible exploiting tactics
Of course there is a way how this reward method could also be exploited:
In order to escape the upvote/downvote penality with higher rewards per content - people could start splitting their upvotes on more and more content and start spamming the blockchain.
In my opinion this will be way more costly and time consuming than exploiting the reward pool today. It could be countermeasured with more community-driven downvote services and will come with a much larger reputation lost.
Final words
This proposal shoudn't be perfect yet - but could be a good starting point for a discussion.
I really love the idea and vision of the Steem blockchain and wanna see it succeed - so we have to reflect ourselfs if the reward pool distribution today is perfectly designed as it stands now for mass adoption.
The proposal will be one of many other things, I'll do to further improve the Steem ecosystem - if you like to support me, feel free to join my project SteemHQ.com Community Witness and send one of your witness votes to steemhq.witness - you won't regret it.
If you think this proposal is worth for a discussion please resteem it to your follower!
---
Posted on Utopian.io - Rewarding Open Source Contributors
---