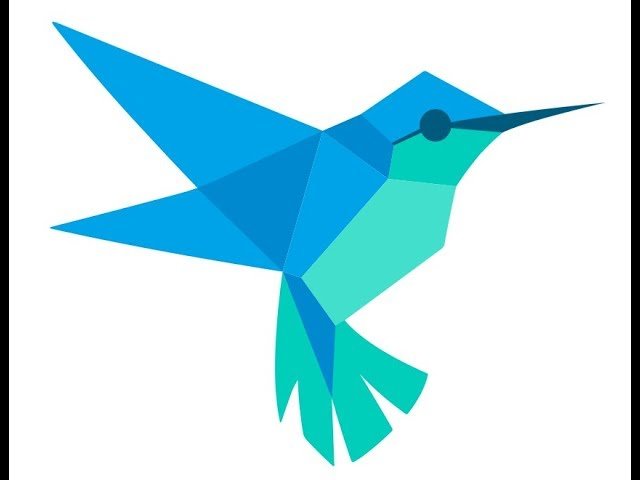 Repository
https://github.com/dart-lang/sdk
What Will I Learn?
You will learn how to create the logic for a tetris game
You will learn how to use a Timer to create a game loop
You will learn how to create and manipulate multi-dimensional lists
You will learn how to interface with HTML Canvas in Dart
You will learn how to use iterators to define position and execute game logic
You will learn how to catch keyboard events with Dart
Requirements
System Requirements:
OS Support for Dart:
Required Knowledge
The Dart SDK
A Dart supported text editor (Dart Pad can be used)
A little time to sit and watch a video and some patience to learn the language
Resources for Dart:
Sources:
Dart Logo (Google): https://www.dartlang.org/
Difficulty
Description
In this Dart Video Tutorial, we finish the Tetris game by adding in the logic to make the game work like a Tetris game. This includes adding event handlers, manipulating HTML canvas, creating background state, defining positional elements and using a random number generator to produce pieces. The game is extendable and a user could add a ton of features to this implementation.
Interfacing with HTML Canvas in Dart
Html canvas is a element in HTML that is used to draw graphics on the fly through scripting. The canvas element itself is just the container for the graphics and it comes with an API that allows a developer to build their animations or static pictures. Html Canvas uses contexts to define whether or not the animation will be two dimensional or three dimensional and this context can also be used to draw shapes.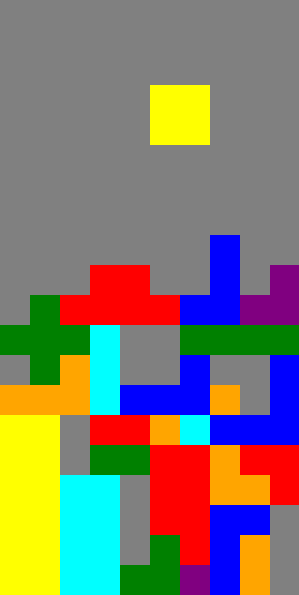 This image shows our game as its being played. Each of the pieces is drawn onto the 300 by 600 pixel canvas by filling in four 30 by 30 pixel tiles. These tiles are then positioned in such a way that they look like one of the seven tetromino pieces. Each piece also contains its own color which makes them distinctive from one another even after they've been stacked together. The user can only control the piece that is falling down the screen until it has hit another piece or hit the bottom axis of the canvas. To make this piece look as though it is moving on the board, we need to paint over it with the grey color of the board and then re-render if with the piece color every 500 milliseconds.
Modeling the Internal State with Lists
The game board for this Tetris game, needs to be modeled with an internal state so that the logic can draw the appropriate images on the canvas element. The easiest way to model the game board is by using a set of Lists. We can use a two dimensional list to model the entire grid of the game board and a normal list to check to see if a row is filled and should be removed. This rule follows the general rule of Tetris; when you fill a row with blocks, that row is removed from the board and the rest of the blocks move downwards.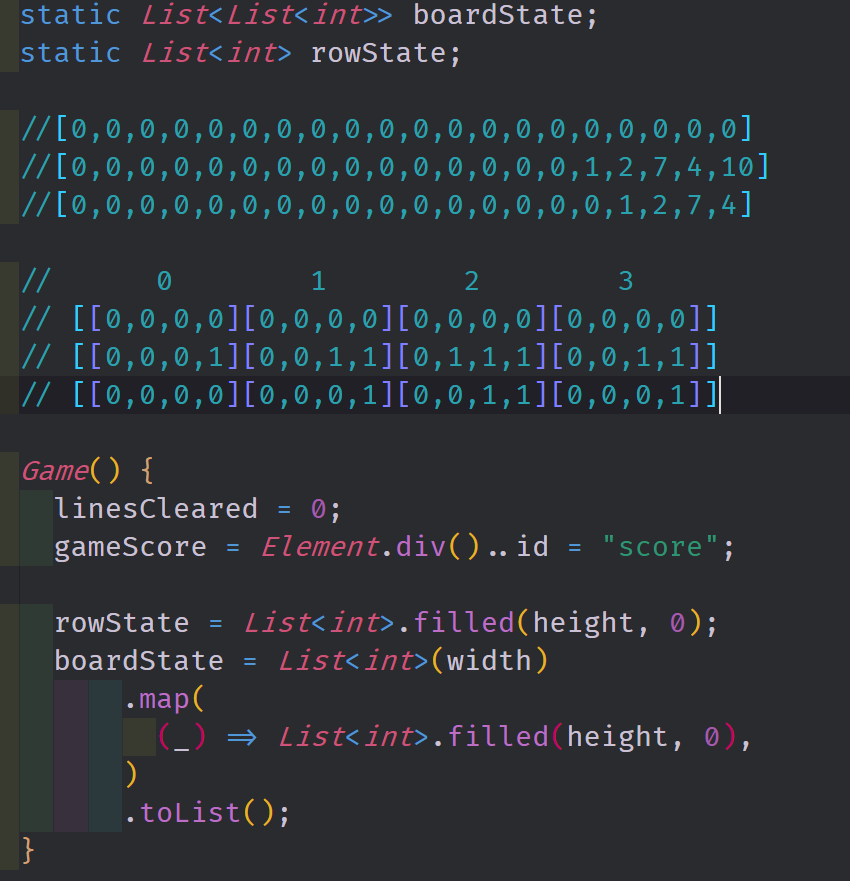 All of the game logic in this implementation of Tetris is held inside of a Game Object. This game object has multiple fields including a boardState field and a rowState field. The boardState field is a 10 by 20 two dimensional list of integers that is initially filled with zeroes. This field works to model the entire game board by adding zeroes to areas where a piece exists. On the other hand, the rowState field is a single dimensional list of integers which monitors how many ones appear in every row of the board. When one of the rows has 10 ones inside of it, we remove that row from the game board and then move every other row down one single position. Both of these fields are defined with this initial state inside of the Game object's constructor using named constructors and methods from the List class.
The Source Code for this video may be found here: https://github.com/tensor-programming/dart-tetris
Video Tutorial
Related Videos
Curriculum