Introducing !sources
After creating !pancakes and !popcorn, I have been looking at new ways to encourage fun on our favorite blockchain. Recently I was asked by a curator friend if I could build a bot to assist in preventing plagiarism.
The idea is simple, if a curator (or spam fighter, or anyone really) finds content that is plagiarized or improperly sourced, they simply can type !sources and a well written and formatted response to gently remind the author of proper sourcing of all non-public domain 0 (CC0) content.
How does it work?
The bot monitors the blockchain for comments that mention !sources and will respond immediately with the following comment.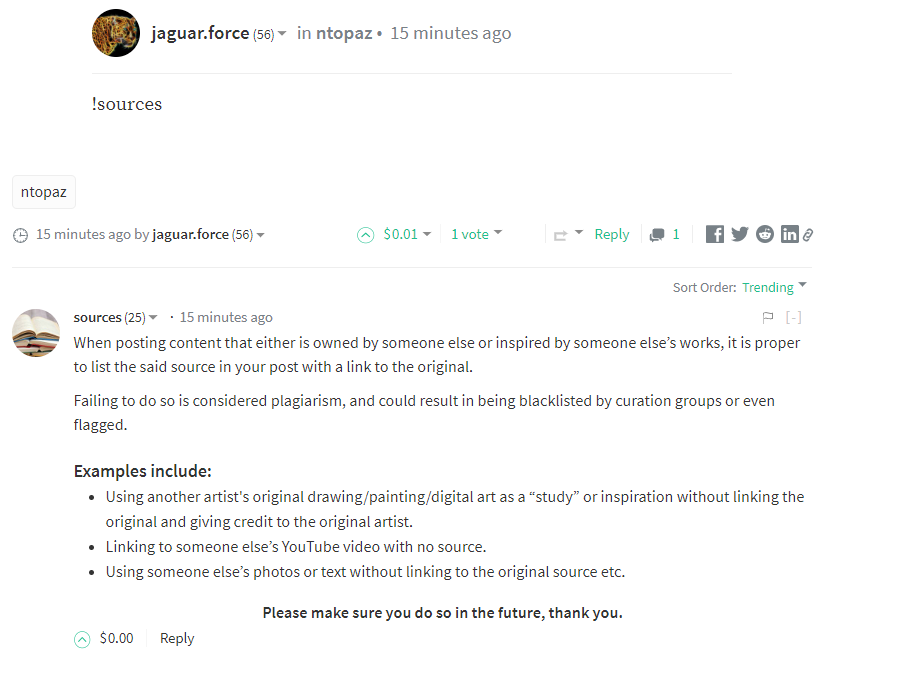 But why?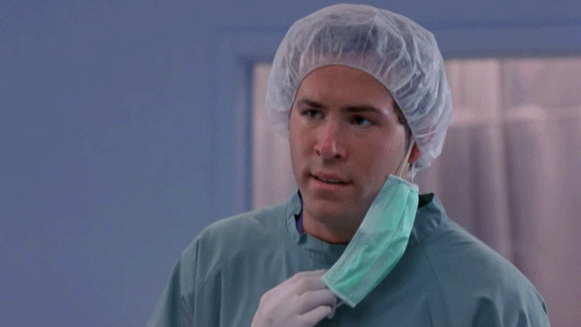 Fighting plagiarism on Steem is a very delicate balance. On one hand, we don't want people stealing other people's content and more importantly get rewarded for it, on the other hand, we want to prevent losing our most important asset... users.
Curators and spam fights already have their hands full with thankless work and this provides a small time saving and more important consistency.
Curator feedback
"As Curators we often come across an account that is not sourcing properly. Sometimes this could simply be a user not understanding that they need to do this, and others it's intentional.
We always want to give a user a chance though, in case it's a simple mistake. Many curators will leave a comment to explain what the author needs to do differently, but that does take time. Because of this many might not leave a comment at all, which leaves the author uninformed. Having the ability to use this simple command to summon a consistent and easy to understand comment will I believe solve this issue. As well as giving very useful information to users.
From a plagiarism fighting standpoint, repeat offenses will be simple to track by just querying how many times (if any) a comment was left on the account. This will take away the "I didn't know" excuse many plagiarism fighters, like @jaguar.force and @steemcleaners, hear often.
I think this is a great example of the Steem community coming together to solve a common issue. Looking forward to seeing this project progress and thank @themarkymark for helping making us curators' jobs a bit easier. It's much appreciated!"
@llfarms - Curie & C-Squared
Who can use it?
Right now it is open to everyone to use but it was primarily developed with Curators and Spam Fighters in mind.
Any future plans?
Glad you asked! English is not the only language on the blockchain. My plan is to add translations to other languages to allow this to be used regardless of the language.
Anyone knows me knows I am not a fan of doing anything a computer can do for me. So with that in mind, I plan on having the bot read the tags on the post and look for specific languages supported and automatically translate the response.
If a post is posted with the #spanish tag, it will have all the information it needs to know that it should post its response in Spanish. I am getting translations of the message in popular languages and I will update the bot to support this functionality. Right now the bot is a Siamese twin of the glorious !pancakes and !popcorn bot. I plan on changing this so I can easily add the additional functionality without cluttering my vanity bots.
Want to help?
While I don't need any help with the bot, we all need help identifying plagiarists. If you see something you are sure is plagiarized, give it a !sources and kindly remind them.