What is the project about?
Lots of technical people like me use various cloud service providers to manage their VPS, domain, storage etc. It is a time consuming and tedious job to check each account regularly. For example, most service providers recommend users to enable two factor authentication therefore users have to get their phone when they want to login. However, in most time, users only want to have a quick check of their services' status, account information etc. That is why I want to develop this Chrome extension to put all those information together and allow users to check all information in a single click!
Technology Stack
Chrome extension
Javascript
JQuery
Bootstrap
Features
Vultr account information: Users can view their balance, pending charges etc
Vultr server information: All VPS servers will be listed here with all necessary information, e.g. Server state, current status, location, IP, RAM, and storage.
Vultr backup information: All backups are listed here.
Vultr snapshot information: All snapshots are listed here.
Settings: In the current version, user can set their Vultr API key here to enable all features under "Vultr" tab.
Roadmap
The current version of Webmaster tool supports pulling out information via Vultr API, in the following iterations, more cloud providers will be supported, e.g. Digital Ocean, Linode, AWS, etc. Also, depending on the feedback, I may support some operations via cloud service provider APIs, e.g. start/stop/restart a server, create a snapshot, etc.
Chrome extension store
I have uploaded this tool to Chrome web store, the link is: https://chrome.google.com/webstore/detail/webmaster-tool/inffcpoooalmdfkhlnbnlmifdhblockb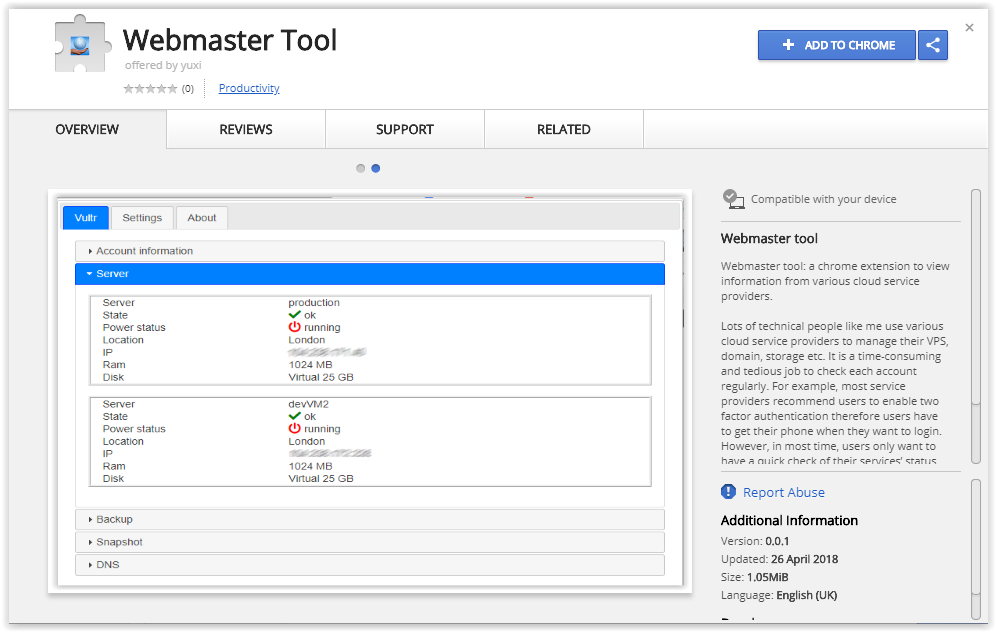 How to contribute?
Just fork this project, create your feature branch, commit your changes and send a pull request!
https://github.com/yuxir/webmastertool
Proof of work
I have added my Steemit account link in the README: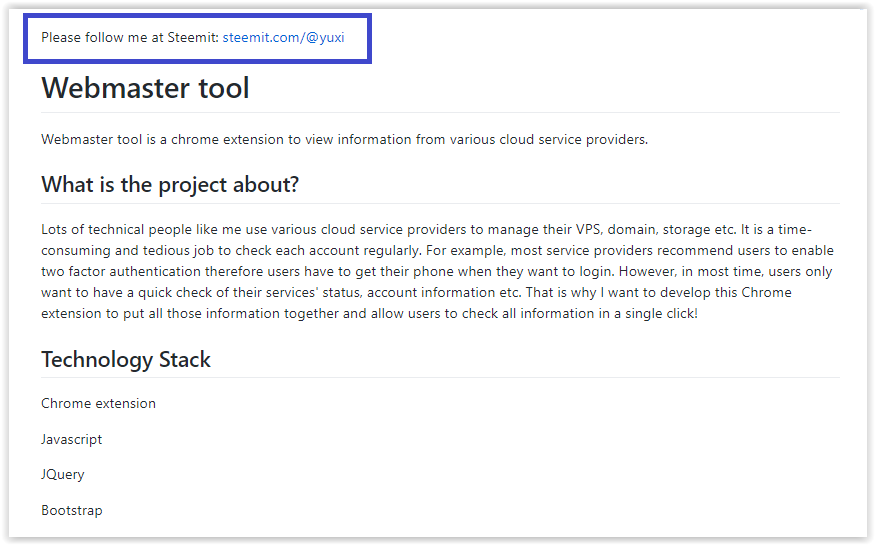 Screenshots
Vultr server information: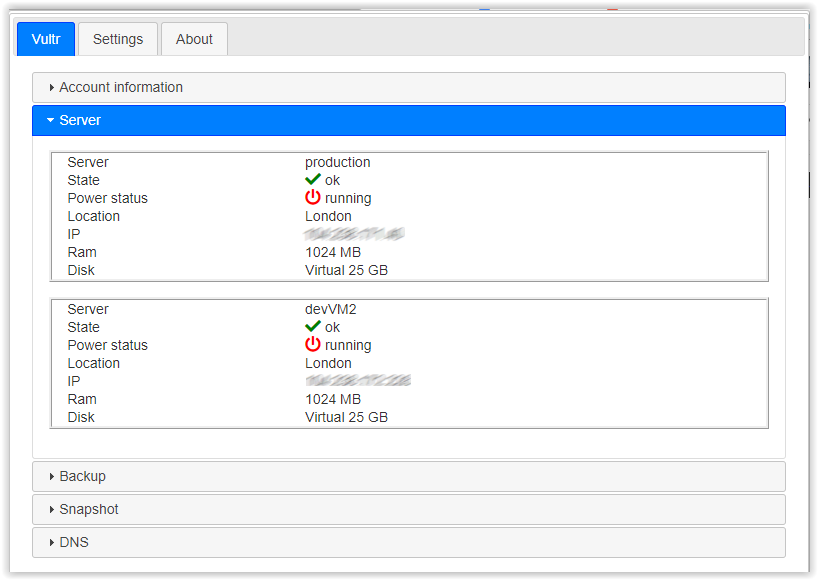 Vultr account information: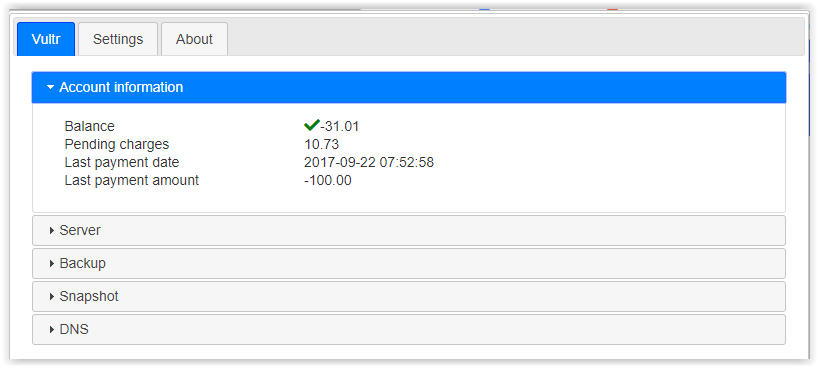 Vultr snapshot information: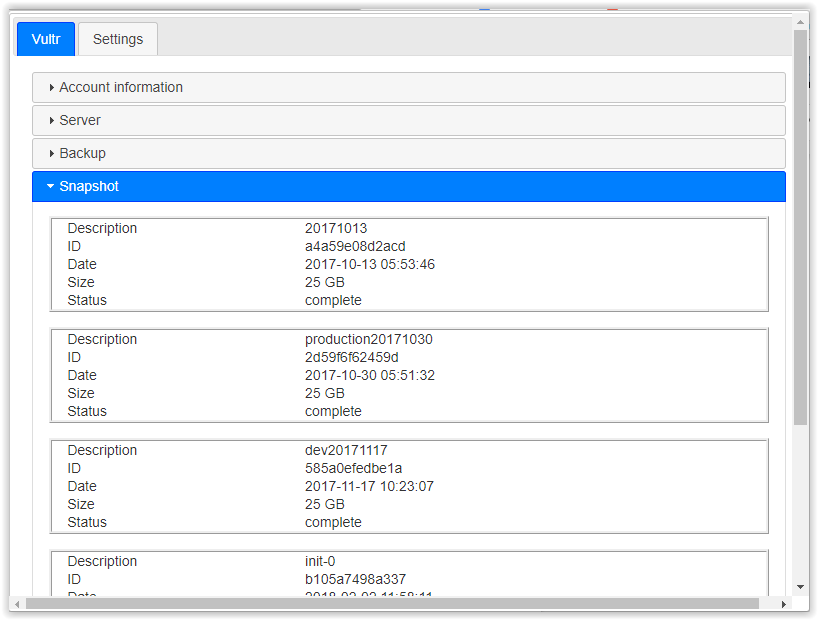 DNS information: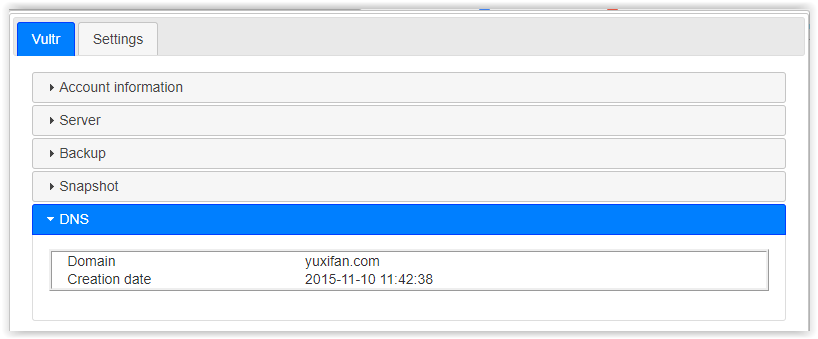 Settings:


---
Posted on Utopian.io - Rewarding Open Source Contributors
---