If only the American people could quickly develop the same type of well-deserved skepticism about big pharma and their claims about the safety and efficacy of their vaccines.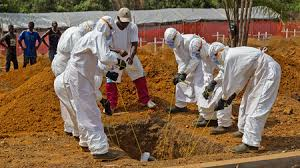 (Image courtesy of sciencemag.com.)
Check out this story:
https://www.express.co.uk/news/world/1105662/ebola-outbreak-dr-congo-who-un-health
https://www.express.co.uk/news/world/1093548/congo-ebola-outbreak-democratic-republic-Butembo-MSF-health-centre-attacked-virus-Katwa
Excerpting from the second linkabove;
"Speaking following the attack in Katwa on Sunday, Emmanuel Massart, MSF's Emergency Coordinator in the city said: 'This attack was traumatic for patients, their relatives and staff present inside the centre at the time. It has also crippled our ability to respond to what is now the epicentre of the outbreak.'
Although the motive for both attacks is unknown, there is a great deal of mistrust within the community towards the charity."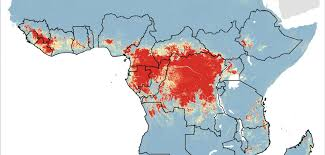 (Ebola projected propagation map. Courtesy of ox.ac.uk.)
Actually, the motive IS well known. These attackers do not trust the charity, sure, but it is the WHO and the vaccine they really don't trust. Claims by many in the region outside of the MSM are saying that people are getting sick AFTER being vaccinated.
Here is how one observer posted about the situation on a social media site:
"That seems to be the plan. Test your latest weaponized vaccine an a group that will not make a lot of news, then move out the 'doctors leaving in the dressed-up locals to represent 'medical care.'
Now sit back and study. Pie chart the victims for reference, and adjust the vaccine as needed.
Repeat."
...and another:
"It is well known in African countries that get Ebola that the only people that get Ebola are the vaccinated ones.
Ebola is a worm and it's transmitted by vaccine. Anyway, that's what I've heard."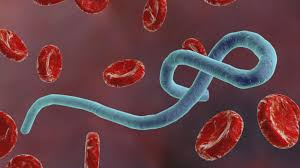 (It's a worm?...hmmm... This photo of "ebola" is from a MSM source...abcnews.go.org.)
AGAIN, this unsubstantiated internet rumor, but the African people attacking clinics clearly believe the vaccines are a type of covert genocide, and are taking action on their own.
They may be right.
When these same UN/WHO globalists tell you that the world's population must be reduced to 500,000,000 in order to be "sustainable," we have no choice but to take their statement at face value, and to plan accordingly.