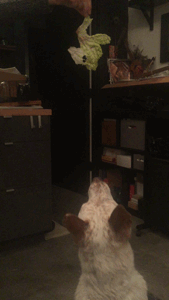 So you think a meat-based diet is unethical, cruel,
and bad for the planet. But you have a dog. What do you do?
Though it seems impossible, here I will explain how I overcame millions of years of evolution to convince my canine friend that a plant-based diet is best.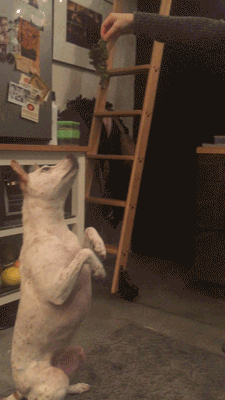 So you've watched Cowspiracy and What the health and dove headfirst into the vegan Blogosphere and made big changes in your lifestyle. But there's one little thing you don't feel so good about: your dog. Even if you would never get a dog again, maybe you had one before you learned how much better a vegan lifestyle is, and you just can't part with your canine buddy. But you feel so guilty about feeding them meat. I mean, that stuff in dog food must come from the worst of animal agriculture, right? Maybe you even tried a compromise for a while and started collecting roadkill so they wouldn't go to waste. Two birds with one stone! Well, if you tried that solution, you probably discovered like I did that your vegan housemates didn't care much for the bloody, smashed raccoon parts in the freezer.
There must be a better solution!
Well, who needs meat anyway? I don't, right? Why can't my dog live on the same diet I can? RIGHT! So beans and rice it is! Didn't I read somewhere that kale has 3x the protein of a steak? Those kibbles are mostly corn anyway.
It's all about the dressing
What I learned from my experiments with my dog is that flavoring your dog's vegetable food is key to success. Thinking back to my days of doing trail crew, when I would spend weeks at a time in the backcountry with nothing but stale dry food to eat, is that hunger is the best seasoning! So I seasoned her meals by making sure she had access to nothing but vegetables. Soon she was practically swallowing that lettuce whole!
JUST KIDDING
My dog is actually just a freak who I think might be part pig. She eats pretty much everything with gusto. That includes large quantities of animal parts. She can crunch the leg bones of a deer into bits and swallow them whole in seconds. She can consume an entire chicken, feathers and guts and feet and all, in less than ten minutes (she doesn't kill them, I give her ones that died from injury or age). And that means, yes, she eats lettuce. And kale, and apples, tomatoes, and pretty much anything else she can find.
This piece is for humor. Dogs are meant to eat meat. If you're a vegan, It's a dilemma. Live with it. Life is full of dilemmas.