Greetings men and women of Steem, parishioners of the SteemChurch, fellow citizens of Venezuela and friends from all over the planet!
There are many reasons to believe that strength is in the union. But the driving force behind that union must be to do good to who is due.
As a Venezuelan I have seen that one of the causes that weakened the entire nation was the political and social division of citizens. While we discussed which political color was better, those who concentrated on power, on both sides, only sought their own interests.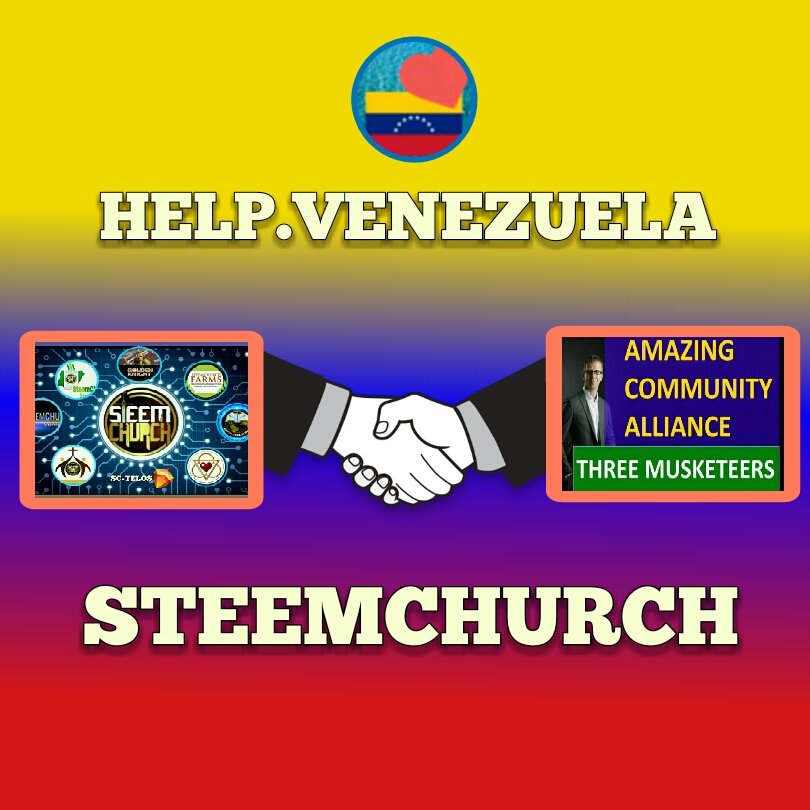 The people of Venezuela, between jokes and laughter, used to be rivals with each other, but only with professional baseball games (Caracas Vs Magallanes, a concise example) Now, the atmosphere was changing and the laughter was replaced by partisan hatreds.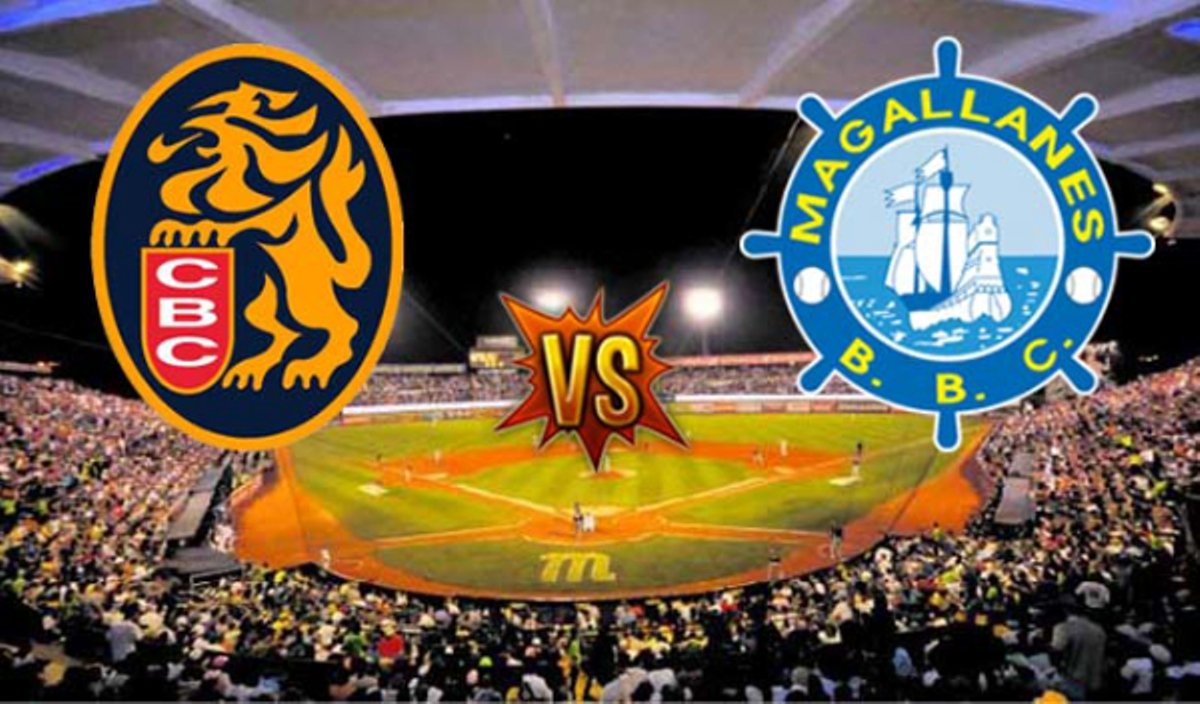 Source
Although I do not usually talk about politics because it is a subject that requires a lot of objectivity to be discussed. I just put this example to highlight the importance of unity, good alliances and mutual cooperation between people as created social beings.
A biblical proverb says:
He who walks with wise men will be wise ...
Proverbs 13:20
Since I joined Steemit, it did not take me long to realize @steemchurch, created by @sirknight on December 11, 2017, a growth church accelerated by the spirit that characterizes it: Love, solidarity, motivation, growth in community , freedom and promoter of good Christian values.
For this and other good reasons, I always recommended SteemChurch as a community with which solid alliances could be made to fight for the dignity of the most needy.
Although for now it is a virtual Church, it is well known in physical homes for the support it provides to many families of the earth, such as Nigeria, Ghana, and Venezuela. Three territories with the highest concentration of parishioners and friends.
I currently hold the position of steemchurch CEO, in the order of @sirknight, an Australian acclaimed by the steem community, for his high commitment to the block chain and beyond.
His high life experience has driven those who walk with him, without leaving them behind.
Why do I say all this?


Because there are always new friends who want to know about the Church of Steem and also work with it.
Recently an alliance was made between @help.venezuela, @steemchurch and @crypto.piotr, this last friend, gave all his votes to steemchurch for the 20K contest initiated by @theycallmedan.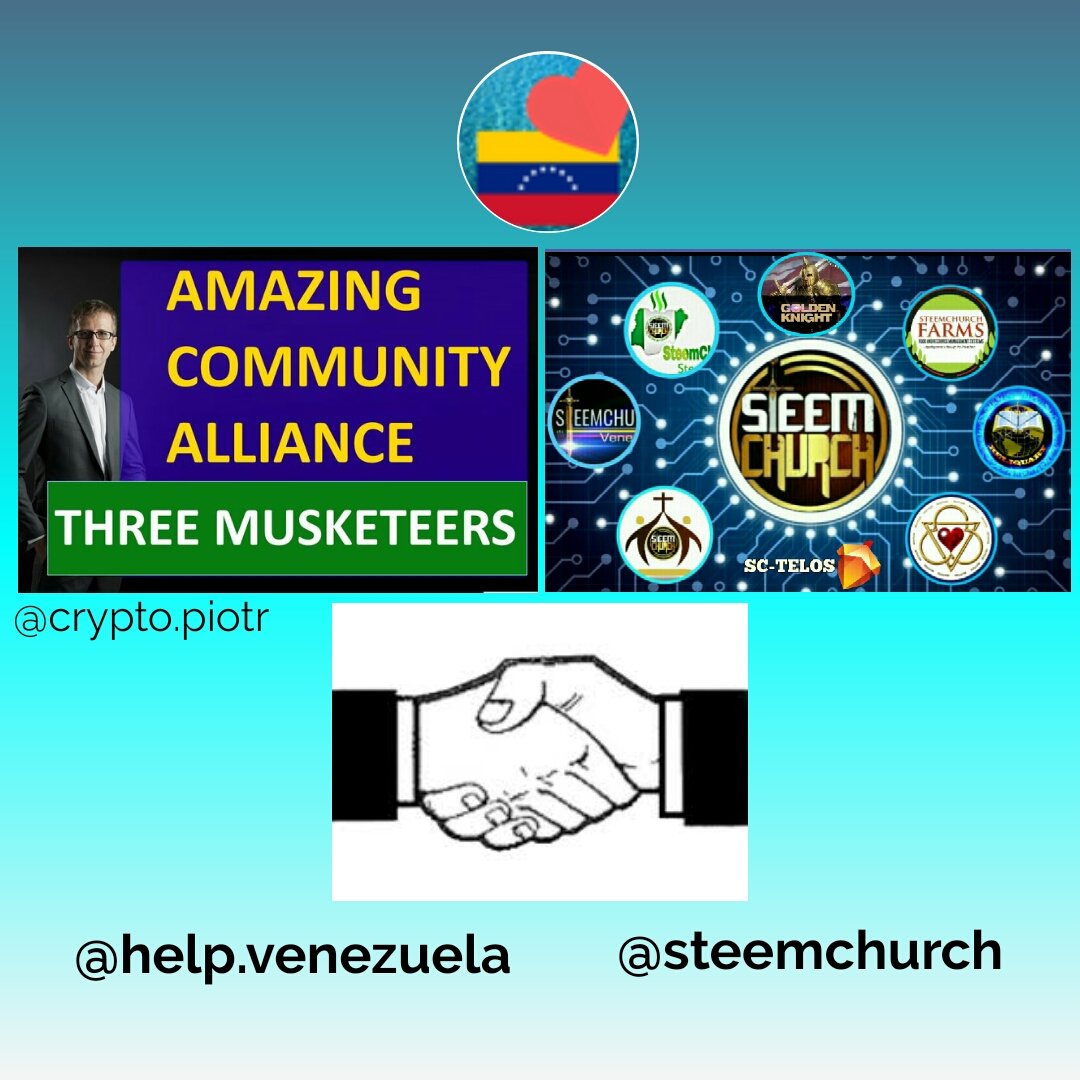 The reason for this wonderful partnership is mainly to support steemchurch to win the survey according to established criteria.
Let me open a parenthesis here:
(Many people with good intentions have voted for steemchurch but unfortunately do not meet the required requirements, among them, the reputation is less than 33, and have less than 10 publications made) Why we apologize to the organizers of this contest) .
The other reason for this alliance is to help the citizens of Venezuela, due to the strong crisis that the South American country is going through. (Regardless of humanitarian aid, something that has not yet had good results due to the power struggles) Many people in Steem, have expressed their solidarity to help from this virtual environment to the Venezuelans.
Among them, they are @sirknight, @crypto.piotr and @steemchurch. All of them with high altruistic sense. If more people wish to join the noble causes, not only for Venezuela, but also for the world's unassisted peoples, Welcome be.

Important note:
The important thing of charity is to be able to reach those who really need, in no way and under no concept, we can ignore this truth.
As a Venezuelan, it gives much regret that, many of our compatriots are denounced in Venezuela and in the rest of the world as cheaters.
So, steemchurch and allies are there to break that paradigm that has been created, build trust and be a great example before the national and international community.


I want to personally thank @sirknight, @crypto.piotr @uyobong and all the good Cristiano de @steemchurch, for the support and trust they have given me.
We are here to make a difference!
Special invitation


A vote for @steemchurch
Following this alliance, many members of both communities have been working and motivating the steemians to vote for STEEMCHURCH.
It seems fair to honor the invitation made by some of them in the comments of the publications:
....I wanted to take the opportunity to invite him to support @STEEMCHURCH in the 20K SP delegation sponsored by @theycallmedan.
https://dpoll.xyz/detail/@theycallmedan/which-steem-project-should-i-delegate-20k-steempower-to-for-1-year/

Friend, it is a pleasure for me to send you a big hug, in this opportunity I am writing to you to ask for your good offices and consider voting for the account @steemchurch, they do a great job in Venezuela and this time is requesting our support for for obtaining a 20K delegation of STEEM POWER for one year in the contest that @theycallmedan carries out. With the following question:
To which Steem project should I delegate 20k SteemPower for 1 year?
That would be very great for everyone to whom this account gives support. And much more great for all Venezuelans who support her in her great work.
I hope you can consider voting for @steemchurch,
Here is the link to vote: To which Steem project should I delegate 20k SteemPower for 1 year?
Which Steem Project Should I Delegate 20k SteemPower To For 1 Year?
https://dpoll.xyz/detail/@theycallmedan/which-steem-project-should-i-delegate-20k-steempower-to-for-1-year/

Thank you @juanmolina and @lanzjoseg for your support, also to all members of both communities.

Join us on TelegramHere
SteemChurch Community