I joined the US Navy in Oct. 1971 and was on active duty until Nov. 1975. I joined because I thought I would be drafted into the US Army as the draft lottery had selected my birthday month as only 3 months into the year. They never got that far, only 1.5 months down the list so I never would have been drafted. It was a good life decision that I joined as a college degree and better life resulted from serving in the Navy.
I took their tests and was eligible for all ratings so selected ET for electronics technician. Weeks later recruiter called to say 'Why don't you go nuc (nuclear) so you get ET and NUC training? (setup) I said 'Yes'. A week before my entry date he called to say I was Nuc Machinist Mate. I told him I wanted ET. He said the NUC code over-rides ET and they need Nuc MMs. After Navy schools and training I deceided to drop the Nuc code (2 years less to serve) doing something I didn't want to do.
I was sent to the surface fleet as Machinist Mate E-4. I served aboard USS Providence CLG6 for the WestPac cruise 1972-73. I was flown from Travis AFB to Clark AFB then bused to Subic Bay to meet the ship. I waited in transit barracks for 10 days for ship to arrive. Going onboard the ship I taken to the personel office for a telegram that my daughter had been born day and a half after I left Travis AFB. Wife always hated that I was NOT there for her when baby was born. Here are two pictures of me aboard the 'Prov CLG6' in the forward main engine room and with a group of 'M' division people.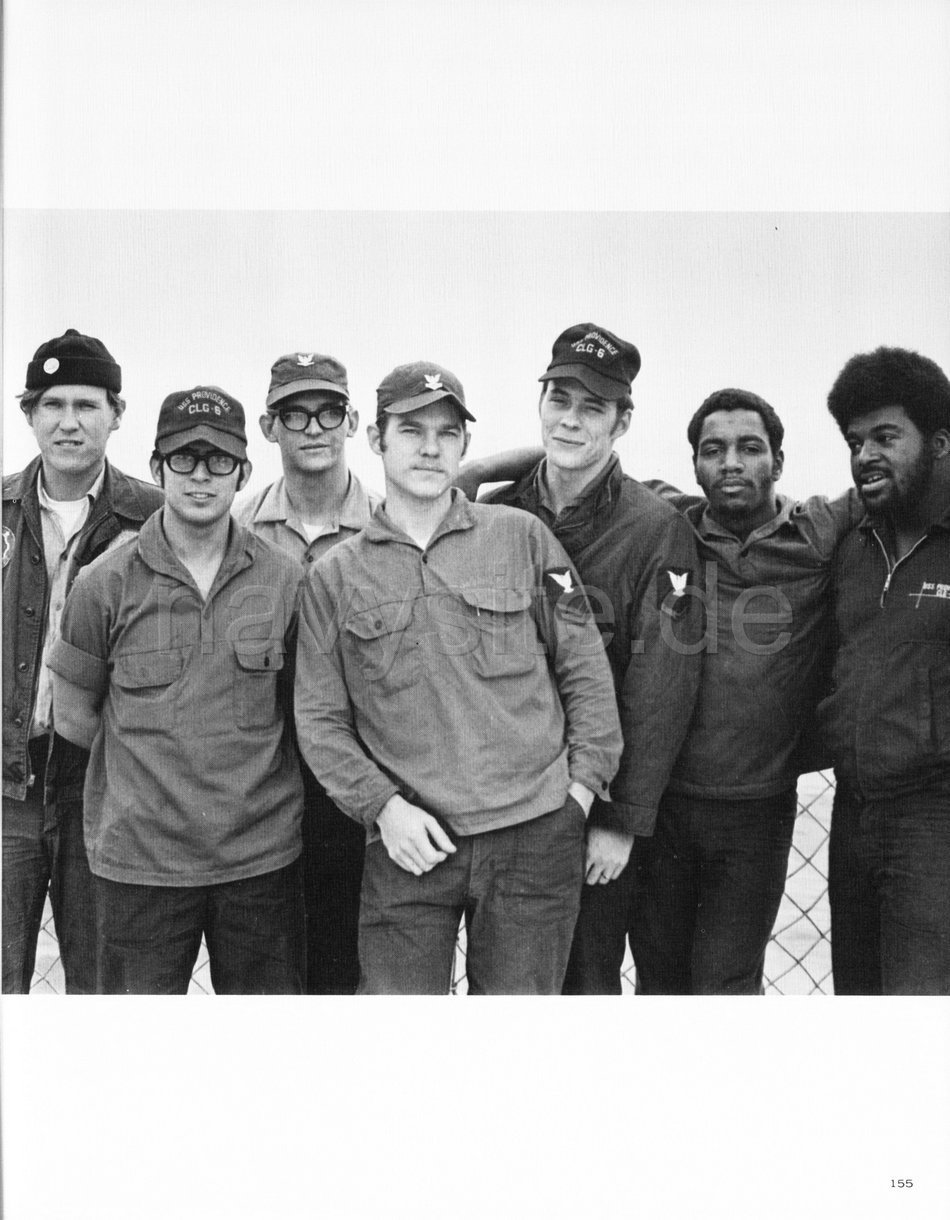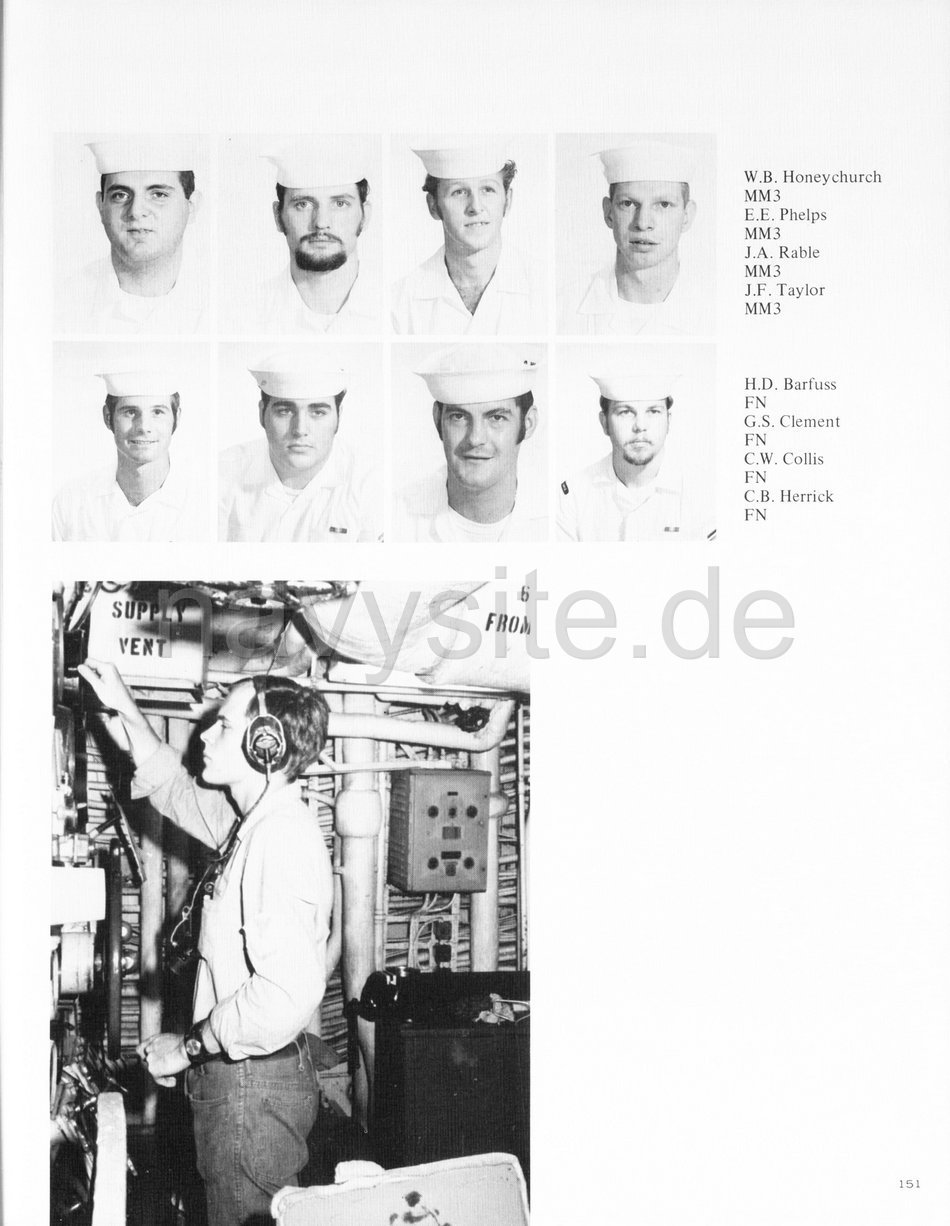 The Providence began decommissioning in 1974 and I was transferred to USS Jason AR8 and did one West Pac while aboard. Jason was a repair ship and was considered great duty because is in port a lot. Jason was allowing 1/3 of the ship to fly home early at the end of the cruise if you agreed to almost 24/7 full duty for first 30 days ship was back in homeport. This would allow the guys that sailed the ship back 30 days leave. You had to have 30 days leave available too. I did and got approved. I flew back and surprised my wife early. This was June 1975.
She had not worked my first 3 years in the Navy and we were always broke. She went to work as a waitress in a dinner house right after I left on cruise. I took a cab home from the airport and found my daughter and babysitter in my apartment. Wife was working lunch shift so sitter called her to let her know. I met her in the parking lot and picked her up as spun her around as I kissed her. She did not kiss back but was limp. She said 'We need to talk.' uh.. oh. She wanted a divorce, there was no one else, blah,blah. I spent the month sleeping on living room floor, daughter went to sitters house (across the street) during the day cause I might kidnap her or something. Wife left for appointment 2 days after I was back ( she went to lawyer) but did not say where she went. She gave the pink slip to my car to the lawyer for his fees (guarantee). When I got home wife had a brand new Chevy Vega in her name only bought with my credit. When the Jason got back I moved aboard but had room for almost nothing. I had to unload all the things I bought for 'us'. I gave her silverware set, Noritake large china set, set of stoneware dishes for everyday (she sold to GF), set of pearls I bought for her,etc. lots more stuff. I lost everything, clothes, cruise book, Navy ring cause I had no where to store anything. My 1967 Pontiac Firebird 400 was sold to my shipmate in her lawyers office. My shipmate paid the lawyer fees, got the pink slip title I signed right there and I had no car for a few months. She was seeing the assistant manager of the restaurant and married him a year or 2 later. His father was a USNavy Captain so junior sure didn't have any morals or ethics about busting up a navy family. Guess what they say about 'West Pac Widows' is true.
All of this actually helped me succeed later in life. After the Navy I went to college on VA GI Bill for tuition for Electrical Engineering got a BSEE and had a better life and career for the next 40 years. EE is one of hardest degrees to get but I had a high drive to succeed.
Image Sources:
USS Providence CLG6 Cruise Book 1972-73 pg. 140 & pg.144.
I am in both photos