There's a wonderful community of Military Veterans from all over the globe here on Steemit and these amazing people work together daily to support each other. This bot has been instrumental in helping many veterans grow their accounts but we want to do more to create sustainability and to help our community!
Introducing Post Promotion Services for Veterans!
It was brought to my attention that we could offer a curation report of posts that are already being upvoted by the bot in order to showcase the amazingly talented individuals that we have as part of the Veteran community. Great idea, right?
So, I will be putting together a list daily (or most days anyway) of great content to share with supporters of our community. I'm looking forward to this opportunity and am appreciative of the faith that has been placed in me with this task!
Introducing the Post Promotion Manager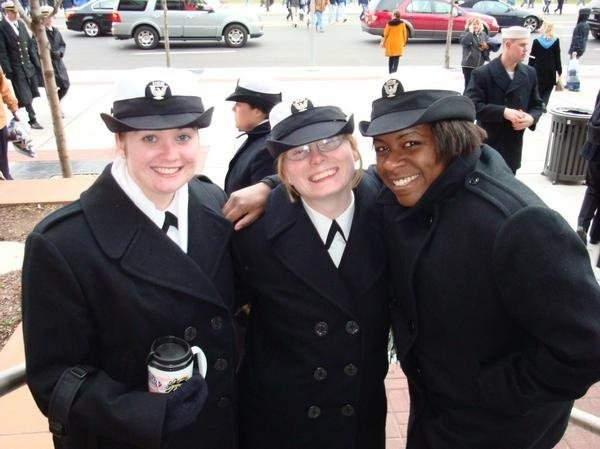 Outside the Army/Navy Game... Go Navy!
I'm the one on the left in this photo in case you were wondering
Hi! I'm Ivy and I am a Navy veteran of 6 years. I served onboard the USS Oscar Austin (DDG 79) and the USS Dwight D. Eisenhower (CVN 69) during my time in service.
My job was Electronics Technician Second Class Surface Warfare Qualified and I specialized in HFRG maintenance and 2M circuit card repair. I loved my time in service and gained valuable experience while meeting friends that have changed my life for the better!
I left military service due to an injury and currently deal with the challenges of the VA healthcare system, so I can relate if you are struggling with it. I would encourage all veterans to support each other and to utilize the tools that are available to you as much as you can, even if you have to fight for access to those resources initially. You are not alone!
I first joined Steem in September 2017 but didn't devote a lot of time to it until March 2018 but I am definitely here to stay because I love the communities and friendships that are built here!
I promise to do my best to give each post the attention that it deserves but please realize that I am not perfect. No human is perfect.
If you are using the UMVBot and I missed including your post in the daily curation report then please reach out to me via PM on Discord @socent#3214 to gently remind me to include you.
Please follow @UMVBot on Steem and resteem the daily posts when you are able in order to spread the word!
Looking forward to working with everyone to spread the word about the talented individuals that are part of the Veteran community!
Ivy
If you are part of the veteran community or would like to support our growing initiative then please consider delegating some SP using the links below!
Delegate 25 SP
Delegate 50 SP
Delegate 100 SP
Delegate 500 SP
Delegate 1000 SP