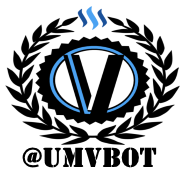 @umvbot is a community bot owned and run by the Veteran community here on Steem.
It is operated via Discord.
Namely, members of the community have the choice of using it or not, likewise members have the flexibility of choosing what posts they wish to upvote.
What this means is that it can be used for any post that a members wishes to upvote, no matter if it be their own or someone elses.
The 'name of the game' is to build the SP up to a whale status so that members can have a whale vote available once every 12 hours.
So I guess that the best way of describing it is "A community whale", owned and used by the community for the community.
As the stats stand right now:
SP 114.679 STEEM
Delegted SP: +2,892.453 STEEM
So we are approaching Dolphin status.
To help things along, @jackmiller has loaned 500 Steem (liquid funds) to help promote posts and get the awareness up of this community project. So hopefully in the near future we shall see a steady growth of the accounts SP.
---
The Veterans community has a curation bot too!
it is called:
This project upvotes posts from the community and funds itself and its growth via delegtions, but more importantly via curation rewards.
Again, a fantastic tool that is owned by the community and working 24/7 for the community.
It is managed by @guiltyparties .
---
If you wish to support these projects you can do so by delegating some Steem Power to them.
No matter which one you support with a delegation, you are helping make one of the most active Steemian communities grow and become more independent.
Our members are active in many if not all of the communities out there, we have a multicultural spread of members, from all over this world and because of this there are no language barriers as to where all our members are active among the colourful variety of Steemian communities out there.
---
This update, although short and precise has only one goal:
To promote our community and transparently relay the financial stats.
---
Thank you for your time,
STEEM ON
Signing out for @umvbot